9 reasons you SHOULD NOT buy a cheap (in-stock) vanity from Lowes, Home Depot, or Menards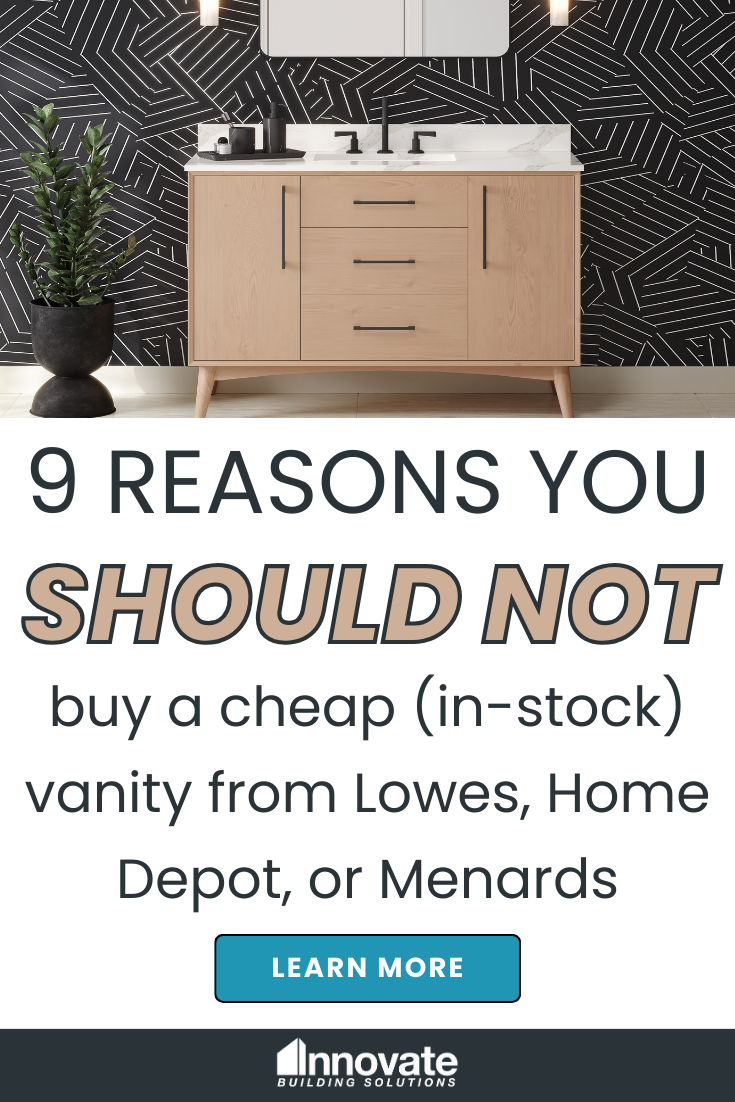 I'll tell you right up front I DO NOT have anything personal against Lowes, Home Depot, or Menards. Although I can't say the same for neighbors a few miles away from me who are fighting tooth and 'nail' (yes, bad home center pun intended) to keep Menards from building a store in their backyard (they've got a bad case of development NIMBY – Not In My Backyard). However, that's a story for another day.
So, you may ask, Mike, why are you writing an article warning others to not buy a low-priced bathroom vanity at a home center? And no, it's not only because my company wholesales higher quality bathroom vanities across the country (just keepin' it real).
It's because I hate seeing people make uninformed bathroom product decisions which (after the fact) make them want to pull (their already thinning) hair out. And it's also because of the following problems many people experience with cheap in-stock bathroom vanities purchased from Lowes, Home Depot, and Menards:
Their cabinets are swelling worse than Violet Beauregarde. She's the character who blew up like a giant blueberry in Willy Wonka's chocolate factory.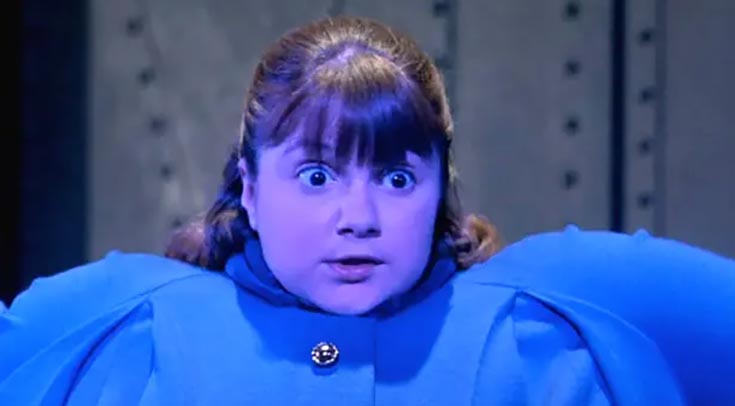 Their 'stapled-together' cabinets are falling apart.
Drawers and doors are crooked.
Their vanity top or hardware doesn't match the rest of the bathroom.
The vanity is a P.I.A. to use. The cabinet storage 'system' (I'm being sarcastic here) is atrocious.
And while I'll point out 9 reasons in this article you SHOULD NOT buy a cheap home-center, in stock vanity, I'm going to do something even more important than that. I'm going to identify better alternatives you SHOULD research to get a vanity which'll stand the test of time and be a pleasure to use. Imagine that! Because here's what many kitchen and bathroom remodelers will tell you about the cabinet buying habits of most consumers.
When it comes to buying kitchen cabinets, homeowners will scrutinize the 'bejesus' out of them.
However, when it comes to buying a bathroom cabinet, it'll be glossed over – and in many cases bought at the last minute – even though it's the ONLY piece of furniture in the bathroom!
Yes, bathroom vanities are the 'Rodney Dangerfield' ('er they get no respect) of the cabinet business. But if end up being a last minute buyer, you may be stuck with a cabinet you'll regret for years to come. So, let's look at the 9 reasons to NOT BUY a cheap bathroom vanity from a home center.
Reason #1 to not buy a cheap, store bought vanity– It's NOT built to last.  
Let's face it nobody offers construction products at better prices than Lowes, Menards, and Home Depot.
They negotiate costs down, down, and down. You pay less and less. But how do you think the manufacturers who supply these chains get to these low, low prices? It's simple. They mass produce products, use cheaper materials made in countries with cheap labor (can you say China?).
So, you may be wondering, how do manufacturers who supply the chain stores drive material costs out of their vanities?
Well go 'under the hood' ('er look inside the vanity). You'll see plastic corner clips stapled together. You're literally buying a vanity held together by staples! Ouch!
Or ask a store associate what type of wood is used. It's often particle board made from wood scraps (from plywood manufacturing) and resin mixed together.
And if you're planning on staying in your home a while, search for a bathroom vanity made from solid wood construction.
Reason #2 to not buy a cheap, store bought vanity– Limited selection.
The way home centers get costs down is buying the same color/style vanity in volume. It's like Henry Ford said when his company was mass producing cars, "You can have any color car you want…as long as it's black." This – by its nature – means you'll find a limited selection so manufacturing quantities go up, and the home center drives prices down.
So, if you want a white shaker bathroom vanity cabinet it'll comes 'standard' with one hardware finish, one top, and one sink design – whether this fits your décor or not.
And yes – while it's true to you can take it home today, is it really smart to 'live with a vanity' for years and years which isn't your style, or doesn't match?
If you want selection –order a vanity where you can 'mix and match' styles, colors, tops, and sinks.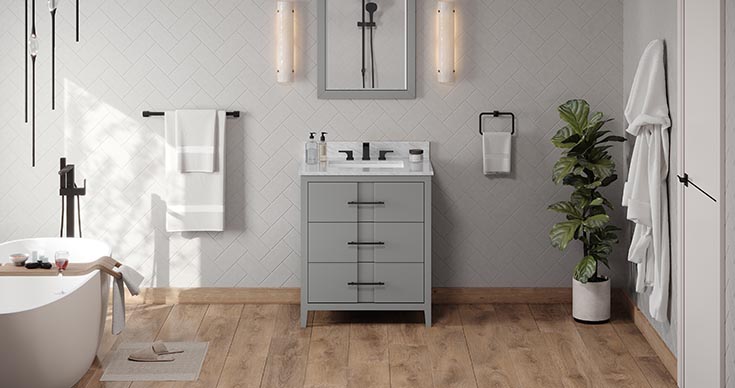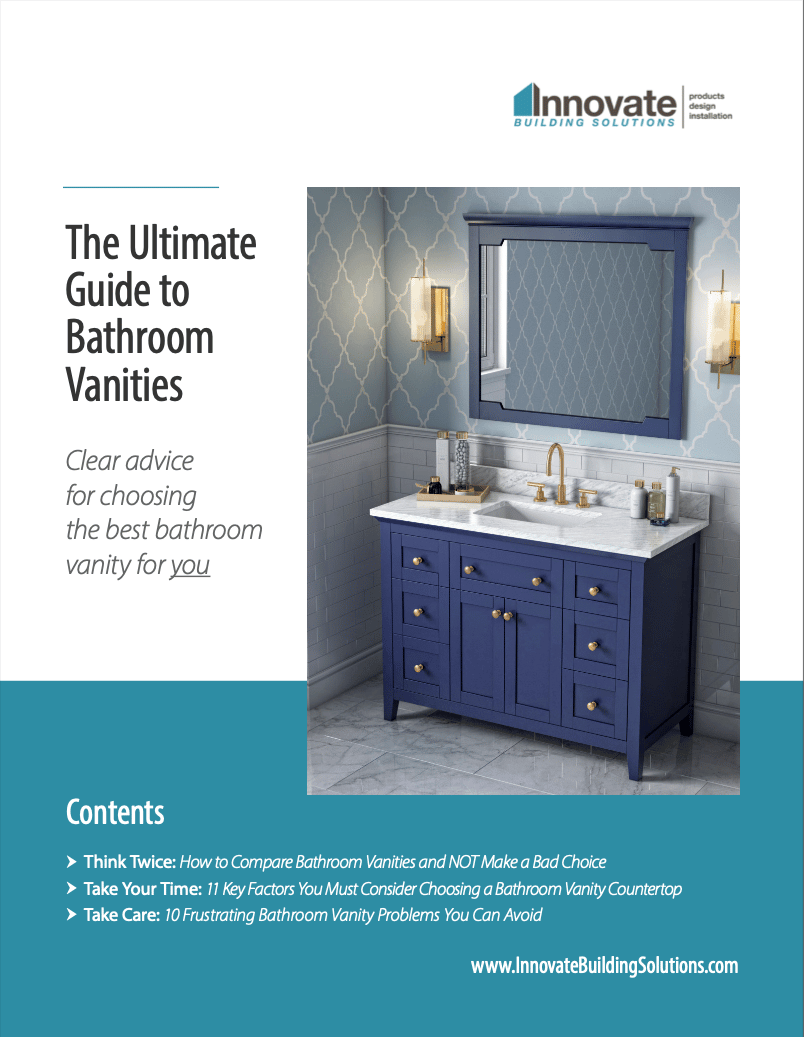 Get Our Bathroom Vanity Guide!
Clear Advice for How to Choose the Vanity for Your Dream Bathroom!
Reason #3 to not buy a cheap, store bought vanity– Countertop thickness matters.
With store-bought in-stock vanities corners ARE cut. And one popular place to cut corners and cost (which isn't apparent to most) is home center vanities use thinner tops (usually 1/2" thick). And the thinner the top, the more likely it'll chip or crack.
Look for a vanity top which is 3/4" thick. It's bolder. It's better. It's 50% thicker. It'll stand the test of time.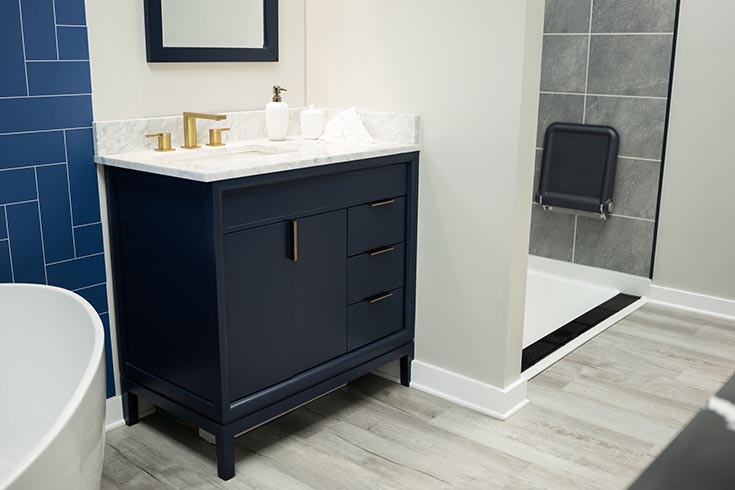 Reason #4 to not buy a cheap, store bought vanity– It can swell thicker than your waistline after Thanksgiving dinner.
Thanksgiving is my favorite holiday. Turkey. Stuffing. Sweet potatoes with extra brown sugar. And on Turkey day even my wife is ignoring the warnings of the Jardiance commercial and is letting me kick up those sugars! And for those of you (like me) who find the Jardiance commercial funny, I've included it below.
https://www.youtube.com/watch?v=Aromts0OiHs
And for one day at least, we give ourselves permission to 'swell.' We give ourselves permission to add a pound or two and crank up on carbs and sugars.
And while it's OK (for us personally) to 'temporarily' swell on Thanksgiving, our spouses put us back on the 'straight and narrow' after the holiday eating extravaganza to get our 'swelling' down.
And while it's possible (with diligence and a nagging spouse/doctor) to reduce our personal 'swelling' – if you buy a cheap particle board bathroom vanity which has swelled as a result of moisture in your bathroom, even Jardiance can't reduce its puffiness…or its A1C (and can wood even have an A1C problem???).
The key with bathroom vanities (just like it is with kitchen cabinets) is to insist they're built with better materials. Don't settle for particle board. Insist on all wood construction.
And if you want to eliminate 10 frustrating bathroom vanity problems (including 'cabinet swelling'), watch this video.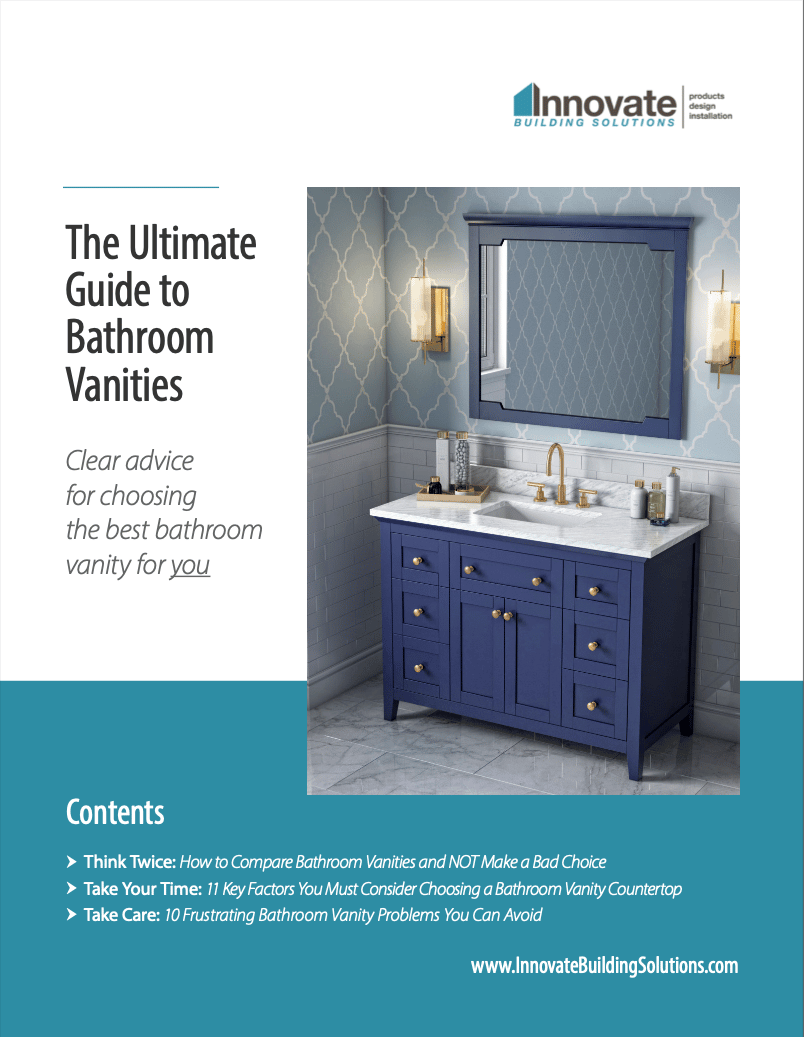 Get Our Bathroom Vanity Guide!
Clear Advice for How to Choose the Vanity for Your Dream Bathroom!
Reason #5 to not buy a cheap, store bought vanity– The warranty is shorter than your teenager's attention span…ok, maybe not that short!  
As mom and dad warned you, you get what you pay for. Cheap vanities come with short warranties (often in the 1 to 5 year range). So, if you're planning to stay in your home a while don't get snookered into a product which you'll be left holding the bag if something goes wrong.
Better quality bathroom vanities have lifetime warranties.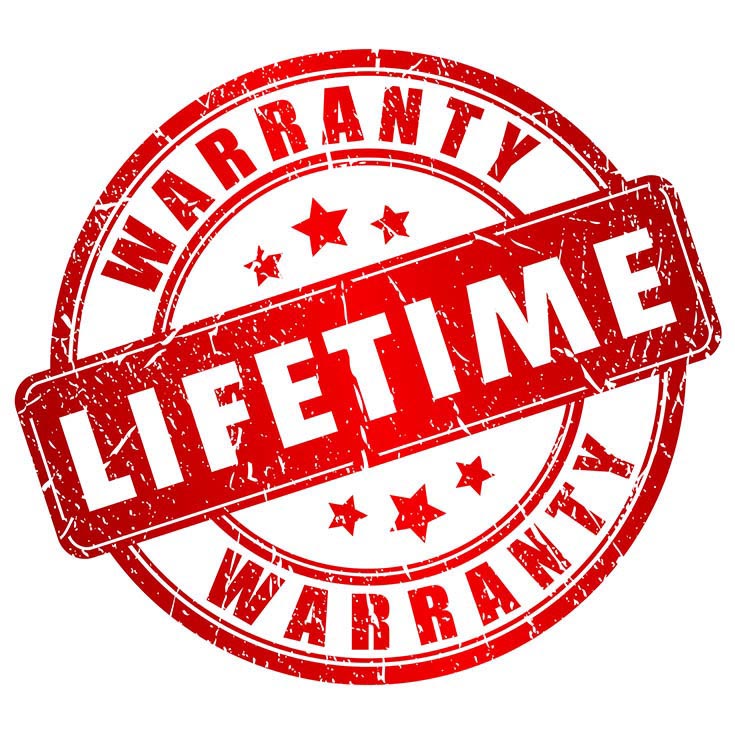 Don't you want the peace of mind knowing you won't be footing the bill for a new vanity? And if it does fail, you'll not only get stuck eating the cost of the vanity, but also the cost to uninstall the old unit and reinstall the new piece. This CAN and WILL be expensive.
Reason #6 to not buy a cheap, store bought vanity– You may not be able to find replacement parts.  
Since home centers are constantly driving costs down (and outsourcing the manufacturing to the cheapest vendor willing to sell the business that year), their product offerings change rapidly. As a matter of fact, while reading an article by Camille Johnson of Lotus Home Improvement she commented how frequently her customer selects a store-bought vanity, and then her team goes to the store a week later to buy it and it's G-O-N-E.
And given how frequently vanities are eliminated from a store's stock, how good a chance do you think you'll have finding replacement parts? Yes – I'd put it between slim and none.
So, how can you protect against this problem? Look for cabinet lines which have a long track history. Ask your supplier for better selling styles. The higher the popularity, the better chance you'll find replacement parts.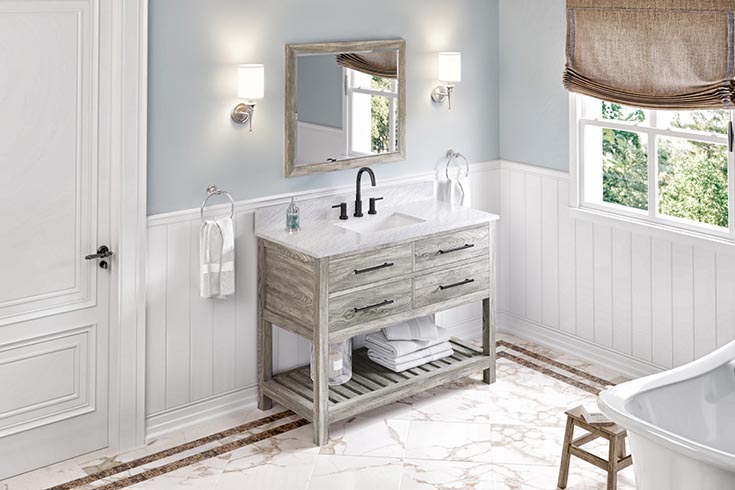 Reason #7 to not buy a cheap, store bought vanity– The storage 'system' leaves a LOT to be desired.  
A vanity is about more than what you see at first glance (which is the top, bowl, and door/drawer fronts).
The reason many people want a vanity vs. a pedestal sink is they DESPERATELY need better storage. And let's face it, with most vanities you're lucky if you have a couple of pull out drawers. The rest of the vanity is a storage nightmare. You can't find anything. It's a pain to attempt to sift through the deep, dark crevasses of your cabinet.
And cheap store bought vanities ARE NOT loaded with easy to use drawers and pull-outs which will make it simple to find your stuff.
Look for vanities where ALL shelves adjust and/or pull out. Look for tip-out drawers for toothpaste, combs, and brushes. Don't be infuriated trying to find what you need or buying the same item over and over because you can't see what's in the back. Insist on effective storage.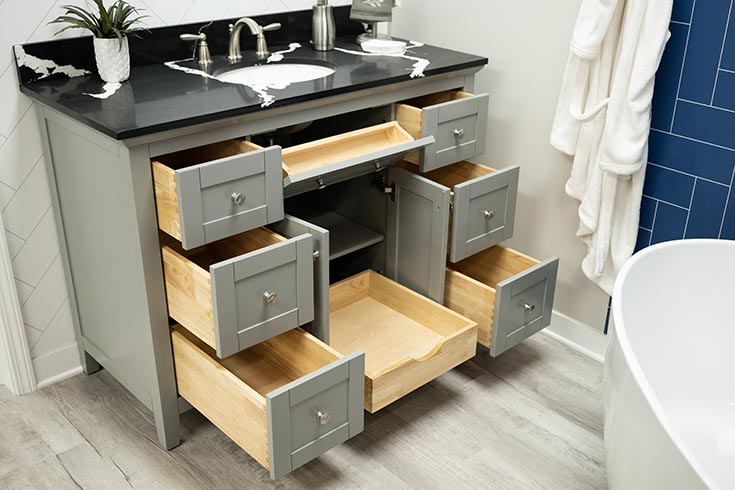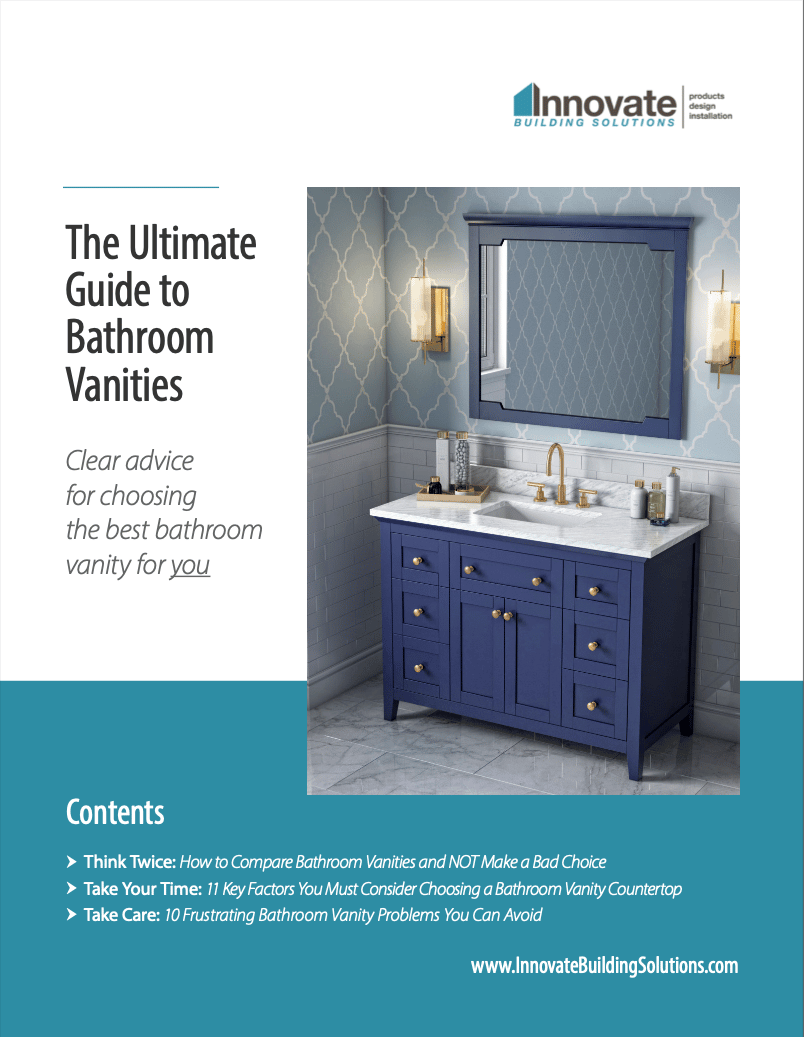 Get Our Bathroom Vanity Guide!
Clear Advice for How to Choose the Vanity for Your Dream Bathroom!
Reason #8 to not buy a cheap, store bought vanity– You assume the home center is the ONLY place you can get a vanity right now!
OK – I know some of you reading this are not the world's best planners. And if after your contractor started your bathroom remodel they asked, so what vanity did you choose?…and you froze in your tracks, you know I speak the truth.
And then you thought to yourself, "Oh, s###!"
Panic sets in.
You knew you needed a vanity fast.
At this stage the knee-jerk reaction most people have is to haul their rear to a local home center and feel 'forced' to buy what they have 'on the shelf.' And this may be despite NOT liking the quality, selection, or service.
Well – I've got good news for you. Imagine getting thousands of high quality vanity options (including 8 different styles, 8 colors, 2 different bowls, 11 different tops, and multiple hardware finishes) all shipped to you in 1 to 2 days. Crazy you say? Yes, that's right – but it's also possible.
Don't assume you've been caught with your proverbial pants down and can't get a vanity which looks (and feels) solid and is easy to find what you need in it. In a Ripley's Believe it or Not statement, I'll tell you it's possible to find a vanity cabinet you can get NOW and NOT pay through the nose to get it either!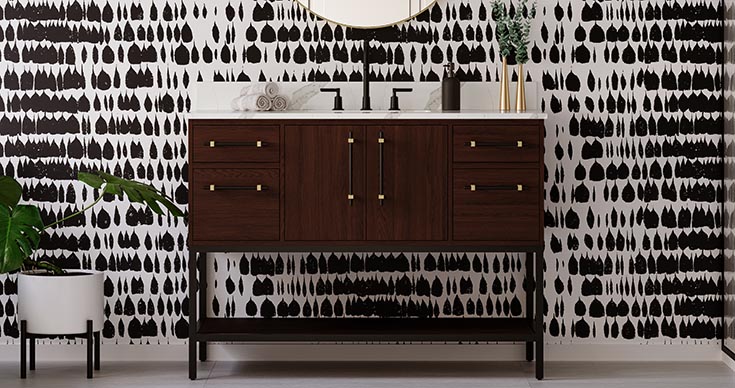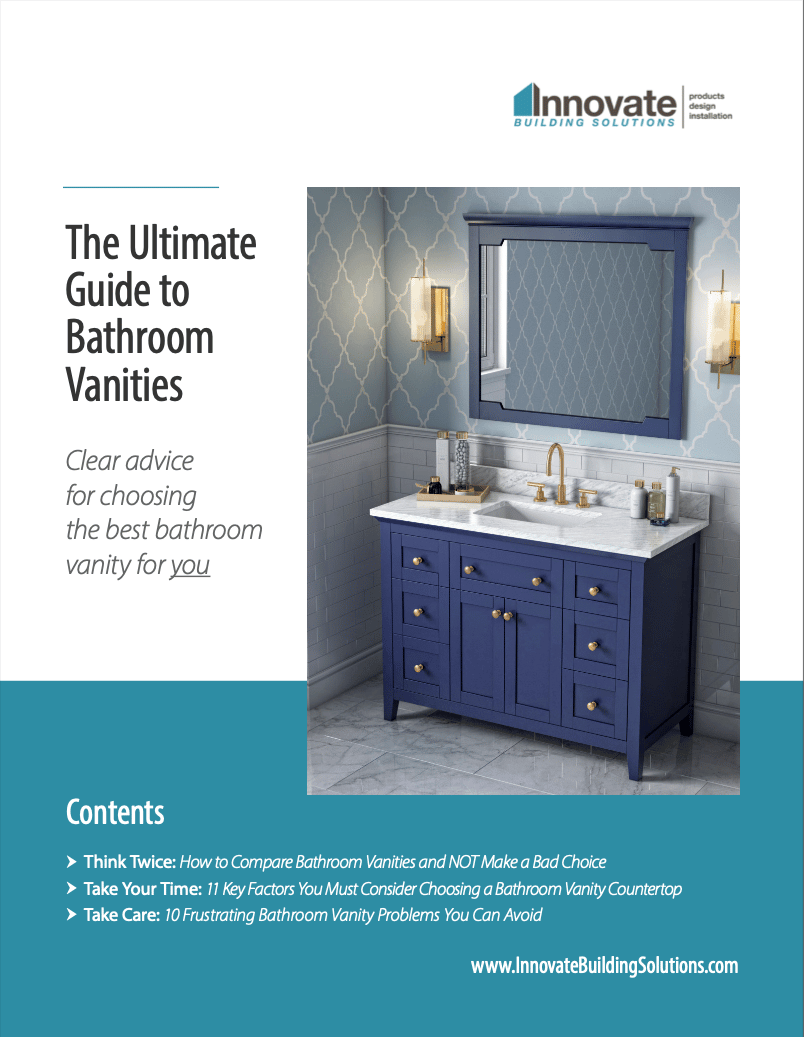 Get Our Bathroom Vanity Guide!
Clear Advice for How to Choose the Vanity for Your Dream Bathroom!
Reason #9 to not buy a cheap, store bought vanity– The doors and drawers don't slow close or use heavy duty hinges.
Do you have any 'door bangers' in your house? They get mad. They take out their frustration by slamming doors.
Let's face it, not everyone in your family will treat your cabinets and doors with TLC.
And this is why you'll want a better quality vanity.
Better cabinets have slow close doors and drawers.
Better cabinets have heavy duty hinges to stand up to your family members who fly off the handle.
Don't let your family beat the daylights out of your bathroom vanity cabinet. Protect your vanity investment with better quality hinges and slow close operators.
Are you convinced buying the cheapest vanity from a home center IS NOT the way to go? Do you need help finding a higher quality option?
So – does it makes sense to purchase a better quality bathroom vanity for your next project? I'd be interested to learn why or why not below.
And since I know vanity options can be overwhelming, I'd recommend reaching out to a bathroom design specialist for input and wholesale direct pricing.
Call 877-668-5888 or click for a Free Design Consultation. Innovate Building Solutions (and yes, this is my company) wholesales complete bathroom vanity kits, shower wall surrounds, shower bases, and acrylic freestanding tubs nationwide and would be happy to help you.
And if you're looking for a bathroom remodeling contractor in Cleveland Ohio call our Bath Doctor division at 216-531-6085. If you're outside Cleveland (which is undoubtedly most of you) ask for a referral to one of our installing dealers).
Thanks for reading,
Mike
###
If you want more advice (with less wacky humor) follow me on LinkedIn @MikeFoti.
And if you're a bathroom remodeling contractor interested in being a dealer of unique shower wall panels, shower pans and glass shower door systems and purchasing quality shower kits, call 888-467-7488 and ask for Mike.
---
Mike Foti
President of Innovate Building Solutions a nationwide supplier and regional (Cleveland and Columbus) remodeling contractors. Some of our product lines include glass counters, floors, backsplashes, glass blocks and grout free shower and tub wall panels
---