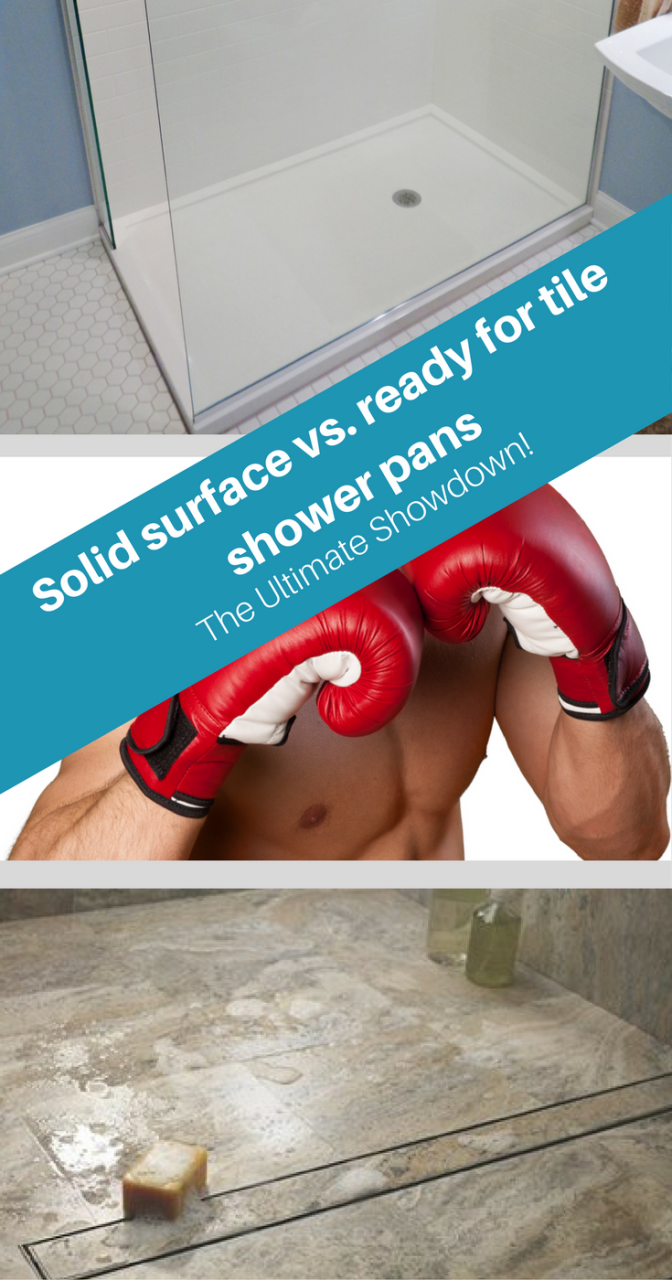 Updated January 13, 2019
If you're looking to do a standard (or custom) sized shower pan and want something nicer than the cheap generic plastic white styles at your big box store it can be hard to figure out what option is best. Two popular alternatives in upgraded shower bases vs. fiberglass are solid surface and ready for tile pans. Here's reasons both options beat the pants off the low-end fiberglass you desperately want to replace now:
Advantages of solid surface and waterproof ready for tile pans over fiberglass bases
They won't yellow like fiberglass.
You can choose your drain location. You don't have the cost of moving plumbing around.
You can create a custom shape to fit a curved design, custom NEO angle shape or an offset style pan.
These bases won't flex and squeak when you walk on them – even if you you're not built like Victoria Beckham, Gigi Hadid or an anorexic supermodel.
You can live life "in color." You can either design your own tile pattern or choose from 51 varied solid surface colors.
You can get these bases clean. It can be nearly impossible to get dirt off the bottom of a fiberglass pan.
While both these shower bases have it all over fiberglass – the challenge I see is homeowners (and contractors) struggling to know how to choose between solid surface and ready for tile. In this article I'm going to pit both shower pans against each other in the ultimate showdown. At the end I'd like to get your take on which is best.
This shower pan UFC (Ultimate Fighting Championship) won't get you bloody or gross you out. It will save you money. You won't make a bad shower base selection you'll regret in a space you use every single day.
Let the rubber cleaning gloves come off and the battle of the shower bases begin.