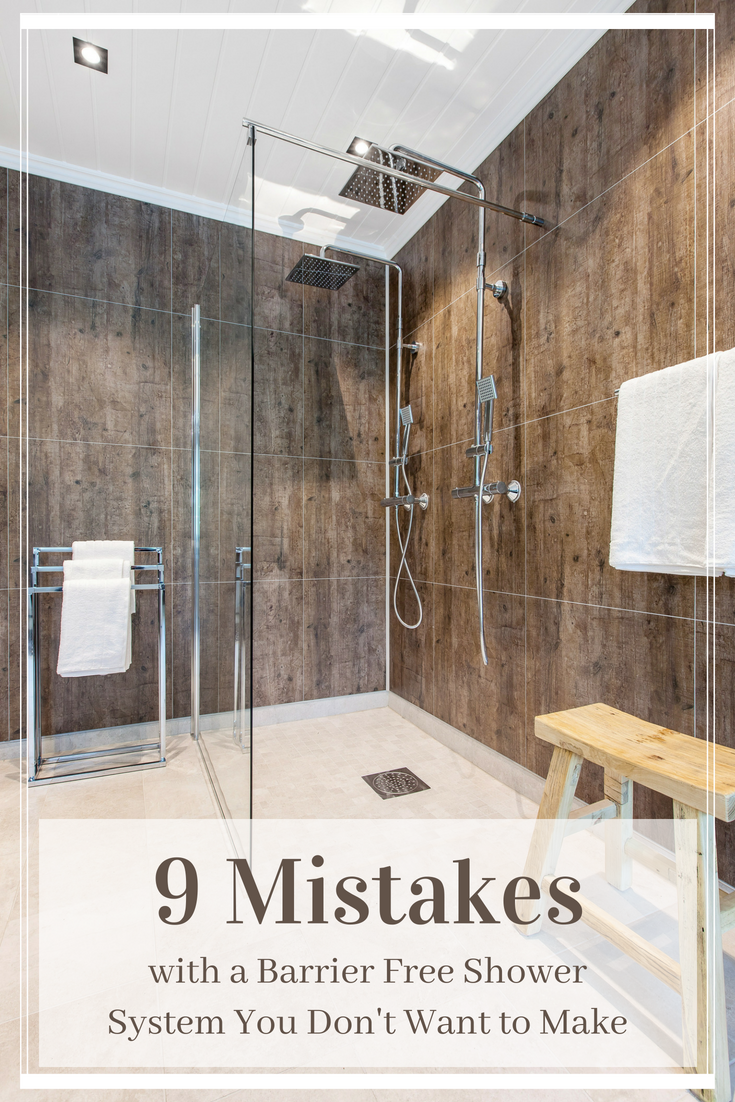 Updated March 24, 2019
Perhaps you find yourself in one of these situations and are kicking around a barrier free shower system:
Mom is not moving around so well. You're considering having her live with you. You're not sure how to make your home and bathroom safe.
Your spouse got hurt at work. Climbing over the tub to take a shower is an accident waiting to happen.
Your son was seriously injured in a motorcycle accident. He's now in a wheelchair. Life won't be the same. You need to design a shower which works for him and won't add to his (already) frustrated state of mind.
In my years helping people with one level, walk in and barrier free showers, I've experienced all 3 situations above.
Life happens. Reduced mobility gets in the way of living the way you'd like. Showers and bathrooms by their nature (as wet spaces) can be dangerous to people with (and without) problems getting around.
When you're faced with mobility challenges – whether it's a natural part of the aging process, an accident, or a temporary health bump in the road – figuring out the perfect shower system can be a hassle. You may be asking questions like these:
What do I need to know about safe shower systems? More importantly, how can I get up to speed QUICKLY?
Should I trust my contractor? They 'seem' like they know what they're doing, but they're also in a big rush to get to the next appointment. They only offered me one option. Is it the right one?
Do I have to cut into the structure of the home (i.e. the joists below the floor) to make a barrier free shower?
My goal with this article is simple. I want to get you up to speed quickly, not only on barrier free shower pans, but more importantly I'd like you to view one level showers as a system of products (not just a single component that slapped into the bottom of your bathroom floor) which makes showering for someone with limited mobility simpler. I'd like to give you a deeper level of insight beyond the the 'old-school-methods' (used by too many contractors IMHO) of dropping the floor and pouring concrete.
Simply, I want to make sure you don't make the 9 mistakes I've seen people end up 'living with' after it's too late when a barrier free shower is done wrong. Let's check out the 9 mistakes so you don't fall into them. I'll start with the shower pan and work my way up.