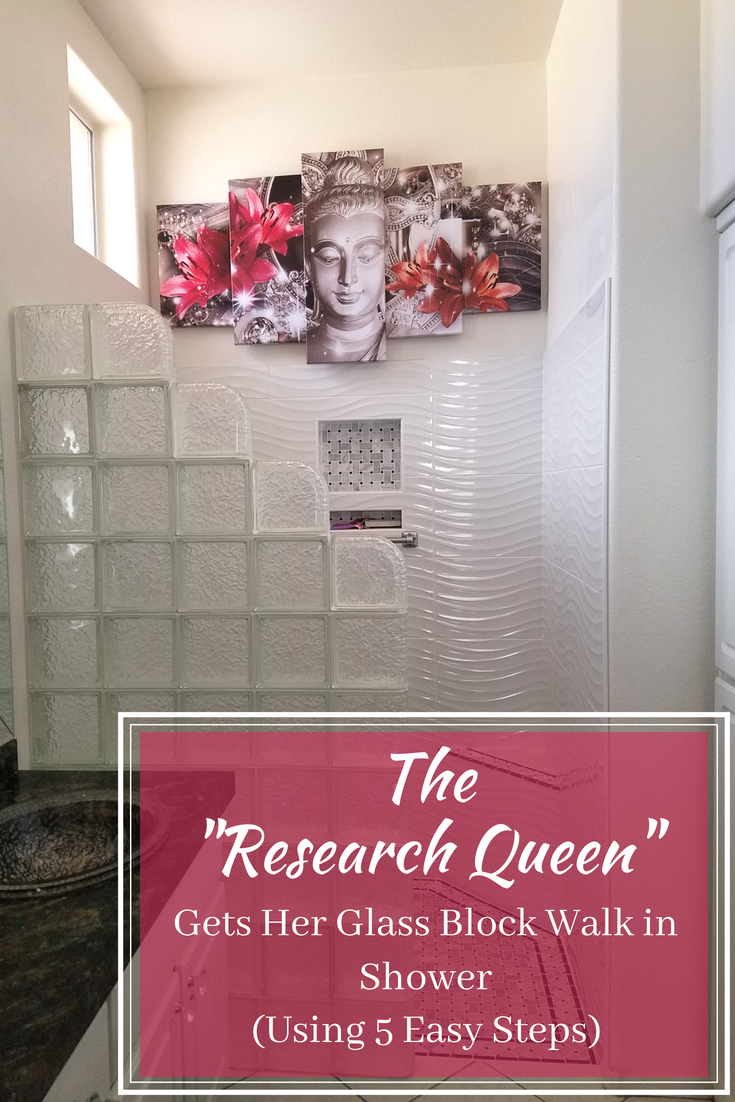 Updated March 24, 2019
Educators are creative. They're industrious. They pursue knowledge with reckless abandon. They'll encourage you. They'll give you feedback (whether you like it or not). They'll throw in a dash of their personality to make sure you're awake (and learning).
Right now, you're probably asking, "Mike – what does this description of an educator (or teacher) have to do with a glass block walk in shower in a bath remodeling project?" Good question.
When it comes to fun, creative and successful DIY bathroom remodeling projects, I'll tell you they all begin with education and learning. You're digging into products, installation methods and resources to get your arms around the unknown (especially if you're doing a job for the first time).
These 'resources' could be your next-door neighbor. They could be a local contractor or supplier. They could be a company 2,006 miles away (in this project the distance from Las Vegas Nevada to Columbus Ohio – where the glass block shower system was built).
Here's where our 'research queen' comes into the story. The queen in this 'construction story' is Geri David of Las Vegas, Nevada.
While Geri would describe herself as a 'retired educator,' I will tell you she is (and will always be) an educator. You see Geri 'met' me, long before I met her. Here's how.
Geri had a vision.
Geri's vision was an open walk in glass block shower. It wouldn't look ugly like her current builders-grade obscure glass, framed sliding door with a dingy fiberglass base.
Geri's shower would be doorless. She wouldn't have to 'fight' cleaning hair and dirt out of a metal shower door frame. She wouldn't be scouring the Net looking a shower curtain which wasn't butt-ugly.
Geri would put in the time, energy and relentless keyboard-burning research to make her vision a reality, at a price she could afford. This is where I showed up in this story.
Fortunately (or unfortunately for Geri) her research on Houzz, Pinterest and Google kept leading her back to me. You see I'm a 'construction educator' (AKA a blogger on all-things bathroom remodeling- and in this case a glass block shower). I guess to Geri I ended up being the bad rash she just couldn't get away from (my wife of 34 years – Rose – knows this feeling all too well – ha! Ha!).
If you're like Geri and hate your framed shower doors, fiberglass shower walls and or shower curtains but are unsure if you have the space and ability to make a walk-in shower (or glass block doorless shower) work, you'll want to read further.
In this article I'll give you a 'behind-the-scenes' look showing how Geri took her creative vision, put in the 'finger-grease' (i.e. Internet research) and assembled a team to make a walk-in glass block shower work in her small bathroom. Along the way Geri (like an excellent educator) gave out praise – and wasn't afraid to let others know where they need to improve their 'grades'.
Let's stroll through 5 steps of Geri's journey to a successful glass block walk in shower.