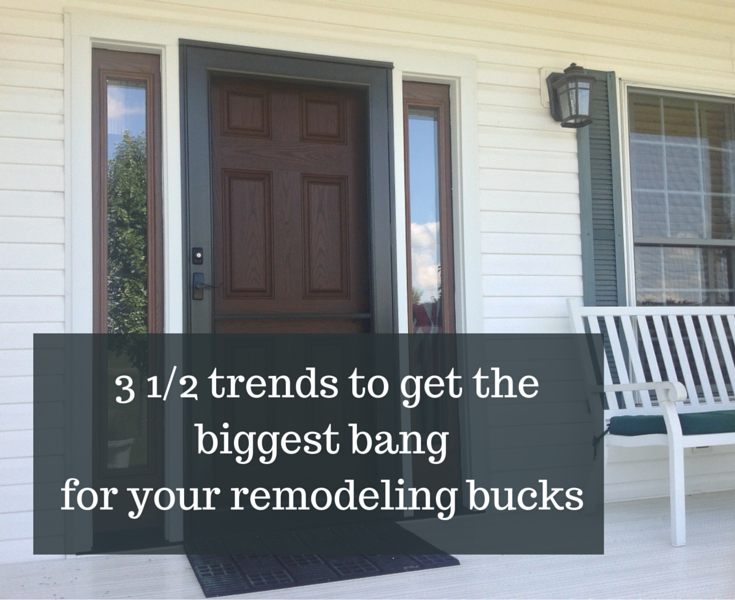 Are you unsure if you should spend your money on a home remodeling project – and if you do – what specific project to choose? If you can find yourself in one of the 3 groups below you're probably struggling with this remodeling decision right now.
Group 1 – Overwhelmed new homeowner – You've just bought an older home in a nice neighborhood that needs some work (OK – it needs A LOT of work!), but you're wondering what project should you do and how much should you spend.
Group 2 – Debating, "Should I get out of here?" – Your current home just isn't cutting the mustard. Yes – it used to work for you and your family – but the times and the people living in your home just don't have the same needs. You're now debating (a) stay and remodel or (b) get the heck out of here.
Category 3 – You love your existing home but know you won't get your money out of a remodeling project – In this scenario you may think should I even care about getting my money out of this home or just enjoy it and have my heirs worry about how much this home is worth when I'm no longer around?
The challenge becomes how do you make sense of where (or even if) to put any of your hard earned money into remodeling or replacing any of the old features of your home. While this type of decision can be based off your logical (left brain) side, don't discount the emotional (right brained) side in your decision making either. So how can you make sense of the decision to spend or not on your home? How can you get the biggest bang for your remodeling bucks the Cost/Value study can help?
What is the 2016 Cost/Value Study?
 For the 29th year Remodeling Magazine creates a report (the Cost/Value report) which looks at the changes in home improvement costs (your bucks) with what value (your potential bang) real estate pros think you'll get back. So if a project has a 80% value it means you can expect to get back $80 resale value for a remodeling or replacement project which cost you $100.
Statistics are boring (to right brained people) – 3 1/2 trends to make sense of the Cost/Value report 
If math class made you nuts you know there is nothing more boring than reading a bunch of dry stats. So – in this article I'm still going to give you a few figures (sorry about that math haters), but I'm also going to provide you the 3 1/2 trends to guide your remodeling decisions no matter which of the 3 groups above you identify yourself with. You may be asking what's the "half-trend" all about. Sorry I can't tell you – you'll have to read the whole article to find out! Read on please.