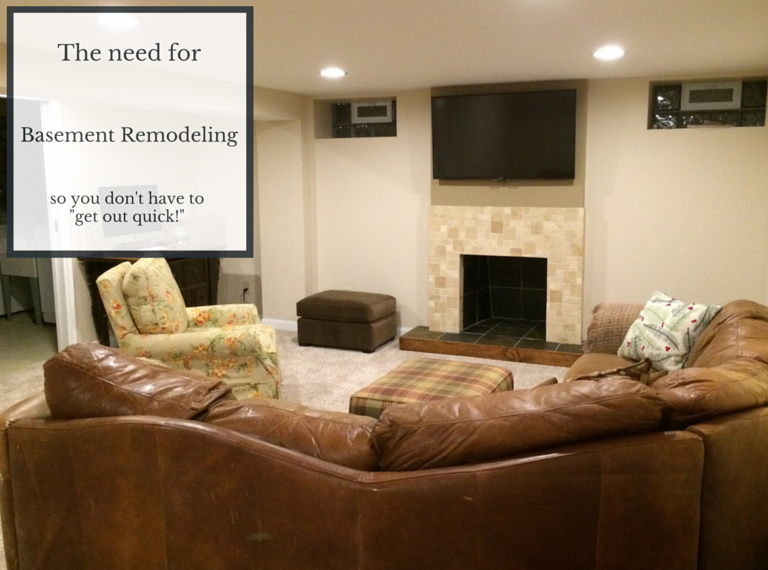 Basements can be scary places! I remember when I was 5 years old and my Mom would send me downstairs to throw out the garbage in our incinerator (anyone else remember having an incinerator for garbage?) and that dark dingy basement would scare the heck out of me. I would run down and back up as fast as I could!
This article isn't about my scary basement as a kid, it's about Bridget and Tim O'Callahan's former cellar (the name some people call their spooky basement). You probably know the type of basement I'm talking about. It had the old, dark paneling and a moldy, musty "basement smell" you just can't rid of no matter how many air fresheners you jam into the space. Old clay tile walls, a nasty deep window well and outdated plumbing and electrical systems all screamed – yuck! As Tim said when they would get the courage to go into the basement to do laundry all they could think about was, "Get me out of here!"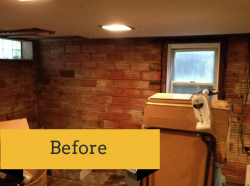 When the existing old knob and tube wiring shorted out it left not so lovely burn marks on the wall. This was the final straw with putting up with the pariah of a basement. Something had to be done. As Tim said, "If we were to go to sell the home down the road there would be no way we could do it with this musty room with burn marks on the wall." The decision was made to get a basement remodel underway. As the remodeling process unfolded the O'Callahans' not only made their basement recreation/exercise room/laundry zones functional – they transformed the basement into an area they actually want to entertain in.
Let's see how Tim and Bridget (with the help of the design and construction team at Cleveland Design and Remodeling) used a three step process to (1) get rid of structural and mechanical problems (2) ramp up the laundry (or business side of the basement) to make it an inviting space and (3) made it special with finishing touches which rival the upper levels of most homes.