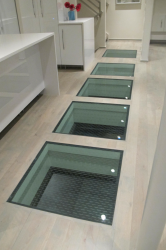 Creating a custom home should not only be about creating a distinctive looking interior – but also about embracing the character of the lot and home's facade as well.
This dual objective to leverage the inside and outside assets was certainly paramount in a recent Kansas City urban design home project for builder Jane Kietzman and her husband Randy Kietzman (the architect on the project).
In the article below learn how Jane and Randy created a stunning design element and a visual connection between the inside and outside of this newly built custom home (located at 2405 Forest Ave. in the Beacon Hill area of Kansas City) by incorporating glass floor panels.