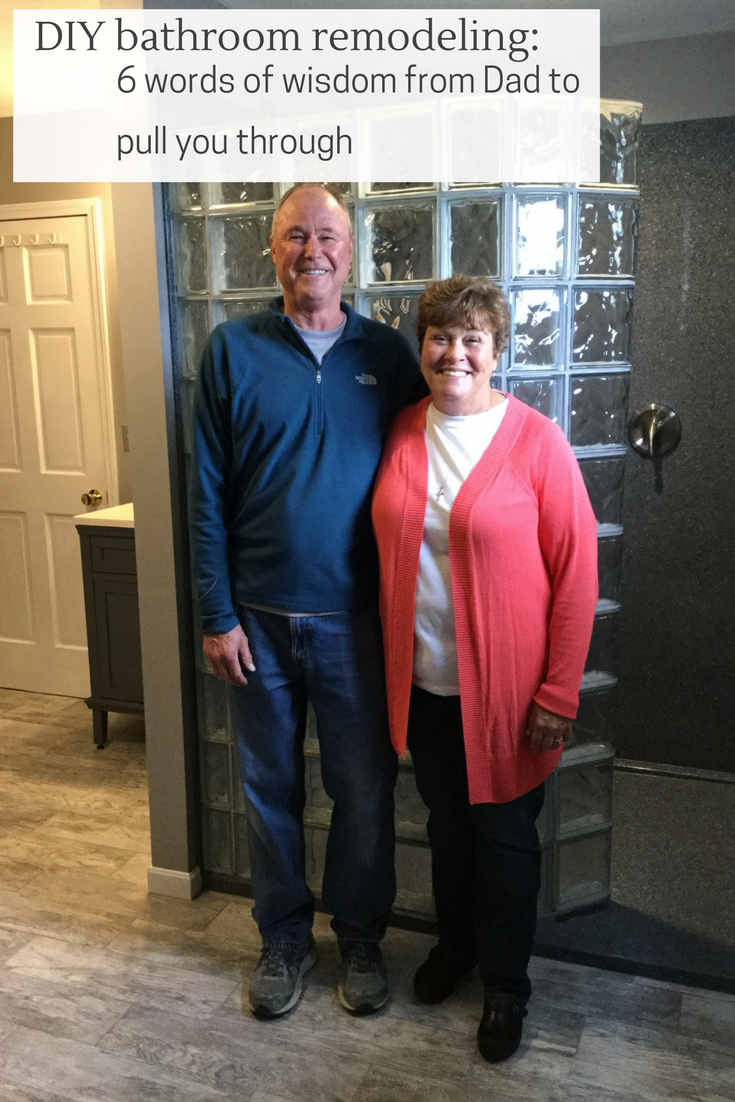 Updated March 16, 2019
George Vickroy said to me, "Mike this was the hardest DIY remodeling project I've ever done, but I'm getting so much more than I expected back from it!"
Doing a DIY bathroom remodeling project can be a pain. Plumbing, electrical, drywall, heating, heavy materials you've got to lug in and out of the home. The need to get constant input from the people leading you along the way. You have to have so many skills to – as Larry the Cable guy would say "get 'er done" – it can be downright mind-boggling. The challenge becomes once you've decided to bite the bullet and tackle the job how do you pull yourself through it? How do you prevent from leaving a half-done trail of a "job-almost-well-done?" You don't want your family asking, "So when are you going to finish the bathroom exactly?"
When I visited George and Tena Vickroy's house to take pictures of their new bathroom (we worked together on the glass block walk in shower and solid surface shower pan in this job) it was amazing how George and I started reflecting on how our Dad's advice was still ringing in our heads today (and in my case my Dad passed away 28 years ago!) – even while toiling through a bathroom remodel.
Maybe George and I got nostalgic about our Dads because we're just a tad bit older (I'm 57, but think I can look 37 at any time after I use my magic $9.99 bottle of Miss Clairol for men hair coloring. I also think being "delusional and happy is a good thing- but I digress). Maybe it's because as you get older you start to realize how much you don't know. Maybe it's because Dad had a lot of wisdom – but when we were young we sometimes blew him off and said to ourselves, "What does the old man know anyway?"
In the article below I'm going to show off the DIY bathroom remodeling project George did in conjunction with his wife Tena, his son Clayton, son in law Mike, friend Neil and even a former student KC Weber. We'll look at this project through 6 thoughtful words of wisdom from our Dad's. At the end of the article let me know if any of these "Dad-isms" (not sure that's a word, but it should be) ring true with you. I know Dads can also be wacky (yes, I do resemble that remark – ask any of my 3 kids and they will back that statement up) – but sometimes the "old man" knows a thing or two, or six.