Home Remodeling: How to Combine DIY Effort with Professional Contractor Expertise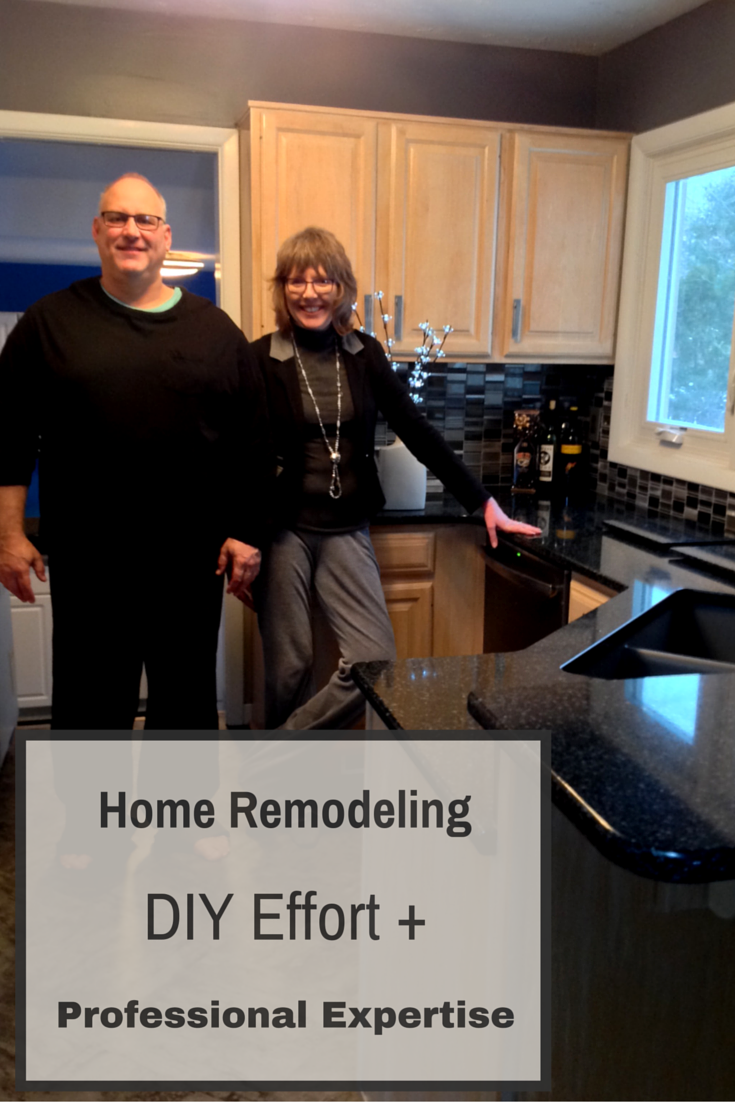 It is often said a "wise man (or woman) knows what they don't know." This quote can be particularly appropriate when it comes time to making decisions for your next remodeling project.
Fortunately the remodeling story I'm about to share has a happy ending because its owners (Mary Ellen and Pat Swinger of Fairview Park Ohio) know when to seek out referrals and listen to sound construction advice and when to roll up their sleeves for some non-glorious do it yourself elbow grease. The Swingers were able to reinvigorate and renovate 3 rooms of their home (a kitchen, laundry room and master bathroom) without breaking the bank by doing two things (1) investing their own time and effort and (2) allowing themselves to be guided by their remodeling contractor.
Let's take a look below at these 3 remodeled rooms and see how the Swingers' used DIY weekend warrior effort in conjunction with a flexible remodeling contractor (in this case the team of Cleveland Design and Remodeling) to achieve a winning project at an affordable cost.
A Kitchen Facelift – The "bones" were good, the "skin" was not
While their existing Fairview Park Ohio's kitchen was functional and the cabinetry and countertops (the "bones") were sturdy, what you could visually see on the surface (the "skin") did not look too good. As Mary Ellen said, "The cabinet fronts had an ugly pinkish hue, the laminate countertops were basic and dated and the linoleum floor was not very exciting. When the oven broke down Pat and I decided enough was enough – it was time to remodel the kitchen!"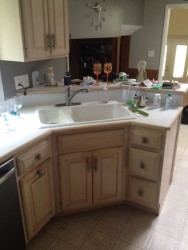 After getting a referral from good friends (the Neuman's) Mary Ellen and Pat connected with the designer from Cleveland Design and Remodeling – Jeff Merrell. The game plan was Jeff's construction team took charge of all elements which would benefit from professional installation expertise. These items included new Cambria quartz countertops (in a Flint black color), a new glass tile backsplash (called "Dusky Scenery" from the Tile Shop) and changing out the old wood spindles leading to the family room with a contemporary wire railing system.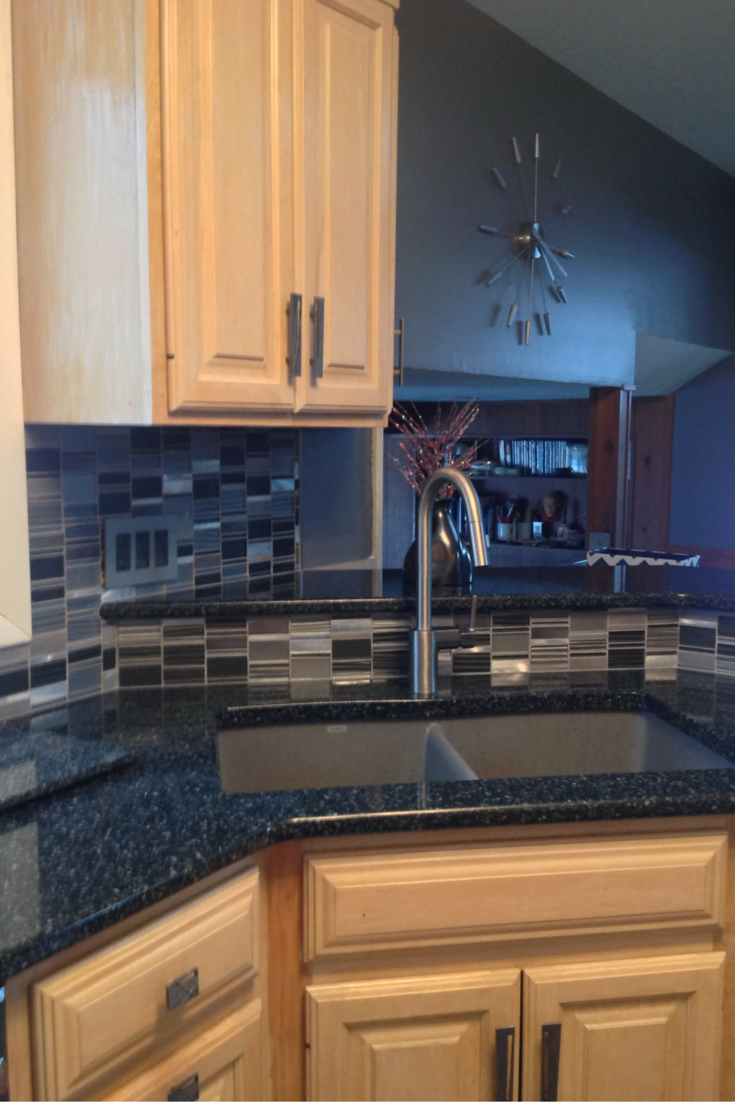 When it came down to the need for the "DIY elbow grease" to get rid of the pinkish hue on the cabinets the work fell in the hands of Mary Ellen, Pat, and their next door neighbor (with even a little help from their 7 year old nephew Liam). Using only lacquer thinner and scrappers the old finish was painfully removed creating a contemporary – and slightly distressed – new look. The refinished cabinet fronts go well with the glimmering qualities of the quartz countertops and glass tile backsplash.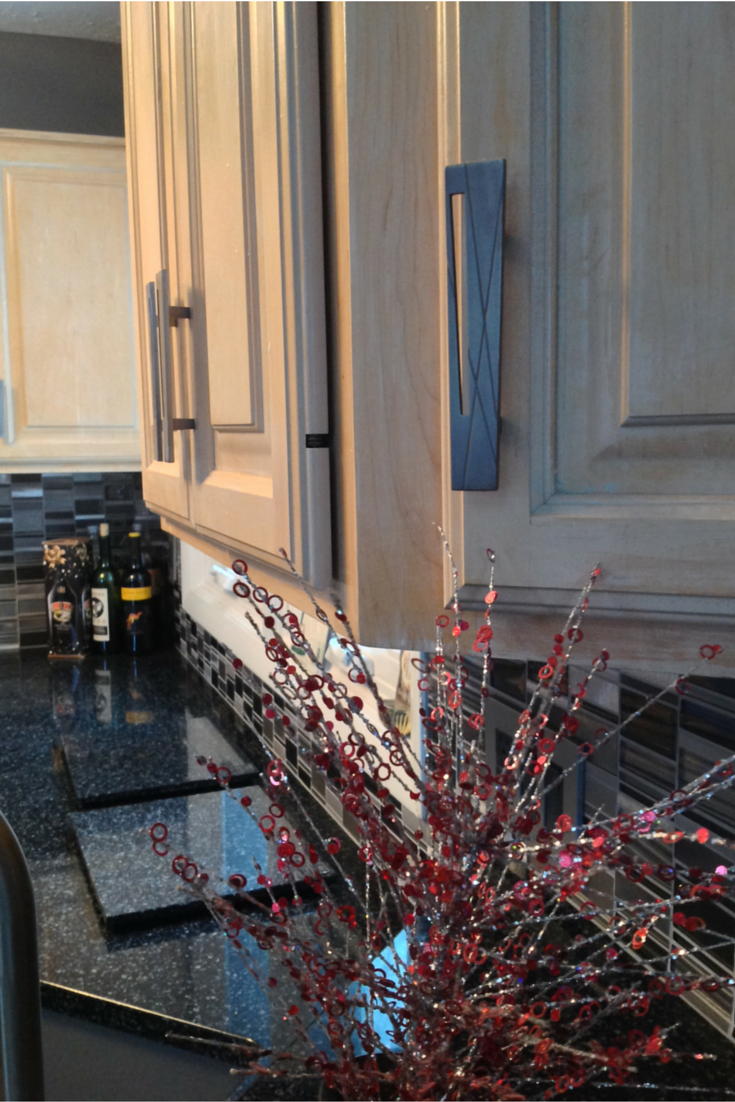 The Laundry Remodel – Bold and functional
The laundry room (which is located off the kitchen) was an eyesore and had limited storage.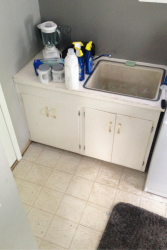 To keep project costs down the couple took on the responsibility to supply their own cabinets and arrange to do the painting. While the raised panel base cabinets they bought from their local home center store worked well, John Fronek (the Project Manager with Cleveland Design and Remodeling) told the Swingers he felt they needed to do something different with the upper cabinets (you see the original upper cabinets were short, out of scale in relation to the ceiling and would not provide much storage). Based on this input substantially taller upper cabinets were bought adding space and the proper proportioning to the room. Once again wise people (the Swingers in this case) listened to the advice of their contractor for an improved result.
Mary Ellen added some pop to what normally is a dreary room (i.e. the laundry room) by choosing a fun retro pattern high definition laminate and bright blue painted walls (check out the nice artwork from her nephew Matthew on the wall).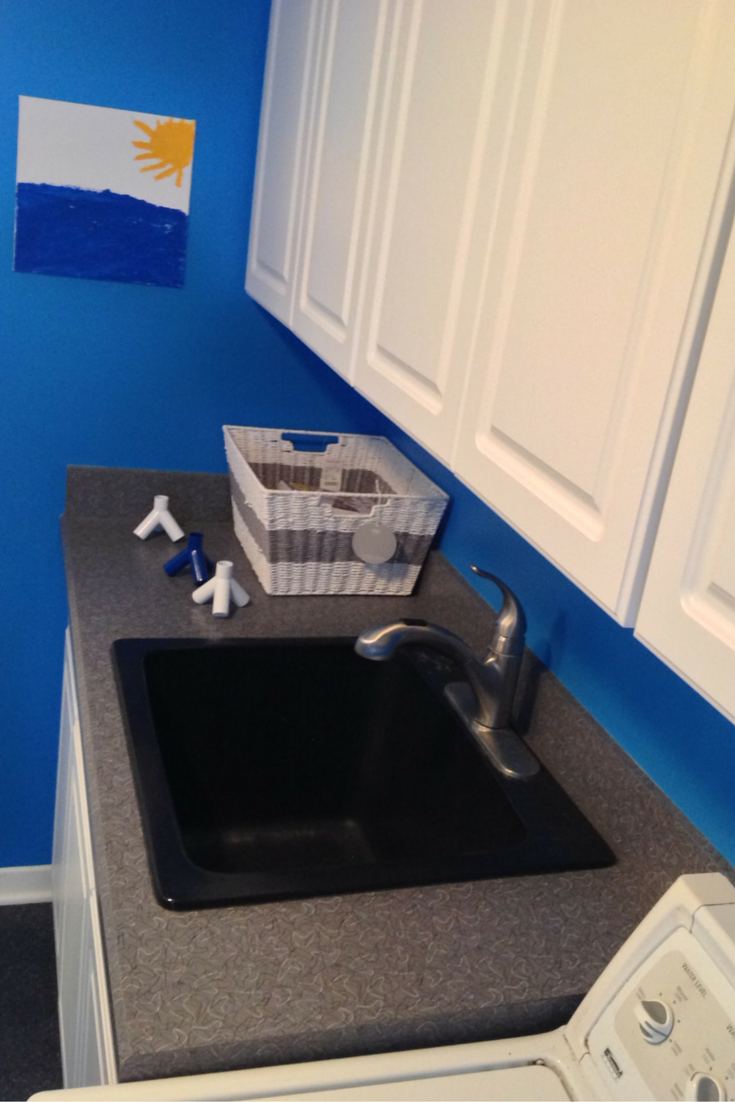 A Master Bath Remodel – Designed for tomorrow, but meant to be enjoyed today
Mary Ellen and Pat thought what can really be done to update our compact master bathroom and small alcove tub?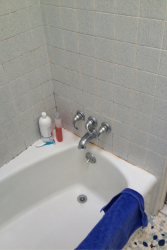 Maybe we can freshen up the tub space with new tile or add a new floor for an updated look? The couple expressed these ideas to Jeff Merrell (the project designer) who came a transformational idea.
Jeff recommended converting the tub into a shower and using a rich-looking and low maintenance stone solid surface shower wall and pan system (shown here with a "mystique" colored base and "blizzard" colored wall panels). As Pat said, "I'm not getting any younger (although Mary Ellen may be!) and it's so easy getting in and out of the shower now compared to climbing over the old tub. It's also a lot safer for my Mom, Aunt and Uncle to use when they visit."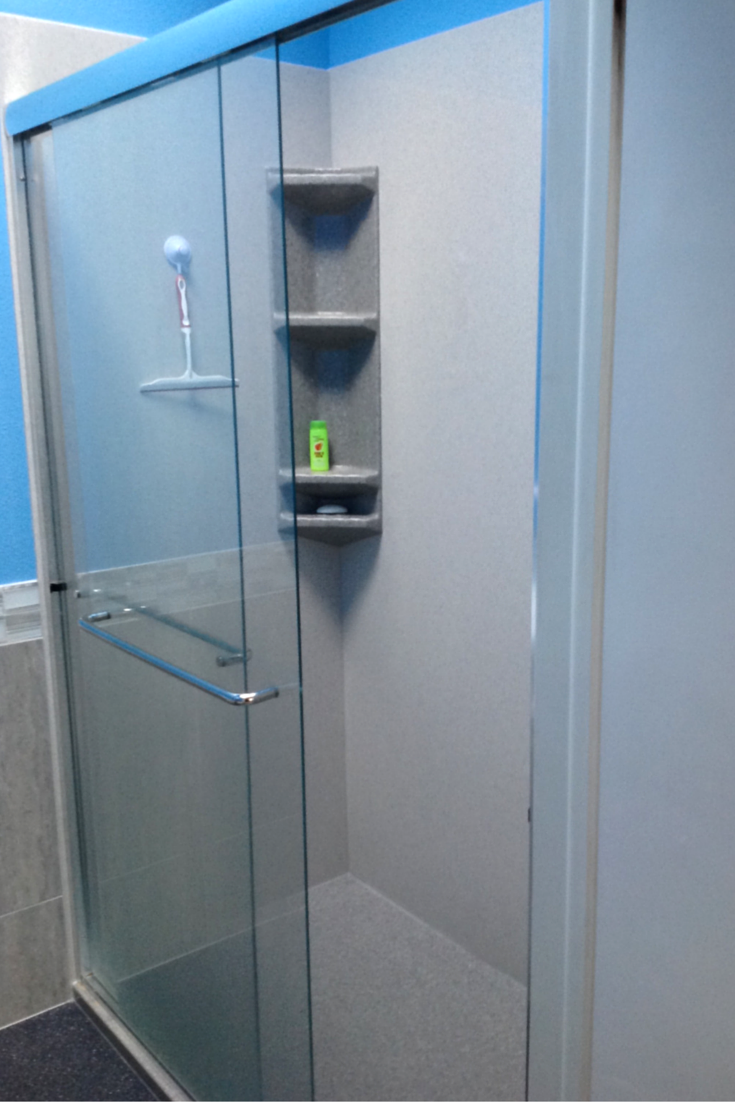 In addition to the functionality of the new shower, the rain head makes taking a shower more relaxing, the glass tile ceramic border dresses adds a decorative touch and the vinyl flooring makes the floor warmer to walk on.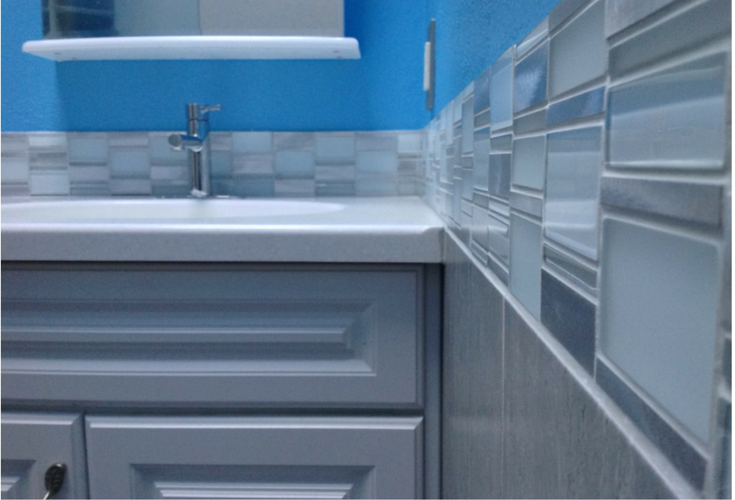 Conclusion
While partnering with a homeowner who wants to DIY some elements of their remodeling project is not always the easiest arrangement for a professional contractor – when you have the right people involved (like the Swingers) the finished project can be distinctive, functional and more cost effective for the owners – as well as good experience for their contractor.
###
For a basement, kitchen or Cleveland bathroom remodeling project call Cleveland Design & Remodeling (216-658-1270). For nationwide wholesale supply on unique shower products like the solid surface shower pan and wall panels discussed in this article call Innovate Building Solutions (877-668-5888).
---
Mike Foti
President of Innovate Building Solutions a nationwide supplier and regional (Cleveland and Columbus) remodeling contractors. Some of our product lines include glass counters, floors, backsplashes, glass blocks and grout free shower and tub wall panels
---