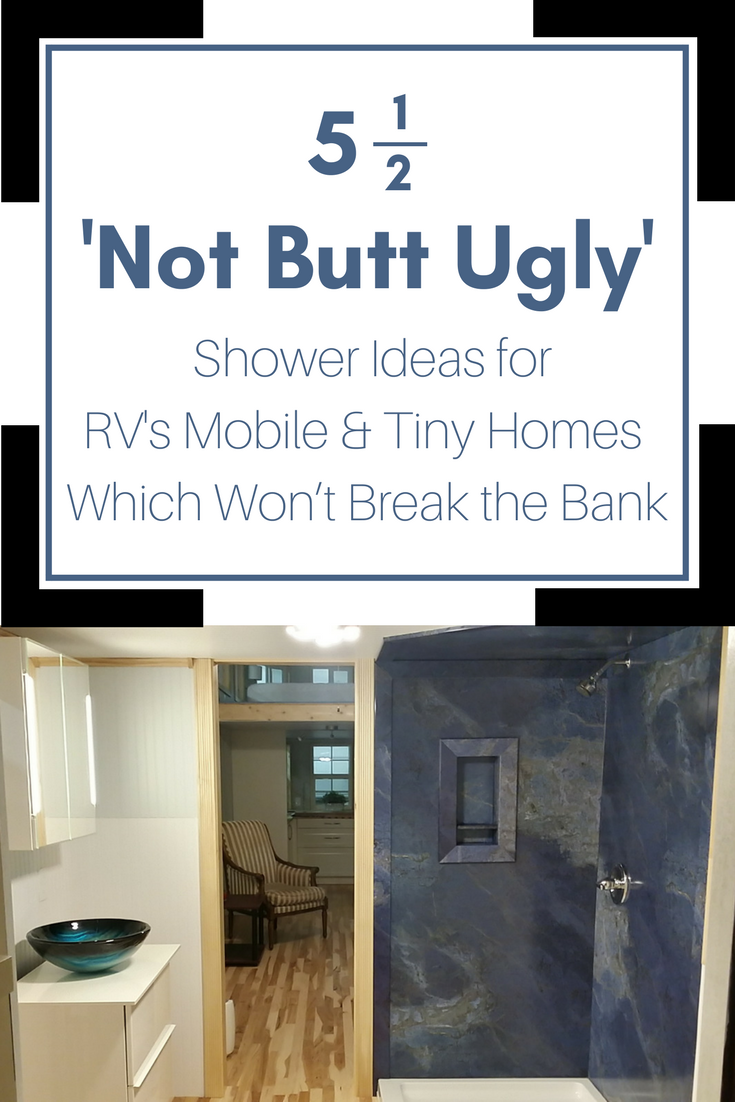 Updated August 18, 2019
My Dad used to tell me, "Mike, you can't fit 10 lbs. of s*** (insert swear word here) into a 5 lb. bag." My Dad was quite the creative guy (both in his fun use of words and in business – which was his passion). If he was alive today to experience the tiny home, mobile home, RV and converted bus movements, I could hear him amend his quote to add, "You can, however, fit more than 10 lbs. of coolness into a tiny home bathroom with only 5 pounds of space!"
Owners of tiny homes, mobile homes, converted buses know that 'great minds DO NOT think alike.' (note – I love this saying from Lawrence School – a school for kids with learning differences both of my boys attended).
Great minds create, innovate, figure out a way when everyone else says, "No way dude!"
When it comes to tight bathrooms in mobile-friendly vehicles (whether they are on land or 'sea') you've got to think outside the confines of the boring, white 32" square fiberglass one-piece shower (which will look like 10 lbs. of s*** in a few years anyway).
You need to find creative materials for your shower which will work day in and day out.
You need to think about fun materials which will show your unique sense of style and personality. After all you didn't get into a mobile-type home just to have a generic place to rest your head at night.
You need to think of products you can install yourself (or pay some buddies with a good steak-dinner to help you install) which won't break the bank (or if they do break the bank, it will be worth it).
In this article, my goal is to show you 5 ½ 'not-butt-ugly' shower ideas which will put the WOW into your tiny mobile-friendly bathroom. These ideas will work whether you're building a new tiny home, remodeling or retrofitting an existing Airstream, houseboat or even a full-sized bus. Although I'm presenting 5 1/2 ideas here for you –your imagination is limitless – so at the end of the article I'd love to hear your comments about other cool shower ideas you've seen. Give me your opinion on whether the ideas I've presented deserve an enthusiastic thumbs-up or a rousing thumbs-down.