3 Steps to Add Style to a Tiny Home or Houseboat Shower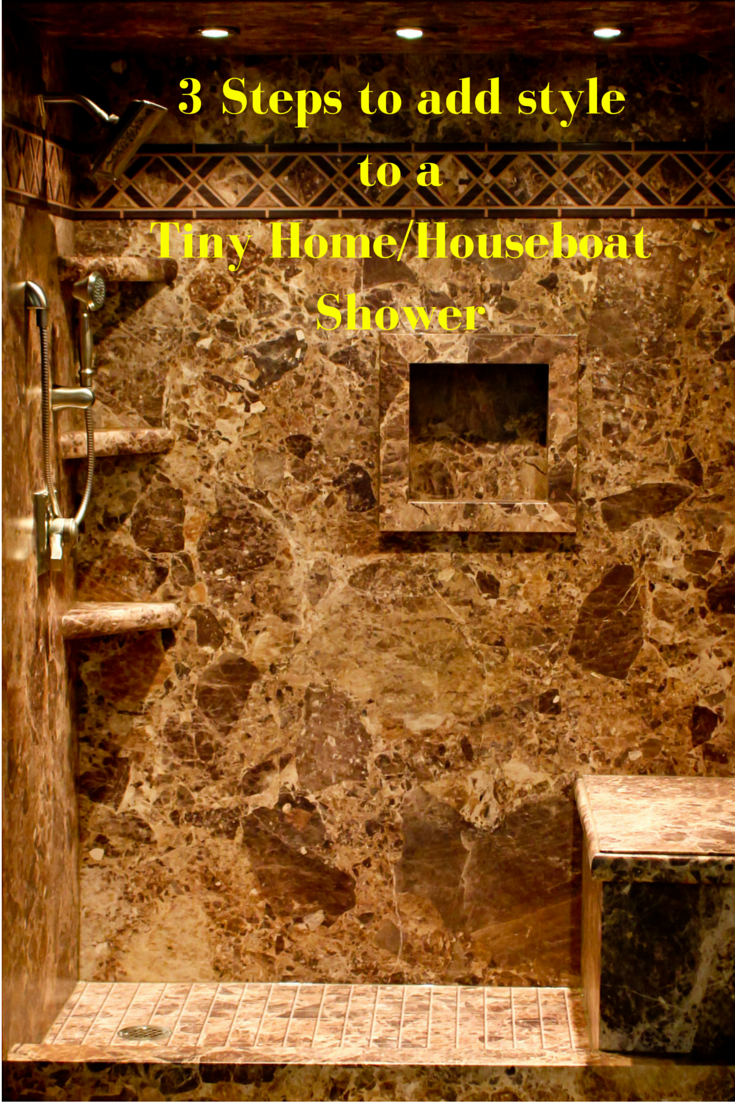 You've seen this nightmare look before. Flimsy plastic shower panels in a tiny home which look like they belong in a beat up old RV – or a yellowing fiberglass shower pan in a houseboat that screams "I got a cheap home center clearance special!" Just because you own or are building a home where you need lightweight materials which will "travel" well doesn't mean you have to sacrifice quality or style.
Whether you are a DIY enthusiast looking to build an efficient tiny home to live off the grid or are having an upscale houseboat professionally built you can rest assured that lightweight and innovative building materials are no longer mutually exclusive. In the article below I'll take you on a mini-journey (this "journey" will go from the shower pan up to the shower wall panels and finish with the glass enclosure) to show ways to add style to a tiny home or houseboat shower…without busting your budget.
Step 1 – Choose the right shower base for a tiny home or houseboat  
While it might be nice to have a stone or tile shower base their weight and structural stability for a "moveable home" make them less practical for a tiny home or houseboat. To add style, increase longevity and keep weight down in a small 30" to 36" space I'd recommend ditching a cheap fiberglass base and going with a uniquely designed acrylic pan. These bases will not fade, yellow or crack like their fiberglass counterparts and come in some cool shapes including Arc, Round and Neo Angle options. These pans can also be paired with upscale glass enclosures for a completely coordinated look (see step 3 below).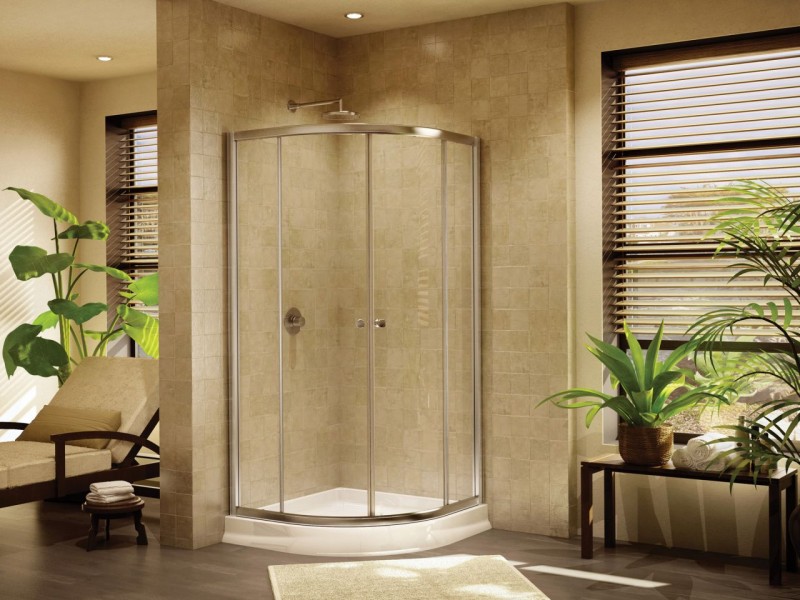 Step 2 – Selecting the right shower panels for a tiny home or houseboat
Yes you can use (tiny+stylish + lightweight) in the same sentence and incorporate them into your contemporary moveable home. Whether your interior décor preference is traditional elegance or you want a cool urban look there are options which will not only work for you, but can also be installed by you (if you're a DIY'er). Let's take a look at these choices.
Traditional shower wall panels
Who wouldn't love the look of classic natural marble or granite walls – but the weight (if not the cost) might just knock you over. That's why Kristi Bugajski of Tiny House Escapade was excited when she found a ¼" thick shower panels made of a PVC backed composite with digitally printed stone images. As Kristi said, "This materials was a breeze for my husband Rafael to install and other tiny home owners have been blown away by the finished look. All we needed to do was to adhere the panels to a moisture resistant drywall. We wanted (and needed) a lightweight material which could make our tiny home bathroom look luxurious – yet cost effective – and this material was the answer. "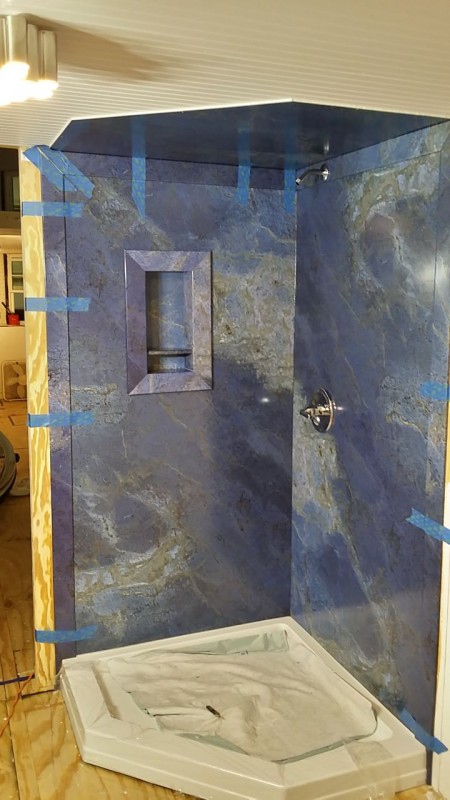 These PVC backed composite shower wall panels come in 21 different patterns and have the added flexibility of ready-made recessed soap and shampoo niches to make the most out of every inch of space. The ease of installation made it simple enough for Rafael to use a panel to waterproof the ceiling as well (check out the image below). If you want (or need) a slightly curved panel this material can accommodate this shape as well.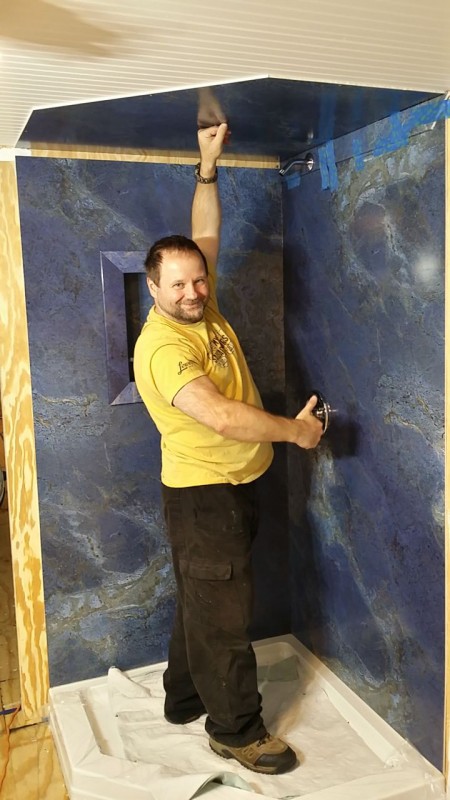 Cool contemporary urban vibe shower panels
If the traditional look is not your thing – there is another alternative. This product is a high gloss acrylic wall panel. These contemporary panels have the slick look of back painted glass but are completely safe because they are made of acrylic. They are lightweight, 5/32" thick and available in 7 fun colors (including blue attol, red rouge, titan gray, arctic white, glacier, mocha and carbon) and turn your shower into the sleekest place "off the grid." A DIY installation is very do-able because the panels are simply adhere to a water resistant green board with double sided tape and neutral cure silicone. This material (like the PVC backed composite product mentioned above) can be cut with common woodworking equipment.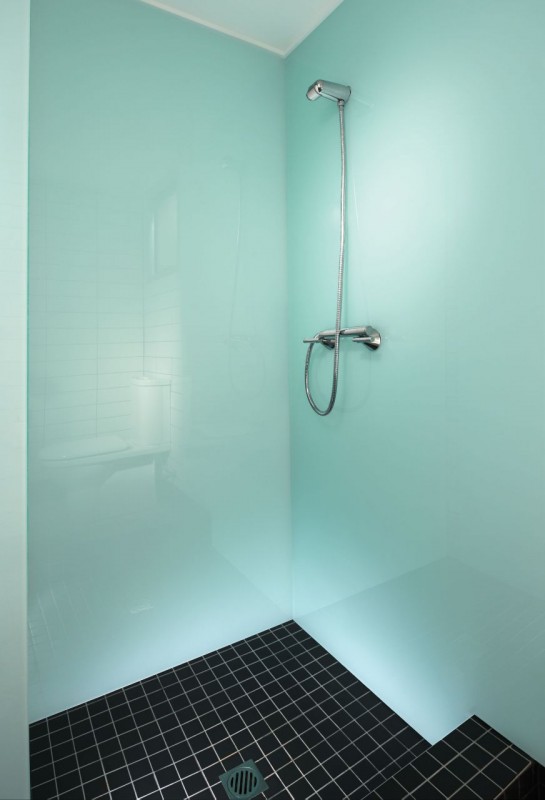 Step 3 – Shower doors to retain the water while exposing (OK maybe a bad choice of words) your style  
 Although it is certainly possible to use a shower curtain they generally aren't stylish and tend to get nasty over time with soap and scum build up. You can take your tiny home or houseboat to the next level by using a sliding glass enclosure which is designed specifically to fit the acrylic bases discussed in Step 1. The sliding glass doors come in various thicknesses (from ….." to …..") in clear and obscure glass options and will keep the water in and protect your subfloor from deteriorating.
Conclusion
Hopefully you can now see a shower does not have to be the "ugly stepchild" (sorry no offense to stepchildren meant here) of your home. Style, lightweight and mobility can live in perfect harmony in a tiny home or houseboat shower.
For nationwide material supply of the products mentioned in this article call Innovate Building Solutions (877-668-5888). Regional installation are performed by The Bath Doctor of Cleveland (216-658-1270) and Columbus (614-252-3242)
Follow the author – Mike Foti on Twitter @Mike_Foti or his company @InnovateBuild or on LinkedIn.
---
Mike Foti
President of Innovate Building Solutions a nationwide supplier and regional (Cleveland and Columbus) remodeling contractors. Some of our product lines include glass counters, floors, backsplashes, glass blocks and grout free shower and tub wall panels
---