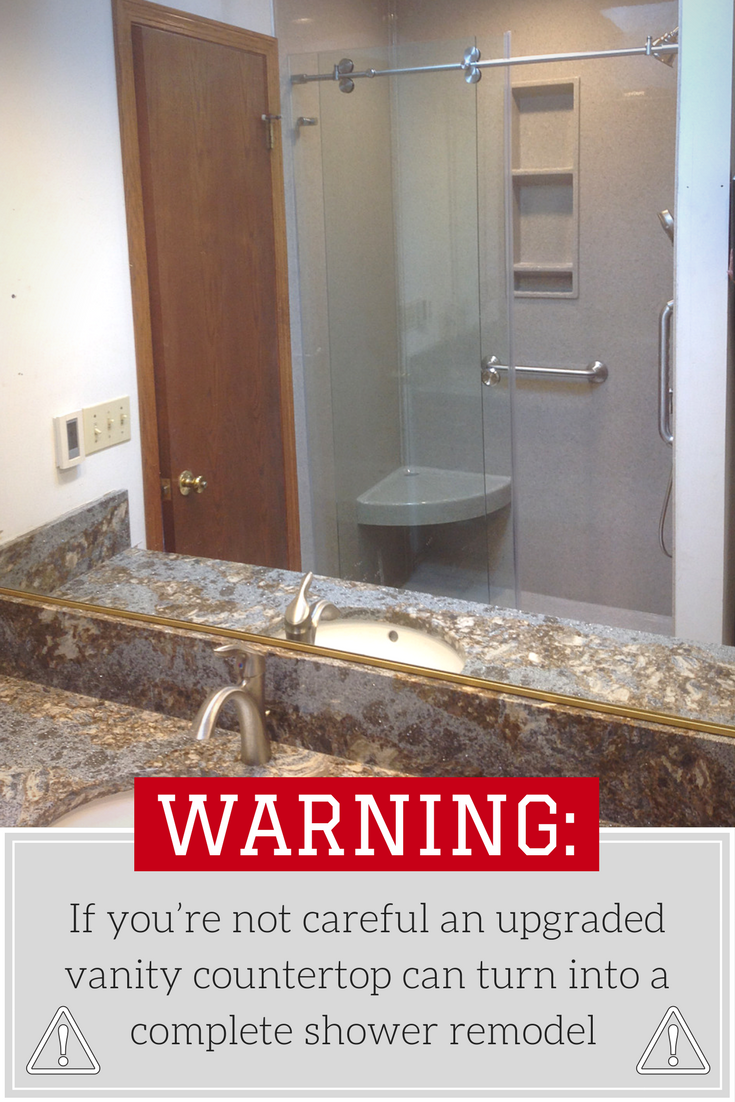 Updated March 23, 2019
Imagine you go into Dillard's. You find a Fendi, Gucci or Louis Vuitton handbag on Super Sale. You snatch it off the shelf. The exhilaration of pure fashion joy overcomes you. You bring your new-found prize possession home. You joyously pull it out of the bag in your closet. You try matching it with your existing wardrobe and nothing (and I do mean none of your pants, dresses, blouses or shoes) looks good with the new purse. The new bag is waaaaaay too nice to be 'mixed up' with your tired wardrobe. Now what do you do? You head back to the mall in search of a sharp outfit to go with your stylish handbag.
You may be asking, Mike, "what the heck does fancy handbags have to do with bathroom remodeling?" That is a darn good question.
Well – Deborah of Cleveland Ohio can tell you. You see while Deborah was upgrading her kitchen floors and countertops she also made a fateful decision to blow up her 30-year-old 'Back to the Future' (circa 1987) chipped and butt-ugly Formica countertops in her bathrooms. She replaced them with luxurious 1 ¼" thick Quartz surfaces. It sounded like a good idea…at the time.
The problem Deborah ran into is directly related to the handbag challenge above. The new countertops put her old showers to shame! Her contemporary and stylish vanity tops now lived side by side with a poorly functioning, builders grade faded and dingy fiberglass showers. 'A' and 'B' (the countertops and the showers) didn't work together.
As Deborah told me, "Mike – the Quartz countertops made my existing dirty and yellowed fiberglass original shower look ridiculous!" Something had to be done.
While this fashion faux-pas was prompting Deborah to remodel her showers, this project HAD TO BE about more than fashion. The new showers needed to address function. Since Deborah and her husband are both in their 60's (although she doesn't look at day over 39! – my wife has taught me well), and they have no intentions of leaving this home (EVER), they wanted a shower which would not need to be replaced as they get older.
This new design had to address fashion and function. In this article we'll look at the problems of Deborah's existing showers. We'll also see how fashionable product selections and a functional shower design were used to make everything work. Lastly – we'll get Deborah's input on a on how she came to appreciate her 'no frustration' bathroom remodeling contractor – Cleveland Design and Remodeling. (Note – I'll have to fess up. This is a shameless plug here since I'm a member of the Cleveland Design and Remodeling and Bath Doctor team). However, I think our guys listened to, connected with and delivered a nice job for Deborah – but I'll let her tell you why. Let's dig in.