Warning: If you're not careful an upgraded vanity countertop can turn into a complete shower remodel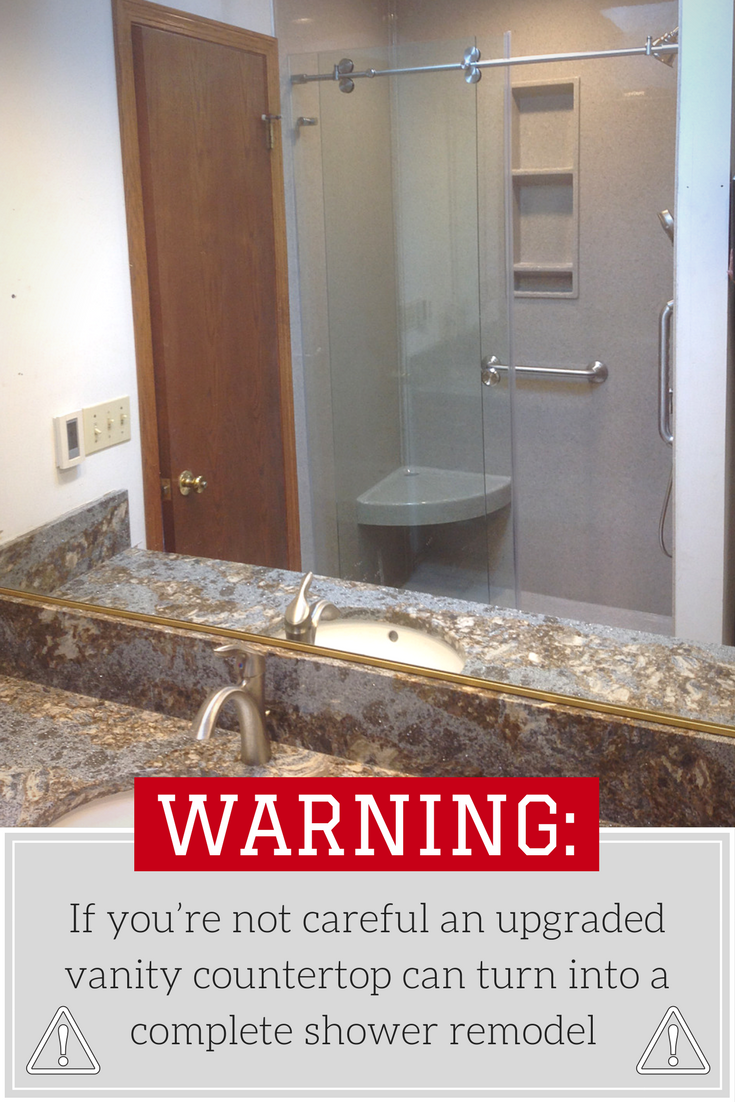 Updated March 23, 2019
Imagine you go into Dillard's. You find a Fendi, Gucci or Louis Vuitton handbag on Super Sale. You snatch it off the shelf. The exhilaration of pure fashion joy overcomes you. You bring your new-found prize possession home. You joyously pull it out of the bag in your closet. You try matching it with your existing wardrobe and nothing (and I do mean none of your pants, dresses, blouses or shoes) looks good with the new purse. The new bag is waaaaaay too nice to be 'mixed up' with your tired wardrobe. Now what do you do? You head back to the mall in search of a sharp outfit to go with your stylish handbag.
You may be asking, Mike, "what the heck does fancy handbags have to do with bathroom remodeling?" That is a darn good question.
Well – Deborah of Cleveland Ohio can tell you. You see while Deborah was upgrading her kitchen floors and countertops she also made a fateful decision to blow up her 30-year-old 'Back to the Future' (circa 1987) chipped and butt-ugly Formica countertops in her bathrooms. She replaced them with luxurious 1 ¼" thick Quartz surfaces. It sounded like a good idea…at the time.
The problem Deborah ran into is directly related to the handbag challenge above. The new countertops put her old showers to shame! Her contemporary and stylish vanity tops now lived side by side with a poorly functioning, builders grade faded and dingy fiberglass showers. 'A' and 'B' (the countertops and the showers) didn't work together.
As Deborah told me, "Mike – the Quartz countertops made my existing dirty and yellowed fiberglass original shower look ridiculous!" Something had to be done.
While this fashion faux-pas was prompting Deborah to remodel her showers, this project HAD TO BE about more than fashion. The new showers needed to address function. Since Deborah and her husband are both in their 60's (although she doesn't look at day over 39! – my wife has taught me well), and they have no intentions of leaving this home (EVER), they wanted a shower which would not need to be replaced as they get older.
This new design had to address fashion and function. In this article we'll look at the problems of Deborah's existing showers. We'll also see how fashionable product selections and a functional shower design were used to make everything work. Lastly – we'll get Deborah's input on a on how she came to appreciate her 'no frustration' bathroom remodeling contractor – Cleveland Design and Remodeling. (Note – I'll have to fess up. This is a shameless plug here since I'm a member of the Cleveland Design and Remodeling and Bath Doctor team). However, I think our guys listened to, connected with and delivered a nice job for Deborah – but I'll let her tell you why. Let's dig in.
The problems with Deborah's fiberglass showers
Let's just say Deborah's builder-grade fiberglass showers were not her favorite spaces in the house (check out how 'cool' they are below – sarcasm intended). Here's 4 reasons Deborah wanted to do away with these showers:
The 'quasi-seats' in the shower were almost good for nothing – This molded fiberglass shower had two 'seats,' but they weren't deep enough to to sit on comfortably – and they took up a lot of room. Deborah either needed one large seat – or no seat at all – to make the most out of her 60" x 32" shower.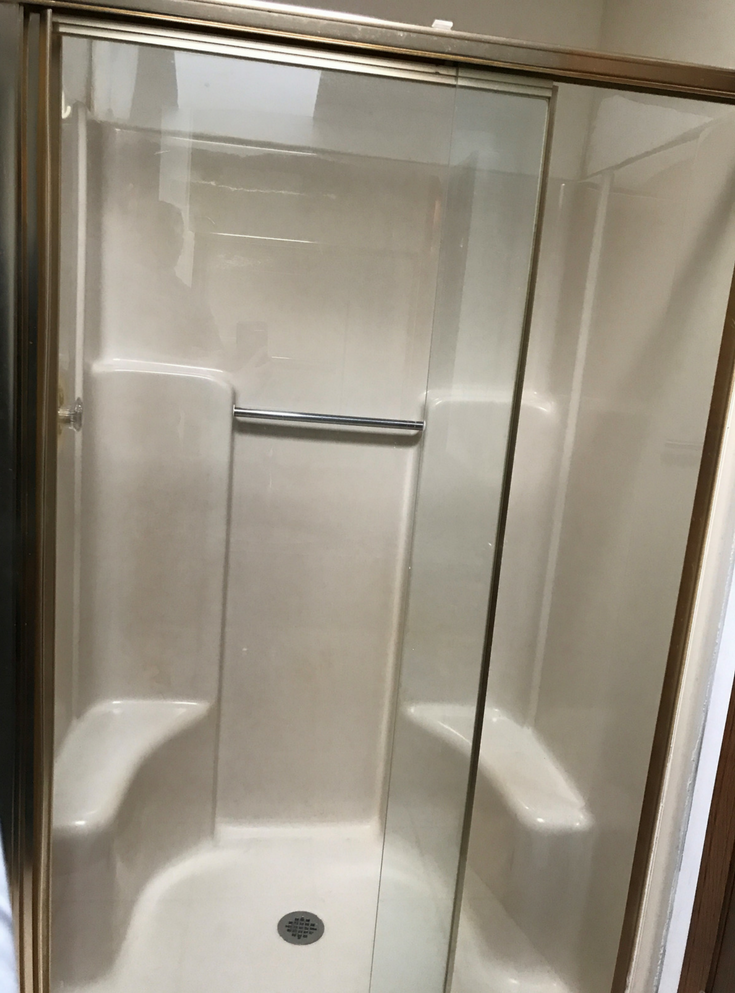 The not very tall bright brass flimsy framed shower doors screamed out ugly – Framed shower doors were popular when Deborah's home was built in 1987. Today they just looked dirty, old and dated. The other problem with the doors is they were so low her 6'2" husband had to duck to get in!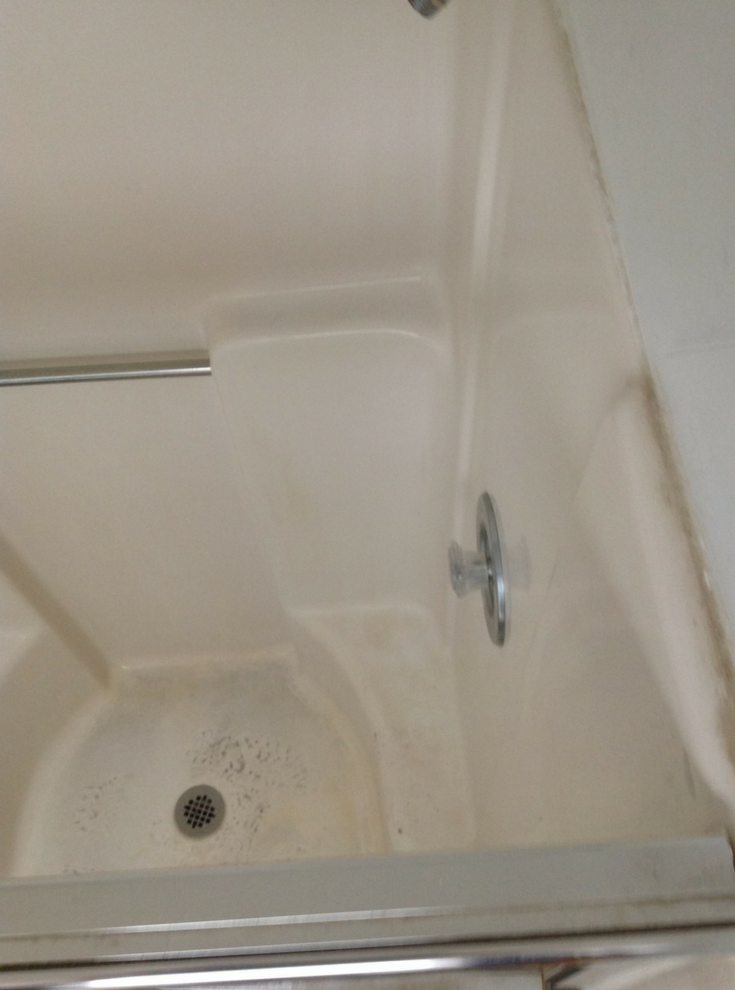 Cleaning the shower pan is nearly impossible – Fiberglass shower pans are a pain to clean (do you know what I'm saying?). Deborah's was no different. Ground in dirt was a permanent 'fixture' on the bottom of the base.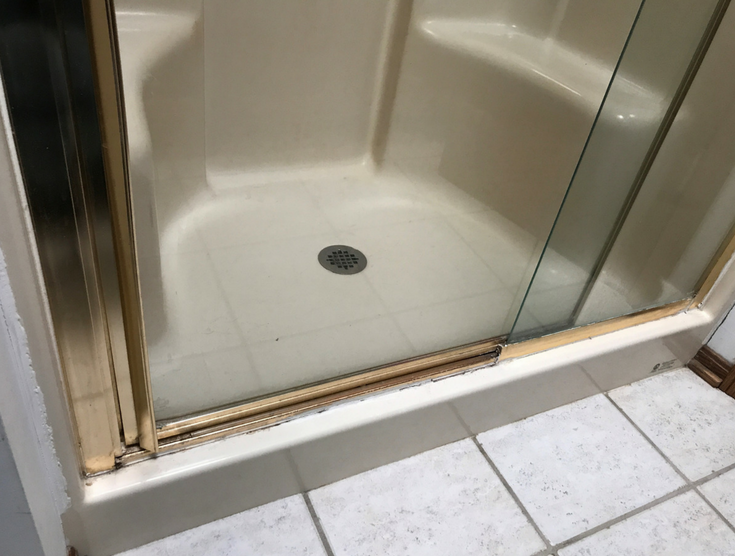 The shower WAS NOT designed to be simple to use as Deborah and her husband got older – With it's 5" high step over curb, no safety grab bars and lack of useable seating – this shower was getting harder and harder for Deborah and her husband to use. Safety concerns would only get worse.
Choose fashionable products you enjoy, but don't have to scrub to maintain  
Deborah wanted a fashionable shower which would compliment (not provide a junk-yard dog contrast like the old fiberglass showers) her new tops. This desire for a space which looked good led Deborah to the following three product selections:
Product #1 – A matching solid surface shower pan and wall surround panels
Deborah wanted a coordinated look for her shower pan and walls (she didn't want one type of wall panel to be mixed with different material for the shower base). To accomplish this goal, she chose a solid surface shower kit. As Deborah mentioned to me, "Mike – I love how shiny, sleek and contemporary the solid surface is. It's so easy to squeegee!"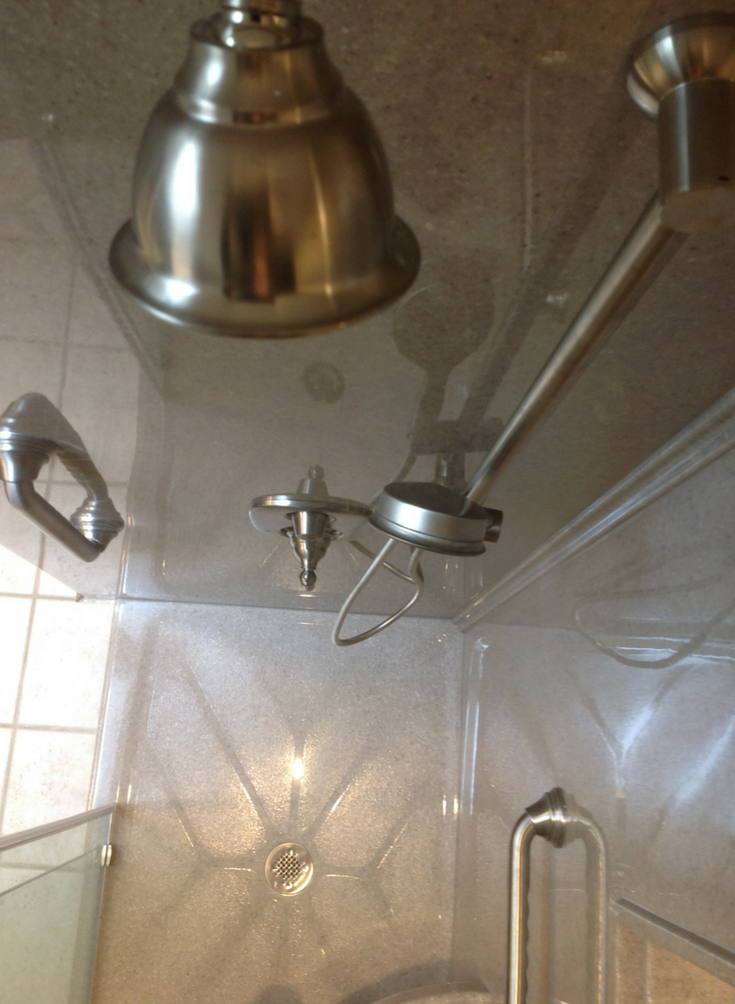 Product #2 – A 'no ducking' contemporary frameless glass shower barn door
The barn door look, and function, is HOT in interior design today. Why not use a contemporary frameless barn door with a sleek easy-to-clean shower system? These doors are not only simple to open and close – but they also have no track (yes that is ZERO track) at the bottom. Deborah doesn't have to clean nasty gunk out of the bottom. The glass was designed to be taller so Deborah's 6'2" husband no longer has to duck to get in (there's nothing like banging your head on the shower door frame early in the morning!).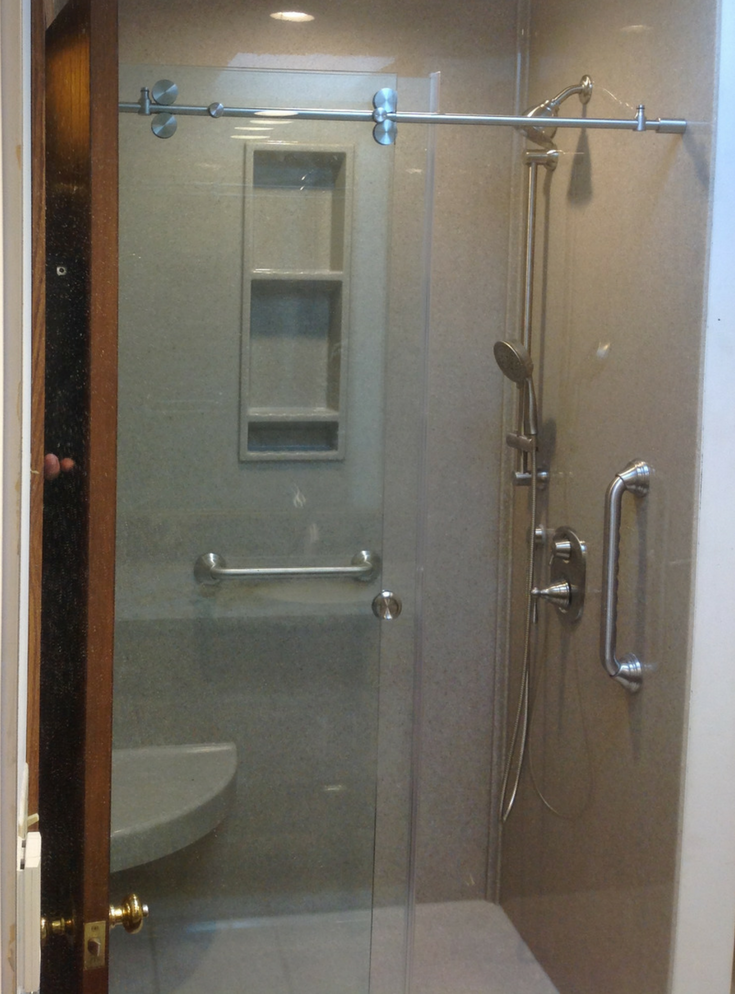 Product #3 – Recessed niches
Using extra tall recessed solid surface niches gives Deborah plenty of room for shampoos, conditioners, and moisturizers without taking precious space in the shower because they are neatly tucked into the wall.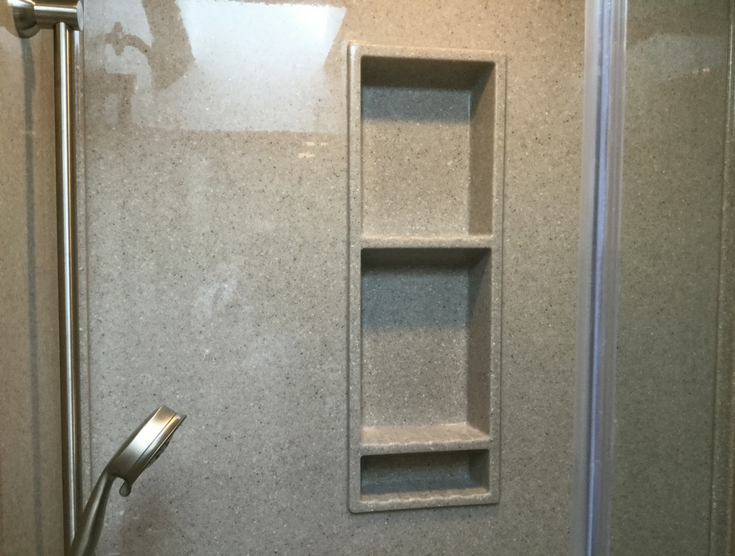 A functional design you'll want to use as you get older
While a fashionable bathroom is fun – when it comes to a shower, form needs to follow function. As Johniee Cochran would say if he changed careers and became a bathroom remodeling contractor, "If your bathroom don't fit, you must acquit."
Many people get forced into doing a bathroom remodel as they age, or after a difficult life-event. Their bathrooms simply don't work anymore. In Deborah's case she wanted to make sure the 'form' of this bathroom would work for 10 years, 20 years or even 30 years from now. But how you may ask? Check out the fashion-forward safety design features which allow Deborah and her husband to 'age in place (Note – if you've been reading this blog for any time you know I hate the term aging in place. To me it makes people sound old and sedentary. We don't want to age in place – we want to actively enjoy our current space!).'
Fashion-forward safety feature #1: Low profile shower curb
Stepping over a 1 ½" high shower threshold is a heck of lot easier than the 5" one Deborah had before. What's even nicer is this low profile solid surface base can be converted into a roll in shower with a ramp extension – if needed – (hopefully this forward-thinking benefit will never be needed).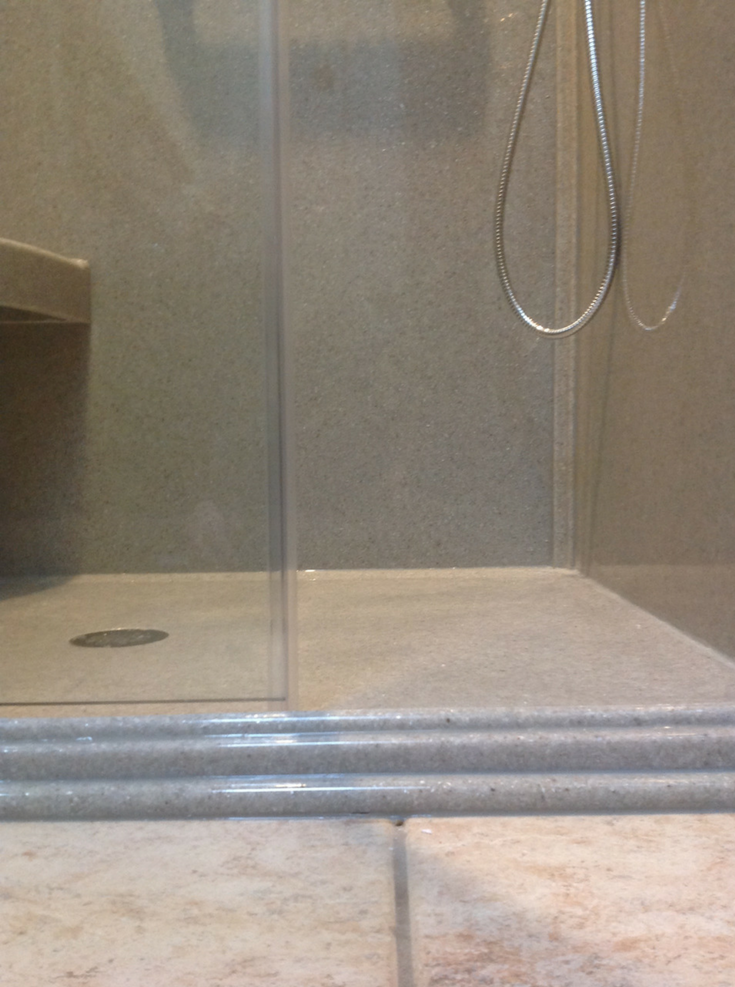 Fashion-forward safety feature #2: Stylish grab bars
Safety doesn't have to suck. Who wants to stare at a grab bar which looks like you're visiting Grandma (not that you don't love to visit her!). These brushed nickel Moen bars add style without taking away from the design.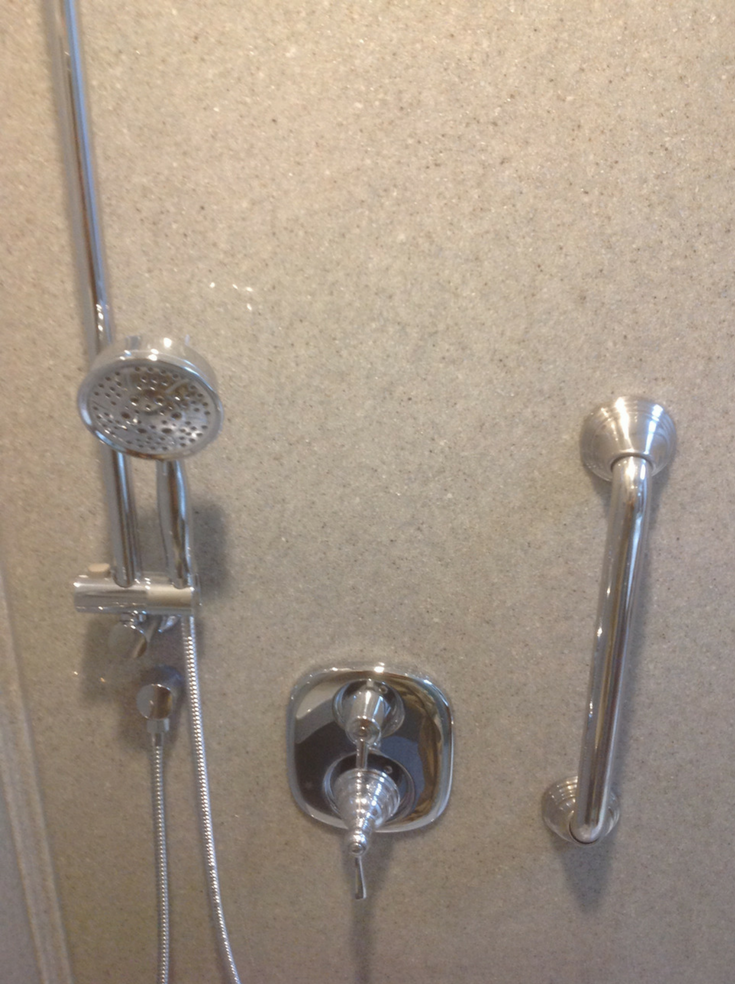 Fashion-forward safety feature #3: A properly sized bench seat
When I was interviewing Deborah she said, "Mike – I know why old people hate to shower. It's because their showers are such a pain to use. In our old shower we had two places to sit – but practically no place to sit (the 'seats' were too shallow). Even if we did sit down, with only fixed stationary head we couldn't clean ourselves off or shave in the shower. With our new shower we have one 18" solid surface corner bench seat and a hand-held shower. We can relax and use our shower effectively. I actually look forward to taking a shower!"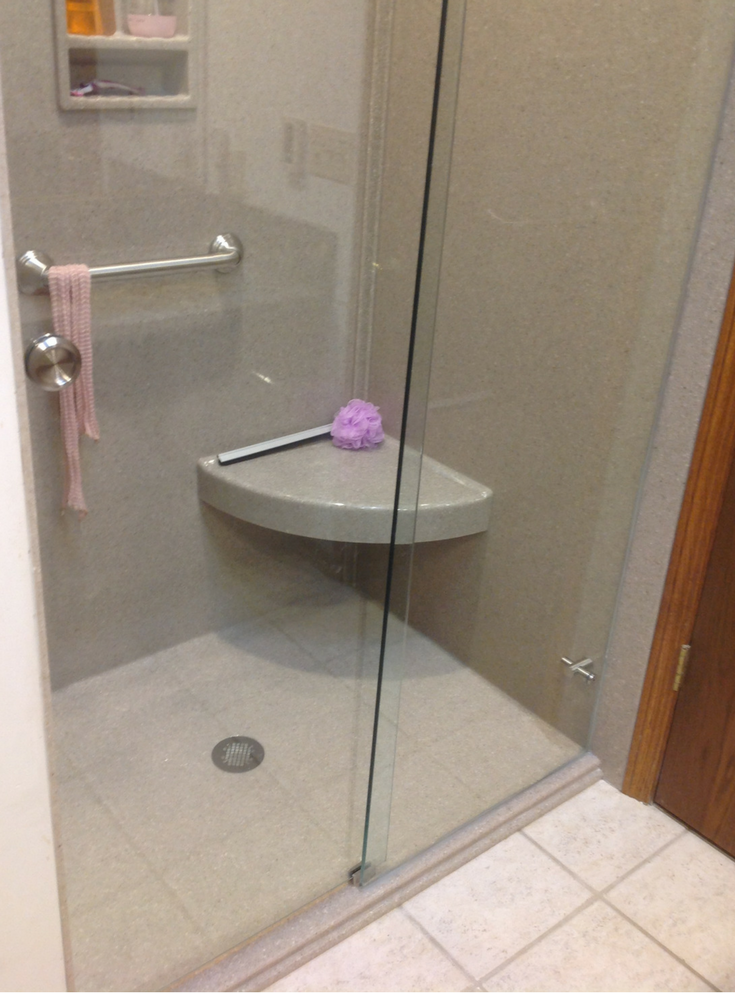 Choose a 'no frustration' contractor who listens and has a 'sky's the limit' attitude
Today the biggest problem with a bathroom remodel is not a lack of products which give you the fashion, form and function to make your bathroom work. No, the problem is often finding nice, caring and thoughtful contractors you actually want in your home. One's who don't try to squeeze every dollar out of you and make an already dusty, dirty process an even bigger pain to endure.
In researching this shower, Deborah had a 'too-typical' experience. She dealt with companies who misinformed her and kept telling her 'what she needed to do,' and not listening to what she wanted to do. She had one company who priced the job so high she practically fell off her chair. In the end Deborah choose Cleveland Design and Remodeling. Here's what Deborah told me about the experience.
"Mike – from the very first sales appointment I felt I was being respected and listened to by Jeff (our sales rep). Jeff heard I wanted a sleek, low maintenance shower. I wanted the pan and walls made of the same material. Jeff delivered with a solid surface shower pan and wall kit. He heard we wanted a barn style door. He delivered (and even improved on our concept) with an extra tall unit so my husband won't bang his head any more.
The positive experience did not end there. During the installation whenever I would suggest ideas to improve the job one of my installers – Chayse – would say, "Deborah, the sky's the limit. Let us know what you want, and we'll figure it out!" The other installer Robbie – was thorough and thoughtful. They even installed one bathroom completely before beginning the next one. This made it possible to never be without a finished shower.
Conclusion
 Bathroom remodeling can be a daunting, scary process. While I wouldn't recommend buying a really cool countertop first (or a cool handbag)– then feel the need to remodel second (like Deborah's story here) – it's nice to know the following:
You can get the fashion you want – if you research long enough.
You can get the function you need – if you and your contractor think long term.
You don't have to put up with the contractor frustration– if you seek out the right contractor referral.
How can I (or my team) help you?
If you need assistance with a shower remodeling project me and my team are glad to help. If you're looking for a local bath remodel in the Cleveland or Akron call The Bath Doctor at 216-658-1280 or in Columbus at 614-252-3242. For nationwide supply of solid surface shower walls and pans call Innovate Building Solutions at 877-668-5888.
If you're a remodeler or builder and want practical advice on remodeling products, industry trends, marketing and sales tips to grow your business (and cut day to day hassles), start reading my newest blog – Innovate Builders Blog. It's packed with ideas you can use now. Click here to Sign Up for the Innovate Builders Blog.
Follow me on Twitter @Mike_Foti or my companies @InnovateBuild or @InnovateHomeOrg.
---
Mike Foti
President of Innovate Building Solutions a nationwide supplier and regional (Cleveland and Columbus) remodeling contractors. Some of our product lines include glass counters, floors, backsplashes, glass blocks and grout free shower and tub wall panels
---