15 Biggest Blunders People Make When Choosing Shower Accessories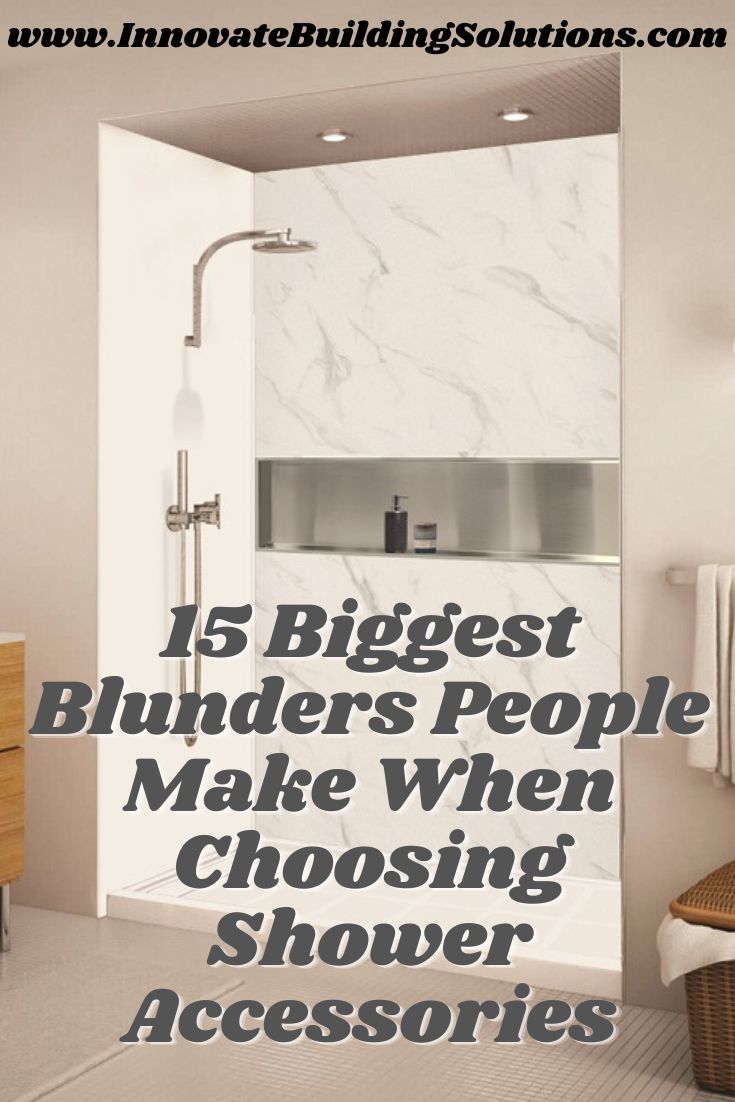 Shower accessories are the 'red-haired-stepchild' of shower remodeling projects. All the attention is given to the shower base, shower walls and glass shower doors. And then (at the last minute), you start thinking where am I going to put my soap, shampoo, grab bars…and the list goes on and on.
This lack of attention with the selection and installation of shower accessories will not only cause your space to not 'live well,' or look snazzy, but can cause your shower to fail (as we'll discuss later).
As a guy who has seen thousands of homeowners complain about their past shower mistakes, I want to make sure these shower accessory mistakes DO NOT HAPPEN TO YOU!
In this article, I'll focus on shower accessories only. At the end I'd love to know which of these blunders you're glad you learned so they WILL NOT become your problem. And please comment with any other mistakes I've missed. Now, let's look at the 15 biggest blunders.
Shower accessory blunder #1 – You don't consider the future (and possibly needing grab bars)
If there's one 'person' who is undefeated in this game we call 'life,' it would be that doggone guy – Father Time! And as we get older (and no matter how we try to reverse it with Botox, hair coloring and plastic surgery), aging is still a harsh, cruel reality we have to deal with.
And when it comes to shower remodeling (and shower accessories) if you don't think about how to build your shower so it can 'adapt' to what you need as you get older, you'll do this at your own risk of needing to 're-remodel' (and yes, I know this isn't a word, but I've seen it happen to many people over the years) your shower.
You see while many people cringe at the term 'aging in place' (and yes, I HATE, HATE, HATE this term myself), when you're doing a shower remodel, you'll be smart to prepare for getting older and NOT being as limber as you are today (sorry to depress you). It's for this reason you don't want to make the mistake many people make by not preparing for grab bars (even if you THINK they're in your far-distant future).
And since safely installed grab bars need a firm backer board behind them so they won't break off the wall when someone leans on them, my recommendation (even if you don't need it today) is to install a sturdy backer board system behind the wall. If you do this, you'll have the option of installing grab bars down the road if needed.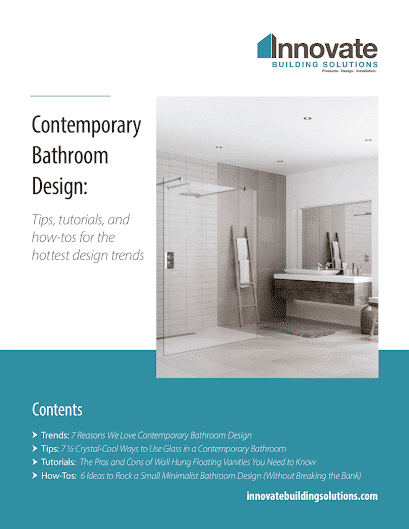 Get Our Contemporary Bathroom Guide!
Tips, tutorials, and how-tos for the hottest design trends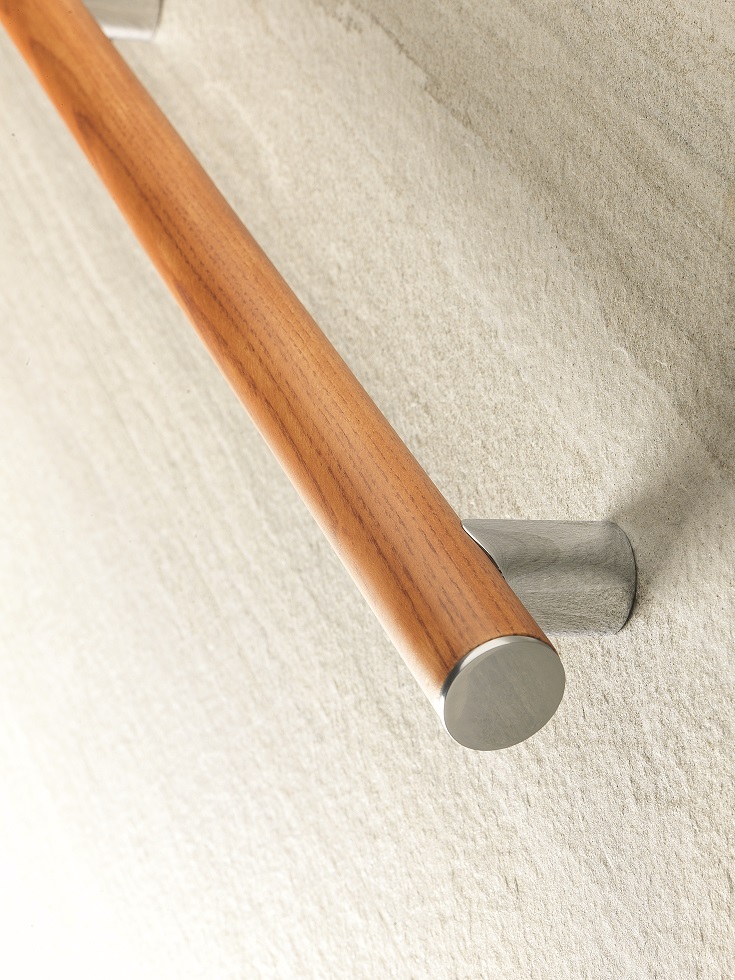 Shower accessory blunder #2 – Your shower accessories take up too much room (especially the bench seat you thought you'd love)
So, you're designing a 48" x 36" or 60" x 32" alcove shower and decide to put in a bench seat so you can shave your legs. So far, so good. Then your burly 250 lb. spouse figures out they can barely move around in your brand-new shower. Now they're burning-hot-mad. You now realize you have a case of 'your-bench-seat-at-up-the-new-shower!"
The good news is this DOES NOT have to be your problem if you haven't designed your shower yet. You can have your cake ('er bench seat) and enjoy it too (room in the shower) with a fold down bench seat. They come in decorative styles. You can fold them down when you need to shave your legs and put them back up when your 'bigger-than-they-were-in-high-school' spouse is taking care of their showering business.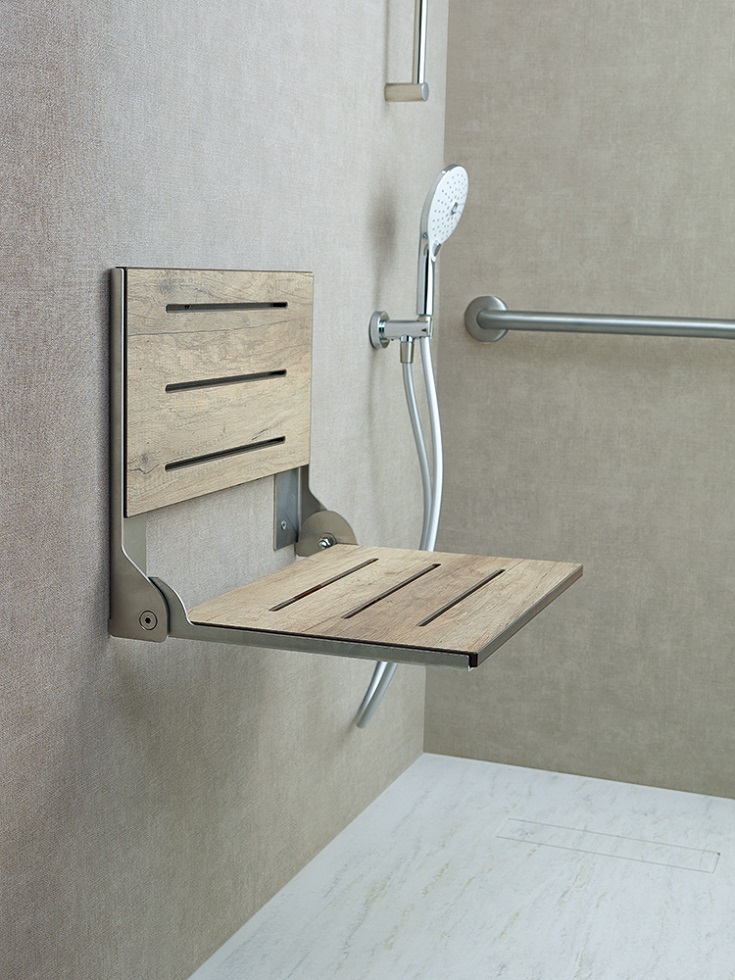 Shower accessory blunder #3 – You forget to put any shower accessories in and end up buying a hideous Dollar Store plastic shampoo caddy!
I'm happy you decided to read this article, because now I know you won't be the victim of this problem. But I'll tell you it happens all the time.
Someone either forgets all about shower accessories (and then has no room for their soaps, shampoos, conditioners etc.) or they underestimate how much space they need and end up buying a cheap plastic shampoo caddy which hangs over the shower head which is near-impossible for their V.C. ('er Vertically Challenged) spouse to reach.
Don't spend ALL your money on a beautiful shower pan, shower surround wall panels and glass shower doors and forget about accessories!
Shower accessory blunder #4 – You don't remember a shower drain cover is actually a shower accessory
A small (very seldom thought about) shower accessory is the drain cover for your shower pan. Often, it's an afterthought until the shower base is installed. Then you think, "Boy, I wish I could do something about that ugly, round chrome drain strainer cover."
And if you're smart – and plan ahead – you can eliminate ugly, old-style drain covers without spending the big bucks for uber-cool linear drains you've seen in expensive interior design magazines. The best way to get a stylish drain cover is to get one which is square (and is more contemporary), and blends in (or disappears) into the base. This modern low profile shower pan is one example. Do you like it?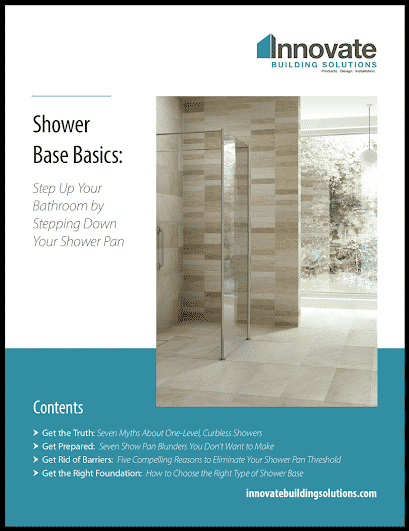 Get Our Ultimate Shower Base Guide!
Step Up Your Bathroom by Stepping Down Your Shower Pan!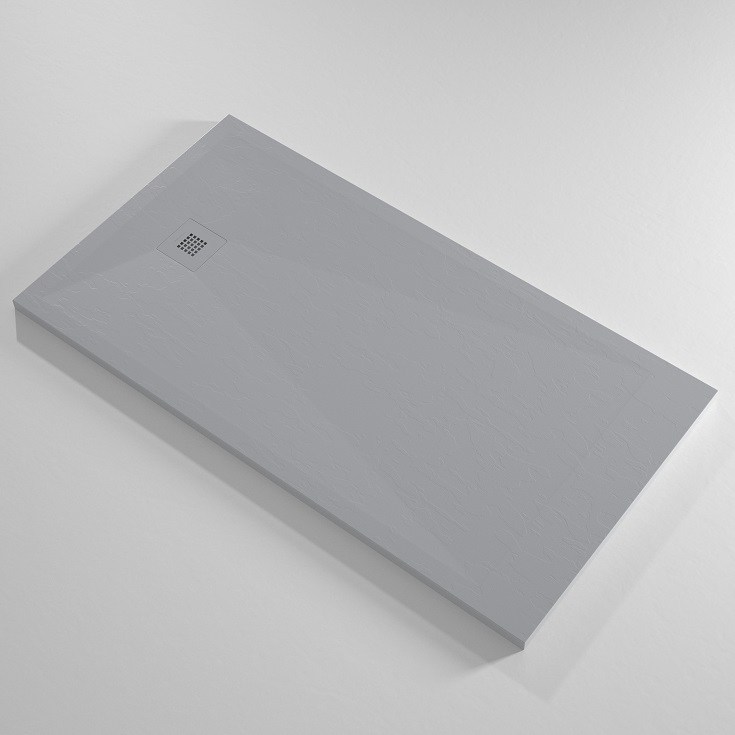 Shower accessory blunder #5 – You don't choose the right type (and location) of shower head, then end up with water on the bathroom floor
You thought a walk-in shower with a fixed glass shower screen would be so cool. The pictures look FAB-U-LOUS on the Internet. You got the shower done and stepped in to use it for the first time. And then 'it' happened. 'It' was the water which landed on the floor of your second-floor bathroom. Now, you're worried about leaking onto your first-floor dining room table.
I'm here to tell you this problem can be solved IF you use the right shower head (and also the right shower door) – even if you're creating a walk-in shower.
Starting with the shower head, I'd recommend a rain head vs. a wall mounted unit. The rain head streams water directly down at you vs. blasting at you at an angle (which can then dart out of the shower).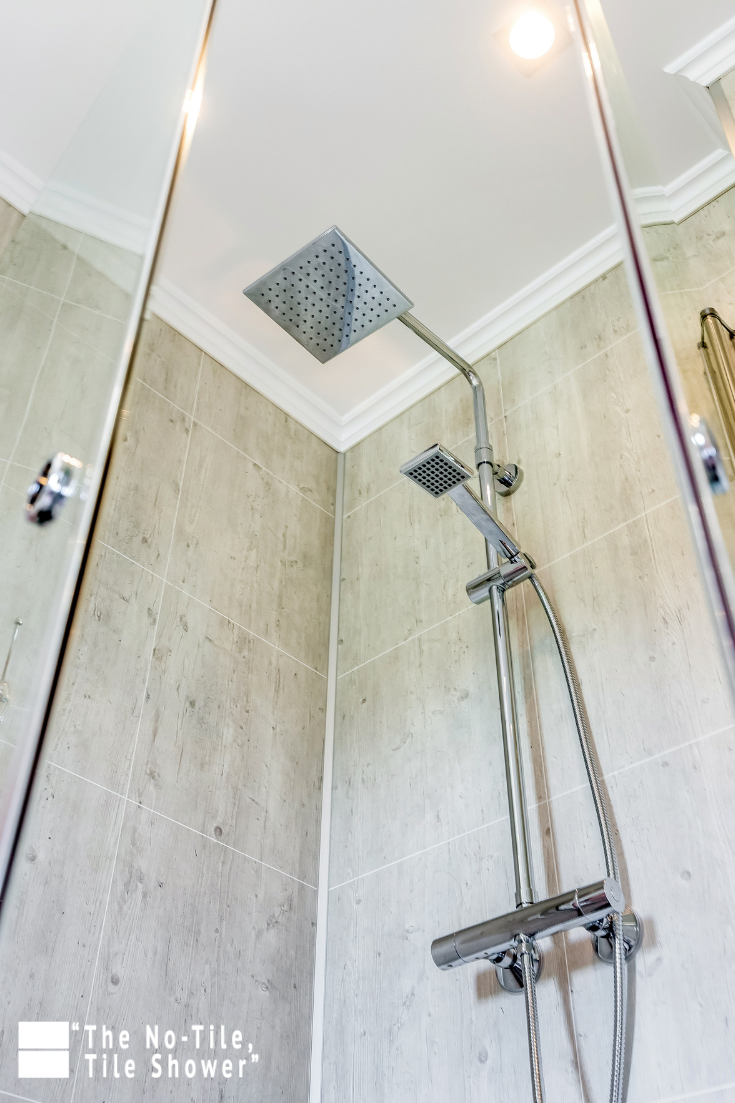 And when it comes to a door for your walk-in shower, choose a pivoting shower screen (vs. a fixed piece of shower glass). With a pivoting shower screen, you can angle the door into the shower to keep the water in and flowing towards the drain.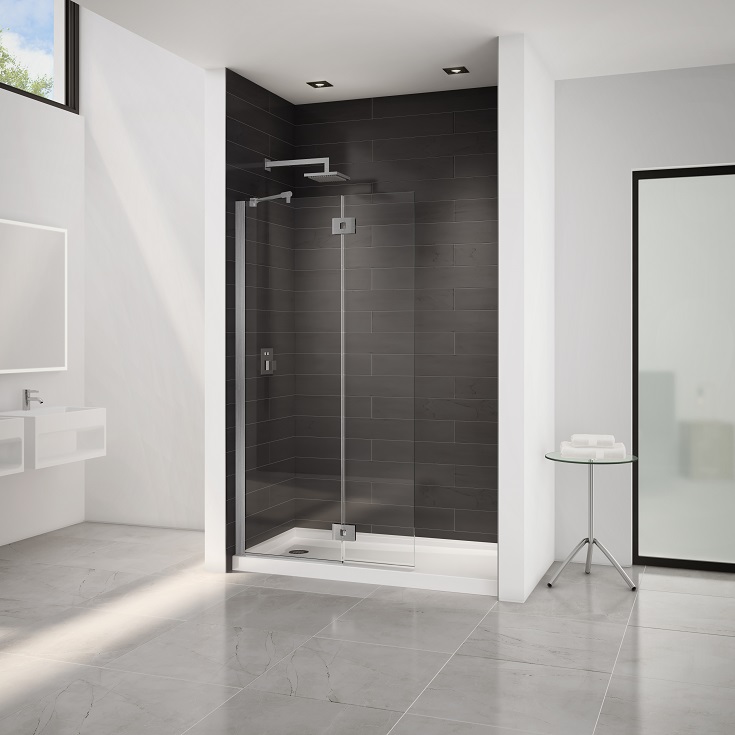 Shower accessory blunder #6 – You cover over the shower window because you can't figure out what to do with it
Shower windows CAN be a PAIN IN THE REAR! Sure, it's nice to have natural light, but the idea of putting on a 'show' for the neighbors is not what you had in mind. And who wants a shower window encased in wood anyway? It'll rot as water beats on it day after day.
So, what too many people do is cover over the window. This requires reframing. This requires exterior repairs. And lastly, this blocks natural light which makes your bathroom not only look nicer, but to be safer (since you can see what you're doing).
The question becomes where can you find a long-lasting bathroom window which is simple to maintain, offers privacy and provides air circulation? Here's 2 ideas to get you on the right track.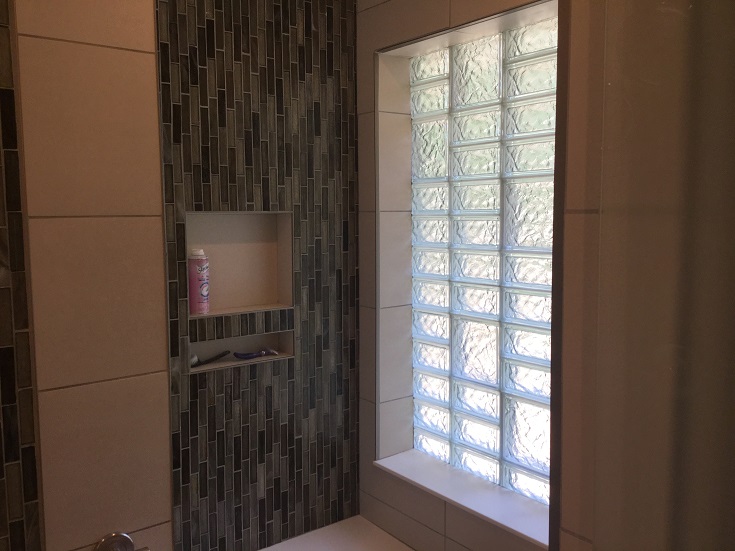 Idea #2 – Use either solid surface or vinyl trim around the window so it won't rot.
Shower accessory blunder #7 – You don't include enough storage
You swear your spouse uses every lotion, potion and shampoo brand known to man (or woman). And what's worse is half of them are lined up on the shower floor oozing slippery goo onto your current shower floor. Your challenge is (and you have no choice but to accept it) how can you get this stuff off the floor (and reduce the risk of falling) and get them the storage they need?
Well – a smart way to do this is with an oversized recessed niche. These niches come in 10 different finishes in vertical and horizontal designs.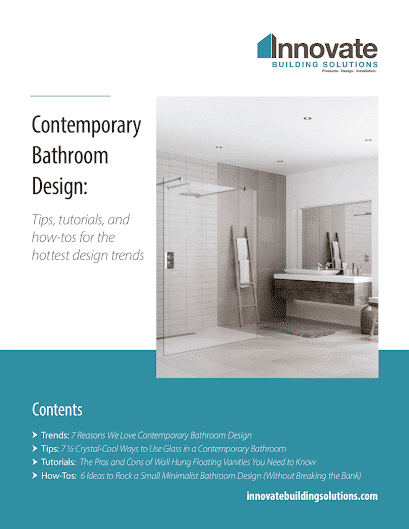 Get Our Contemporary Bathroom Guide!
Tips, tutorials, and how-tos for the hottest design trends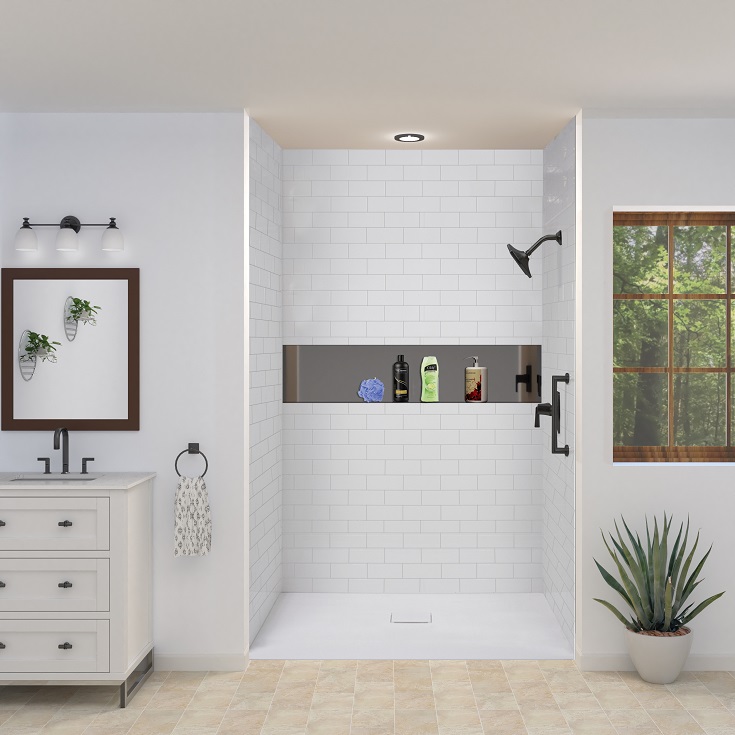 Shower accessory blunder #8 – You don't consider maintenance when making shower accessory decisions
You thought the contrasting pattern tile shower niche was so cute. And even though it was time consuming for your remodeling contractor to do, you still 'went for it' and plunked down the bucks to make it happen. And it looked fantastic…. INITIALLY! Then the 'eventually' hit you and mold started forming in the corners of this 'formerly cute' tile niche which is NOW an absolute pain to maintain.
If you don't consider future maintenance this could be your reality… UNLESS you choose a niche, you don't have to maintain. A smart example of this would be a stainless-steel niche which is installed around (also-low-maintenance) laminate shower wall panels you'll see in the image below.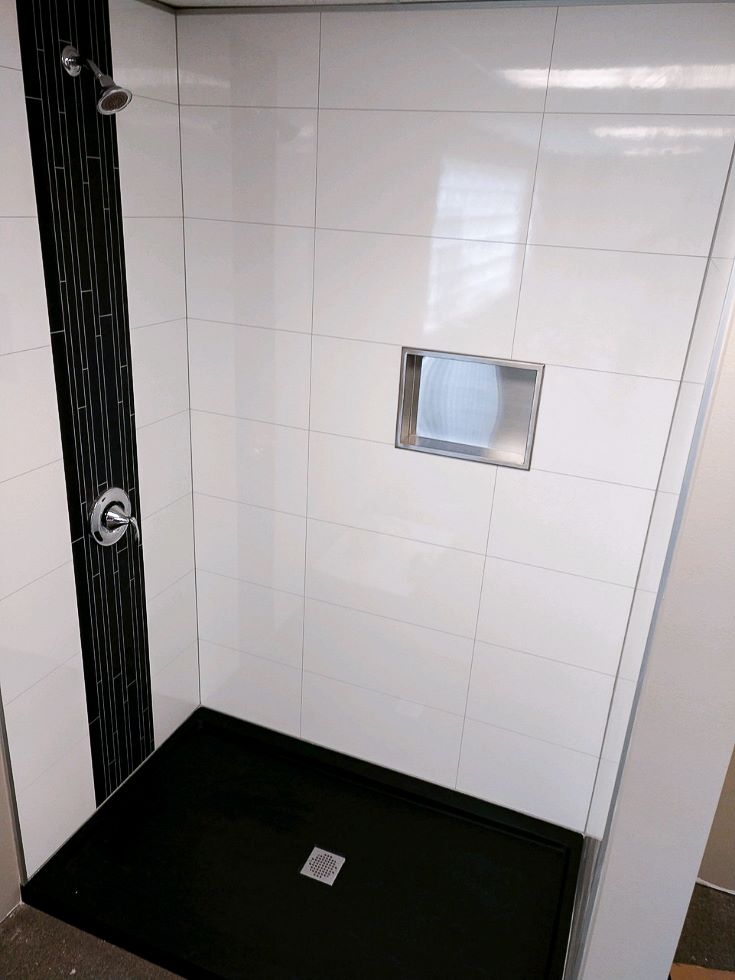 Before buying any accessory, make sure it won't be your pain-in-the-rear to clean. Remember products like chrome shower heads (which look uber-cool in the plumbing show room) are also spot magnets you have to deal with week after week after week IF you choose them for your home. A better, low maintenance shower fixture finish is brushed nickel (it doesn't show those evil spots).
Shower accessory blunder #9 – You don't research your shower accessories until 'late in the game' and then figure out you can't get them in a finish which works with your (already purchased) shower door
Let's face it, a shower door purchase is A LOT bigger deal than your shower accessory purchases. And if you've bought a custom glass shower door it's possible you had as many as 10 exotic finish options to choose from (can anyone say antique bronze, brushed brass and pewter to name a few?). You were so excited about the little used finish you chose UNTIL you attempted to find shower accessories which worked with it.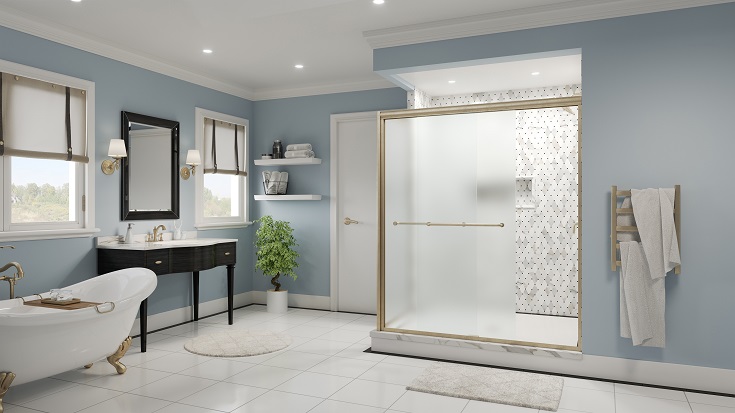 Then you were on a 'wild-goose-chase' (as Grandma used to say) trying to find any accessories with finishes to match your door.
This doesn't have to be your problem, but here's what you need to do first. Make sure BEFORE you run your credit card for the shower door, you locate matching shower accessories first!
Shower accessory blunder #10 – You're not strategic about the placement of your accessories
Imagine you're a 6'6" guy and your wife is 5'0" and uses a wheelchair. Then image you're trying to figure out where to locate your niche. If you 'try' to put it in the 'middle' of the wall it'll be too short for you and too tall for your spouse to reach!
You need a niche extremely high on the wall. She needs a niche very low on the wall.
This was exactly the dilemma facing my friends Rosemarie Rossetti and Mark Leder when they designed their (very cool) home which is called the Universal Design Living Laboratory (which BTW provides fantastic universal and accessible shower design advice). However, what they (smartly) did is install the niches higher AND lower on the wall.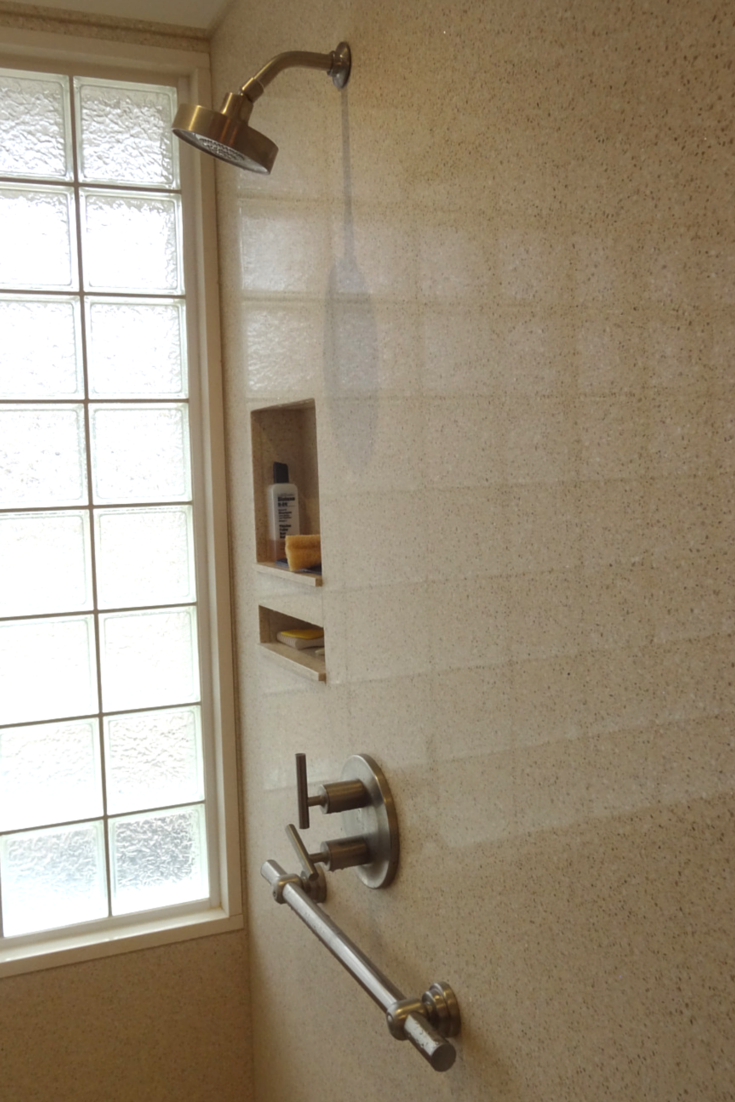 Image Source: Universal Design Living Laboratory
So, here's what you need to do. Don't leave your niche, shower head and grab bar placement to the contractor to install 'where they usually put them.' Be strategic about location so you're not 'battling' your own shower for years to come.
Shower accessory blunder #11 – You don't budget for accessories and end up buying 'the cheap stuff' after the fact
I'll be the bearer of bad news and let you know shower accessories ARE NOT a cheap date (or at least the high-quality ones aren't cheap). For example, you'll find oversized preformed recessed niches which cost upwards of $700 to $800 or so (in big sizes like 58" x 14"), luxury fold down bench seats at $600 or more and if you're choosing plumbing fixtures they can reach into the thousands. Ouch!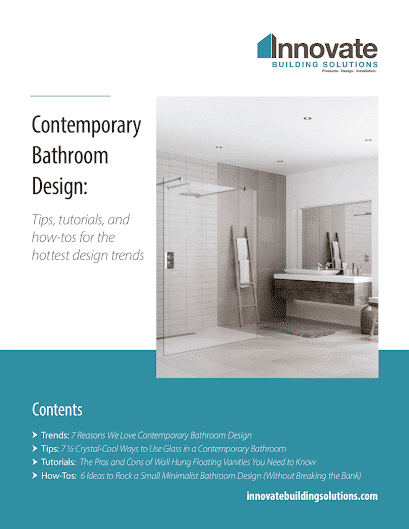 Get Our Contemporary Bathroom Guide!
Tips, tutorials, and how-tos for the hottest design trends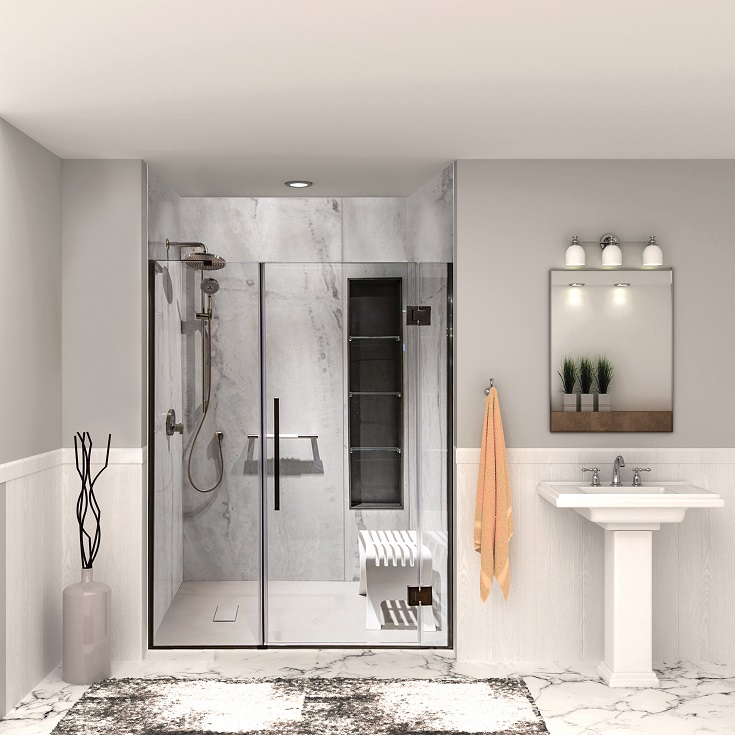 And the problem is you're not 'made of money,' as Dad used to say.
And if this is your reality, I'd recommend to not only budget for your shower pan, shower wall surrounds and shower glass – but to also add shower accessories into the money you set aside before you spend 'dollar one' on this remodel.
Shower accessory blunder #12 – Improper installation of shower accessories
Shower accessories can be the source of major shower problems. For example, a recessed tile niche which isn't properly sealed can result in water damage not only behind the tile surround walls, but also damage the ceilings and floors below.
To minimize the risks of a bad install – (which years later becomes your problem to solve because the contractor's warranty on a tile shower is non-existent!), make sure to read those boring installation instructions or watch You Tube videos, so you know it's being done right (whether you're doing it or your contractor). Better safe, than sorry.
Shower accessory blunder #13 – You buy 'Sharper-Image-Esque' accessories only to realize you've wasted your money!
I used to love shopping in the Sharper Image store which has (unfortunately) gone out of business in my local mall. The gadgets were fun to check out. However, as most of us know, sometimes we find out later these gadgets which seemed so smart when we bought them, end up being the same items we scratch our heads and say later, "What the heck was I thinking?"
And even in shower accessories you'll find cool-sounding gadgets on the market. And one I had to laugh at (and I mean no disrespect to the people who make this product at all) was this Shower Geek clear shower curtain. With this shower curtain you can slip your laptop or mobile devices into the exterior sleeves and keypunch away as you're showering! And while some might think I'm a bit of a workaholic, I'm not going to be caught dead composing an email while showering in my 'birthday suit (OK – sorry for that bad visual!).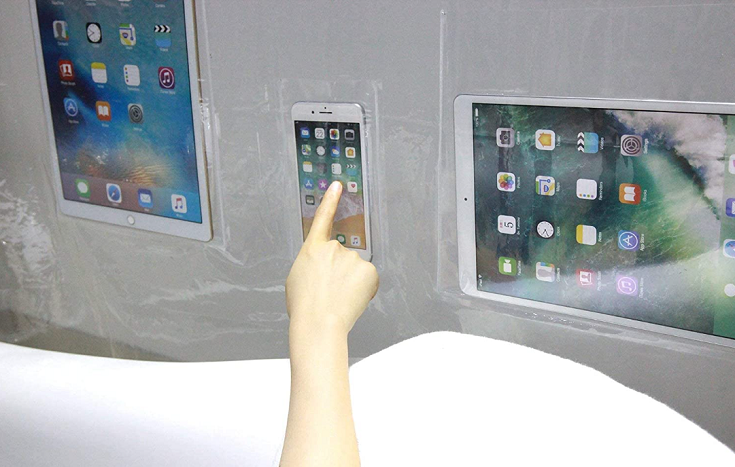 Shower accessory blunder #14 – You buy accessories even Grandma would think look 'old school!'
Shower accessories can be the 'jewelry' of a shower remodeling project. They'll either make your finished project look 'pulled together,' or can make it look like an old episode of General Hospital.
What's nice about the market today is you can even buy products like grab bars which DO NOT look like they belong in a senior care facility.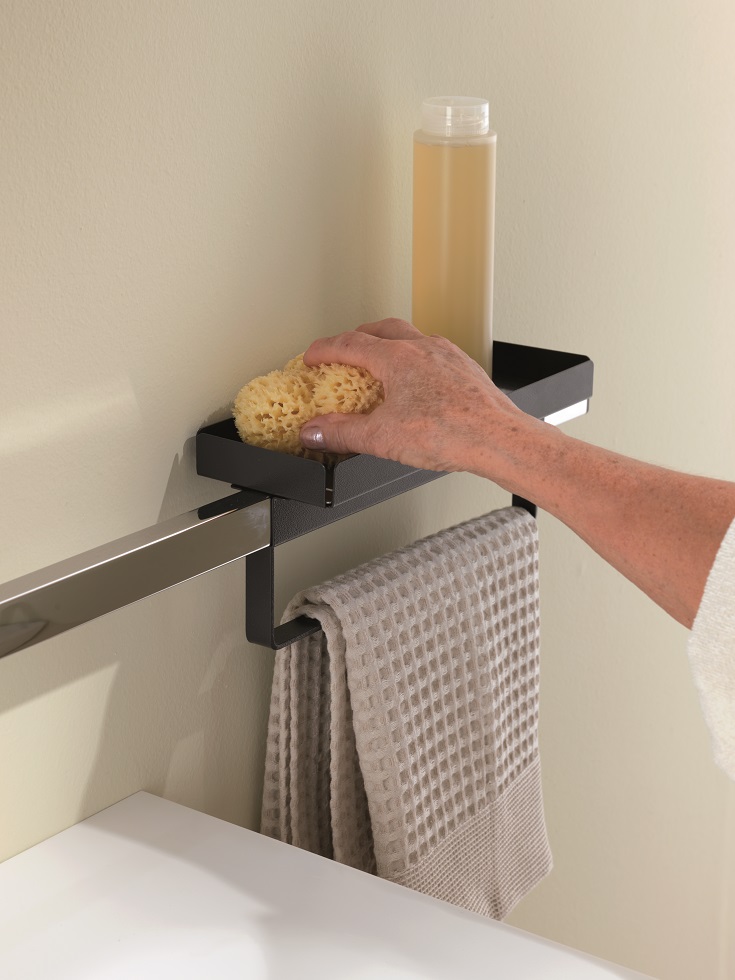 So, if the first shower accessories you find look ugly –keep on researching. Nice looking stuff is out there, but you might need to keep digging until you find them.
Shower accessory blunder #15 – There's no place to hang anything
Have you struggled because there's no place to hang your towel or robe? Is EVERYTHING draped over the top of the shower doors?
Well, this problem can be eliminated if you add a simple robe hook or purchase a shower door with an inside handle (like you'll see in the frameless bypass shower door below). And as you know, hanging stuff is synonymous with showers, just like 'talking politics' goes with arguments.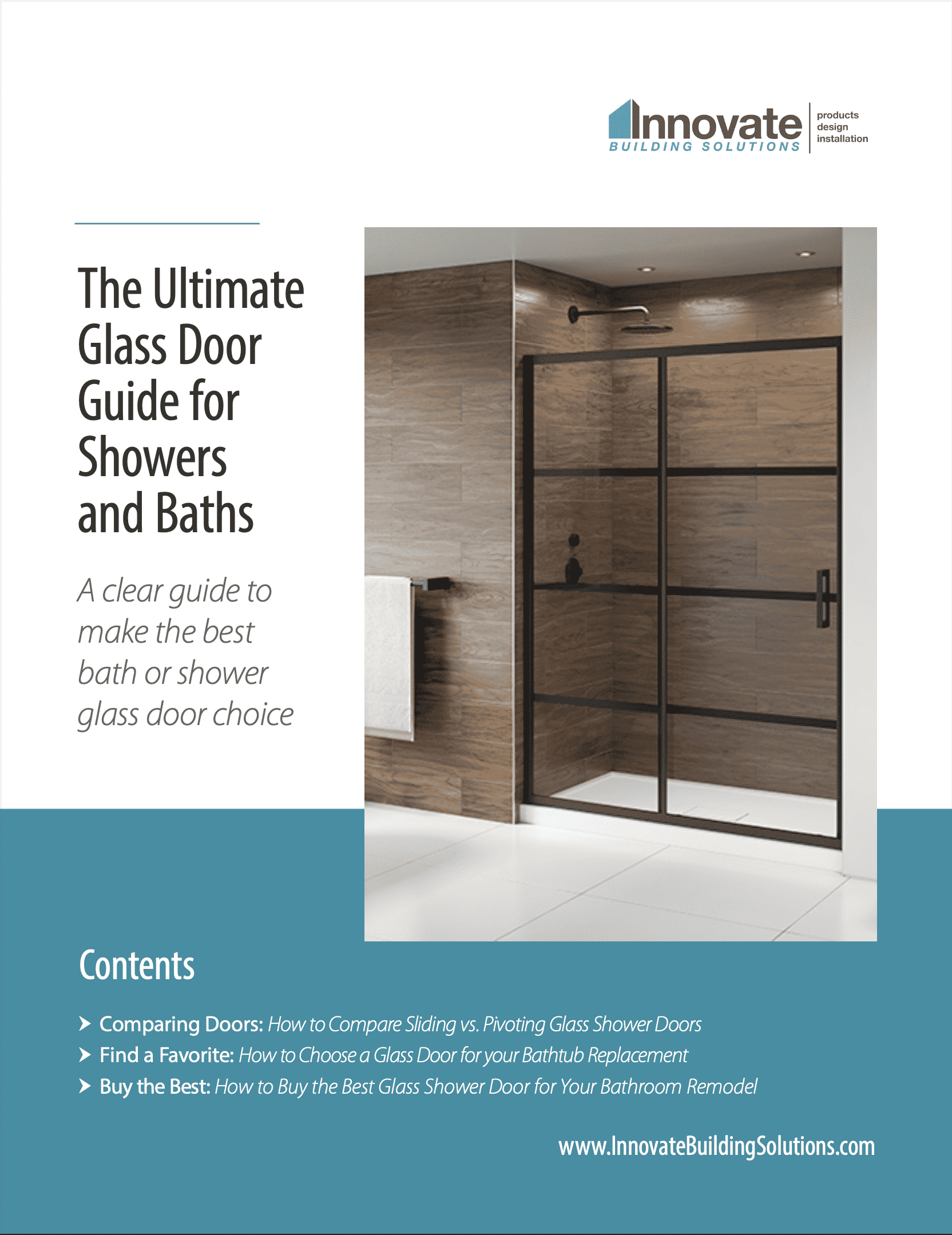 The Ultimate Glass Door Shower Guide
A clear guide to making the best bath or shower glass shower door choice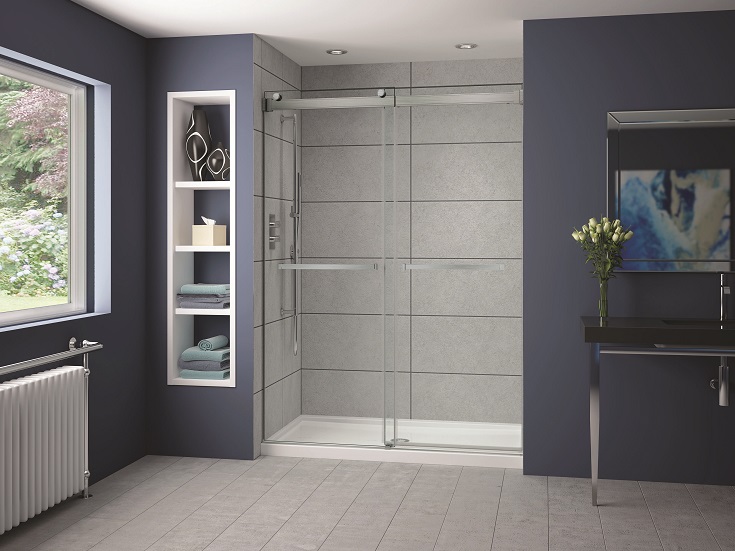 Bottom line is, you need to think about where you're going to hang things, so your shower and bathroom doesn't look messy.  
So, which of these shower accessory blunders are you glad you learned? Do you need help selecting accessories or a complete shower kit?
I know doing a shower remodeling project can be a mind-blowing process. You not only need to figure out the best shower pan, wall panels and glass shower door – but NOW (after reading my article) you've learned how shower accessories can be yet another thing to further complicate this project.
And while I know choosing the wrong accessories can be the pain which keeps on giving in a poorly-designed shower – I also know our team can help you think through shower accessory selections (as well as shower base, wall panels and glass doors), so you don't repeat the blunders we've heard in the past.
And if you want assistance call 877-668-5888 or click for a Free Design Consultation.
Thanks for reading and putting up with my humor!
Mike
###
If you want more advice (with less wacky humor because you'll see the 'buttoned-up' business version of me) follow me on LinkedIn @MikeFoti.
And if you're a bathroom remodeling contractor interested in being a dealer of unique shower wall panels, shower pans, glass shower door systems and shower accessories, call 888-467-7488 and ask for Mike.
---
Mike Foti
President of Innovate Building Solutions a nationwide supplier and regional (Cleveland and Columbus) remodeling contractors. Some of our product lines include glass counters, floors, backsplashes, glass blocks and grout free shower and tub wall panels
---