Should you move or improve? A Spring Guide to the right Home Improvement or Renovation Project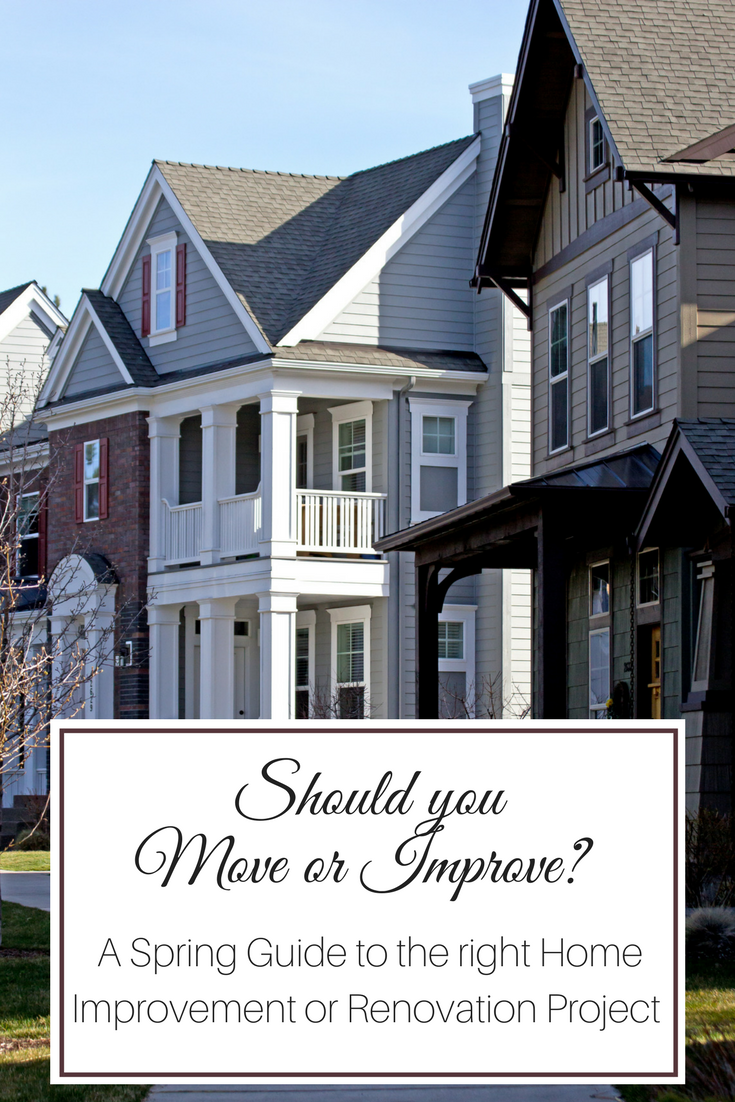 Updated March 23, 2019
I was looking forward to a quiet – yet quick – dish of twice cooked pork from Billie Lee's (my favorite Chinese restaurant in Columbus Ohio). It wasn't as quiet as I expected this night (even though it was a slow night). 3 tables over I could hear loud and clear (and I wouldn't describe myself as a "Snoop Doggy-Dog either!) an upper 60-year old couple describing to friends their recent home sales experience. They described how their home sold in less than 2 weeks. EVERY offer was above the asking price. They accepted a full cash bid. I thought to myself – wow – housing markets sure can change from year to year.
I'm not sure why this couple was selling or where they were moving to, but what I could figure out (and a crack detective I'm not) is their home was a hot. Also, I came to the conclusion if you're buying a home in Columbus Ohio you'd better act quick – and don't plan on finding big bargains either.
You may be in a stage in life where you're kicking around, should I move or improve?
Perhaps you have to move because your existing home is too expensive, too big, has a bad layout or you're being relocated.
Perhaps you want to move because your home is too small, or neighborhood safety is a problem, or the school system is going down the tubes.
Perhaps you never want to move. Even though your home doesn't 'live' due to your mobility challenges you've told your family they'll have to roll you out of here.
Whether you decide to move or improve isn't a question I'm smart enough to chime in on (it's one you'll need to discuss with family, friends and a sharp realtor), but what I would like to discuss is what home improvements make sense if you (A) decide to move or (B) decide to improve and stay put.
The list of what you could do to improve your home is longer than you have time or money for. The list of what you should do to improv your home will be different if you decide to stay put or you decide to run, run as fast as you can. Below I'll look at 5 smaller-scale, yet smart, home improvement projects should you decide to move, and 4 larger-scale projects if you decide to stay and improve. Note, I'm only looking at 4 because these ones will require a decent chunk out of your wallet to do.
At the end of the article I'd love your ideas on which projects should (or shouldn't) be on your list. My 'lists are purposely incomplete.' Let's face it – these lists could go on and on. Please add to your recommended project 'to do list' at the end of the article.
5 smart spring home improvement projects when you've decided you want to move
If you come to the realization it's time to 'blow this popsicle stand' (AKA – you're going to move), the Spring home improvement projects you'll undertake will be different (BIG TIME) vs. staying in your home for the long run. These projects should be focused on cleaning up, prettying-up, and dressing up your space. Let's look at 5 smart ones to consider:
Smart Idea #1 – Pretty-up the front door
Curb appeal is HUGE. You've heard the trite (yet true) statement, you only get one chance to make a first impression. The first impression of your home is the front door. If your entry door is cracked, bowed and the weather-stripping is non-existent a new front entry door (which also has the highest ROI according to the 2018 Cost/Value Study) is smart. If your door is in reasonable shape – yet looks worn around the edges – put one a fresh coat of paint, and add decorative planters on the front stoop to give your entrance some pizzazz.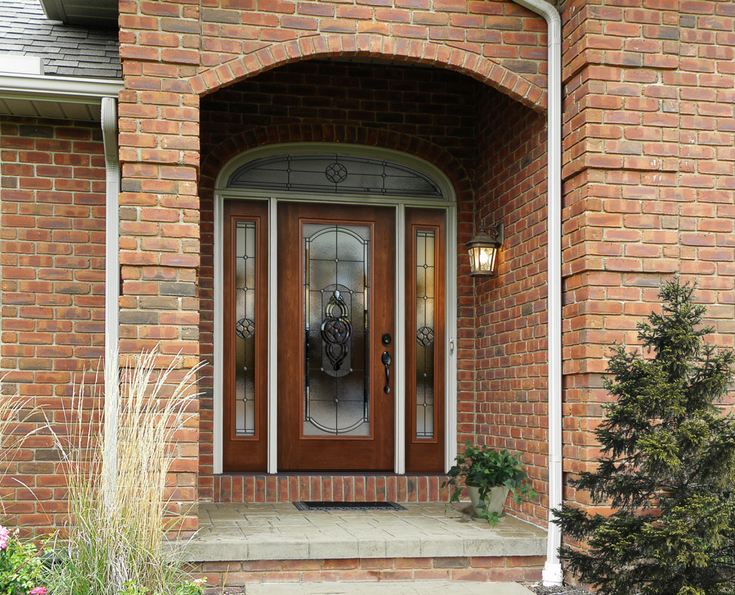 Smart Idea #2 – Clean up your clutter with better organized spaces

Nothing hurts a home sale more (IMHO) than cluttered and confusing spaces. If your garage is overstuffed with junk and your closets, make you feel like you're fighting through a jungle– imagine how potential home buyers will view them. If you want to improve how quick, and for how much, your home sells for get out the garbage and donation bags and declutter like crazy. If you really want to impress prospective buyers, put in a closet organization system in your master walk in closet. Since a key reason many people move is a lack of storage, new closets can set your home apart.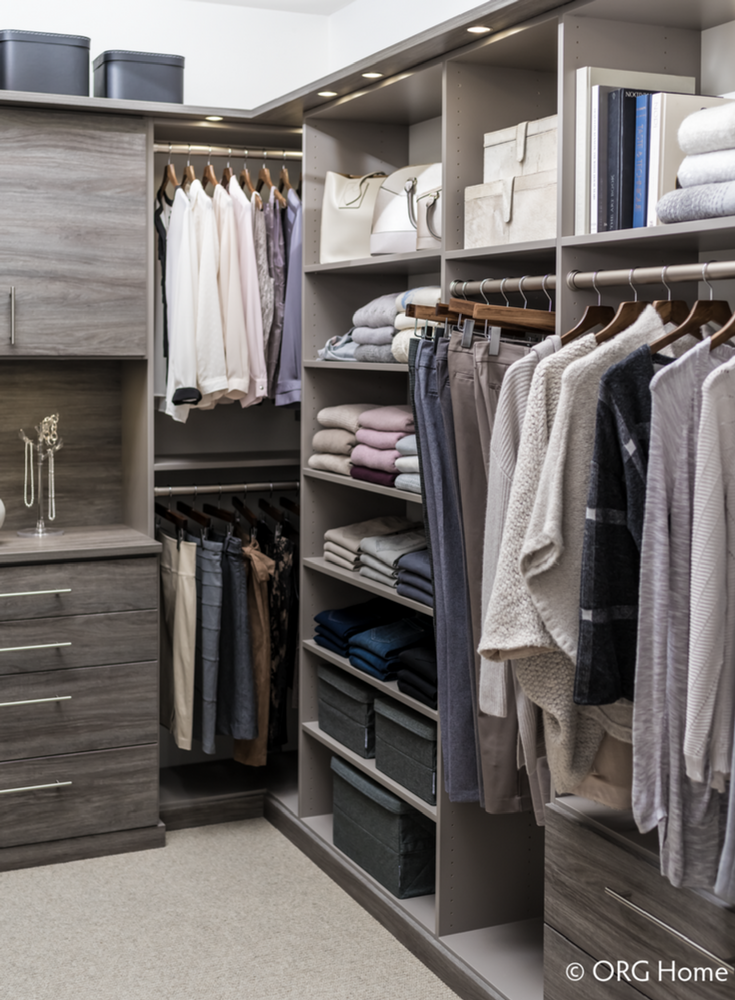 Smart Idea #3 – Dress up your home's façade with new house windows   
Rusted metal-framed or rotten and pealing wood frames around windows don't scream out 'well-maintained-home-you-gotta-have.' It's easy to spot bad windows – even before your potential buyer brings in their home inspector. Since you're looking to sell don't get crazy buying all the bells and whistles (grids and blinds in windows, triple glazed sashes). Use low maintenance – yet cost effective – vinyl replacement windows. They'll make your home more energy efficient and lighter on the heating and cooling budget for you and your potential new homeowner.
Smart Idea #4- Dress up the kitchen by refacing the cabinets
Just attend any families' Thanksgiving dinner (also my favorite food holiday) and you'll know the kitchen is the hub of the household. If your kitchen is dull, lifeless or out of date, it can be a stumbling block potential buyers won't see beyond. While a full kitchen remodel is a big project to avoid since you've determined to sell – freshening up the cabinet fronts can make perfect sense. Refacing the cabinets vs. a full remodel will give this all-important family space a visual uplift without spending big bucks.
Smart Idea #5 – Dress up the bathroom by eliminating high maintenance tile wall surrounds
Have you looked at the grout joints between your tub and shower walls recently? Has your shower – which 'back in the day' looked fabulous –degraded into a yucky maintenance nightmare? A simple way to give your bathroom a facelift is to add grout free shower and tub wall panels. Now – I'm not recommending the cheap-looking white plastic stuff. I'd rather stick with out of date tile – than something which looks cheap and plasticky' (not sure that's a word – but I've certainly heard it used before). Check out these lines of laminated shower wall panels (AKA 'The No Tile, Tile Shower) and decorative faux stone wall panels. They are realistic, simple to clean and you can throw your scrub brush out!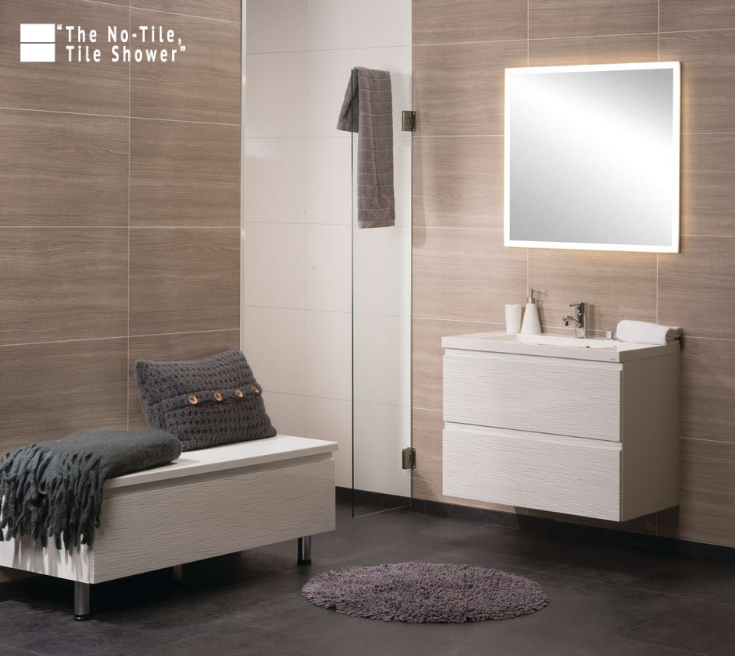 Replace high-maintenance tile walls with durable and nice looking solid surface shower walls or decorative PVC wall panels. They add style. They eliminate maintenance. They give you (and the next owner) a shower with style, without hassle.
4 smart spring home renovation projects when you've decided you want to stay and improve
The biggest differences in projects when you decide to stay is they cost more, take longer and go beyond skin-deep changes. Let's look at 4 smart home renovation ideas when you've decided to stay planted.  
Smart Idea #1 – Remodel your kitchen
When I think of my business I look at our web site is the hub of the marketing program. When I think of my home it's the kitchen which is the hub of the family.
It's a place for nightly meals. It's a place to keep the family talking (not on their cell phones – Jade, Parker and Grant are you hearing this right now?) to each other, not to their electronic devises.
It' a place for kids to do their homework (OK – watching their frustration while doing this isn't the best at times – parents out there can you feel me on this one?).
It's a place for Holiday gatherings (even if you have to put up with crazy Uncle Louie).
Yes – doing a kitchen remodel is a DISASTER (if we're keeping it real). Being without a stove, sink, appliances, not knowing where the dishes are during construction and the microwave becoming your best friend is a major pain. However, at the end your efficient and stylish kitchen is a wonder. You'll more prep space, you can add an efficient pantry storage cabinet, or can have a spot to charge your cell phone or install a TV to enjoy to while cooking.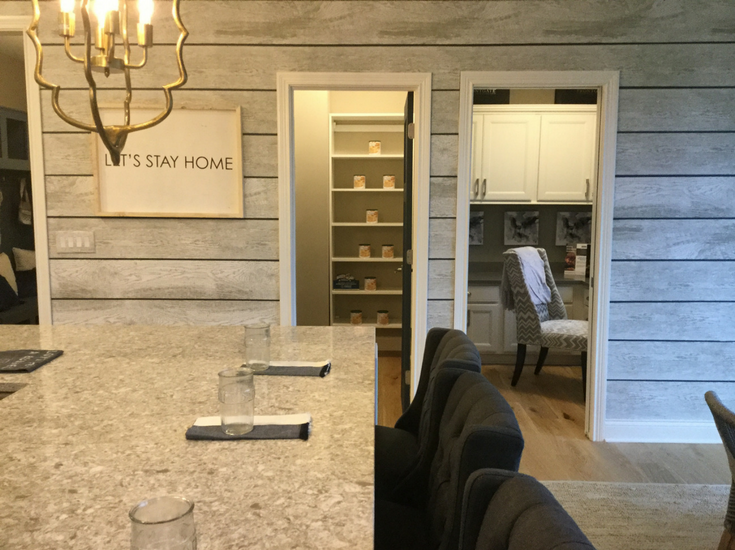 The pain of a kitchen remodel will be worth it for the pleasure of enjoying this all-important family hub it's done.
Smart Idea #2 – Remodel your bathroom
Most bathrooms are small in square footage, but critical in function. The problem is many original bathroom designs don't make sense for your lifestyle today. If you own a phone-booth-sized stand up shower which sits next to a dusty soaker tub (your builder insisted this was a must-have feature in the 1990's), you know exactly what I'm talking about. The shower is too small. The soaker tub is …can you say USELESS!
A complete bathroom remodel can solve these design problems. It can make your space contemporary and stylish (can you visualize sleek wall hung cabinets and sleek frameless glass enclosure right now?). It can make your bathroom safe if you'd like to age in place (IMHO – as a 58 year-ole guy – aging in place is a term I hate. It makes me feel like I'm some kind of stone stuck in one place. My personal terminology venting is done now).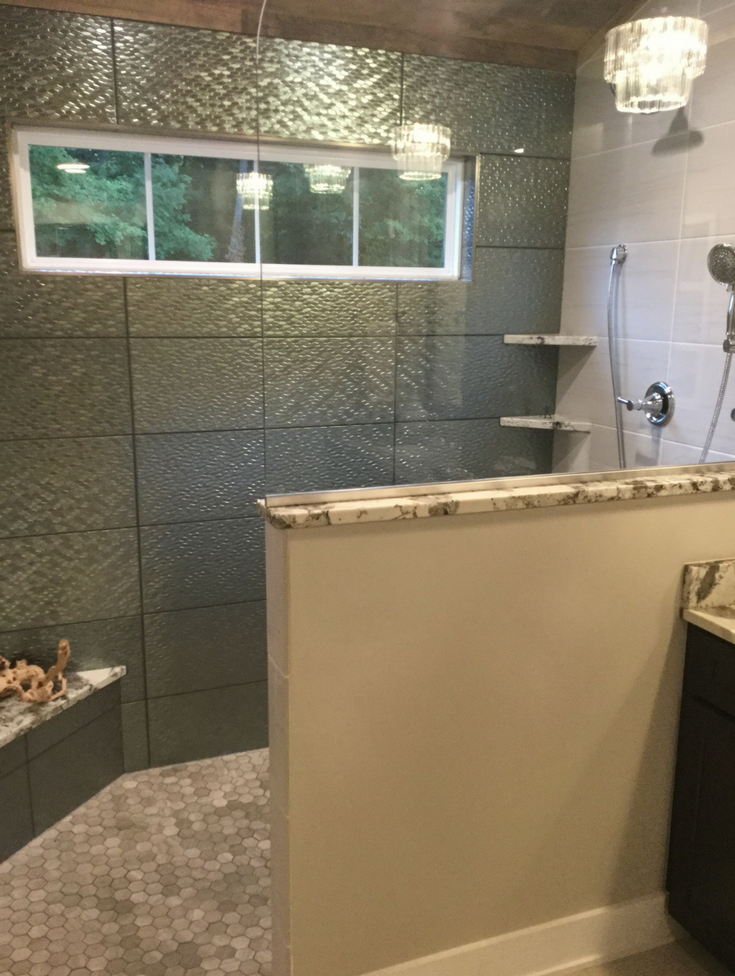 While the process of remodeling a bathroom messes up your daily routine, it's not as life-altering as a kitchen – because in most homes you at least have another bathroom you can use while the remodeling is going on.
Smart Idea #3 – Go big (and stay put) with a room addition
If you're going to build onto your home you've made an important decision about your life and lifestyle. You want more space. You have the turf (land) to support it. You're willing to put up with months of planning and construction to get it.
In most cases room additions do not have a great ROI (the Cost/Value Study says with a master suite addition you'll get back 56 cents on the dollar). However, if you love your neighborhood and want to enjoy your life – while you're on this planet – should you really care about ROI? "Fuggitabout' (as the New Yorkers would say) resale and enjoy your life (I hope no realtors are reading this now).
To do a room addition you'll need the help of a residential home design planner, architect and/or a design/build firm. Take your time. Be thoughtful in this process. Ramp up your PQ (Patience Quotient – if there is such a thing) – because you're going to need it.
Smart Idea #4 – Redesign your space(s) with YOU in mind
Your home was not designed with you in mind (unless you're the first owner of a custom home).
Perhaps your home was a spec home built for some 'buyer in general.' It was designed to fill a need for the 'masses,' …to be sold quickly (and at a profit for the builder). The problem with the 'generic spec house' is you are not generic. Your needs can (and do) change as Father Time rears his ugly head. Bathroom curbs become harder to step over. Rooms are too dark to see what you're doing. The tops of cabinets and shelving become harder to reach. Getting old sucks.
Perhaps your home was a custom built for someone else years ago. Times – and designs – have changed. Your current home may no longer live well for you, but you love where you live and want to stay.
If you've decided you're going to stay put until they roll you out – it can make sense to design your home around you, your personal abilities and universal design principles. Don't know what universal design is? Universal design is simply design which can work for anyone – from grandkids to grandparents.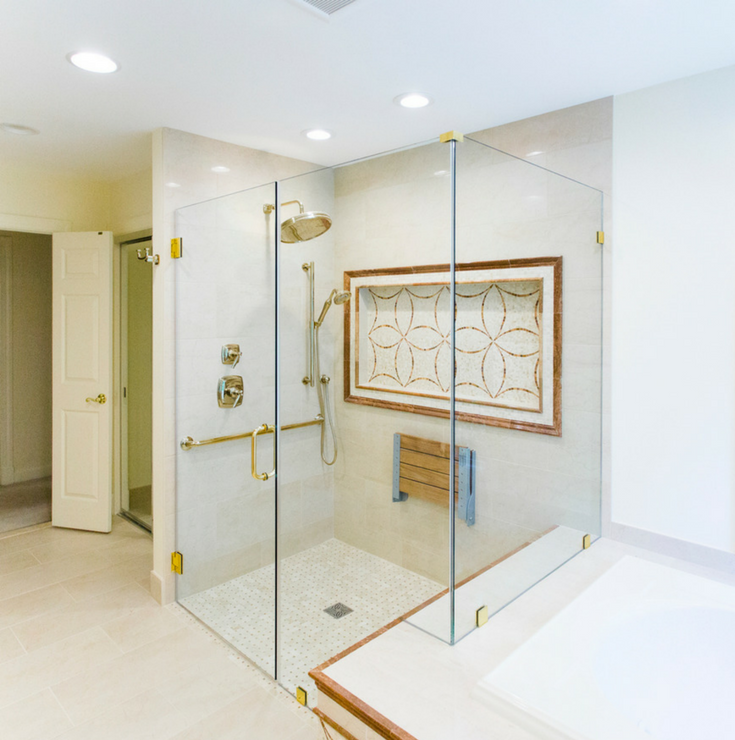 This might mean you're going to redo your bathroom with a one level shower floor – which will work if mobility is a challenge. It may mean you're going to invest in pull down kitchen cabinets which make it simple to get things from the top shelves. It may mean widening interior doors to accommodate a wheelchair.
Conclusion
Whether you decide to move or improve this Spring is a decision I'm going to stay out of. No matter what you decide, it's important to choose projects which strategically make sense and those you have the stomach (or maybe I should say patience) to do.
Which of the 9 project ideas is tops on your list? Are there any which should be on the list I've excluded (or that you'd like to get advice and input on?). Please comment below or give us a call. We'd love to help you with next home improvement or renovation job.
 How can I (or my team) help you?
If you need help with a Cleveland bathroom remodeling or kitchen project call Cleveland Design and Remodeling at 216-658-1270. If you'd like cost-effective grout free shower or tub wall panels to spruce up your bathroom for sale call The Bath Doctor in Columbus at 614-252-7294.
For help with vinyl replacement windows or front entry doors in Cleveland call Cleveland Window Company at 216-531-4118 or Clear Choice Window and Door in Columbus at 614-545-6886.
For nationwide supply of grout free wall panels or one level shower pans call Innovate Building Solutions at 877-668-5888.
If you're a remodeler or builder and want practical advice on remodeling products, industry trends, marketing and sales tips to grow your business (and cut day to day hassles), start reading my newest blog – Innovate Builders Blog. It's packed with ideas you can use now. Click here to Sign Up for the Innovate Builders Blog.
If you're in the building business, click here if you'd like to learn how to become a shower wall panel dealer or call and ask for Mike at 877-668-5888.
---
Mike Foti
President of Innovate Building Solutions a nationwide supplier and regional (Cleveland and Columbus) remodeling contractors. Some of our product lines include glass counters, floors, backsplashes, glass blocks and grout free shower and tub wall panels
---