Choosing Glass Block Shower Walls That are Easy to Install and Built to Last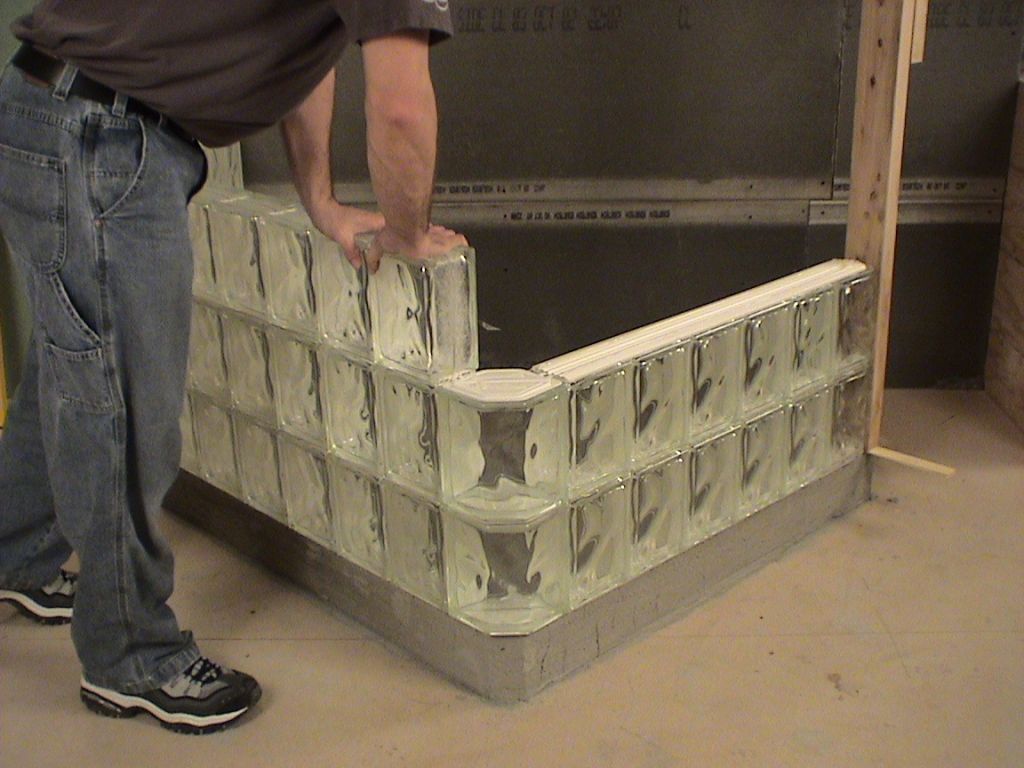 Glass block shower walls can be tricky to install (and the consequences of not using the best installation system can have bad effects down the road). So when I got a call from a homeowner in Oklahoma asking how they could get rid of the rust in the center of their existing wall I knew the time was right to put together an article on this topic. I've included a discussion about the two most popular ways to build a glass block shower enclosure (1) the traditional block by block method & (2) the vinyl stacking method). There is a basic description of each method and their relative advantages and disadvantages.
The traditional block by block method – For many years mason contractors have been used to lay glass blocks up unit by unit. This process requires the mason to hand mix up batches of mortar, sand and water. Most often either white or gray mortar color is used. This mixture is spread between the blocks and every 24" panel reinforcing (wire run horizontally through the courses of blocks) and panel anchors (wire that is bent at a 90 degree angle to tie the glass block wall to the side of the opening) are used.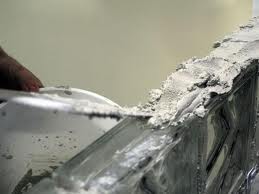 Advantages of the traditional block by block method
You can create different joint sizes on either vertical or horizontal joints (varying from 3/16" to ½"). This can be helpful in fitting glass block to existing shower bases.
This method is known by masons who have done this work in the past.
Disadvantages of traditional block by block process
Mortar mixtures can vary from batch to batch – causing the joints to potentially vary in color and strength if the person mixing is not careful. Mortar does not have the waterproofing properties of specialized grouts (like urethane grout).
These walls must be built at the job site – which requires more field installation time.
Mason contractors can be expensive to hire – and since the glass blocks are not porous (like a brick or block) they have a tendency to "swim" (or move around) when they are laid – which makes it very important to take your time to ensure the wall looks uniform at the end.
Since this method uses galvanized steel through the courses for rigidity there can be a chance of rusting inside the wall.
The job site can be messy due to the amount of mortar that needs to be put between the joints.
Standard mortar is available premixed in white and gray colors (to make other specialized colors die has to be added which can cause color inconsistencies).
The joints must be resealed to minimize the chance of water penetrating through the joints.
The vinyl stack prefabrication method – This system uses preformed vinyl pieces which are siliconed to the inside of the blocks both vertically and horizontally. The blocks are built into premade sections in sizes that can either be handled by one or two people. The panels are stacked onto the shower base and then anchored to the wall (usually every 16"). This system is completed by adding either sanded or urethane grout to the outside joints. This final step creates a consistent 1/8" joint between the blocks.
Advantages of Vinyl Stack Prefab Method
Is much easier and less time consuming to install since the premade sections take a lot of work out of what's needed at the job site. This project will likely be completed in about 1/3 of the time of the block by block method.
The vinyl components (which are used vertically and horizontally) provide more strength than the mortared system and there is no wire (like what is used in the block by block method) to rust down the road.
The grout joints are small in size (only 1/8") which allows more of the block to show, makes it easier to maintain and provides a smaller surface area to minimize any chance of water penetrating through the joints (and even if it does there is vinyl between the blocks which isn't affected by water).
Using urethane grout eliminates the need to reseal.
35 different urethane grout color choices are available which come in premixed buckets (so there is no need to worry about color variation).
Since the walls are premade there is much less mess at the site.
Disadvantages of Vinyl Stack Process
The grout joints cannot be varied (they are all 1/8").
Some people are not familiar with this process.
What experience do you have with these two systems? Do you have any questions I can answer? Please comment below.
To learn more about glass block installation methods or get a free estimate on a glass block window or wall visit or call Innovate Building Solutions on a nationwide basis (877-668-5888) or for a local project their divisions including Columbus Glass Block (614-252-5888), Cleveland Glass Block (216-531-6363) or Mid America Glass Block (513-742-5900) of Cincinnati or Dayton.
---
Mike Foti
President of Innovate Building Solutions a nationwide supplier and regional (Cleveland and Columbus) remodeling contractors. Some of our product lines include glass counters, floors, backsplashes, glass blocks and grout free shower and tub wall panels
---