Project Spotlight: Small Bathroom Makeover – How to create space, style & improve function – Cleveland Ohio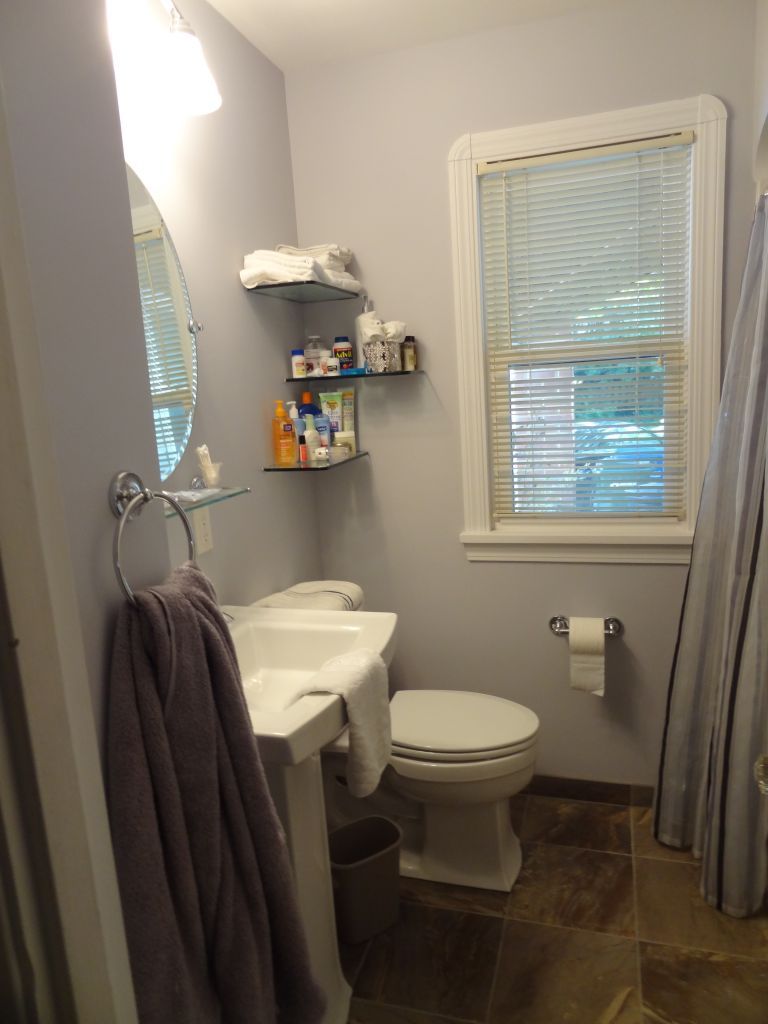 Last week we posted an article about a small kitchen remodel we did for the Chipner's (from the Fairview Park suburb of Cleveland). This week we'll turn our attention to the small bath remodel portion of the project. The Chipner's existing bathroom was tight on space & storage, did not provide enough lighting and there was mold present in between the tile joints in the tub/shower area.
Learn below how Cheryl Chipner in conjunction with Cleveland Design & Remodeling and The Bath Doctor divisions of Innovate Building Solutions developed creative solutions to turn this small 5' x 7' area into a functional and stylish space.  
5 Biggest problems with the Old Bathroom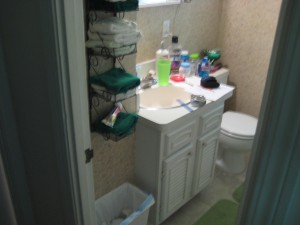 The most prominent areas that needed to be addressed in this small bath included:
A tub that was pitted & had mold around it – The old tub had seen it's better days. It was not nice to look at and was not the kind of place where you would think about taking a relaxing bath.
Lighting was not good – A lamp was clipped on to the old mirror to provide an OK amount of lighting – certainly it wasn't the best looking situation.
Space in the bathroom area was tight – An approximately 30" wide cabinet used up a lot of space which made it tighter to get around.
Tub/Shower area lacked storage – A storage caddy was hung over the shower head to provide a space to put soap and shampoo.  
The old white tile walls and plumbing fixtures looked outdate and were difficult to maintain – Over time

bathroom trends

change. The current tub/shower wall surround area had 4" x 4" white tiles with grout joints that had deteriorated and the plumbing fixtures and valve where not contemporary in their look or efficient to today's water conservation standards.
Design ideas, construction solutions & products used
This bathroom not only needed new products to get the makeover moving – it needed some design changes to create more space and provide adequate storage. Jeff Spurio (Project Specialist) and John Fronek (Operations Manager) of Cleveland Design & Remodeling/ Bath Doctor recommended the following changes:
       Remove the existing sink cabinet and replace it with a pedestal sink – This change created more space and provided a contemporary look.  
       Add invisible floating glass shelves and corner caddies inside the tub/shower area – There is always a need for storage for towels, lotions, soap and shampoo. All glass shelves that appear to float were added by Steve Vlk (Field Project Manager) and Jon Exton (Installation Specialist) in the corner of the room for the towels and extra bath liquids. Inside the shower a 3 shelf corner caddy was used to eliminate the need to hang a storage caddy over the shower head.
       Install a new chrome vanity light bar (with 3 bulbs) above the mirror – this new fixture provided much more light than the old one.   
       Use acrylic wall surrounds in a silver marbleize subway tile design – since the acrylic tub shower walls are solid sheet materials they require no grout and will eliminate future maintenance issues while creating a new updated look!
       Add a Fantech exhaust fan with a halogen light– To remove the chance of any mold build up an exhaust fan was added right outside the tub/shower area. The light provided additional illumination.
       Use 12" x 12" ceramic tiles on the floor for an updated look – Larger tiles provide the feeling of more space with an updated look.
       Replaced the old cast iron tub with an extra deep Kohler acrylic tub – the new tub offers the room to take a relaxing bath and even has arm rests on the inside.
What do you think about Cheryl and Nancy's project? Do you have any questions about a small bathroom remodeling project we can answer?
###
Learn more about doing a bath remodel by visiting Cleveland Design & Remodeling (or call) 216-658-1270) or visiting The Bath Doctor of Columbus (614-252-7294), Cleveland (216-531-6085), Dayton (937-299-3822) or Cincinnati (513-742-6679) Ohio. 
---
Mike Foti
President of Innovate Building Solutions a nationwide supplier and regional (Cleveland and Columbus) remodeling contractors. Some of our product lines include glass counters, floors, backsplashes, glass blocks and grout free shower and tub wall panels
---