Project Spotlight: Small Kitchen Remodeling – How to create space, style & improve function – Cleveland Ohio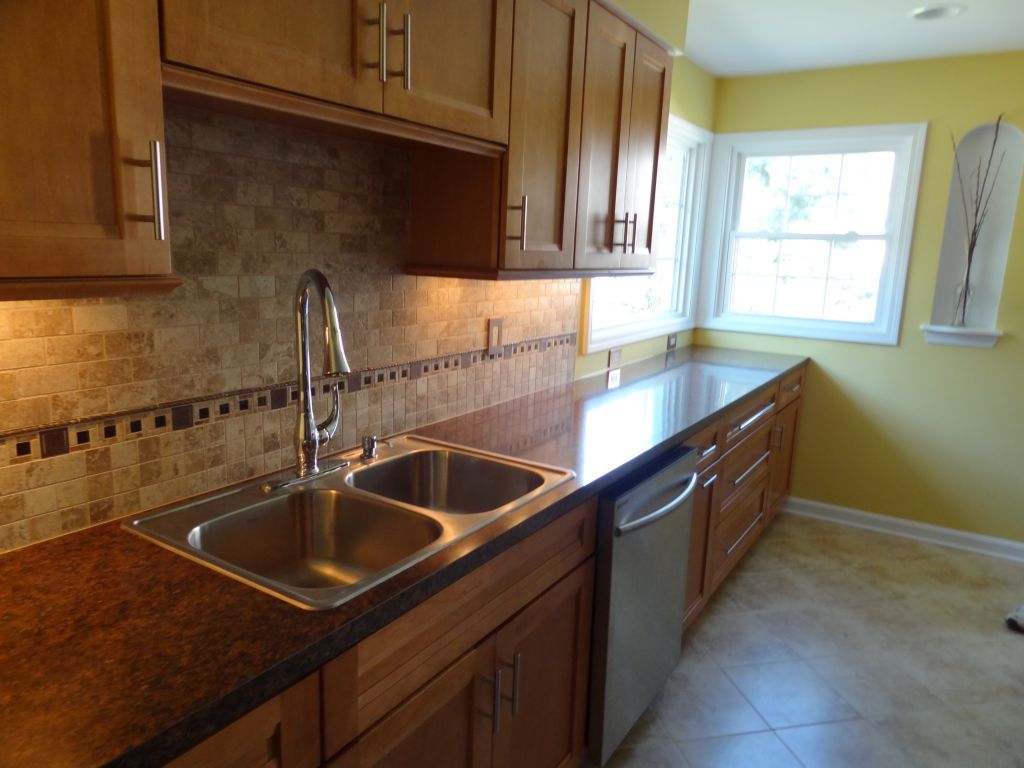 When Cheryl Chipner (and her mom Nancy) couldn't even make toast and coffee at the same time in their kitchen (located in the Fairview Park suburb of Cleveland) they knew something had to be done. They needed to be done to transform their cramped poor functioning kitchen into a place they could enjoy.
Learn below how Cheryl in conjunction with Cleveland Design & Remodeling (a division of Innovate Building Solutions) identified the problems with the old kitchen and developed design, product and construction solutions to turn this area into a stylish space that works.
5 Biggest problems with the Old Kitchen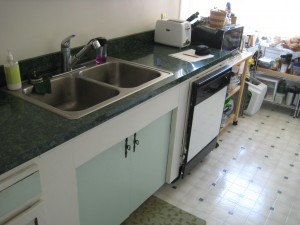 The most prominent areas that needed to be addressed in this small kitchen included:
A lack of kitchen counter space – Nancy's ability to spread out and bake was difficult – and the need to put the microwave on the small counters ate up even more space.
Few cabinets that were not easy to use – The existing layout had few cabinets and it was difficult to find things in the back of the pantry.
Electrical outlets and lighting was not good – There were not enough outlets to operate even a toaster and a coffee maker at the same time and Cheryl worried that the existing outlets were not grounded properly.
The corner of the kitchen was difficult to use – In the old kitchen a small round table was pushed into a corner which included two long vertically oriented windows. This space was just used to as a place to stack things.
The style of the kitchen was outdated.
Design ideas, construction solutions & products used
Since the current kitchen layout did not work well Cheryl andNancyneeded more than simply hiring a contractor who wanted to replace the old products with newer products – they needed a new design!
Jeff Spurio (Project Specialist) and John Fronek (Operations Manager) of Cleveland Design & Remodeling recommended the following:
       Removing 2 long windows in the corner and making them shorter so the new countertop would extend approximately 6' longer (this design change allowedNancy the space she needed for baking and allowed more space for storage cabinets underneath the countertops).
       Adding pull out shelves for the pantry, trash and pots and pan drawers (this made getting to things much easier)
       Steve Vlk (Field Project Manager) and Jon Exton (Installation Specialist) created a wider arched opening for Cheryl & Nancy to improve the site lines to the adjoining family room and to match the architectural style of other openings in the home.
       3 (properly grounded) outlets were added along the main countertop and can lights and under-mount task lighting was installed to provide the right amount of power and make it easier to prepare foods.
Cheryl also wanted to choose products to make the space more contemporary, low maintenance and easy to use (while still keeping the budget in tact). Here are some of the products & features selected:
       Tile flooring and backsplash with glass tiles – The tile flooring was laid "on point" to provide a more spacious feeling.
       Kraftmaid Sedona maple cabinetry with longer chrome pulls and slow close drawers created a more contemporary look.
       Stainless steel sink, refrigerator and range.
       High definition laminate countertop – provides an updated look without the high cost of a material like granite.
What do you think about Cheryl and Nancy's project? Do you have any questions about a small kitchen remodeling project we can answer?
###
Learn more about kitchen remodeling by visiting Cleveland Design & Remodeling (a division of Innovate Building Solutions) or by calling 216-658-1270. 
---
Mike Foti
President of Innovate Building Solutions a nationwide supplier and regional (Cleveland and Columbus) remodeling contractors. Some of our product lines include glass counters, floors, backsplashes, glass blocks and grout free shower and tub wall panels
---