Project Spotlight: Using color glass block windows in a live work music studio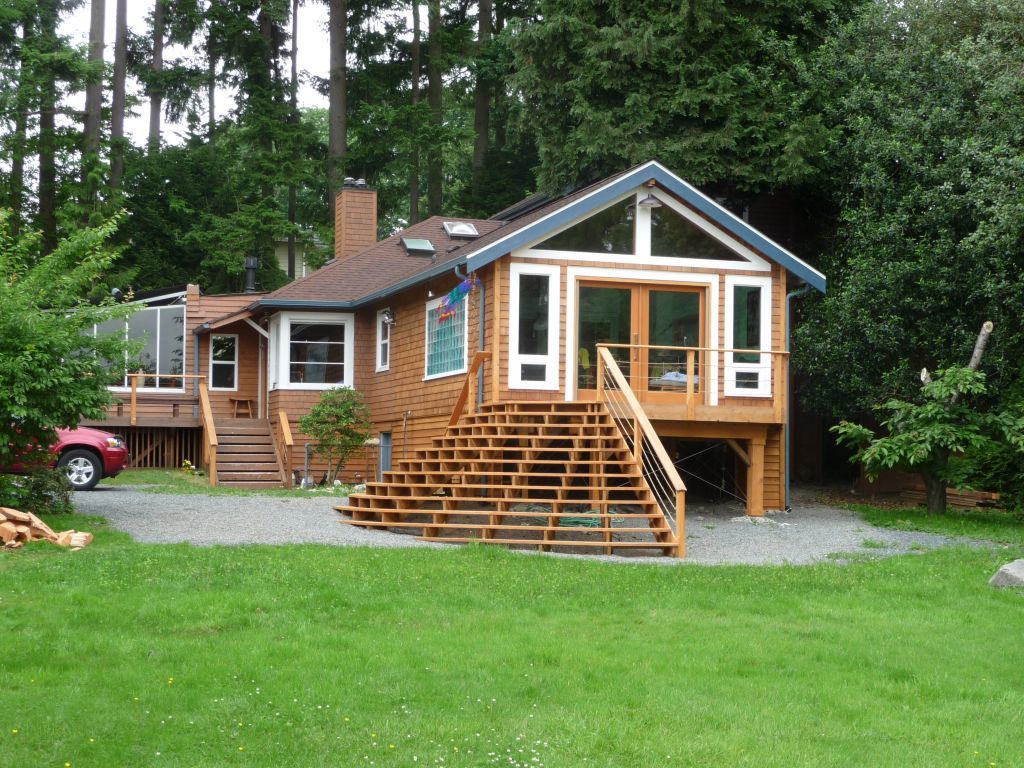 Can cool spaces create cool jazz music? Absolutely they can – especially if they are vibrating out of the home music studio of Charlie Bommarito in Lynnwood Washington (a 30 minute drive north of Seattle). When Charlie was looking to create a live work space for his music production business he wanted an inspiring, light-filled place that was private, functional and accentuated the beauty of the great Northwest.
Learn more about Charlie's project below:
Goals & Vision
Charlie was not just looking to create the standard room addition – his vision was to create a space that respected and embraced the environment (inside and out) and would inspire the production of quality jazz music. The goals for this project included:
Developing a 15' x 30' home studio room addition  – This space would need to house over 100 musical instruments and recording equipment.
Maximize natural lighting – The northwest is known for rain – Charlie wanted this space to be as bright as possible (better lighting makes a more upbeat environment).
Add a feeling of warmth and color – Why make this addition boring? Charlie wanted the space to pop and a great way to accomplish this is through color.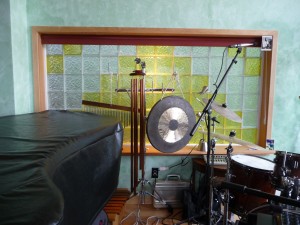 Take advantage of the views, but still provide privacy – In some parts of the addition the goal was to bring the outside in (by using picture windows) – in other areas the goal was to maintain privacy & focus without compromising light (by using colored windows with glass blocks).
Leave in tact a very large evergreen tree – This tree was located within the space of the new addition – the goal was to continue to love the tree, not chop it down!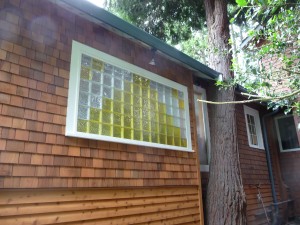 Products & Design Approach
To realize the vision and goals this project needed to be well planned and designed, and use the right materials. Highlighted below are a few of the product and design selections made to turn Charlie's vision into reality:
Vinyl framed colored glass block windows – Charlie's goal was to create a cool, artistic luxury look at a good price that allowed privacy and maximized light. Working with Lillie Burton from Innovate Building Solutions Charlie decided to create a pattern using lemon colored glass blocks with an Iceberg privacy pattern to maximize light on the shady (tree-lined) side of the property and used a seafoam color to mellow out the side that gets the most sun. The result in Charlie's words "the space is a little jewel box; the effect is like  a stained glass lamp!" These windows were very large in size (8' x 4') so Kevin Kretzer (Innovate's Production Manager) used a 2'' thick glass block to keep the weight down. A nail in vinyl framed option was used to simplify the installation (no mason is needed for this style of glass block window!). Charlie also used inexpensive blinds on the inside to be able to control the light, sound and temperature.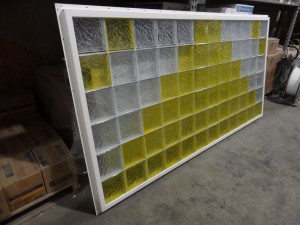 Don't cut that tree! What can you do with a 4' diameter evergreen tree that is over 100 years old and is within the space where the room addition is going? Charlie's decision – don't cut it, embrace it! The roof was literally shaped to allow the tree to grow through it. A large vertical picture view window was used to bring the tree visually inside the space – very cool!
It rains a lot in the northwest, how to maximize light – To get the glass blocks to create the most light they were highlighted with full spectrum lighting (these are lights that are made to simulate the brilliance of outdoor lighting at noon) supplied by Lumiram Electric. In addition Charlie put in lighting on the outside which means the blocks can provide light on a 24/7 basis!
What do you think of about Charlie's project? Do you have any questions about the materials used? Please comment below.
If you need help with any style glass block window (with or without colored units) on a national basis contact Innovate Building Solutions (877-668-5888). For regional glass block installations contact Cleveland Glass Block, West Side Glass Block, Columbus Glass Block and Mid America Glass Block of Cincinnati & Dayton. If you need any assistance remodeling a live work space or home studio in Northeast Ohio contact Cleveland Design & Remodeling (216-658-1270).
---
Mike Foti
President of Innovate Building Solutions a nationwide supplier and regional (Cleveland and Columbus) remodeling contractors. Some of our product lines include glass counters, floors, backsplashes, glass blocks and grout free shower and tub wall panels
---