7 Accessible Bathroom Home Modification Ideas to Add Safety, Style and Function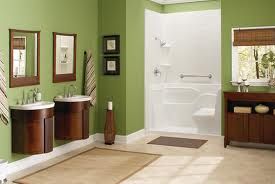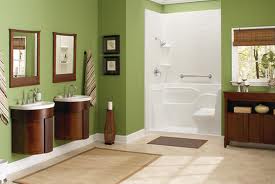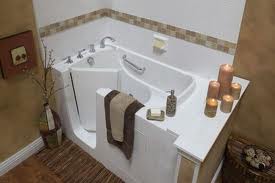 For an aging parent or someone with special needs an existing bathroom can be a dangerous place – slippery floors, low toilets, bathtub rails and shower curbs to step over, narrow doorways and hard to reach light switches are all obstacles to overcome. You may be wondering how you can make an accessible bathroom that is useable and stylish. Here's 7 ideas to consider for your next bathroom remodeling project:
Idea 1 – Add decorative grab bars – Why use a grab bar that looks like it was taken off the wall of your neighborhood hospital? Add style and safety inside a shower stall, bathtub or near a toilet with stylish grab bars made of colored acrylic or specialized finishes to match your plumbing hardware.
Idea 2 – Install comfort height toilets – At 20" highcomfort height toilets make it easier and safer to transfer from a wheelchair or walker to the toilet. Add grab bars next to the toilet for additional stability.
Idea 3 – Add a glass block shower wall vs. a standard glass enclosure – Sturdy and decorative glass block walls add style and structure to a shower (you can even add etched, colored glass blocks or glass block tiles for a designer accent).
Idea 4 – Change smaller in-swing doors for wider out-swing doors – Widen your existing doors to 34" to 36" and have them swing outside the bathroom to make it easier to exit the room in case of emergencies.
Idea 5 – Convert a tub to a walk in or roll in shower – Eliminate the risk of stepping over a tub rail with a low (or no) threshold walk in or roll in shower. Add style and a luxurious look with tile floors and tile wall surrounds.
Idea 6 – Use a roll under sink with lever type faucets near the front – This type of sink uses universal design concepts and makes it easier to everyone (from grandchildren to grandparents) to use.
Idea 7 – Purchase a walk in bathtub – With numerous messaging features these tubs are not only easy to get in but they provide therapeutic benefits as well.
Have you completed any accessible bathroom home modification projects and can share your experiences? Please comment below.
###
Learn more about accessible bathroom home modifications by visiting Cleveland Design & Remodeling (216-531-6085), Columbus Design and Remodeling (614-252-7294) and the Bath Doctor of Cleveland, Columbus, Cincinnati and Dayton Ohio web sites.
Related Articles