5 Steps to Design an Accessible Wet Room Walk In or Roll In Shower for Style, Safety & Resale Value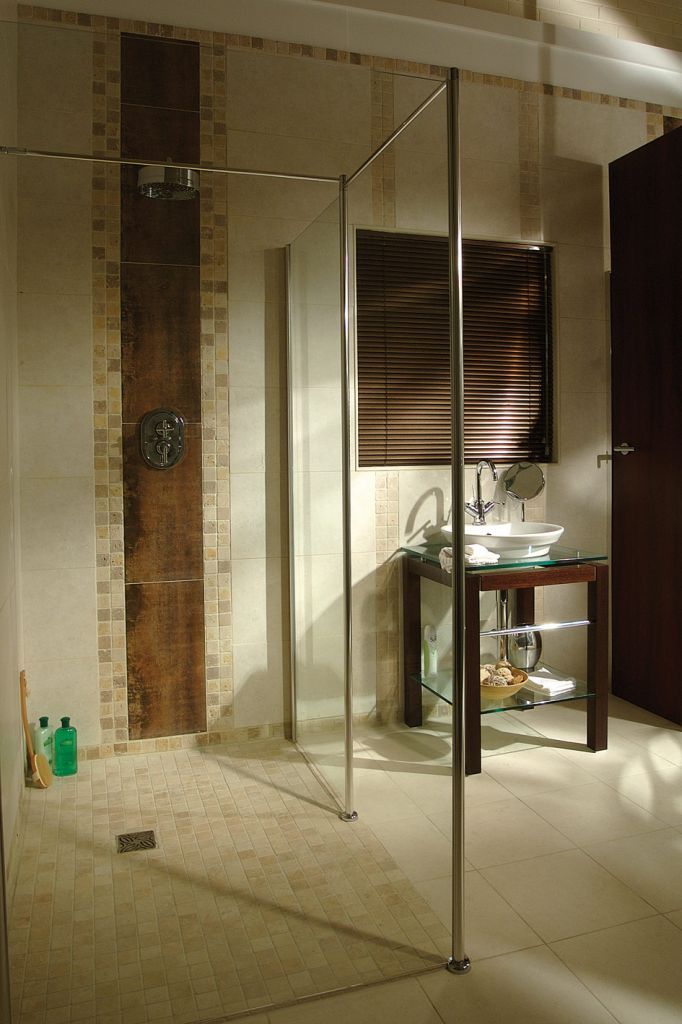 Is your bathroom ugly, outdated or just doesn't work for you? Do you think climbing over the bathtub and stepping over the shower enclosure is an accident waiting to happen? Here's a way to add a sleek contemporary bathroom with a high level of safety – add a European design inspired wet room walk in shower.  Using an open design this system combines a shower pan which is set below the surrounding floor. Since the base is below the floor you end up with a curbless roll in or walk in fully accessible design. Here's 5 steps to turn this concept into reality
Step 1 – Identify your problems – Write down what you don't like about your bathroom/shower right now. Try to project future needs for the space as well (do you anticipate any family members needing to use the shower or bathroom who might have special needs in the future?).    
Step 2 – Research options– The Internet now puts the world (and it's varied options) into the hands of everyone (quite liberating and daunting at the same time). Research terms like wet rooms, walk in showers, roll in shower, glass block showers etc.  In today's world a savvy consumer will frequently bring up new ideas for their projects (like the wet room concept) before their local contractor has even heard of them. 
Step 3 – Select your shower products and systems – The key to wet rooms is to choose the right products and installation contractor. Since the pan is set level with the floor the floor and the walls of the space need to be waterproof. In addition the shower base must be made of a quality material.
For the floors and walls I would recommend you use a waterproof backer board and floor system made of extruded polystyrene.  For the joints between the tile on the floor and walls use urethane grout. This grout has the highest crack and water resistance and does not require resealing. The highest quality shower bases are made of glass reinforced plastic – the same material used in cars, boats and aircraft.  
Step 4 – Identify cabinets, sinks, toilets and accessories specifically with a wet room design in mind – The great thing about a wet room is the bathroom floor and shower floor are at the same level (making this design a thing of beauty to look at, allows for a seamless walk in or roll in design and is easy to clean). Given this one level fact you'll want to choose wall mounted cabinets and sinks (you definitely don't want any wood vanities that sit on the floor with a wet room design). If you're designing this space for someone in a wheelchair you may also want to consider a comfort height toilet (this type of toilet sits 16" to 18" up – vs. a standard toilet at 14" to 15")– which will make it easier for someone to transfer from a wheelchair onto the toilet. 
Step 5 – Choosing a bathroom remodeling contractor – Selecting the right contractor or supplier for your wet room will be key. Since this needs to be a watertight room it's preferable to select vendors with previous experience. Look for reputable contractors through the Better Business Bureau or Angie's List.
If you'd like to learn more about wet room designs visit the Cleveland Design & Remodeling and Bath Doctor at Booth #359 at the Fabulous Food Show November 12th through 14th where you can bump elbows with Food Network stars and get remodeling tips as well.
I'd love to hear some of your ideas and experiences with wet rooms. Please comment below.
###
Learn more about accessible wet room by visiting Bath Doctor of Dayton and Cincinnati (513-742-6679), Cleveland Design and Remodeling(216-531-6085) or Columbus Design and Remodeling (614-252-7294).
Related Articles
---
Mike Foti
President of Innovate Building Solutions a nationwide supplier and regional (Cleveland and Columbus) remodeling contractors. Some of our product lines include glass counters, floors, backsplashes, glass blocks and grout free shower and tub wall panels
---