5 Reasons to Use a Tinted Acrylic Block Window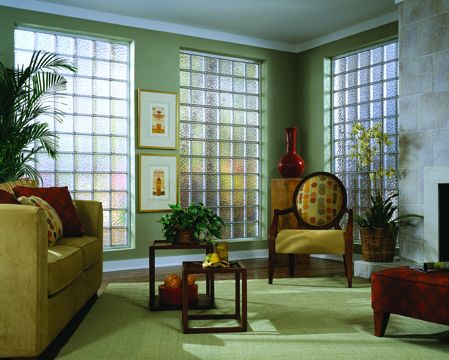 Are your carpets washed out from the sun? Are your heating and cooling costs chocking the family budget? Would you love to cut off the view of nosey neighbors? If you're experiencing any of these problems you're not alone. Here's 5 reasons you might want to replace an old window with a sun blocking acrylic block window:
Reason 1 – Get the best of both worlds – Low E & Reduced Sun – With the Solar Block Plus window you'll get the improved U value of a Low E window (which helps to cut cooling and heating costs) with reduced levels of sunlight (this window has lower solar heat gain coefficients – this measures the amount of harmful sun that goes through a window). Reducing sunlight can be especially important on the east and south sides of your home which get more intense morning and mid-day sunlight.
Reason 2 – Fixed and operable styles can be used in different rooms – In a bathroom remodeling project a fixed sun blocking window can add privacy, eliminate the needs for curtains and make it more comfortable to get ready without too much sun beating down on you. For bedroom, living rooms, dens and a kitchen remodel an operable awning and casement style sun blocking windows can bring in more air while still cutting sunlight, adding privacy, and cutting energy costs. 
Reason 3 – Pre-built and ready to install – Who wants to mess around with building a block window piece by piece? The acrylic block windows are prefabricated, ready to install and come in vinyl and aluminum frame colors to fit with any décor. 
Reason 4 – Use for egress and universal design benefits – If you're looking to add safety for a lower level space or just want a more ergonomically friendly window for improved universal design the Sun Blocking casement acrylic block window is an excellent choice. In a space as small as 39" x 47" you can install a casement style egress window which will add convenience and be accessible to everyone in your family.
Reason 5 – Easy to install– Glass block windows can be very heavy, difficult to install and are available with minimal sun protection options. The SunBlock acrylic units are light, available with aluminum and vinyl frames with and without nailing fins (for new construction and window replacement projects). These windows install just like traditional vinyl replacement windows and new construction windows.     
Are you looking to solve any window problems and need advice? Have you learned some lessons in doing your own job you'd like to share? If so please comment below.
###
If you need more advice on acrylic block windows visit Columbus Glass Block (614-252-5888) , Cleveland Glass Block (216-531-6363)and Mid America Glass Block (513-742-5900) in Cincinnati & Dayton Ohio.
Related Articles
---
Mike Foti
President of Innovate Building Solutions a nationwide supplier and regional (Cleveland and Columbus) remodeling contractors. Some of our product lines include glass counters, floors, backsplashes, glass blocks and grout free shower and tub wall panels
---