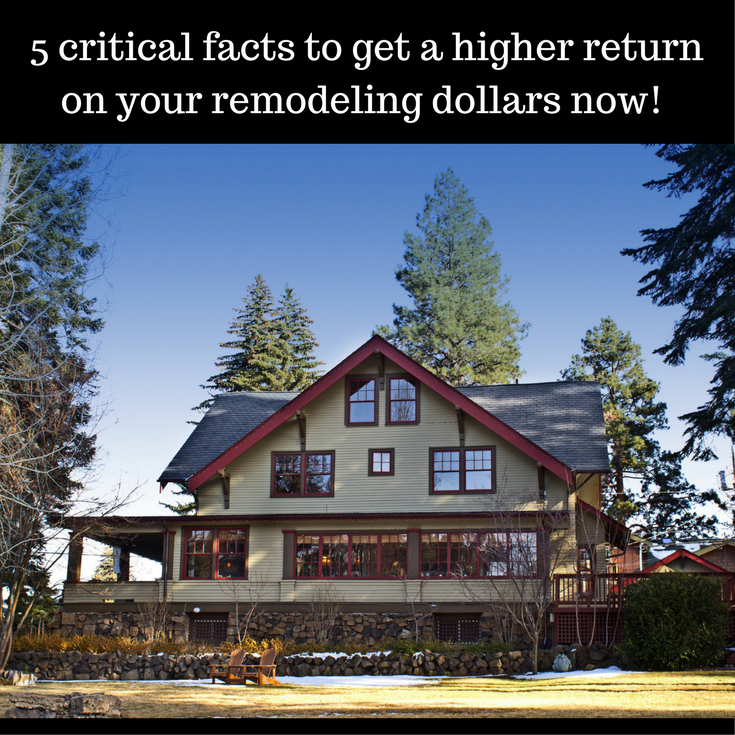 Updated March 16, 2019
Do you struggle with where to start first when it comes to remodeling or fixing up your home? Does your home resemble The Money Pit from the 1986 movie with Tom Hanks and Shelly Long? If you were taking a multiple-choice quiz about what need to be done at your home would you click the box that says "all of the above?"
Knowing where to put your hard-earned remodeling dollars can be confusing. Is it best to fix the broken windows, doors or poorly insulated walls or do a major addition to gain more space? Do you get bigger returns from a kitchen or bathroom remodel? If you redesign and remodel your bathroom to "age in place" will this improvement hurt you when you go to sell your home?
It's easy to come up with these questions – the answers, though, are not so obvious. So, this brings us back to the question where should you put your remodeling dollars to get the biggest bang for your buck (or conversely should you even give a hoot about return on investment?).
Every year an extensive research team puts together the Remodeling Cost/Value Study to dig into these questions and provide you and I with the answers. My goal in this article is to not bore you with stats. I say this even though I will confess to being a bit of a stats geek. I'm so strange I took 3 statistics courses while majoring in Business at Carnegie-Mellon University. You've got to be a bit touched to do that (ha! ha!).
In this article, I'm going to focus on 5 critical facts (which don't require you to like statistics) so you can get the best return on your remodeling dollars. At the end of this article I'm going to share with you my IMHO (In My Humble Opinion) how I look at return on remodeling personally (my opinion as a financially conservative building material supplier and contractor may surprise you). Let's check out these 5 critical facts.