9 Questions You Need to Ask BEFORE Choosing Replacement Windows
Updated May 16, 2021
Replacement windows 'buyers remorse' is painful. It doesn't feel good when you have to face the facts and come to the realization that……
You made a bad purchase.
And you not only wasted your money, but now you have to see (and live) with your bad choice year after year after year.
And since you don't buy replacement windows every day (or hopefully every few years for that matter) the cost of messing up is high. Whether you're replacing a few 1st floor windows which are rusted or you can't open, or a deteriorated wood framed 2nd floor bathroom window you're worried will fall out of your house any day now . You don't want to choose the wrong type of vinyl replacement window. However – you also don't want to be so careful you go overboard and pay more than you need to either on fancy-schmancy windows which will deplete your kids college funds.
If this describes your concerns – (whether your shopping for windows at your local home center,  looking to install yourself, or desperately searching for a good vinyl replacement window contractor who'll give you a solid window at a decent price with a superior guarantee) this article is for you. Below I'll give you 9 common-sense questions you need to ask BEFORE you fork over any of your hard-earned money on new replacement windows. And this advice is critical whether you live in Cleveland or Columbus Ohio or Bat Cave North Carolina (and yes – there is an actual town called Bat Cave North Carolina!).
So let's check out these 9 questions so you'll get the biggest bang for your vinyl replacement window bucks.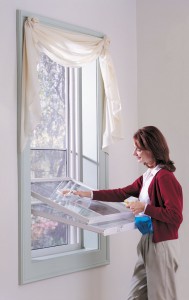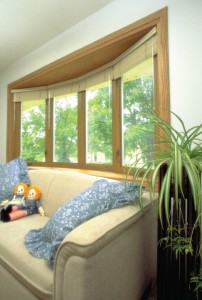 Bow woodgrain window in a family room add light & seating
Question 1 – What is the cheapest type of replacement window?
While your goal has to be to buy a replacement window system which works for your budget (unless you've got a rich Uncle Louie whose going to pay for the job), you don't necessarily want a 'cheap window' with a substandard guarantee. if you end up replacing these windows in a few years you'll be sorry. After all these aren't razor blades you're buying – their windows you want and EXPECT to last for a good long time.
However, if your budget is tight the cheapest type of replacement windows are double hung windows (which open up and down) and sliding windows (which open from side to side). They're uncomplicated to manufacture. This makes them more cost-effective than crank-out casement windows or awning windows.
And if you're choosing between wood , aluminum clad wood windows and vinyl replacement windows – to keep costs down, the vinyl replacement windows will be a far better value.
Question 2 – What vinyl window type provides operability and privacy for my kitchen window and shower window?
Your husband INSISTED on making the smelly trout he caught with his buddies. And you don't think it's possible for your windows to be big enough to air out your kitchen. Your wondering what type of window will move out nasty cooking smells.
And you're also not too happy about your creepy new neighbor and how he's 'checking out' your family. You're thinking now is most-certainly the time to make the bathroom window which is facing his house much, much, much more private. You're trying to figure out what type of vinyl replacement window will be the  private AND still provide enough air so you won't grow mold inside the shower.
These are important questions to get your arms around. And here's your answers
For the kitchen window – a smart solution to get rid of smells quickly are a crank style casement window. They'll not only give you a full-sized window where the entire sash opens, but they also offer nice views to your backyard.
For the shower window – If you need both privacy AND to maximize air flow an awning window (which cracks open at the bottom) is a smart choice. Another options could be a vinyl frosted glass double hung window you'll only open (for privacy reasons) from the top when showering. The last option – depending on the location of the window – would be a casement window (especially if the windows is on the 2nd floor).
Question 3 – I need a window my elderly mom (who has mobility challenges) can open and close. What type of vinyl replacement window is best?  
What good is an inexpensive double hung window if Mom's in a wheelchair and can't reach the top of the sash to lock the window as she's securing the home before she goes to bed. The answer would be IT'S OF NO GOOD.
While you want a window which provides Mom (or Dad) with fresh air, you don't want one which puts them in a dangerous position to open or close it.
For this reason – people who aren't as mobile as they'd like, an awning (or casement window) with a crank at the bottom (which is lower for them if they're using a wheelchair or walker) are best.
Question 4) Should I DIY or have a professional replacement window contractor do the job? 
For this question – there's no one right answer. However, the most important thing to keep in mind is there's a lot more which goes into a replacement window which will last (AND keep up water or air from your home). The quality of the flashing and caulking will improve or take away from keeping your home comfortable and/or cutting your heating and cooling costs. And getting on a ladder to do a 2nd story replacement window job is not only scary, but can be dangerous as well.
My recommendation for you is this. Before you buy any window at a home center make sure you understand (and have the equipment) to properly 'flash' and seal around the new window and the ladders and equipment to properly install any inside trim you'll need.
If your gut tells you, you may be in over your head – I'll bet a 'dollar to donuts' (as the old weird saying goes) YOU ARE IN OVER YOUR HEAD! Plus it's nice to know with a professional contractor they'll be responsible for warranty claims or issues which arise – not you!
Question 5 – What window types can add a unique architectural style and provide seating as well?
Replacement windows can not only provide great views and bring fresh air into your home – but they can become a focal point of the inside or outside of your home. Let's say you're looking for a way to add style (and seating) in your family room, living room, bedroom, kitchen or den and wondering how you can pull this off. Well one way is to use a bay window or a bow window. These windows project from the home (which allows them to capture light from multiple directions) and offer a place for 'window seating.' I know years ago my sister loved her bay window seat – she'd curl into this seat with a good book and she was good to go!
And if you're wondering if these windows will set you back a few bucks – they most certainly will since you'll need to create a roof on the outside and trim and finish the inside – but if you're looking for 'wow-factor' – they're an impressive idea.
Question 6 – I hate, hate, hate cleaning windows. Which type of vinyl replacement windows are simplest to clean? 
Who exactly likes cleaning windows? 'Er this would be NOBODY – unless you own a company called Crystal Clear Windows. So, if you're not going to able to hire a window cleaning company (because your spouse or partner is as cheap as they come), yet you don't want to spend a lot of time cleaning windows – you'll need to think through the styles which are simplest to maintain.
And for my money I'd recommend any and all window types which tilt in for easy cleaning. You'll find many double hung windows, casement windows and sliding windows which have tilt in features for cleaning.
I'd stay away from 'single hung windows' (which – while cheaper have one inoperable sash you'll have to clean from the outside) and picture windows (which while great for views have to be cleaned from the outside – which can be downright dangerous if they're on the 2nd or 3rd floors).
Question 7 – Window 'terminology' is so technical, it blows my mind. Do you have anything definitions which can help me understand it at a glance? 
I know exactly what you mean about terminology. Sometimes it seems manufacturers and contractors want to 'impress' you by throwing around a bunch of industry jargon which in the end just blows your mind and makes it harder to figure out what the heck they were trying to tell you. I thought this simple 'Anatomy of a Window' chart which was in an article on Consumer Reports about how to choose a vinyl replacement window would be helpful.
Question 8 – I've got a great yard and love our scenery. What window types can maximize my view?
There's nothing nicer than bringing the outdoors in (unless it's a cloudy or rainy Cleveland day – but that's a subject for another article).
Windows add to the enjoyment of your home and give you a way to not only to keep an eye on the kids or grandkids playing in the backyard, but to see the birds flocking around your birdfeeders or the geese leaving a few 'deposits' on your lawn (OK – maybe that's NOT such a good thing!).
However, if you want to see outside nothing can beat a picture window, casement window or even a sliding glass patio door (which – while a door, also does double-duty in many kitchens and family rooms as being a window). There's no separations between sashes and you'll be able to take it all in.
Question 9 – How can I make sure I order the right replacement window options?
There are SO many options you can get in a replacement window ranging from decorative glass, to grids, to tinted glass to mini-blinds, bugs screens and insulated glass packages. All these choices can MAKE YOUR HEAD SPIN!
The key in thinking through options is to do the following:
Step back and list your 'wants' from your 'needs.'
Prioritize your wants and needs
Talk to your potential contractors and suppliers and find out the relative costs of the options you're considering
The worst thing you can do is spend too much because you've been sold more than was necessary. If your contractor or store is unwilling to let you know where the 'value (and cost) of your windows is – I'd go on to the next supplier or contractor.
OK – you still have questions and would like more insights on choosing the right replacement windows?
Although I've presented 9 frequently asked questions to help you choose the right vinyl replacement window – I'm certain there's specific questions you have for your home. And if you live in Cleveland or Columbus Ohio – we'd be glad to meet with you and provide specific recommendations for your home. Call our Cleveland Window Company (216-531-4118) or Clear Choice Window & Door in Columbus (614-545-6886) divisions to get assistance to help you through the important decision.
And if you don't live in Cleveland or Columbus Ohio ask your questions in the comments below – we'd be glad to help you in your journey. Thanks for reading,
Mike
Related Articles
---
Mike Foti
President of Innovate Building Solutions a nationwide supplier and regional (Cleveland and Columbus) remodeling contractors. Some of our product lines include glass counters, floors, backsplashes, glass blocks and grout free shower and tub wall panels
---