Are Vinyl or Wood Awning Windows the Right Choice for your Project?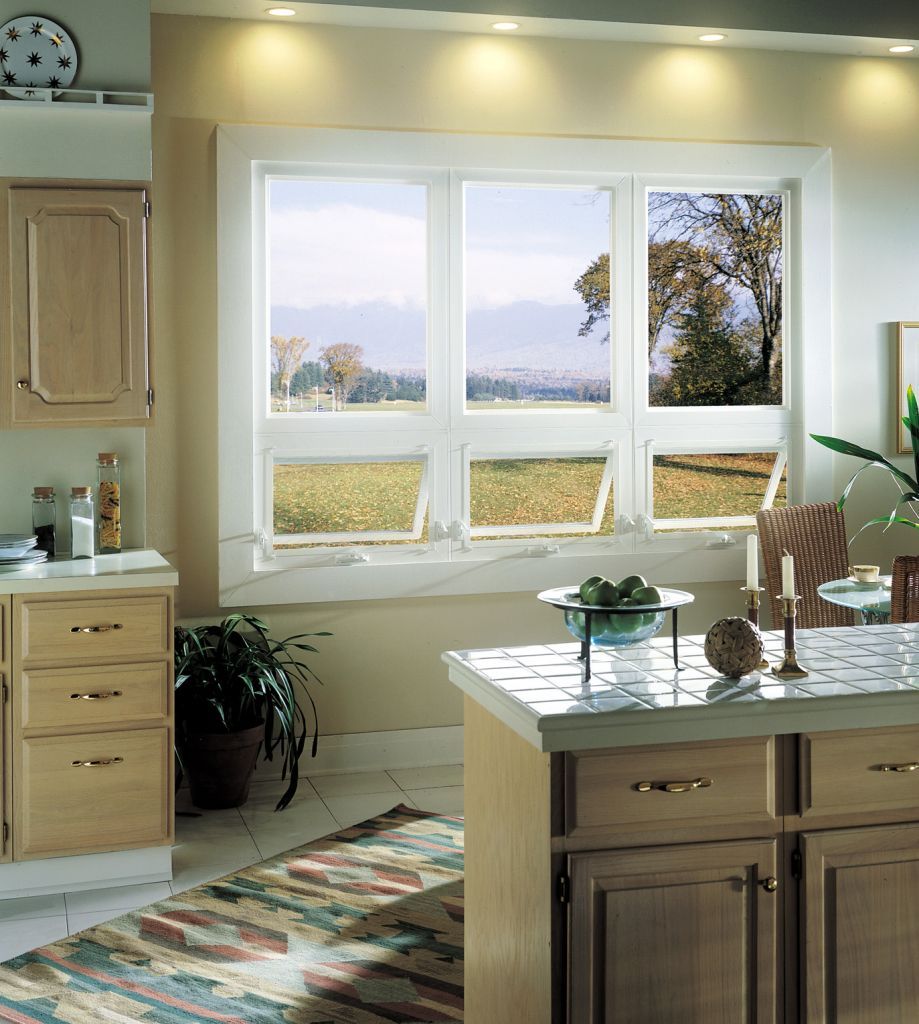 Would you like to get fresh air into your home without worrying about rain coming in? Or would you like to add an operable window above a sliding patio door or below a fixed picture window? If so – an awning window may be in your future. In this article you'll learn the definition of an awning window and about the advantages, disadvantages and where to use this type of window:
Definition – An awning window is a window that is hinged at the top that swings out. It is generally made of vinyl, wood and aluminum. These windows provide full ventilation and can be left open even in the rain. They are usually square and rectangular in design.
Advantages of Awning Windows
Can be left open when it's raining – Since the window opens out it can be used in a bedroom, dormer, kitchen or above sliding glass patio door.
Provides full ventilation – The entire sash of the awning window opens to maximize air flow.
Maximizes light transmission– Unlike a horizontal or vertical sliding window the awning design has a full sash without any bars through the middle to cut down light or views to the outside.
Reduces drafts – Since the sash compresses against the frame in awning windows they provide a better seal than gliding windows.
Works well in small spaces – If you use obscure glass this window provides a space effective ventilation solution for areas like small stand up shower stalls.
Disadvantages of Awning Windows
Harder to clean– These windows must be cleaned from the outside due to their operating style.
Sashes have greater exposure to the weather – Since the sash opens out it comes into more contact with the elements. This disadvantage will be greater when using a wood window vs. a vinyl window.
Increased expense – Awning windows are generally more expensive than double hung and sliding windows.
Sizes are limited – these windows usually are limited to square and rectangular shapes and sizes are limited due to limitations with the hinge hardware.
Where to use an Awning Window
Most common uses are:
Above sliding patio doors
As a kitchen, living room or  bedroom window – either as a single window or as a group of transom windows above picture, bay or bow windows.
As a dormer window with a remote control.
Basement windows.
Do you have any questions or advice about using an awning? If so please comment below.
To learn more about wood or vinyl awning windows or to get free consultation contact Cleveland Window Company (216-531-4118) or Clear Choice Window & Door in Columbus (614-545-6886) or in Cincinnati (513-744-2184) – divisions of Innovate Building Solutions.
Related Articles
---
Mike Foti
President of Innovate Building Solutions a nationwide supplier and regional (Cleveland and Columbus) remodeling contractors. Some of our product lines include glass counters, floors, backsplashes, glass blocks and grout free shower and tub wall panels
---