How to Select a Sliding Patio Door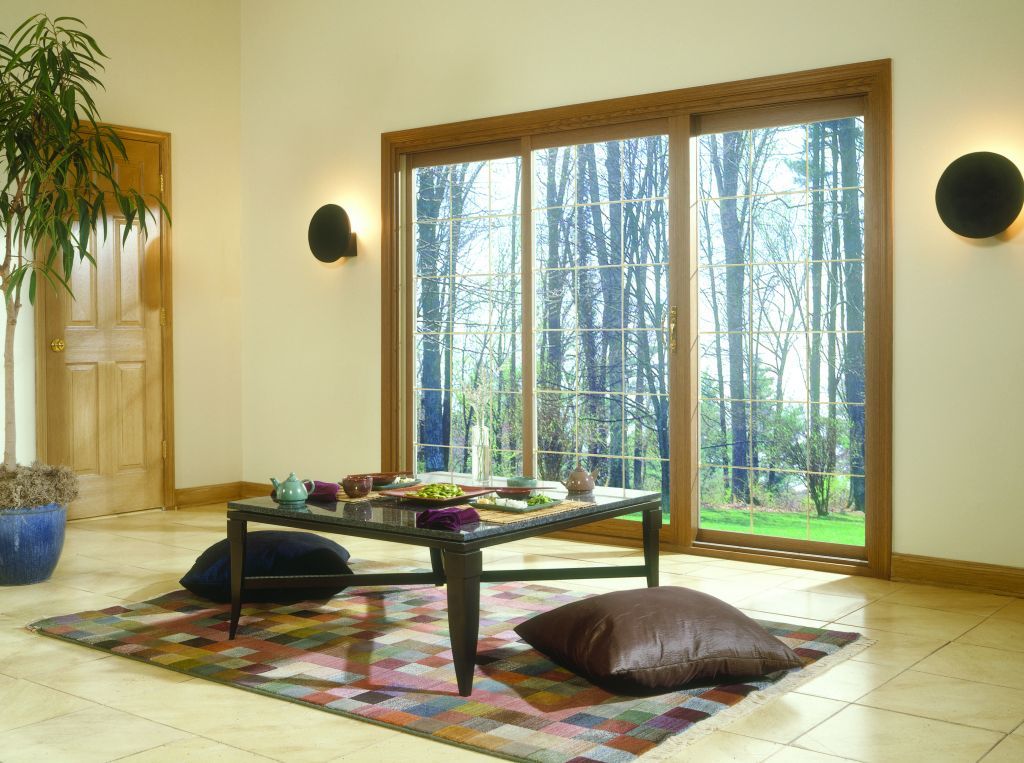 Doors are added to a home to provide entry and exit, while windows are used to provide light and air – but a sliding patio door can be used to combine the best functions of both a door and a window (entry, exit, views & air). This type of door glides (or slides) within a track system and uses large pieces of laminated safety glass to provide expansive views to the outside. In this article you'll learn the definition, advantages and disadvantages, and options in various sliding glass door styles.
Definition – A sliding glass door is door made of glass panels (in most cases 2 or 3 panel doors) that has one sliding panel (the other panels are fixed) which opens to the outside (usually a backyard or side yard) which can provide large views to the outside.
Advantages of a Sliding Patio Door 
Improved views– Since these doors can range in size from 36" to 143" wide by a maximum of 84" high and are all glass (with the exception of the frame) they provide excellent views to the outside.
Increases natural light and lessens the need for electricity – Given the large amount of glass in these doors, inside lights can be turned on less frequently for increased energy savings.  
Provides the ability to get to the outdoor space quickly– Sliding glass doors are commonly used to get to a courtyard, deck, balcony, patio, garden, backyard, barbeque, or swimming pool areas quickly. On the inside of the homes the sliding doors are often found in kitchens, family rooms and living rooms.
Offers improved ventilation – These doors come with screens on the outside so when the door is open a large area is available for fresh air (this can be a great benefit of these doors in a kitchen area to get rid of cooking odors).
Makes small rooms look bigger – A cramped kitchen or loft space will feel larger with the addition of a patio door.  
Disadvantages of a Sliding Patio Door    
Solar heat gain and sun damage– With large glass sections a sliding door allows a lot of heat and sun to come in or go out depending on the season. The impact of this disadvantage can be significantly reduced by using Low e and Energy Star rated window glass packages.
Will be more expensive than a window– Patio doors usually cost more than windows. Choosing a cheap patio door (usually the least expensive ones are made out of aluminum) may not be the answer because they are not good insulators and are more prone to seal failures. A vinyl patio door however combines a high level of energy efficiency at an affordable price.   
Popular Options on Patio Doors
Add more style, security and function with these more popular options:
Interior veneer trim options to match traditional style decors  
Multiple vinyl frame color choices to accent the curb appeal of your home
Decorative window grids and grills
Higher energy efficient windows with upgraded glass packages.
Interior window blinds.   
Other Patio Door Options
While sliding patio doors have some important advantages (they can be used in smaller spaces and are a cost effective patio door option) – they are not the only choice in a patio door. Other popular patio door types include French doors, folding patio doors, bifold patio doors and swinging patio doors. While these options will tend to be more expensive they offer more flexibility in the operating style of the door.
Do you have any questions or advice about sliding patio doors? If so please comment below.
To learn more about glass patio doors or to get free consultation contact Cleveland Window Company (216-531-4118) or Clear Choice Window & Door in Columbus (614-545-6886) or in Cincinnati (513-744-2184) – divisions of Innovate Building Solutions.
Related Articles
---
Mike Foti
President of Innovate Building Solutions a nationwide supplier and regional (Cleveland and Columbus) remodeling contractors. Some of our product lines include glass counters, floors, backsplashes, glass blocks and grout free shower and tub wall panels
---