7 1/2 Tips to Choose a Remodeling Contractor Who Won't be a Pain in the Butt or Wallet to Work With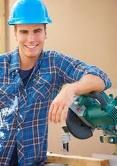 Let's face it most bathroom, kitchen or basement remodeling contractors are a pain in the butt to deal with. Construction delays, change orders, poor communications can all be par for the course (if you're a consumer with a nightmarish contractor story you're not alone!).
The reality is many remodeling projects are complex (there are a lot of steps and different construction trades in the process) and a good percentage of the skilled trades don't have the business and organizational background to manage and lead the people and processes to ensure an excellent customer experience. So… the question is what can you do to choose the right general contractor the first time? Check out the 7 ½ tips below:
Tip 1 – Look for interpersonal maturity – I know it looks like a strange first tip – but maturity and experience are the key to good decision making. In remodeling you can expect at least some unexpected things to occur along the way – which contractor seems poised and level-headed enough to handle challenges?
Tip 2 – Don't only check their references– It's great to get a list of referrals from your prospective home remodeling contractor – but they're going to "stack the deck" in their favor (only providing referrals to jobs that went well). Check out what people are saying about them in social media (Twitter, Facebook etc.). Look at their ratings through Angie's List and the BBB (Better Business Bureau).
Tip 3 – Do they have a list, and check it twice? – Physical construction skills alone are not enough for a successful project! Does the contractor have written processes & systems (design, sales, construction, billing, service etc.) to get 'er done (as Larry the Cable Guy might say) right the first time?
Tip 4 – They don't always tell you what you want to hear – Are they "yes people" who will tell you what you want to hear even if they can't deliver on your request or they don't think what you're asking is feasible? Success is built on clear, open and honest communications. Look for real, genuine and honest people who are looking to help you realize your dream kitchen, bath or basement – but also have an eye on what is realistic and possible on your budget.
Tip 5 – Owners & managers with a business background – Remodeling is a business – you'll know this all too well if you've called a contractor who worked at your home and the phone is disconnected (or you get their grandmother who tells you they've moved to Florida). Ask about the business background of the owners and managers. Does the company have the financial stability to not quit due to a lack of funds half way through your job?
Tip 6 – They don't "price low to change order high" – This is the construction version of the bait and switch. Provide low initial bid prices (with a low value for allowances) and then make money on the extras and change orders. Don't be lured by a contractor that bids this way.
Tip 7 – They don't create a construction schedule as if they could clone themselves – It's impossible to be two places at the same time – but some home remodeling contractors will schedule themselves in a way that everything would need to go perfect for them to complete their scheduled work. Make sure they have systems, processes and the maturity to know that not everything will go perfectly each day. Do they actually build some slack in their construction schedules?
Tip 7 1/2– They are learning, evolving & flexible– Construction methods and products are changing dramatically. Concepts like green building, universal design and new products are being introduced to the construction community at a dizzying pace. Is your potential contractor investing time and money to learn/grow and embrace new ideas and concepts? Do they attend national trade shows to see and learn about the latest and greatest products and techniques? Do they spend money training their staff on construction and business skills? Are they members of professional trade associations (NARI, ASID, NKBA) to have access to the best industry resources? Will they be open to doing research on the products you might be interested in incorporating in your basement, kitchen or bathroom remodeling project?
Does any contractor perfectly measure up to this list? The answer is no way! The key is to find a company who scores well and is focused and disciplined on getting better along the way.
Do you agree or disagree with this list? What would you add or take out? Please comment below.
###
For your information I'm the President of Cleveland Design & Remodeling (216-531-6085) and Columbus Design and Remodeling (614-252-7294) and The Bath Doctor (513-742-6679) of Cincinnati & Dayton. We're working our hardest to score well on the 7 ½ tips presented above (it's a constant evolution!).
---
Mike Foti
President of Innovate Building Solutions a nationwide supplier and regional (Cleveland and Columbus) remodeling contractors. Some of our product lines include glass counters, floors, backsplashes, glass blocks and grout free shower and tub wall panels
---