Deceptive Home Improvement Sales Practices – Don't Be Victimized By "Tin Men"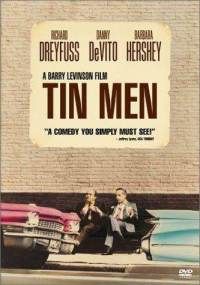 The vinyl replacement window industry was the first target of deceptive sales practices in Washington State
Remember the movie Tin Men with Danny Devito about high pressure sales tactic used in the 60's selling customers door to door aluminum siding jobs? Although Danny Devito was hilarious in the movie getting pressured or deceived into making any type of purchase is not good.
Unfortunately if you think the days of the "Tin Men" (high pressure home improvement sales people) are over – think again. In Washington State Jack G. Zurlini Jr. (the Assistant Attorney General in the Consumer Protection Division) is taking action against multiple home improvement companies selling vinyl replacement windows for unlawful marketing and sales practices (and the practices mentioned are not confined to the state of Washington). Here's 3 questions to help educate and protect you against making a bad choice in contractors:
Question 1) Why do some home improvement companies and reps still use high pressure tactics?
Old habits are hard to break – some salesmen have been taught the "one call close" method – basically ways to push hard for the sale on the first appointment.
Some reps only make a commission if they sell it on the first night – A bathtub liner company I know pays their sales rep nothing if they don't get a check from the prospect that night. In these cases your quotation becomes a "house account" and only the company (not the rep) can work to sell the job. This means you'll often get a call from a manager after the appointment trying to "rehash" the sales lead and push for the close.  
They think they will improve profits by getting the most money out of people who aren't savvy negotiators (taking advantage of those who haven't done their research and competitive shopping).
Question 2) How can you recognize a high pressure company?
When you call in for an estimate they will insist on the phone on both "decisions makers" at the appointment. These companies don't want to run what they call a "one legger" (a sales call with only one person present – they want both the husband and wife at the appointment – they don't recognize this as old thinking (there are many types of families – single parents, singles, same sex partners etc).
They'll create a false sense of urgency (telling you'll only get the sale if you sign the contract tonight).
They'll do multiple special offer price drops at the appointment to push for the close (or "call the office" – sometimes they'll literally be talking to no one when they do this – to talk to their manager to supposedly get you a better price).
Question 3) How can you protect yourself against deceptive sales companies? What can you do about it?
Check out ratings on line before calling– Thank God for the Internet. In the old days good and bad service only came through word of mouth. Now you can learn about service through sites like Angie's List, Better Business Bureau, and Yelp etc. Add your comments to these sites (good and bad) to help others in their buying process.
Use your 3 day right of rescission – If you feel pressured into a bad buying decision cancel the deal.
Call local home improvement associations – Unscrupulous companies generally aren't members of their industry trade associations. See if the companies you want to call for estimates are members of the association.  
If you're offered "such a great deal" through price discounts only available tonight don't make a commitment immediately.
Although this blog posts sheds light on the bad – the reality is most of the companies in the home remodeling and home improvement business are hardworking honest entrepreneurs looking to do a good job for you. Choose companies that put you first – who work hard to understand your needs and recommend solutions and insights to help you.
Do you have any home improvement sales nightmare or great service stories you'd like to share? Please comment below.
---
Mike Foti
President of Innovate Building Solutions a nationwide supplier and regional (Cleveland and Columbus) remodeling contractors. Some of our product lines include glass counters, floors, backsplashes, glass blocks and grout free shower and tub wall panels
---