7 Tips to Select a Decorative Leaded Glass Window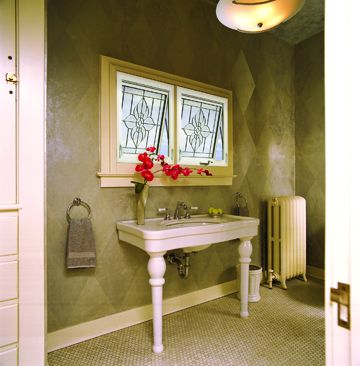 You no longer have to settle for a generic clear glass window. Add a distinctive decorative touch with a leaded glass window. Here's 7 tips to help you select the right decorative glass window for virtually any room of your house:
Tip 1 – Identify the benefits you'd like in this art glass window– Most people choose to replace existing windows with decorative glass varieties to improve both the function and look. The most common benefits this window replacement will provide are increased privacy, improved energy efficiency, operability and decorative glass styles to match different decors.    
Tip 2 – Select a room – Since decorative glass windows add a stylish touch you'll want to use them in a highly visible place. Popular rooms include bathrooms, kitchens, bedrooms, study or den and as sidelite and/or transom above the front door.
Tip 3 – Choose a shape – Will you be using this window is a small or large space. A person in Columbus Ohio selected a small oval window to add a decorative touch in a half bathroom. In Cleveland another customer used the architectural window above a soaking tub in the master bathroom. The small windows are available in both oval and octagon shapes and the large windows come in square and rectangular shapes.
Tip 4 – Consider fixed or an operable style – If the window is in a hard to reach place you'll most likely want to choose a fixed (non-operable) style. Fixed windows are less costly while still adding style and increasing privacy (without the need for window treatments). If you operability (maybe for a kitchen to let smells out or for a bathroom to increase ventilation) select between a casement window or awning window.
Tip 5 – Identify a frame color that compliments other windows– Since these windows are made with an easy to install and maintain vinyl frame you'll want to select the frame color that matches your other windows. Colors include white, tan and driftwood.
Tip 6 – Add your design – This is where the fun begins. The reason to use a leaded glass window is for the design – and there a wide variety of architectural styles to choose from (including floral, renaissance, craftsman, fluer-de-lis, geometric and cathedral to name just a few).
Tip 7 – Perform your own installation or hire a replacement window installation contractor – Since these windows are made with vinyl frames they are as easy to install as any other replacement windows (the key will be to create the right sized rough opening to fit the leaded glass window). If you're not a do it yourselfer look for a contractor with a strong service background. Check their ratings with organizations like the Better Business Bureau and Angie's List. 
Did these 7 tips help you? Do you have any experience with decorative leaded glass windows you can share? Please add your thoughts below.
If you need any help choosing the best glass block or acylic block window  or want a quotation contact Columbus Glass Block (614-252-5888), Cleveland Glass Block (216-531-6363), or Mid America Glass Block (513-742-5900) of Dayton and Cincinnati.
Related Articles
---
Mike Foti
President of Innovate Building Solutions a nationwide supplier and regional (Cleveland and Columbus) remodeling contractors. Some of our product lines include glass counters, floors, backsplashes, glass blocks and grout free shower and tub wall panels
---