5 Places to Use Decorative Art Glass Tile Blocks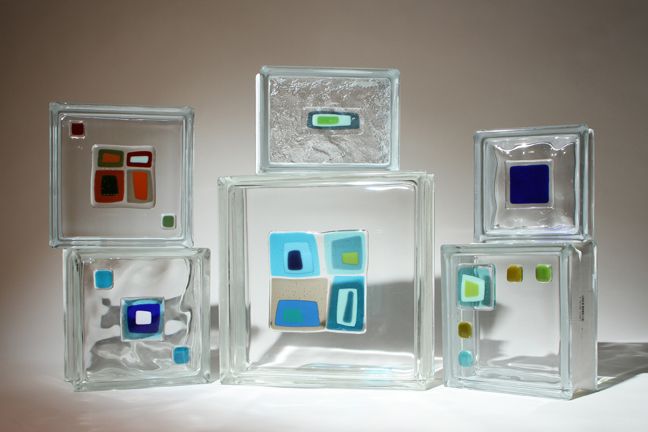 Being able to be cool, innovative and create a functional design is now possible for your next glass block shower, wall or window project. You might ask how – we'll if you haven't seen fused glass tile blocks you're in for a treat. Decorative, stylish and one of a kind would be correct ways to describe these art glass tile blocks.
Fused glass tile blocks are simply hand crafted tiles made by fusing layers of colored and clear glass together in a kiln. These tiles come in various sizes, 73 transparent & 46 opaque colors, and are fused to glass blocks. Here are 5 popular places to use these tile blocks:
Bathroom Shower, Tub Wall or Window– In a bathroom you want a private and functional space – but you may also want to create a feeling of a calming, soothing spa like experience. Whether you're creating a standard shower or a luxurious steam room a glass block shower wall with colored glass tile blocks can create a one of a kind look for your bathroom remodeling project.
Kitchen Backsplash, Bar or Window – In a kitchen you'll want light, style, and a space that works for entertaining and cooking. A glass tile kitchen backsplash has become more popular for it's look and ease of cleaning….now you can take this concept one step further by creating a light transmitting backsplash with a glass block tile backsplash. Also consider using these glass tile accents in a bar or kitchen transom window.
Sidelites and Transoms at the Front Door – Make a unique design statement and add security and privacy to your front door with a glass block sidelite with decorative art tile blocks.
Den or Study – A productive work space combines the opposite elements of "openness" and "privacy." The challenge – how do you create a space that feels open, light and airy but also provides the ability to focus? Try a glass block wall or window. For added style points add color, glass tiles or a frosted surface to the blocks.
Conference room or commercial partition walls – If you're looking for privacy, style and structure the glass block wall is an excellent choice. Make it unique with a curved wall design or randomly placing some decorative accent blocks within the wall.
Did any of these project ideas get you thinking? Do you have any other project ideas not listed here? Please add your thoughts below.
###
If you enjoyed this post and want to learn more about glass tile blocks visit our web sites – Columbus Glass Block (614-252-5888) , Cleveland Glass Block (216-531-6363) & Mid America Glass Block (513-742-5900) Cincinnati, Dayton and Eastern Glass Block of New York and New Jersey.
Related Articles
---
Mike Foti
President of Innovate Building Solutions a nationwide supplier and regional (Cleveland and Columbus) remodeling contractors. Some of our product lines include glass counters, floors, backsplashes, glass blocks and grout free shower and tub wall panels
---