5 Tips For Selecting Safe & Stylish Bathroom Accessories and Decorative Grab Bars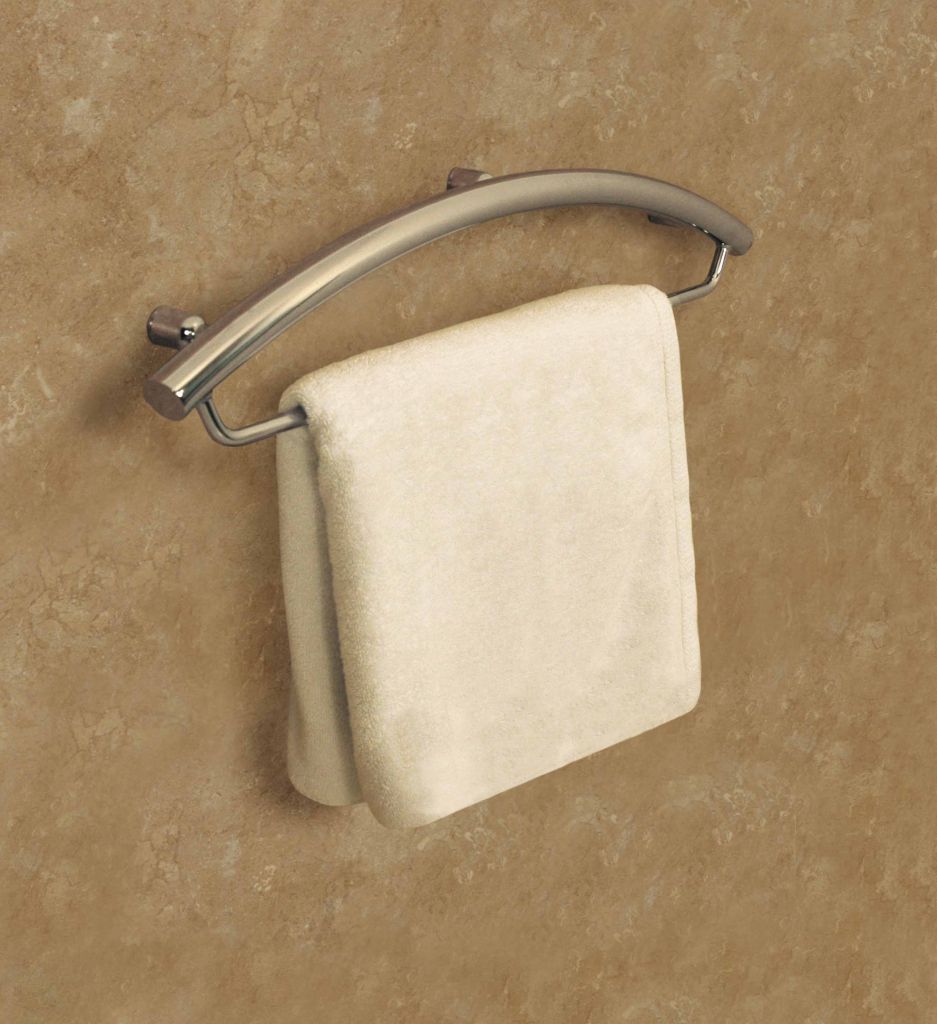 Bathroom safety does not have to be boring or scream out "grandma lives here!" Let's face the facts – many innovations in safe bathroom accessories were initially created for the institutional markets like hospitals, schools, and health care facilities. In fact most grab bars, safety towel bars and handrails in today's homes still give the appearance that you're scheduled for an overnight stay at St. Old Person's Hospital. Who really wants this type of look? No one I know.
Today if you need a more universal design that is useable and accessible to everyone you don't have to choose between safety and stylish design. Here's 5 tips to help you select safe bathroom accessories which are stylish as well.
Tip 1 – Select your features and benefits-The first rule in bathroom remodeling is it's all about you. You're spending your hard earned money so make sure the finished product will look and function as you'd like it. When choosing accessories use the following criterion to help evaluate product choices:
An ergonomic design – Rounded, curved or C-shaped grab bars, towel bars, soap dishes are easier for people of all abilities to grab than straight units.
Choose between a smooth or textured grip
Figure out what size works best – handrail and bar lengths can vary from 24" to 54".
Looks – Which decorative grab bars matches best with your remodeled bathroom and shower space.
Tip 2 – Think ahead – A little more money spent during the remodeling process can save you large dollars down the road. If you don't need these safety accessories at this time – but think you might in the future then have your remodeling contractor add wood backing during the rough framing process. This will help you to add these safety features later without having to open up any finished walls.
Tip 3 – Determine how much weight will be needed – The weight capacity of better quality decorative grab bars can vary between 250 and 350 lbs. Consider who will be using the bathroom/shower space to make the best selection for your family.
Tip 4 – If the accessories' finish doesn't fit you must acquit – Don't put up with an ugly straight white grab bar with a little chrome ring if you're using beautiful oil rubbed bronze plumbing fixtures. You can choose decorative or "wave style" grab bars in stylish finishes like oil rubbed bronze, polished brass, polished chrome, polished nickel, wrought iron, and satin nickel.
Tip 5 – Call in the "A Team" – Don't use rookie contractors and designers who have no idea about universal design concepts– In the old days if you were look for a safe and stylish universal design you were on your own to do the research and attempt to find knowledgeable people to help you find and install decorative bath safety products. Today better resources can be as close as your phone or keypad. A dedicated web site for universal design to check out is the Universal Design Living Laboratory. If you're looking for a quotation look for a design/build contractor that is has experience, time and training with universal design.
Did these 5 tips help you? Do you have any experience with decorative bathroom accessories you can share? Please add your thoughts below.
###
If you need design assistance or a quote for a bathroom or shower remodeling project, bath to shower conversion visit Cleveland Design and Remodeling (216-531-6085) , Columbus Design and Remodeling (614-252-7294) or The Bath Doctor (513-742-6679) of Dayton and Cincinnati.
Related Articles
---
Mike Foti
President of Innovate Building Solutions a nationwide supplier and regional (Cleveland and Columbus) remodeling contractors. Some of our product lines include glass counters, floors, backsplashes, glass blocks and grout free shower and tub wall panels
---