New Acrylic Shower Tub Wall Surrounds Save Time, Money and Add Style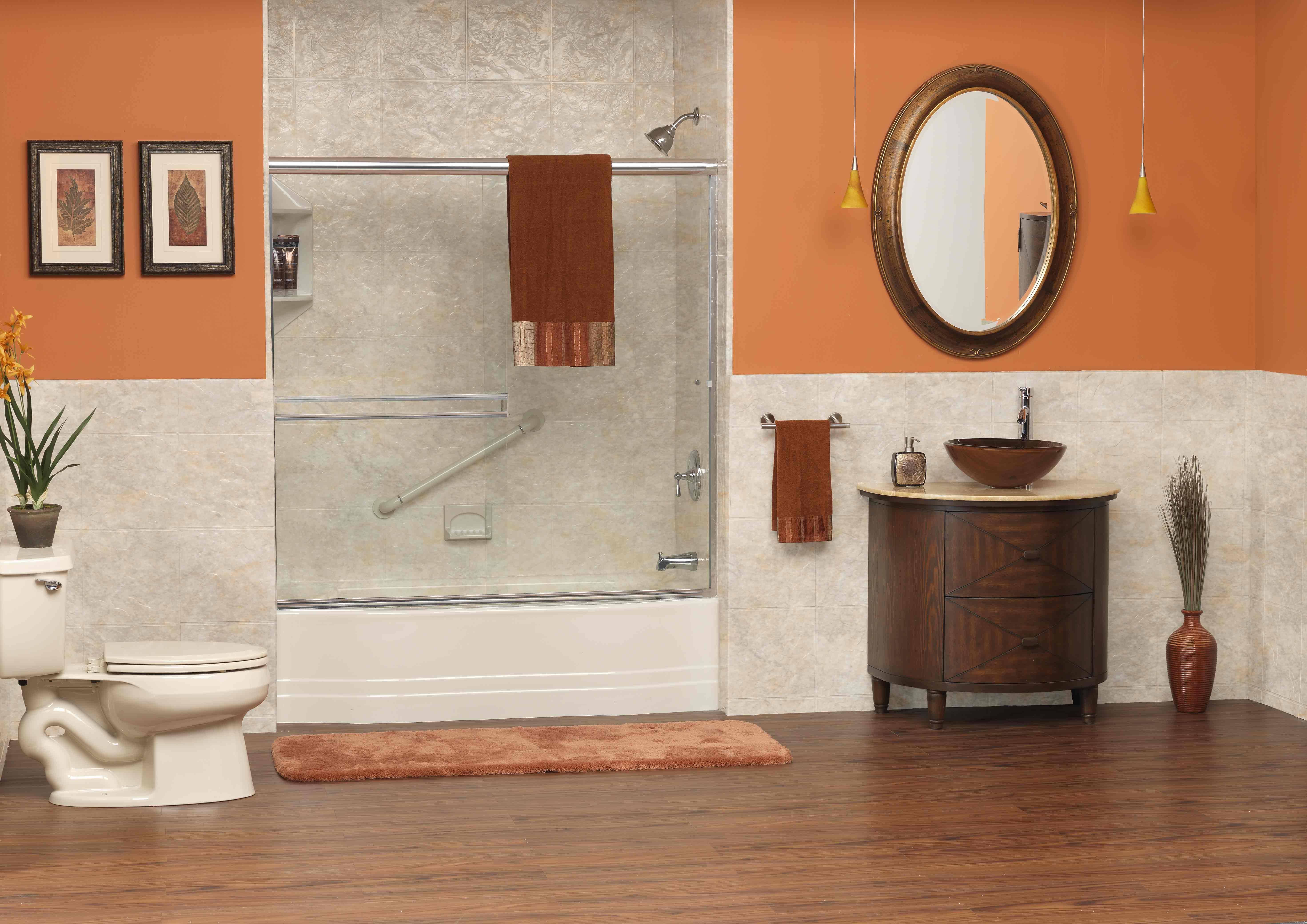 No grout to maintain – Yes you heard that right – have the cool look of stone or tile without the hassle of maintaining the grout. Acrylic walls are made and installed in single sheets.
A wide variety of colors, simulated stone and tile patterns and decorative trim pieces – Acrylic walls are no longer just white smooth surfaces. Check out the color and pattern choices below:
Colors – White, Almond, Biscuit, Gray, Silver White Marble, Almond White Marble, White Granite, Beige Granite, Gray Granite, Pearl, Brecchia, Roman Stone and River Rock.
Patterns – Subway tile, 12 x 12 slate, windmill, diamond, 8 x 10, 6 x 6, 4 x 4 and smooth.
Healthier surface without worries about mold and mildew– The 100% waterproof surface will eliminate moisture from getting behind your walls.
Reduced installation times – Most acrylic tub walls and shower walls are installed in one day – and your bathroom can be used on the next day – a very nice feature if you only have 1 or 1 ½ baths.
Less mess– In most cases acrylic walls can be installed over old tile walls using a specially designed butyl tape– allowing your home to stay clean during the installation process.
Acrylic walls are a long term solution vs. a short term fix – You may be thinking about resurfacing your walls or your cast iron or steel tub with an epoxy refinishing system. If so – be careful. Yes – it's cheap, but the fumes can be troublesome for your family and the longevity of this process is questionable. Acrylic walls have a lifetime warranty.
Won't crack, chip or fade like cheaper fiberglass walls – Fiberglass walls are often installed by most home builders. Want to know why – well they are cheaper. Is cheap the answer? Sometimes yes, but often no. Acrylic wall surrounds will not fail through cracking, chipping or fading which is frequently associated with fiberglass walls.
Cost effective stone and tile patterns allow high design and reasonable prices – Do you have the champagne tastes with a beer budget? Well you're not alone. With the new patterns and styles of acrylic wall surrounds you can have the best of both worlds – the looks and style of real stone and tile without the cost and maintainance.
Have you installed acrylic wall surrounds before and have some pearls of wisdom to share? If so comment below – let others get the benefit of your knowledge below.
 ###
If you're looking for more information or an estimate on acrylic walls surrounds (for a tub or shower space) or tile or stone shower walls visit The Bath Doctor of Cleveland, Columbus, Dayton or Cincinnati Ohio or for a more extensive bathroom remodeling project visit Cleveland Design & Remodeling (216-531-6085) and Columbus Design and Remodeling (614-252-7294).
Related Articles
---
Mike Foti
President of Innovate Building Solutions a nationwide supplier and regional (Cleveland and Columbus) remodeling contractors. Some of our product lines include glass counters, floors, backsplashes, glass blocks and grout free shower and tub wall panels
---