How to Choose an Acrylic Bathtub Wall Surround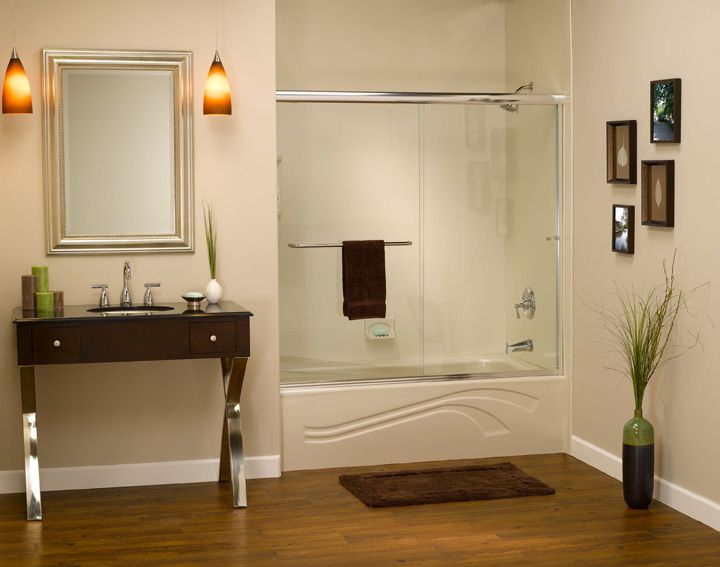 So you've come to the conclusion that something has to be done about your old outdated bathtub enclosure. The color of the old tiles may be outdated, cracked or look just really nasty with the growth of mold and mildew. A sound and budget saving solution to these problems is an acrylic wall surround.

If you're in the market for an acrylic wall surround but are finding it difficult to know how to make the best selection for your project the following the answers to the following 5 questions should help you.
Are you looking for the lowest cost or most decorative look? – The least expensive acrylic surrounds are smooth white walls – while they are not the most exciting to look at they will save money on the total project cost. If you're looking for an improved appearance (with the same functional benefits of the smooth white walls) you can choose a tile or stone finish in a wide range of colors.
Do you want to resell your home in a short period of time? – If you're looking to resell it's best to choose neutral colors that the future owner can decorate around. Consider the white, almond and biscuit color range.
Is a "one piece" wall system better than a 3 wall enclosure system? – This is almost a trick question. On the face of the question it would sound like a one piece wall system would always be better than 3 separate wall enclosures – however since almost all of the walls in the enclosure are not plumb and square the "one piece" system requires border pieces in 9 different places around the tub (consequently you're "one piece" system becomes a 10 piece system)! The separate wall system does not require these filler pieces around the border and actually provides a better longer term choice. 
Are multiple colors and pattern finishes available? – Absolutely. As the acrylic wall market has grown so has the selection possibilities. There are now 4 x 4, 6 x 6, 8 x 10 simulated tiles and also several stone finishes. The color choices can vary solids to marbleized colors (silver white, almond white and travertine), granite finishes (white, grey and beige) and even metallic finishes (in pewter and pearl).
Is there a way to save money on the installation? – Have it done right the first time. The key to most installations is what you often don't see which is behind the wall. Does your bathroom remodeling contractor have specific experience with acrylic wall surrounds? Do they use the correct materials to adhere the acrylic to your existing walls? Do they thoroughly inspect your existing walls so they are not putting the new walls over spongy or rotted wall sections? Ask good questions during the quotation process and when in doubt go on sites like Angie's List and the Better Business Bureau to see what experiences others have had with the contractor your looking to choose.
Are you looking to do an acrylic bathtub wall surround project and have additional questions I could help you with? Do you have any past experience with this type of project you can share with others?
###
If you'd like more information on acrylic bathtub or shower wall surrounds visit the Bath Doctor of Cleveland, Columbus, Cincinnati and Dayton Ohio.
Related Articles
---
Mike Foti
President of Innovate Building Solutions a nationwide supplier and regional (Cleveland and Columbus) remodeling contractors. Some of our product lines include glass counters, floors, backsplashes, glass blocks and grout free shower and tub wall panels
---