5 Reasons you Don't Need to be Afraid to Convert your Tub into a Shower Enclosure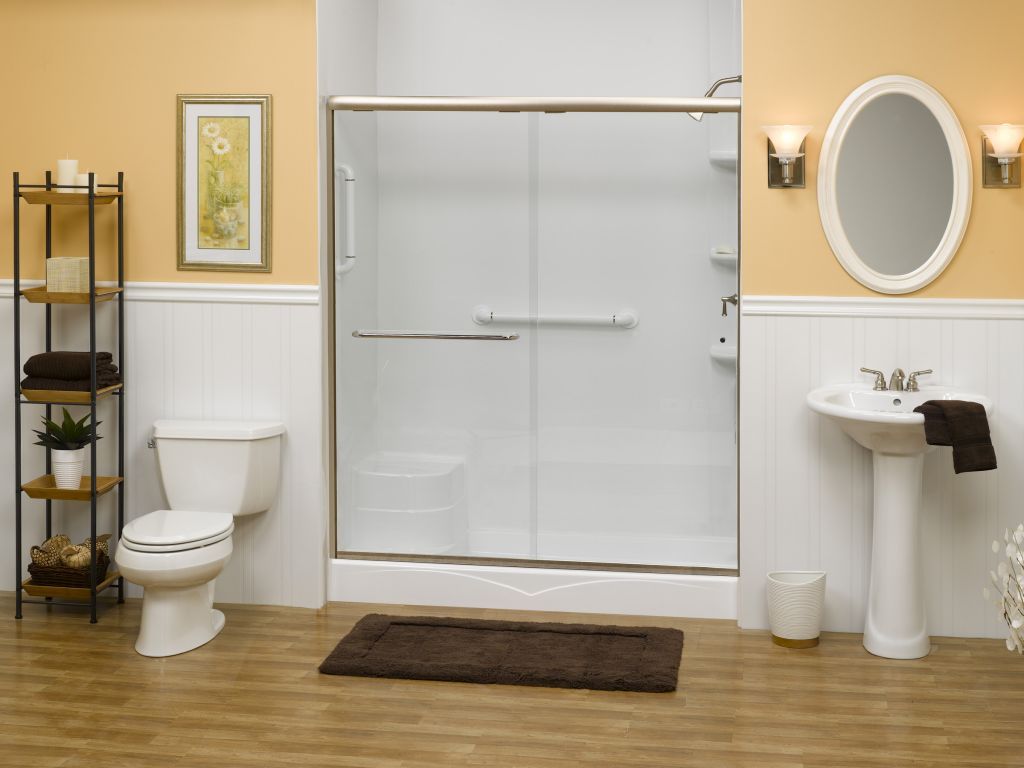 Maybe you've been told by a realtor, friend or relative – don't get rid of your tub you'll kill your resale value. While I'm sure these people are well meaning I'm not sure they are in touch with how most people live and use their bathrooms and shower/tubs areas today. Here's 5 reasons you can feel confident a tub replacement will add value to your home:
Reason 1 – There are more "shower people" than "tub people" – Have you seen a dusty soaker tub or Jacuzzi tub in anyone's home that's barely being used? The reality is these big old tubs were put into many homes in the 1980' and 1990's when disco music was hot. Today's families are on the run and soaking in a tub is just not happening. There are far more "shower people" (those who prefer a shower) than "tub people" (those who prefer a tub).
Reason 2 – Climbing over a tub rail is risky business– Research from groups like the Home Safety Council has found that older adults experience the highest rate of accidental injury due to falling in the home. With even a standard shower (with a curb to step over of 4 to 5") the chances of an injury are much less than stepping over a 14" tub rail. To make things even safer you can use a barrier free shower or sleek European designed wet room.
Reason 3 – It's more cost effective to stay in your home than go into assisted living – If you've done any research you'll find the assisted living facilities can cost an arm and a leg. Completing a bathtub to shower home modification can save significant costs for the entire family. The other advantage is almost all active adults want to live independently and stay in their homes for as long as possible.   
Reason 4 – It's easier to clean and maintain a shower – It's much easier to step into a shower to clean it than having to bend over the tub. In a shower you can even add a hand held shower to spray off dirt and cleaning solutions.
Reason  5 – You can get rid of a door, curtain and get a walk in shower – Yes – you heard me right you can even create a walk in shower in a space as small as a 60" x 34" tub space. Most people hate the expense of a shower door and the never ending maintenance of cleaning around the door frame. With a curved glass block shower wall enclosure you can take a tub alcove area and actually convert it into a contemporary stylish walk in glass block shower. If you don't like glass blocks you can do a tub to shower conversion and put up lower cost framed glass door and acrylic shower wall surround as well.  
Are you considering a bath to shower conversion project and need help? Have you done one of these projects and can provide some words of wisdom to others? If so please comment below.
Learn more about tub to shower conversions and bathroom remodeling by visiting or calling Bath Doctor (216-531-6085), Cleveland Design and Remodeling (216-531-6085) or Columbus Design and Remodeling (614-252-7294).
Related Articles
---
Mike Foti
President of Innovate Building Solutions a nationwide supplier and regional (Cleveland and Columbus) remodeling contractors. Some of our product lines include glass counters, floors, backsplashes, glass blocks and grout free shower and tub wall panels
---