5 Tips to Design a Cool Curved Glass Block Shower and Partition Wall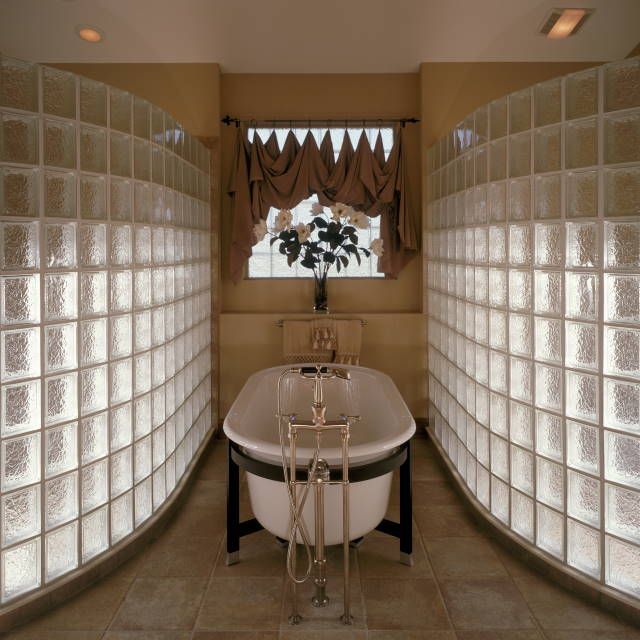 Why have a generic space when you can make it cool? Most people assume a curved shower or partition wall is way beyond their budget – and if you're looking at a curved, bent and tempered glass wall you're probably right. But there is an answer to get a cool, modular and functional radius wall without having to hit up your friends and relatives for a loan – it's with glass blocks. Read these 5 tips to achieve a cool, practical and fully customizable shower wall or partition wall for a bathroom, kitchen, basement or commercial renovation project.  
Tip 1 – Choose a location– Popular places to use curved glass or acrylic block walls included shower enclosures, kitchen bars, loft apartments, conference rooms, TV sets and restaurant walls.
Tip 2 – Shape it up – You can make a serpentine (S shaped) wall, graceful curves, or 90 degree turn in 12" or less. This sharp turning capability makes glass blocks an excellent choice for a tub to shower conversion where space is limited.
Tip 3 – Identify the blocks you need – You can use standard glass block sizes (4" x 8", 6" x 6", 6" x 8" and 8" x 8") or specially made curved blocks for your wall. The advantage of the specially made curved blocks is they can be used in conjunction with prefabricated wall systems to greatly simplify the installation process and improve the finished quality.  
Tip 4 – Use time and money saving fabrication systems – If possible don't use the old school method of a block by block installation done at the project site. If the job is properly designed you can have premade glass block wall sections made up which will save you time, money and improve quality.
Tip 5 – Rock your project with colors, designs, patterns, etchings and decorative tile blocks – Why blend in with the rest of the clear glass blocks wall when you can add your own distinctive style? There are now a wide variety of colored, frosted, etched, patterned and glass tile blocks to choose from.
Have you ever done a curved wall project before? How did it turn out? Do you need any advice with an upcoming project?
Learn more about custom curved shower walls by visiting Columbus Glass Block (614-252-5888), Cleveland Glass Block (216-531-6363), Mid America Glass Block (513-742-5900)of Cincinnati or Dayton, Cleveland Design and Remodeling (216-531-6085)or Columbus Design and Remodeling (614-252-7294).
Related Articles
---
Mike Foti
President of Innovate Building Solutions a nationwide supplier and regional (Cleveland and Columbus) remodeling contractors. Some of our product lines include glass counters, floors, backsplashes, glass blocks and grout free shower and tub wall panels
---