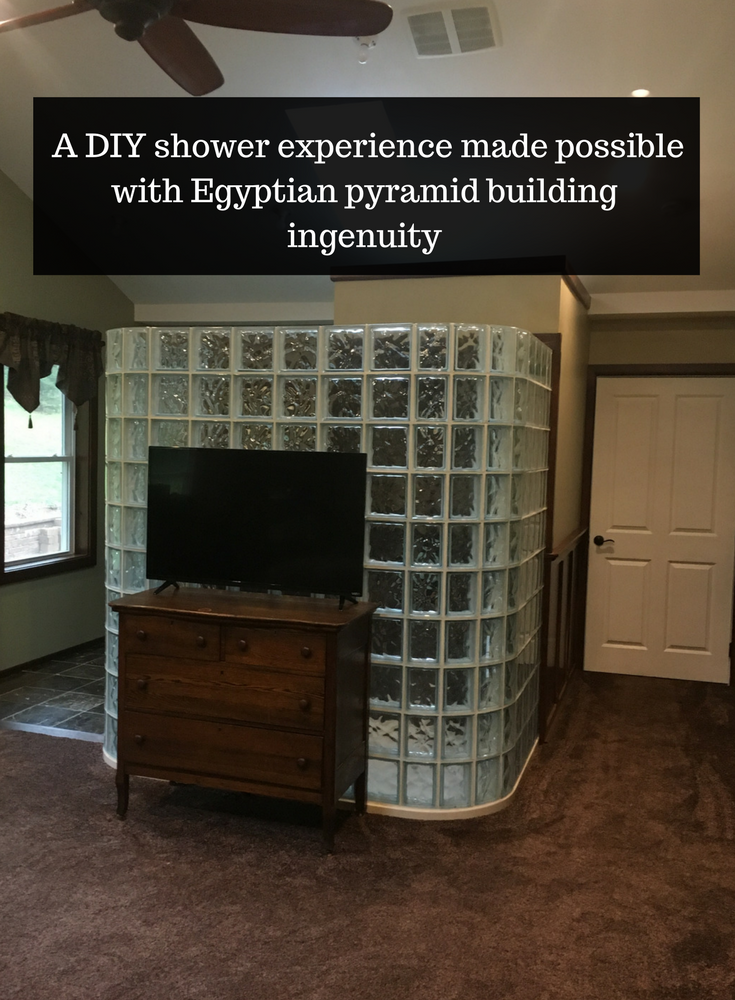 You may be wondering, "What does building a glass block shower have in common with Egyptian pyramids?" That would be a logical question. Sometime when you take on a custom shower project with heavy materials (in this case a beefy solid surface shower base and custom prebuilt glass block shower wall sections), just like the building of the Egyptian pyramids, the construction feat can pit mankind (or womankind) in a mental battle with materials they want to use.
The weight of the materials was one of the challenges facing JR in a 2 year-long design and installation of a custom glass block shower. He invested time planning, measuring (remeasuring) designing securing products and then building a grand glass block shower unlike any others I've seen. It's size, design and shape were not only unique – but the project was done without a full-time general contractor leading the way (now that's a risky proposition).
A project like this takes a special person (OK – John's not your average guy). It takes a focus on design, planning and some special "engineering" along the way (some anticipated – and some solutions figured out "on the fly"). In the video below I'll let John share with you his DIY custom glass block shower and solid surface base experience (and what it has to do with Egyptian pyramid building).
Now that you've watched John's video, I'll share the 5 D's to get you to the top with a unique glass block shower experience for your home (even if you're project is not as grand as John's). At the end John and I would love to get your opinions of his glass block shower. I want to hear your questions if you're struggling with the steps to make this project a reality.