How to Design a Custom Glass Block Bar Base and Counter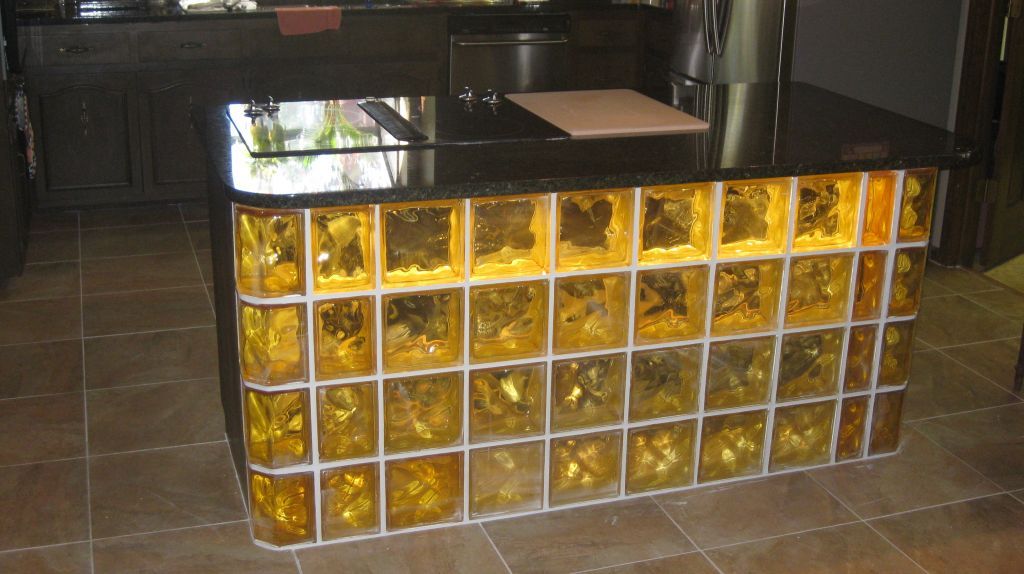 Are you looking for a cool, distinctive bar for a rec room, basement, or commercial business? If you want a durable, light transmitting unique contemporary look a glass block bar may be the choice for you. Learn below the answers to 7 frequently asked questions on how to design this type of glass bar.   
Question 1 – Where can I use a glass block bar? – The most common places these bars are used are in kitchens, basements, recreation rooms, man caves, sales counters, and commercial bars and restaurants.
Question 2 – What's the best height to make the bar base? – Standard bar height is 5 glass blocks (40") + a countertop (approximately 2") for a total height of 42".
Question 3 – What shape(s) can I make the bar? Can it be freestanding?  – Glass block bars can be L shaped, U shaped, curved or straight. For a non-attached freestanding bar the curved of U shaped designs work best.
Question 4 – How can I decorate, dress up, and illuminate the bar? – Using colored, frosted or decorative glass tile blocks you can add a uniqueness not seen in standard bar furniture. This glass bar can be lit underneath by attaching lighting to the bottom of the countertop or through the glass blocks with the use of specialized plexiglass glass block spacers. 
Question 5 – How can the installation of the glass block bar be made easier? – Instead of building the bar block by block you can improve quality and reduce the amount of time and field labor by using prefabricated wall sections.
Question 6 – Are any special floor supports needed? – Not usually. The glass blocks – while being a sturdy building material – only weigh about 5 ½ lbs. per block.
Question 7 – What kind of tops can be used? Can the glass blocks support the weight of the countertop? – Any type of counter can be used with a glass block bar including a laminate Formica, Corian solid surface, concrete, granite etc. Glass blocks can serve the support for lighter materials like Formica – but for heavier counters (like granite, concrete, solid surface) there will need to be structural support behind the glass wall.
If you have any questions or words of wisdom about glass block bar projects please comment below.  
If you need any help designing a glass block bar or want a quotation contact Columbus Glass Block (614-252-5888), Cleveland Glass Block (216-531-6363), or Mid America Glass Block (513-742-5900) of Dayton and Cincinnati.
Related Articles
---
Mike Foti
President of Innovate Building Solutions a nationwide supplier and regional (Cleveland and Columbus) remodeling contractors. Some of our product lines include glass counters, floors, backsplashes, glass blocks and grout free shower and tub wall panels
---