How to use a glass block bar, wall, window or column in a kitchen remodeling project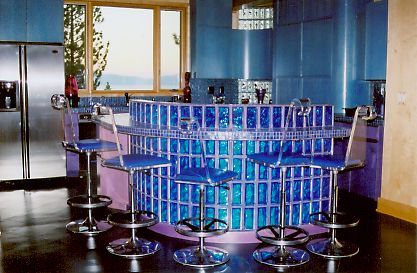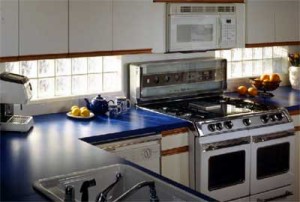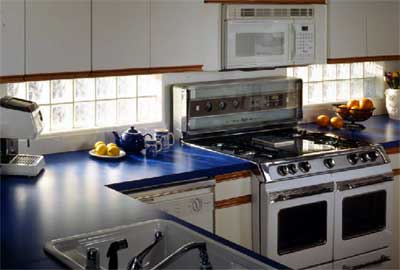 Why should you design a kitchen that looks like what everyone else has when you can jazz it up with a contemporary flair of color and style? When most people think about using glass blocks they usually picture them in a bathroom or basement setting, but glass blocks in your kitchen provide a focal point to make the room really pop. Here are 3 ideas to consider for your kitchen.
Glass block bar – Probably the most popular use of blocks in the kitchen is for an island bar. Usually these bars are built with 40" of glass blocks (or 5 blocks tall) and are finished off with granite, solid surface of laminate countertop. For a dramatic appearance you can also use colored or frosted glass blocks or under-mount LED lighting to draw attention to the bar in the evening.    
Glass block window underneath cabinetry – You no longer need to have the counter space underneath your kitchen cabinetry be dark. Add natural lighting by installing a glass block window (or a series of smaller windows) in the area between the cabinetry and the countertop. The most popular sizes of these windows are 16" x 16" or longer vertical expanses of 40" x 8". For ease of installation you can use a vinyl framed nail in type window as well for new construction or room additions. For a decorative touch consider adding design glass blocks where glass murals can even be fused into the blocks.
Glass block columns – Create a curved, hexagonal or square column to either hold up a bar top or to create a design feature in the kitchen. These columns can become more prominent with the use of lighting as well. They are very cool and stylish and will make your home stand out.
Are you considering glass blocks for a project in a kitchen remodeling project and need some advice? Do you have any experience with these types of applications and can offer some words of wisdom for others?
###
If you need any assistance with a glass block bar, wall, window or column project in your kitchen visit Cleveland Glass Block (216-531-6363) , Columbus Glass Block (614-252-5888) and Mid America Glass Block (513-742-5900) of Cincinnati and Dayton and Eastern Glass Block  (973-777-8989)of New York and New Jersey. If you're doing a kitchen remodeling project visit Cleveland Design and Remodeling and Columbus Design and Remodeling.
Related Articles
---
Mike Foti
President of Innovate Building Solutions a nationwide supplier and regional (Cleveland and Columbus) remodeling contractors. Some of our product lines include glass counters, floors, backsplashes, glass blocks and grout free shower and tub wall panels
---