The Advantages and Disadvantages of Crank Out Casement Windows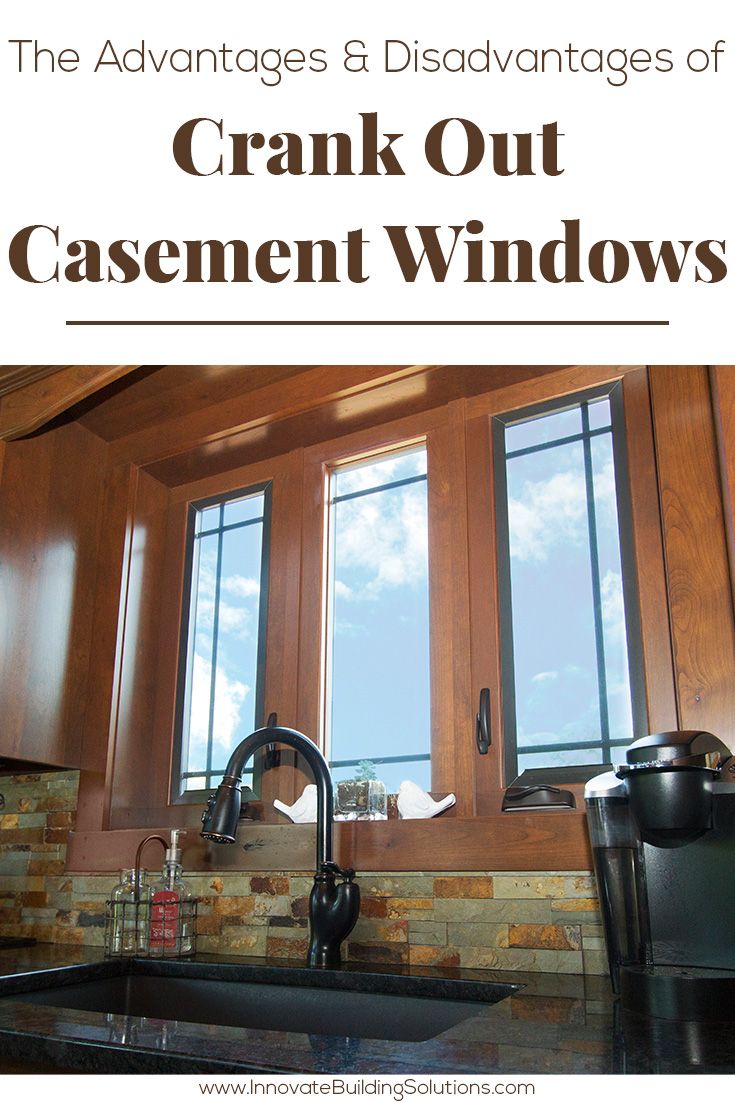 Updated June 5, 2021 
Hey – if I'm being real with you, I'll say right up front choosing the right type of replacement window can be a pain ! There are so many choices. Do you choose crank out casement windows? Or how about a low cost double hung window? And should you sprinkle in a few sliders (which open side to side) or a picture window?
Well to give you a 'PC' (Politically Correct) answer I'd say it depends. You're likely saying it depends on what? Well it depends on the style of your home, who lives in the home, where the windows are located (first floor, second floor or basement) and how much security and views to the outside matter. And, of course,  it also depends on your budget.
In this article I'm going to take a look at one type of replacement window – which are crank out casement windows . I'll give you information to help you determine IF you should use them in your home and if so – where you should use them. I'll look at the advantages and disadvantages of these windows – because like you and me, crank out windows do have their strengths and weaknesses (even if our spouse's or significant 'utter's think we're perfect – OK, I'm lying there!).
My goal will be to give it to you straight so you can figure out if casement windows are right for your home. And at the end I'd love to read in the comments if you give them a 2 thumbs up or 2 thumbs down. So – without further delay let's go.
Advantages of Casement Windows
Advantage #1 – Casement windows let the air flow in!
Maybe you've got a beautiful lilac bush outside your kitchen window and would love to smell it when it blooms in the Spring. Or you want to keep your home smelling fresh – even when cooking exotic fish or spicy food. In these cases a crank out casement window is a smart choice. Since the window opens fully (and takes up the entire opening), you'll maximize your air flow. The same can't be said if you use windows with 'multiple sashes' – like double hung and sliding windows.
Advantage #2 – Crank windows maximize your views
Whether you want to see through windows on the front of your home to make sure the kids are safe while waiting for the bus, or want the best view of your trees or lake in your backyard, crank window are a natural choice. You see there's no sashes blocking your view. And if you really want a big view (and a good amount of air) combine casement windows with a picture window.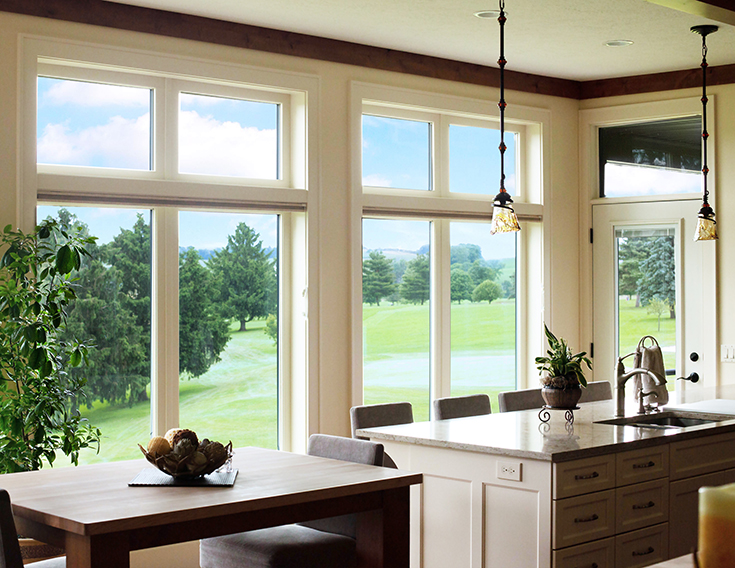 Advantage #3 – Lower heating and cooling costs
When you choose vinyl casement windows with a Energy Star insulated glass package, you'll get a window which not only gives you a lot of ventilation, but also one which won't lose air between sashes (which is a challenge with double hung or sliding windows).
Advantage #4 – If your Mom, Dad or family member uses a wheelchair – a casement window is perfect for them
Imagine NOT being able to fully enjoy the advantages of air flow because you can't reach high enough to open (or close) the window. Well – there are many people who live with this problem because their home only has double hung windows they can't open all the way because they're seated in a wheelchair and/or can't lock because where the sashes meet are too high.
So, if you're in the process of replacing your house windows and have a family member whose mobility is NOT what either of you wish it was, isn't this the perfect time to make sure your windows are simple for them to use? And with casement windows (which have the crank at the bottom), they can operate them with ease – and enjoy the benefits and safety (see advantage #5) of a casement window.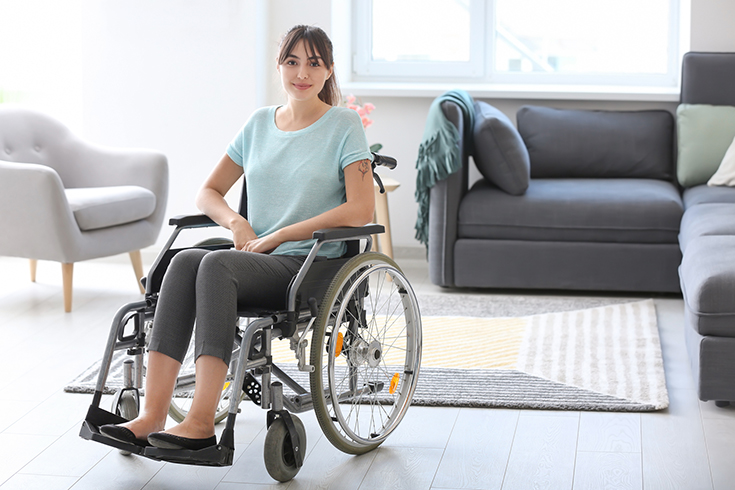 Advantage #5 – Your neighborhood isn't as safe as you'd like. You need a window which is hard to break into. A casement window is a sound choice
You've heard of break-ins where the intruders pry open the window sashes. And you KNOW you don't want to be on the bad end of this happening to you. If so – a casement window is smart. Since these windows have locks which hook into the window frame, they're a pain for intruders – but not for you.
Advantage #6 – You need an egress window you can escape from…if needed.
You're finally remodeling your basement. Your teenage son is psyched to have his 'own private space.' You have to make sure he can escape in case of fire. And since casement windows fully open out, they're the perfect option for a basement egress window.
Ok – while there's a lot to like about crank out windows they do (like you and me) have their faults. And here's a few you'll want to know.
Disadvantages of Casement Windows
Disadvantage #1 – Casement windows are more expensive than double hung, slider and picture windows
As Randy Jackson would say 'we need to keep it real ya'll' and if you're like most people the cost of replacement windows is a factor in choosing the right type for you. And one drawback of a casement window is they're generally more expensive than double hungs, sliders and picture windows. In most homes though, casement windows aren't used for every window – which helps keep costs in line. Sprinkle them into the mix of windows. Strategically use them where you'll get the biggest bang for your buck (and read in the section below the most popular places to use casement windows).
Disadvantage #2 – Casement sashes are more exposed to the rain and snow.
Since these windows open to the outside, casement window sashes are more exposed to outside climate conditions than double hung, slider and hopper windows. This is more of a problem with a wood casement window than with a waterproof vinyl casement window though.
Disadvantage #3 – Crank windows have screens on the inside
Since casement windows open out, the screen is on the inside. This can be a problem if your cat or dog love, love, loves to scratch screens. This problem can be overcome by upgrading to pet friendly screening.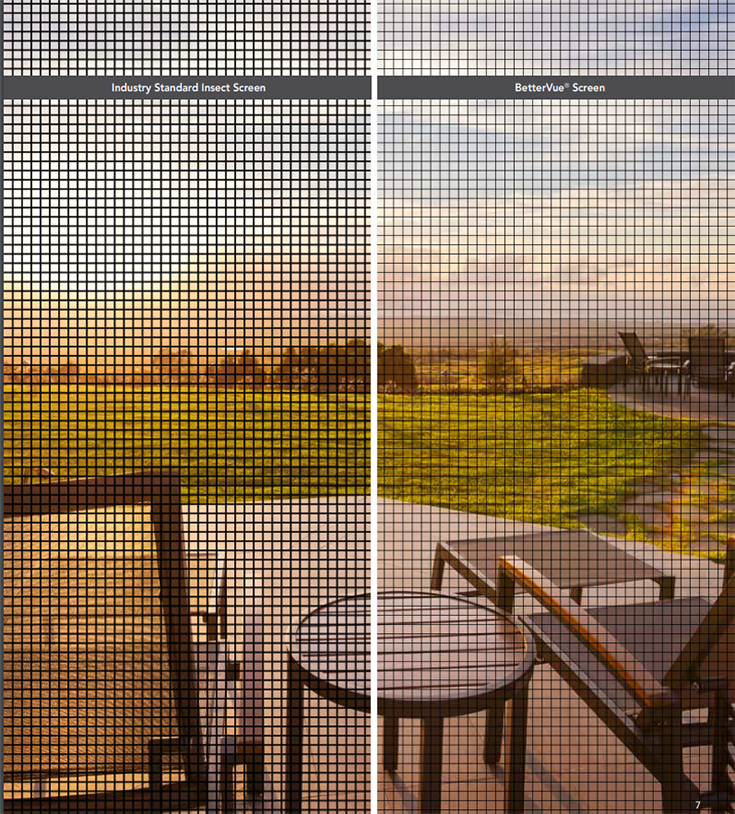 Disadvantage #4 – Cleaning the outside of casement windows is a pain
Once again, since the windows open to the outside, cleaning the outside of the casement window needs to be done outside. And if these windows are on the first floor (without a huge slope in your landscape), that's not a problem. However, if you use a casement window on the second story – or if your property is sloped – setting up a ladder to clean the windows will be trickier (and may be best left to window cleaning professionals).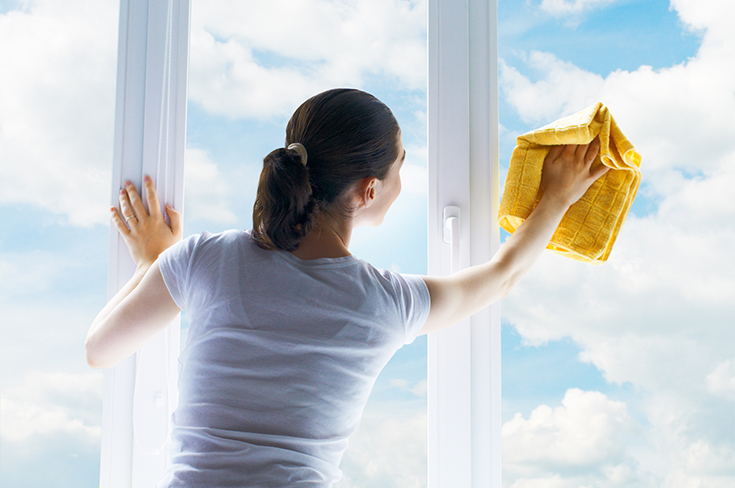 Disadvantage #5 – Crank windows need room to open. Make sure there's not a bush or tree in the way of them opening out
The operation of casement windows can be a blessing – or a curse. Before buying a casement window make sure there's room for it to open without it getting in the way of landscaping (or people walking by for windows which open onto your deck).
So, now that you've seen the 'goods, bads and the ugly' about casement windows you may be wondering where it's best to use them. Read on.
Where to use wood or vinyl casement windows and how to 'soup' them up.
Casement windows can be a major upgrade to the interior and exterior of your home. And if you want to give your place a new architectural look, adding decorative window sashes in various styles, bevels, grids and cut glass pattern can transform your home with a Colonial, Prairie or cool Frank Lloyd-Wright inspired design.
As far as where to use casement windows, I'd recommend focusing on first and second floor openings (if you're doing your own window cleaning). They work fabulous above a sink or kitchen countertop, in a bathroom, or in a large window in your family room or great room flanked by a picture window.
So, what's the verdict – are you a fan or foe of casement windows?
Now that you've read  this article do you see casement windows as a good choice or not? If so – where do you think you'd like to use them? Please comment below.
If you need help (or pricing) with replacement windows for your Cleveland or Columbus home – we'd love to hear from you
I know choosing the right type of replacement window – and making sure you get a good value is so important. At Cleveland Window and Clear Choice Window and Door (in Columbus) we've helped over 190,000 homeowners choose 1,000,000 windows and would be delighted to help you also. So – if you want advice, pricing, or are flat- out struggling getting your arms around this project we'd love to help.
In Cleveland call 216-531-4118 or in Columbus call 614-545-6886. Click for a Free Window Design Appointment.
Thanks for reading – Mike
****
---
Mike Foti
President of Innovate Building Solutions a nationwide supplier and regional (Cleveland and Columbus) remodeling contractors. Some of our product lines include glass counters, floors, backsplashes, glass blocks and grout free shower and tub wall panels
---