Sam Adams Brewery Reduces Energy Costs in Hard to Reach Industrial Factory Windows – Cincinnati Ohio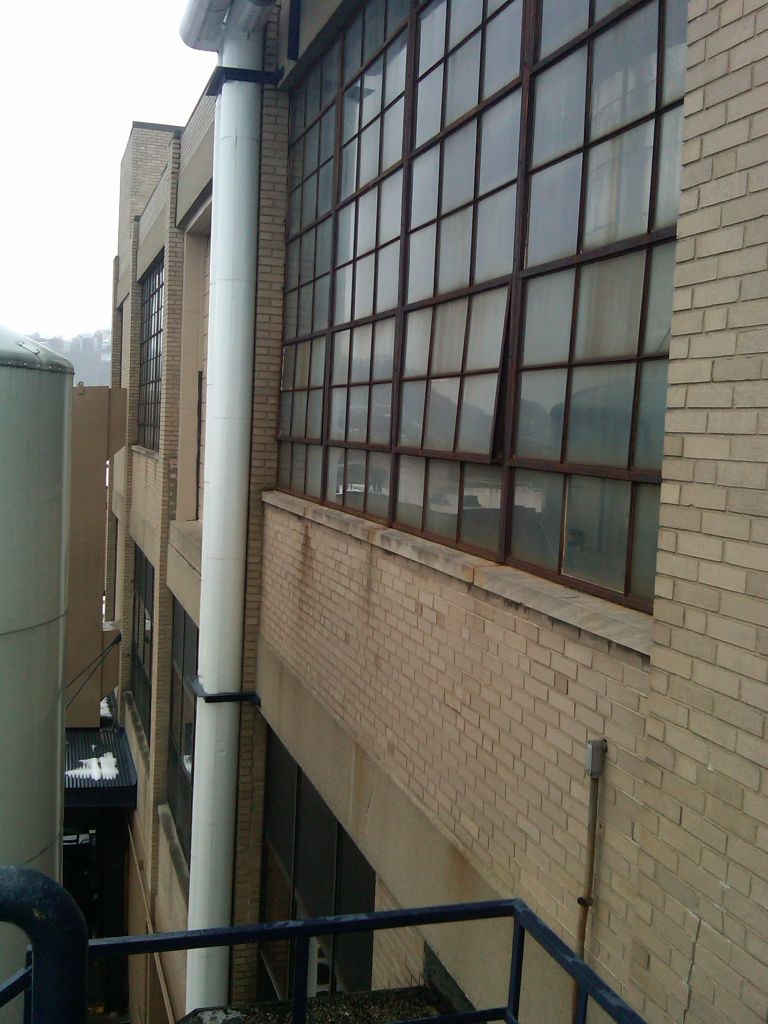 The problem: Sam Adams Brewery had old rusted metal framed factory windows the size of several large garage doors which were 50 feet off the ground. These windows were single paned, the steel frames were rusted, air was flowing in through some broken sashes that would not close due to rust. The windows (in addition to being very high up) were only reachable by working around a maze of pipes and water tanks. Sam Adams wanted this installation to be completed in a short amount of time to minimize wasted energy costs while the new windows would be installed.
The solution: The Manager of Quality Assurance and Risk Management of Sam Adams met with Steve Laux (Sales Representative) and Clay Bimmerle (Branch Manager) of Mid America Glass Block. Glass blocks where chosen as the desired solution due to their durability, consistent look with the brick/block building, energy efficiency and cost effectiveness.
The glass block fabrication process: Clay chose to prefabricate these industrial windows in his factory to reduce the field installation time and improve the finished quality. The glass block sections were mortared together and wire reinforcing was included inside the sections for additional strength.
 The field installation approach: The field installation was tricky because of numerous pipes and water tanks close to the openings. The installation crew led by Matt Waddell had to be careful in erecting scaffolding on the inside between the pipes and tanks. 
Since the windows were approximately 300 square feet, mill finished aluminum channels (U shaped) were installed at the heads and jambs (sides) of the openings. In addition channel was used back to back within the openings to create mullions. The mortared prefabricated wall sections  were set inside the channels and caulked into place to allow for proper expansion and contraction of these  commercial windows during harsh Ohio winters. Since the windows were high up and impossible to reach with scaffolding on the outside (due to various obstructions) a 60 foot articulating lift was needed to caulk and seal the exterior.
 The management team of Sam Adams are delighted with the finished results of the project and are considering additional glass block windows for other locations.Do you have any experience or questions with commercial, factory, industrial or architectural window options? If so – please comment below.
(614-252-5888).
If you are looking for assistance or an estimate to reduce costs, improve the looks and safety of your factory or industrial windows visit
---
Mike Foti
President of Innovate Building Solutions a nationwide supplier and regional (Cleveland and Columbus) remodeling contractors. Some of our product lines include glass counters, floors, backsplashes, glass blocks and grout free shower and tub wall panels
---