7 Projects Using a Lighter Vinyl Framed Glass Block Window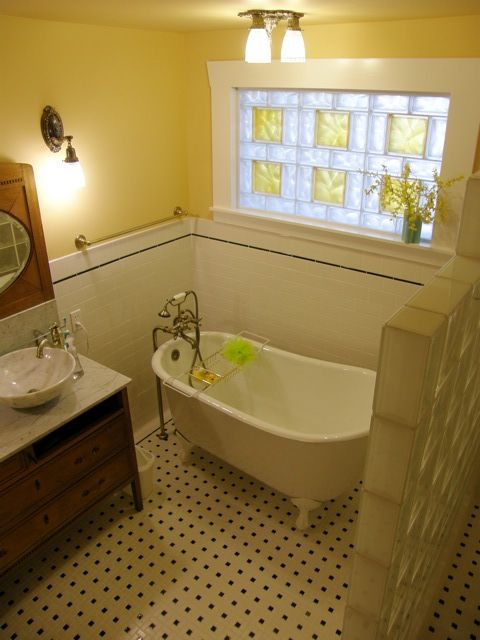 To many people glass block windows are just too heavy a product to use. The cool thing is they've gotten lighter now since that there are 2" thick glass blocks which are built inside vinyl frames. These windows are not only strong (since they are constructed with vinyl spacers between the blocks), but they also come in a wide variety of colors, frosted and etched patterns and are easy to install. Wondering where you can use these windows ….here's 7 projects to choose from:
Project 1 – Shower window– Getting light into a wet space (a bathtub or shower area) can be a challenging construction problem. Glass block shower windows can be grouted (choose a sanded or urethane grout for even better performance) or siliconed between the joints making them a preferred product for a shower or above a bathtub. High privacy glass block patterns are usually chosen for this application.  
Project 2 – Bathroom window – If you want to save money on windows above soaking or jetted tubs the vinyl framed glass block window can be your answer. Obscure glass block patterns can eliminate the need for expensive window treatments. If you need full operability the acrylic block window will be the best choice.
Project 3 – Basement window – Security, privacy and air flow are all important requirements to choose a basement window. Glass blocks are cost effective and easy to install. For this project the frameless glass block window is usually the better solution than the framed window for masonry type foundations. Make your basement remodeling project stand out with some cool frosted and colored glass blocks as well.
Project 4 – Den window – Want a cool place to add light while still maintaining privacy? Consider adding the vinyl framed glass block window between cabinetry and a desk credenza – it gets light into your den while providing privacy.
Project 5 – The closet – The closet you may be asking – why would someone want more light in the closet? Well – if you're looking for a better way to pick out your blue and black socks and to find things natural light is critical. You might want to use a high privacy block window higher up in the space as a transom.
Project 6 – Garage – Do you like to do projects, hobbies or work on your car but find your space lacking in light? Well you can add light with a high level of security by adding vinyl framed glass blocks windows to your garage.
Project 7 – Kitchen windows – There's nothing worse than a dark closed in feeling to a kitchen. Brighten things up with glass block windows. You can put them in as a kitchen backsplash between your cabinets and countertops or as a transom. Maybe even add a matching glass block bar as well.
What do you think about these 7 projects? What experience have you had with glass block windows? Please share your thoughts below.
###
For more information visit Columbus Glass Block (614-252-5888), Cleveland Glass Block (216-531-6363) , Mid America Glass Block (513-742-5900) of Cincinnati/Dayton and Eastern Glass Block of New York & New Jersey.
Related Articles
---
Mike Foti
President of Innovate Building Solutions a nationwide supplier and regional (Cleveland and Columbus) remodeling contractors. Some of our product lines include glass counters, floors, backsplashes, glass blocks and grout free shower and tub wall panels
---