How to Use Acrylic Blocks vs. Glass Blocks for Window Openings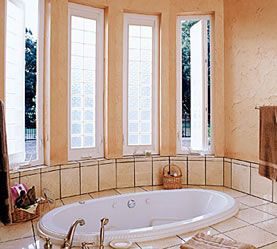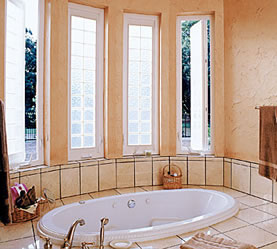 I've been asked the question over and over – should I use glass blocks or acrylic blocks for my window project. While I will tell you I admittedly have a bias (I've been in the glass block business for over 25 years) my companies sell both glass and acrylic products and I try to recommend what's best for the customer. Here are my pointers on how to choose between these 2 different materials:  
Fully Operable Bathroom window and upper floor window projects– This is the place where acrylic block windows shine the best. The biggest advantage of acrylic is it is a lighter material and the windows can be hinged to open completely (vs. a glass block window where you can put in a small air vent but don't have the ability for complete window ventilation). Acrylic block windows are available in casement, single hung, awning, and sliders. If you're looking for full operability for a kitchen window, bathroom window or other upper floor window acrylic is an excellent choice.
Shaped upper floor windows – Since glass block windows are only available in square and rectangular sized units they are not suitable for shaped windows. If you're looking for an arch top, round top, or octagon shaped window with the block look acrylic is the only way to go!
Basement windows – This choice is a slam dunk in favor of glass blocks. In this application the glass blocks are much less expensive, can be supplied with an air vent or dryer vent and are easier to install. Consider using a frameless glass block window (which can be mortared directly to a poured or concrete block wall foundation) – it's an excellent choice for security, privacy, and style. It's a great way to cost effectively dress up a basement remodeling project.   
Windows located within a shower space – Since an acrylic block window warranty can be voided with the use of abrasive shower cleaning products I'd recommend the glass block window for the shower space. The glass block designs are easy to clean and are available in high privacy patterns like Iceberg and Pristal from Mulia and Icescapes and Delphi from Pittsburgh Corning which make then a good choice even if the next door neighbors home is close.
The reality is there is a place for both acrylic and glass block windows. Use this information as a quick guide to make your best selection.
Have you used acrylic or glass block windows in a recent project? Do you have any words or wisdom to share? Do you need any input on an upcoming project?
###
Learn more about acrylic and glass block windows by visiting
Cleveland Glass Block (216-531-6363) , Columbus Glass Block (614-252-5888)and Mid America Glass Block (513-742-5900) of Cincinnati and Dayton web sites.
Related Articles  
·         How to choose the right glass block or acrylic block basement window 
·         How to choose sidelights for your front door entrance
·         7 Tips to Select a Decorative Leaded Glass Window  
·         5 Reasons to Use a Tinted Acrylic Window
·         5 Tips to Select an Acrylic Block Casement Egress Basement Window
·         How to Choose a Shower Window for a Remodeling Project
---
Mike Foti
President of Innovate Building Solutions a nationwide supplier and regional (Cleveland and Columbus) remodeling contractors. Some of our product lines include glass counters, floors, backsplashes, glass blocks and grout free shower and tub wall panels
---