7 Crucial Steps for a Stylish Low Maintenance Shower Installation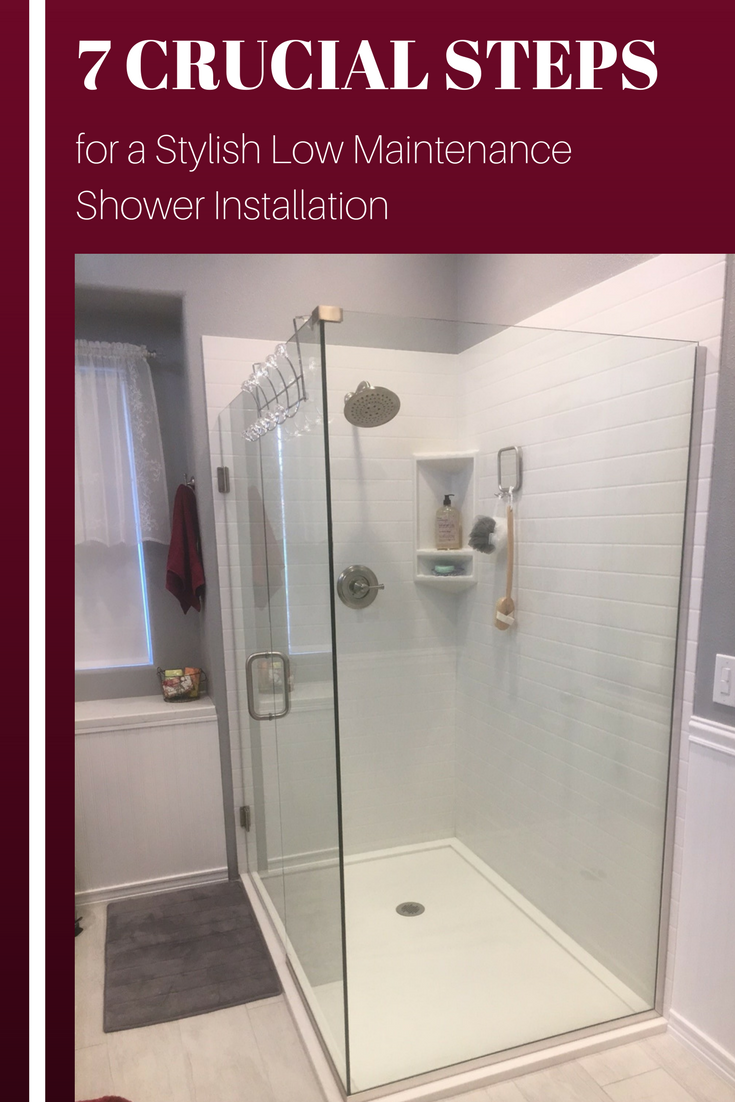 Updated March 23, 2019
I took the all-too-familiar call from James and his wife Linda.
Linda started out saying, "Mike – I HATE the ugly white fiberglass stand up shower in our hall bathroom, and the tile shower in the master is a mess. The grout joints are black and nasty. I've finally convinced James it's time to blow up these 2 bathrooms now that the kids are "mostly" grown and out of the house (she mentioned her son Michael was on the 6-year college plan and almost ready to graduate). I am not going to deal with the maintenance or an ugly shower again. I've had it."
James chimed in and said, "Linda and I went to the local big box store only to find the same crap we have right now. Lots of ceramic tiles. Basic cheap fiberglass shower pans and walls in stock sizes which won't work for our tile shower. I am thinking about installing this job myself. I tried to ask the guy with the orange smock the steps to get this job done. He was clueless. Linda and I need your help with two things. First, what stylish, low maintenance products are out there? Second –I'm not sure what the right installation steps are. Can you help us?"
I understand where Linda and James are coming from. As a homeowner – no matter how handy or construction-savvy you are – you're not researching shower products or installing a new shower every day (hopefully this will be the first and LAST time you do this). So – if you want a cool shower, which isn't a pain to clean and maintain and don't want to screw up the install (or have a contractor you hire mess it up either) you need to know the right steps to "get 'er done" (as Larry the Cable Guy would say) right the first time.
In the article below I'll look at 7 crucial installation steps I shared with Linda and James for a stylish low maintenance shower. For this project I would recommend to take your time. Be methodical. When you get this job done using the right steps, you'll end up with the shower which is cool AND done – once and for all!
Step 1 Don't cheap out and "cover over" what you have. Gut the space
You've heard the pitch on TV – the "One Day Bathroom." Just slap up thin 1/8" acrylic panels over your old tub or shower walls today, and you'll enjoy a stress free luxurious bathroom tomorrow. While it's enticing to look for short-cuts in a bathroom remodel – a "quick-fix" can turn into a long-term disaster. Unless you still own those X-Ray goggles they advertised on the back of comic books in the 1960's (yes – I'm dating myself now) to "see-through" things, you can't see what's lurking behind your walls. If you cover over mold trapped underneath tile walls, or build over a deteriorated wood subfloor, you will make a BIG mistake.
Gutting the shower or tub alcove space does not take much time (it is dirty and nasty however). Open up the "patient" (in this case the patient is your shower or tub area). Know what's behind the walls is sound and mold free.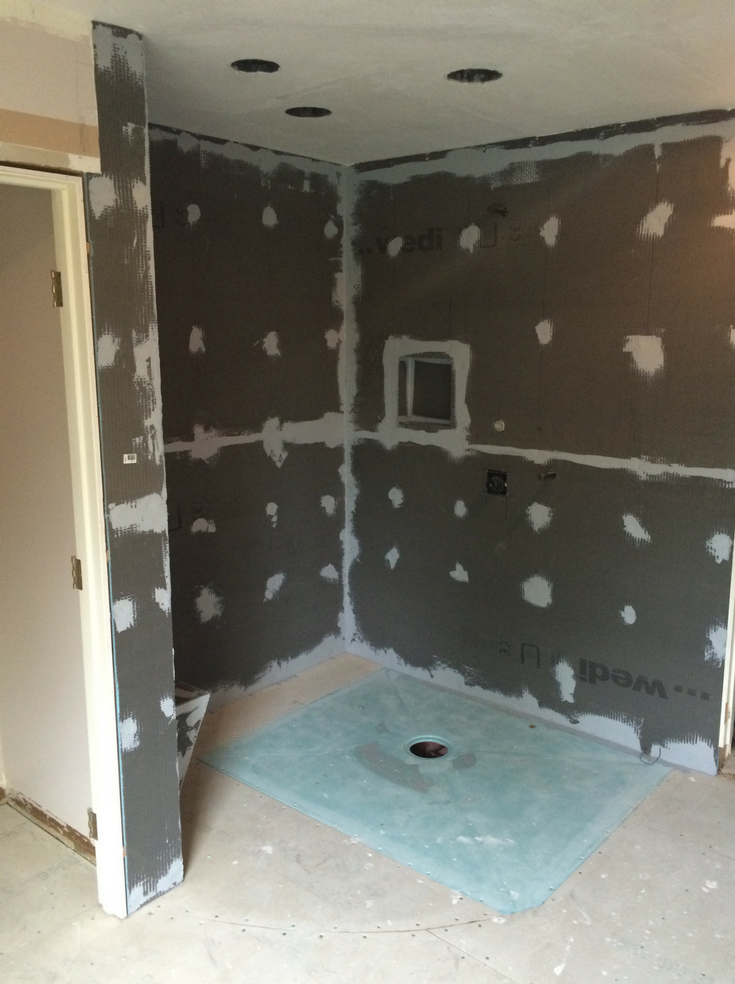 Don't take "shortcuts."
Step 2 Get your plumbing figured out. Make sure whoever installs knows what they are doing  
What I would recommend is if you're a DIY'er and not familiar with plumbing do not do it yourself. You want to make sure your valves, fittings and drain lines are installed correctly. This is no place to "learn on the fly."
Even if you're not a plumbing expert (and don't have the butt-crack to prove it either) you can be the one who thoughtfully determines where you want the plumbing located, where you want to turn on and off the water and what you want your fixtures to look like.

Here's 3 practical plumbing design issues you'll want to think through:
(1) Can you turn the water on and get your shower warm without getting wet? Make sure you put the valve in a place you can get to (either by putting your arm in with the door open or by walking into a spot which is far away from the shower head). There is nothing worse than getting drenched with cold water first thing in the morning.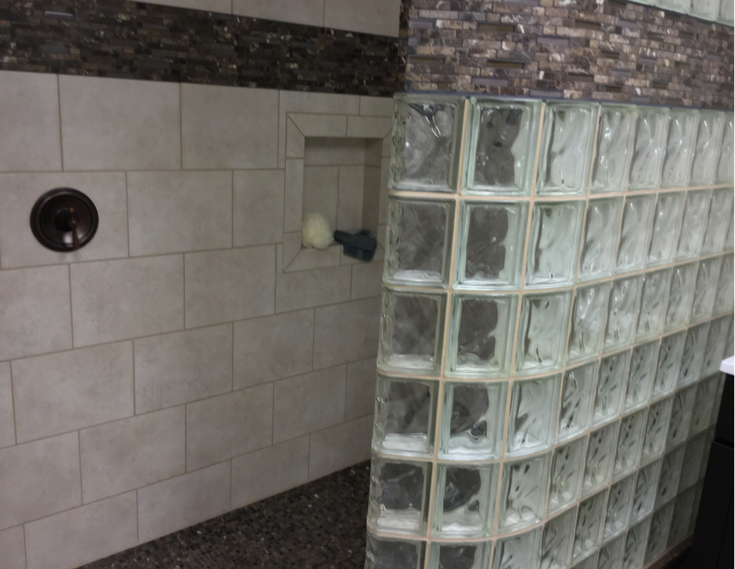 (2) Where do you want the drain located? Many people installing a shower think – just put the drain in the middle. The problem with this is if you put the drain in the middle, you may end up standing in a big puddle of dirty water when it gets clogged. Since you'll naturally stand 24" away from the plumbing wall, I recommend putting the drain about 12" from this wall (it keeps you from standing in the middle of a pool of water).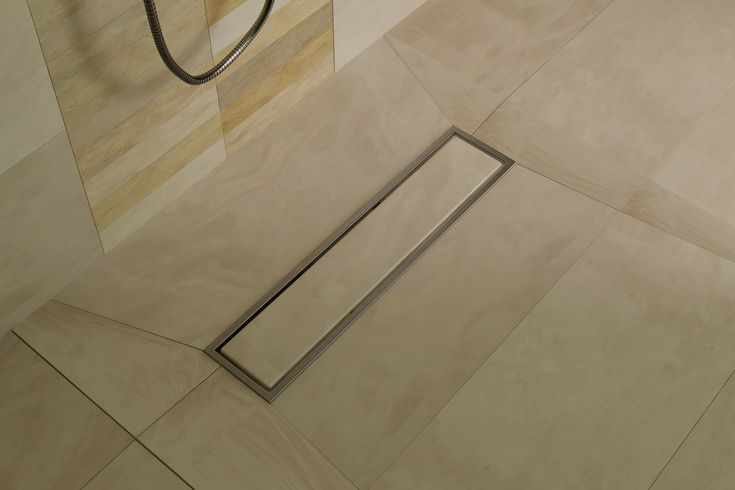 (3) Can I access the plumbing without ripping down the shower walls? If possible, put the valve on an interior wall where you can change out the valve if it were to go bad (even with "lifetime guaranteed" products you never know).
Step 3 Let wood be your little 'fre behind the wall
In the movie Scarface (it's crazy but it's still one of my favorites) the lead character, Tony Montana comes into a room with a shotgun, starts shouting and shooting his shotgun saying, "Say hello to my little 'fre!" His 'fre is the shotgun.
While I don't recommend a shotgun as your little 'fre (it's not a political statement here), I do recommend using wood behind the walls of your shower as your new little 'fre. You'll want to create a framed opening to provide structure around recessed shower wall panels niches. You'll want to add wood "blocking" ('er pieces of wood) in the wall cavities where you're going to anchor a shower door (or maybe a glass block wall). You'll also add plywood on the lower part of the shower for strength if you decide now (or in the future) to add a safety grab bar or fold down bench seat.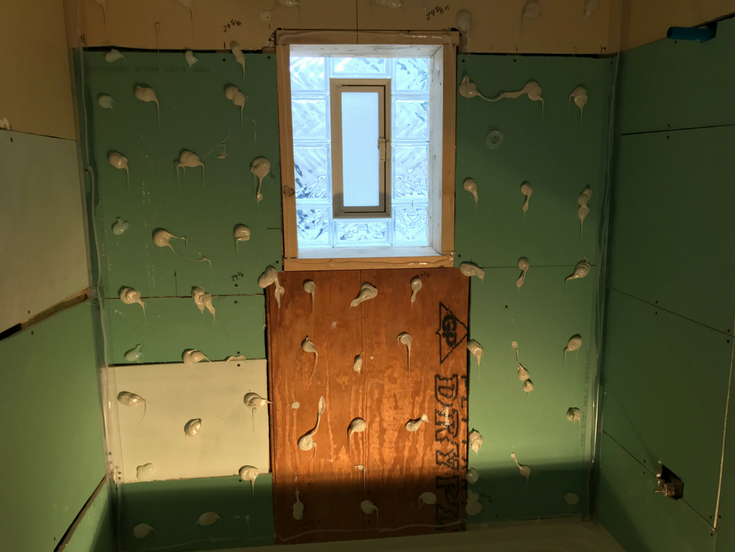 Let wood be your little 'fre.
Step 4 Install a low maintenance shower pan which is cool and easy to clean
Next, you'll want to install your shower pan. As I mentioned to Linda and James – just because a shower pan looks low maintenance doesn't mean it is (anyone with an old fiberglass pan with a dingy bottom knows exactly what I'm talking about). Since you want to upgrade your shower during this remodel – don't let yourself sacrifice style for low maintenance though. You can have the best of both worlds.
If you have a standard size (for example, a tub enclosure you're converting to a shower or a NEO angle corner shower) it's still possible to add style with a standard acrylic shower pan. There are fun bow shaped shower bases which "bow out" so you have more room in a standard 60" x 30" space. If you have a small corner shower you can get a fun looking arc-shaped base with sliding doors.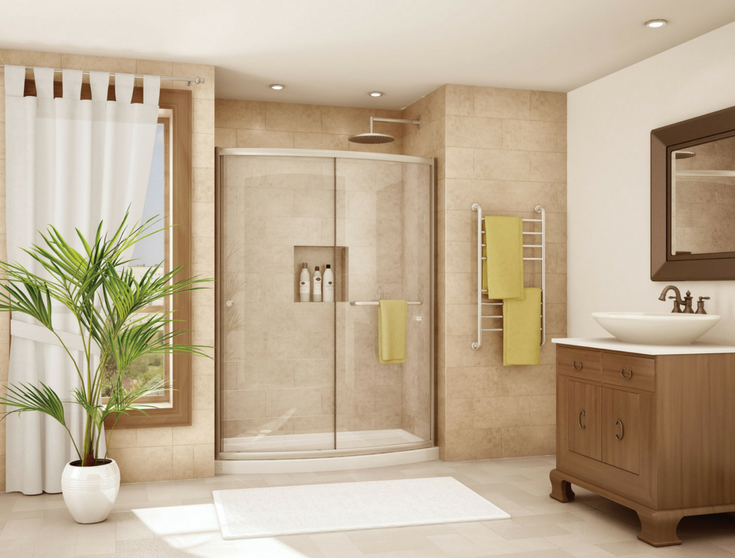 On the other hand, if you don't have a standard sized area (like is the case in many tile showers) and want a more durable product – solid surface is perfect. These bases come in 51 colors, limitless custom design shapes and are as solid as a rock – maybe it's because they are a rock! With a textured shower floor pan they are not slippery to walk on.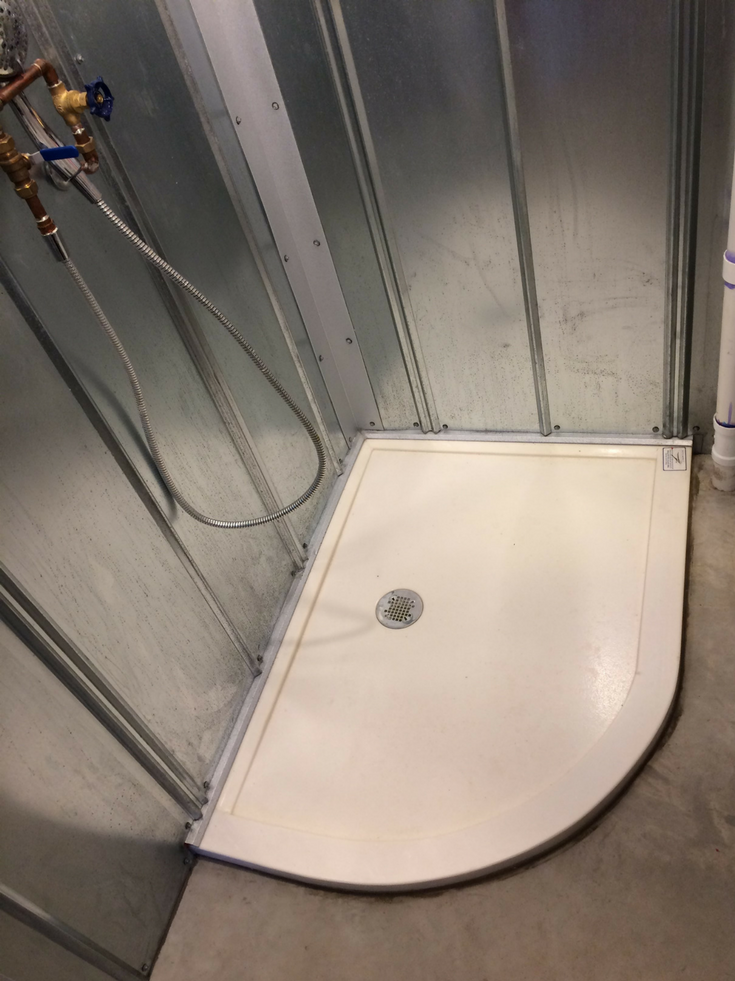 Step 5 Make sure you "have your own back." Choose the right shower wall backer system  
 When it comes to shower remodeling beauty must be more than "skin deep." What you don't see is every bit as important as what you do. For example, if you use the wrong wall backer product (or install it at the wrong time) you can have a big problem down the road.
Let's first look at when you want to install the wall backer boards. Depending on the specific shower pan the wall backer boards will either go inside the flange of the shower pan or will come down the edge of this flange (note: you never want to install the wall backer boards BEFORE you put the pan in). If any water were to get behind a wall panel into a backer board you want that water to drain back into the pan and not underneath the pan. That would be a disaster!
If you're doing a steam shower use a waterproof wall backer system like those made by Wedi or the Kerdi system (no – I don't sell their stuff – but our remodeling division does swear – hopefully not too much – by these products). If, on the other hand, you're installing a decorative shower wall panel system (more about this in step 6) a moisture resistant green board will work fine. If you want to use a cement board behind the wall panels this is also OK.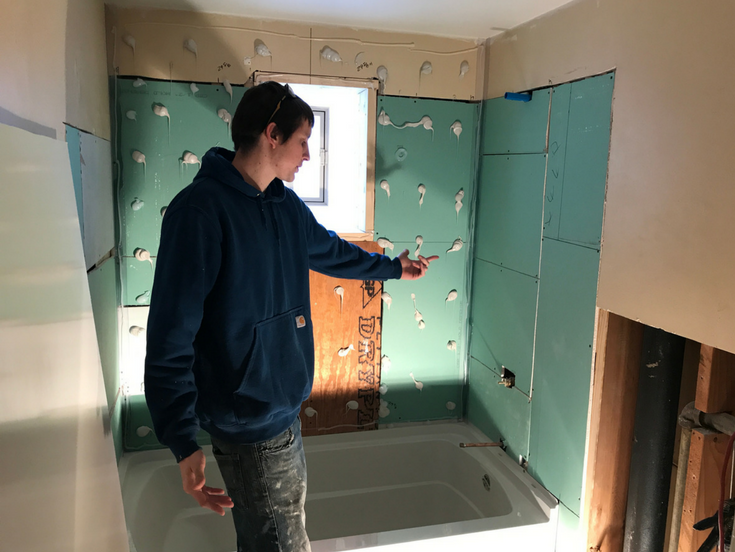 Step 6 Install decorative shower wall panels onto your wall backer boards. Choose one which fits your style, needs and budget.
For a high style low maintenance shower, you'll want to ditch tile. Yes – I know there are larger format tiles which can lessen the maintenance – but wherever there is a grout joint there will be maintenance and a scrub brush in your future.
Today you no longer need to settle for ugly white, beige, smooth, boring, fiberglass wall panels. First determine what type of wall panel system you'll want to use. Here's 4 choices you can't go wrong with:
Laminated waterproof shower panels – These are the hottest panels to come to the United States. This simple to install system uses 2′ x 8′ x 3/8″ thick panels which click, lock and seal together. They have a high-pressure laminate front surface which creates the most realistic tile and stone look on the market. There are also design styles which range from Modern Farmhouse to Modern Minimalist to choose from.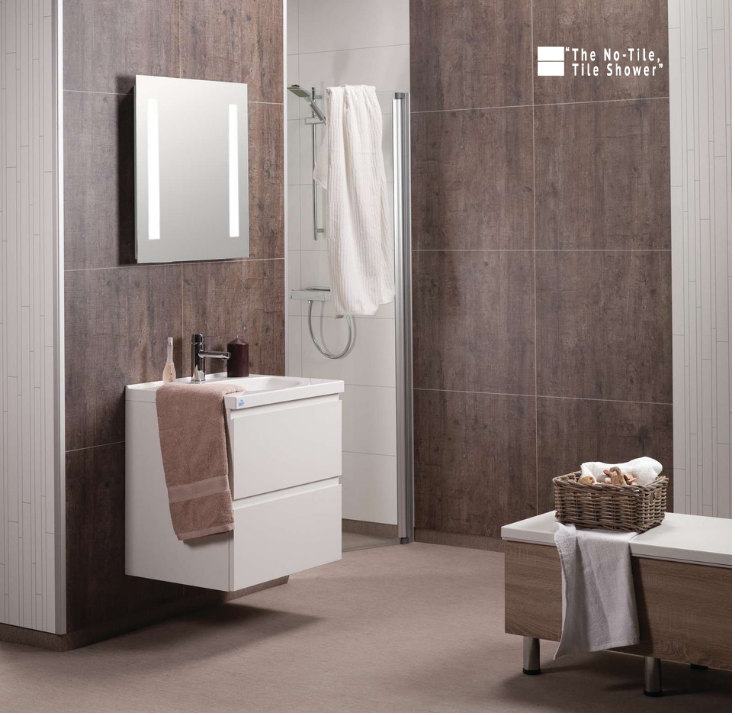 Faux granite PVC composite wall panels – This is for people who want a natural stone look – without the cost or maintenance of natural stone. They come in 20 different patterns and are ¼" thick. There are both standard pre-cut kits (which have the trim pieces pre-mitered making installation super easy) and panels which can be sized to fit a custom shower.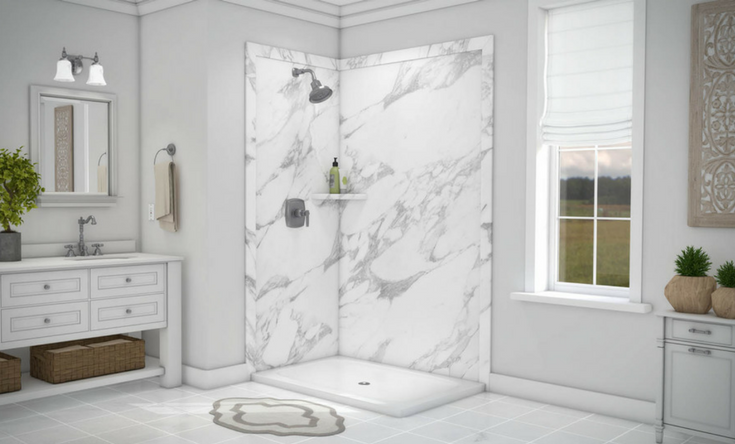 High gloss wall panels – A sleek and contemporary choice. They come in 7 different reflective colors, are 5/32" thick and will give you the look of back-painted glass at a better price (although as I like to tell people these panels aren't a "cheap date.").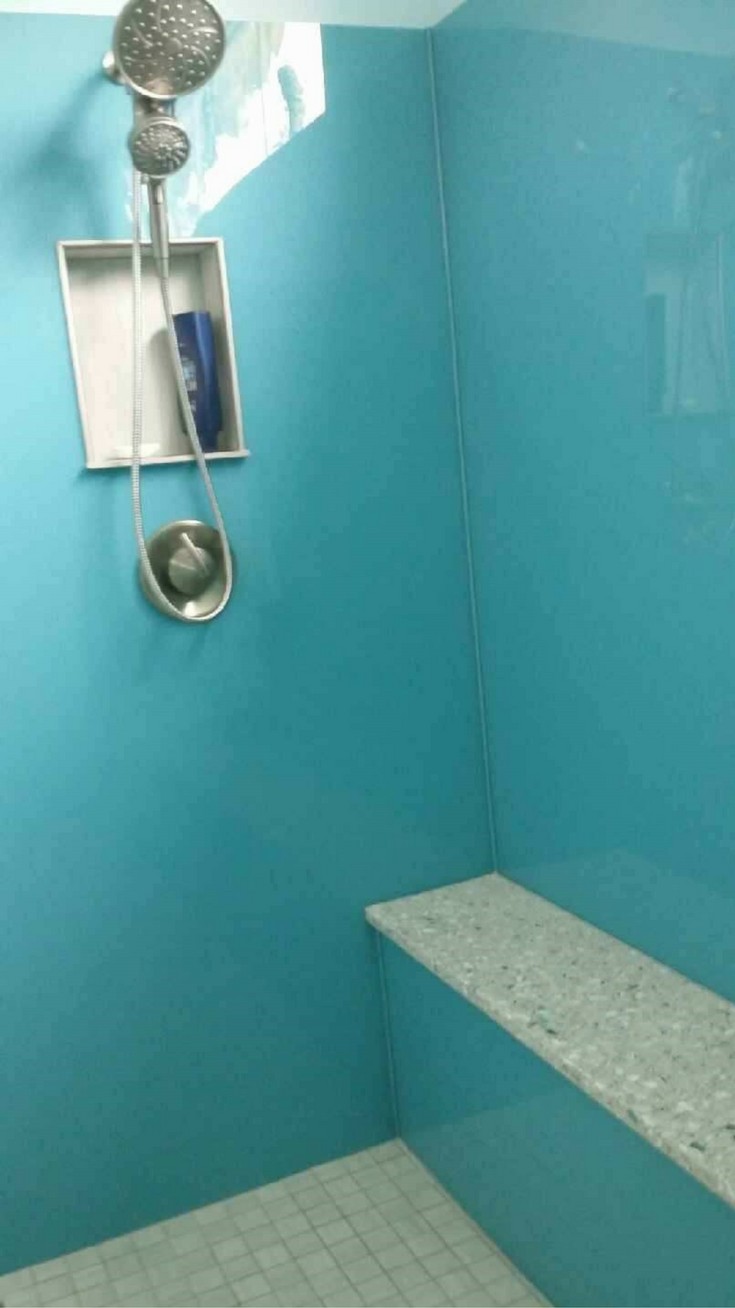 Solid surface wall panels – These wall surrounds not only have 255 different combinations (they come in 51 colors and 5 finish options) but they are built like a tank. They are 3/8" thick, made of an engineered stone which will stand up to the toughest environments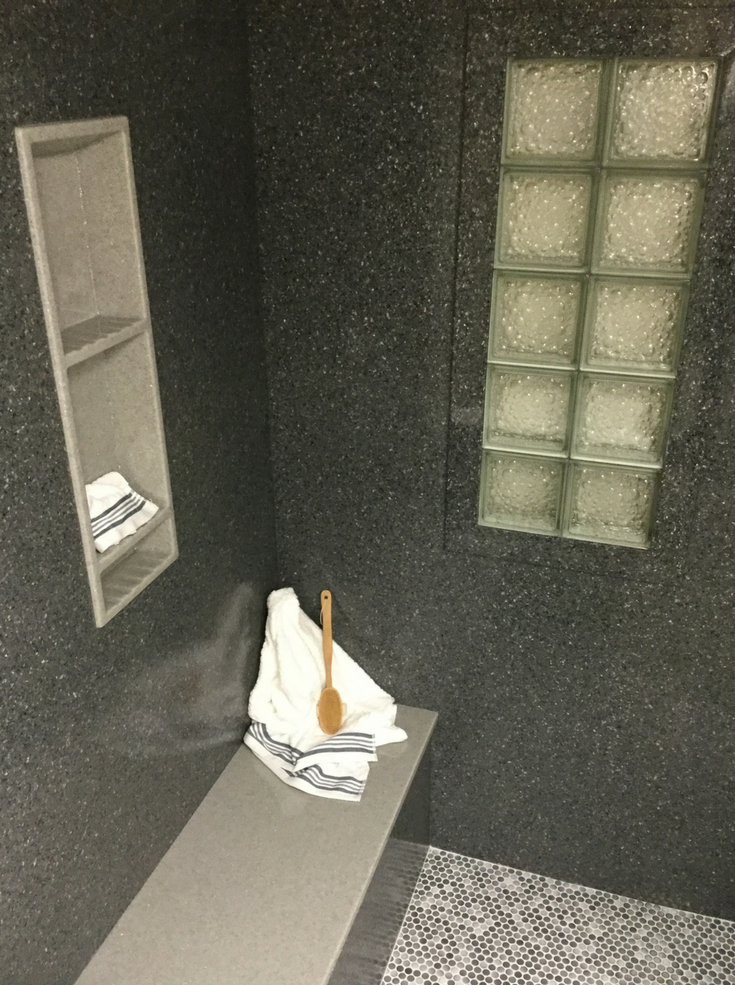 Once you figure out which panel system you like best make sure you get the specific adhesive and color matched silicone to go with them. Don't risk a project which fails because you pick up some random adhesives.
Step 7 Choosing the right glass as the finishing touch  
As you may know, a builders-grade, framed glass enclosures can be your arch-enemy if you want a stylish shower which is not a pain to clean. Digging gunk (that is the technical term) out of the bottom of a framed shower doors is an exercise in humility.
It is possible to use glass systems which are low maintenance, functional (they keep your shower enclosure warm) and scream out stylish. Be strategic and select a shower base system (see step 4 above) and combine it with a slick frameless or semi-frameless shower enclosure. This gives you the perfect combination – low maintenance and high style.
If want to eliminate the cost of the door altogether with a simpler design, a door-less walk in shower is the ticket. Some options can include a curved glass block shower or a shower screen which pivots in and out. Both are contemporary and allow you to ditch the door.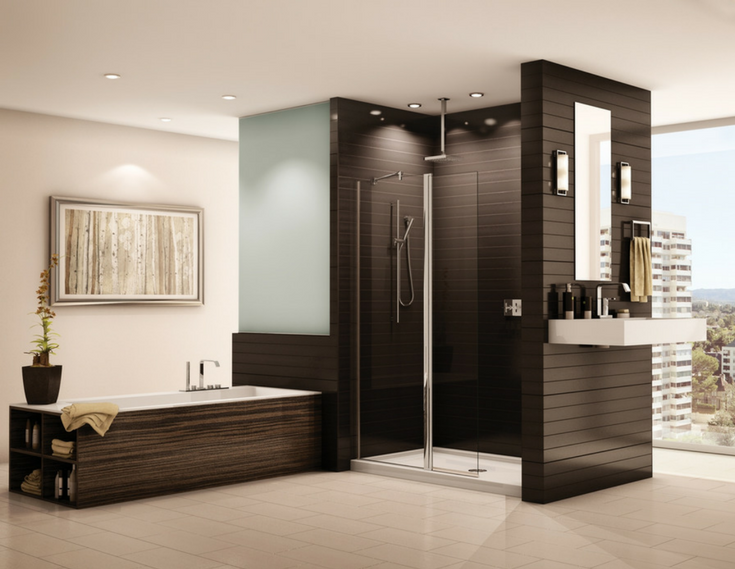 Conclusion
 As you can see it's completely possible to get a low maintenance, high style shower. Making this happen is dependent on 3 crucial points.
Do your research and know the right installation steps – Since there are many options for grout free shower wall and bases you don't need to settle for the first junk you run into in a big box store. Make sure you install this project in the right order. It will prevent major problems down the road.
Know the work you don't see is as important as what you do – The framing behind the walls, the right wall backer boards, and even the right drain aren't sexy things people notice – but they will spell the difference between a job which lasts – and one which doesn't.
Don't settle for the first wall panels and base you run into – It can be convenient to go to your local big box store and fill up your cart – but their selection is limited and you're going to live with this shower for a long time. Let your digital fingers do the walking. Know your options before you buy. Don't settle for big-box limitations or cheap imitations.
How can I (or my team) help you?
If you need assistance with a low maintenance high style shower remodeling project me and my team would love to help. Call us for nationwide advice and shower wall panel, base and glass shower supplies at 877-668-5888. For a Cleveland bathroom remodeling project contact Cleveland Design and Remodeling at 216-658-1270 or The Bath Doctor in Columbus at 614-252-3242.
If you're a remodeler or builder and want practical advice on remodeling products, industry trends, marketing and sales tips to grow your business (and cut day to day hassles), start reading my newest blog – Innovate Builders Blog. It's packed with ideas you can use now. Click here to Sign Up for the Innovate Builders Blog.
If you're in the building business, click here if you'd like to learn how to become a shower wall panel dealer or call and ask for Mike at 877-668-5888.
Follow me on Twitter @Mike_Foti or my companies @InnovateBuild or @InnovateHomeOrg.
---
Mike Foti
President of Innovate Building Solutions a nationwide supplier and regional (Cleveland and Columbus) remodeling contractors. Some of our product lines include glass counters, floors, backsplashes, glass blocks and grout free shower and tub wall panels
---