3 Trends and 7 Wild and Wacky Ideas from the 2018 International Builders and Kitchen & Bath Show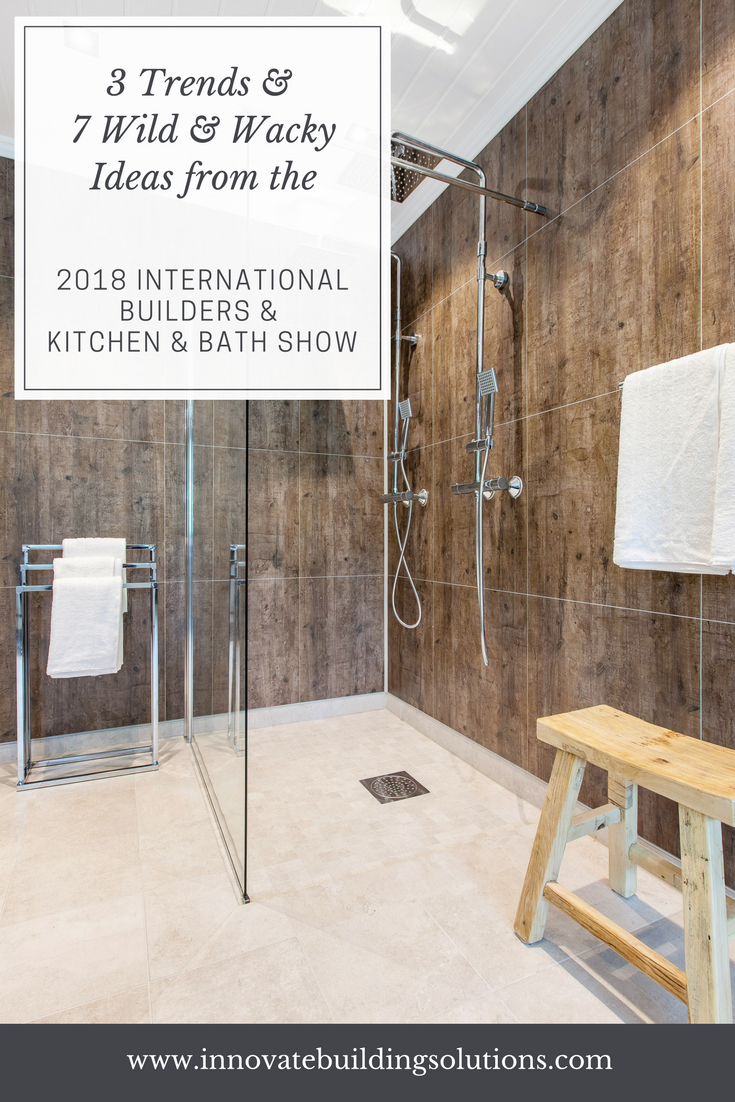 (note – these are not tile walls – they are grout free laminate wall panels!).
Updated March 23, 2019
I love attending the International Builders Show and Kitchen and Bath Show for 3 reasons:
I see the coolest and hottest building material products from around the world and get an inside look at innovative products being rolled out this year. Some of these products my companies – Innovate Building Solutions and Innovate Home Org – will launch in 2018.
I get to see new inventions and meet passionate entrepreneurs launching the next wild and wacky construction products. Some of these ideas will fly – some will flame out – but I love thinkers, inventors and doers. It's one thing which makes business fun (and shouldn't business be more than just work – a little fun thrown in is a good idea in my book).
I get to dump my winter coat for shorts. I HATE my huge winter coat I call "Big Red." Traveling to Orlando Florida and feeling sunshine on my face and breaking out my shorts for a few days is a big-time blessing.
I'll take you on a journey to explore 3 trends (and 7 wild and wacky products) to renovate, rethink or reimagine your home I saw at these two shows.  These ideas will help revive a tired home out of a fashion time-warp, will simplify your maintenance, ease your daily routine, and keep mess out of sight (in some fun and inventive ways). Some of these ideas you might think are a bit wacky – others you may love. Let's dig in and see which are which.
Top Home Trend – You want home products which fit your style and lifestyle
I remember my wife Rose and I moving into our first home in 1987 with a "June Cleaver-esque kitchen" (for those of you old enough to know who June Cleaver even is – for others who don't, know let's just say it looked OOOOOLD) an outdated 5' x 8' master bathroom with oh-so-lovely drab gray paint and pink tiles. Can you say hot?
Just because your home has a bunch of square footage doesn't mean it fits your sense of style or enhances your lifestyle. The first 3 ideas fit styles and lifestyles which are hot today.
Idea 1 – Relaxed Modern Farmhouse Feature Walls are hotter than the Modern Family
Distressed wood, reclaimed planks, relaxed feature walls and sliding barn doors are all the rage. You and I are looking for our homes to be a haven from the hurried, impossible to keep up with pace for our lives. The farmhouse look, with its softer wood accents fits. I saw 5 different lines of wood wall panels (from thin DIY peel and stick and Velcro backed types to ¾" thick planks). These weathered boards are green-friendly and provide a relaxed, warm interior.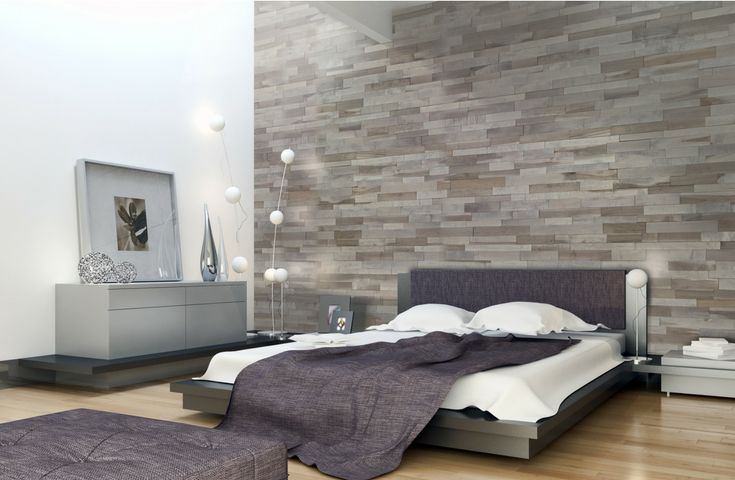 Barn doors also add to this rustic look and make the inside of spaces (pantries, living rooms, and bedrooms) more useful because these doors don't open into the room (they slide along a rail).
Idea #2 – Home products can be designed to save you time – and improve your heart – Bathtubs for Bicycles  
I must admit I thought this idea from the Builders Show was completely wacky when I first saw it (it may be because I live in Ohio which is not nearly as 'bike-centric' as the Pacific Northwest or Western States). This idea is Bathtubs for Bicycles. It is a stainless-steel tub to wash your bike and keep pebbles, mud and oversized debris from going your drain. This product makes it simple and time effective to keep your bike clean, your legs churning and your heart healthy!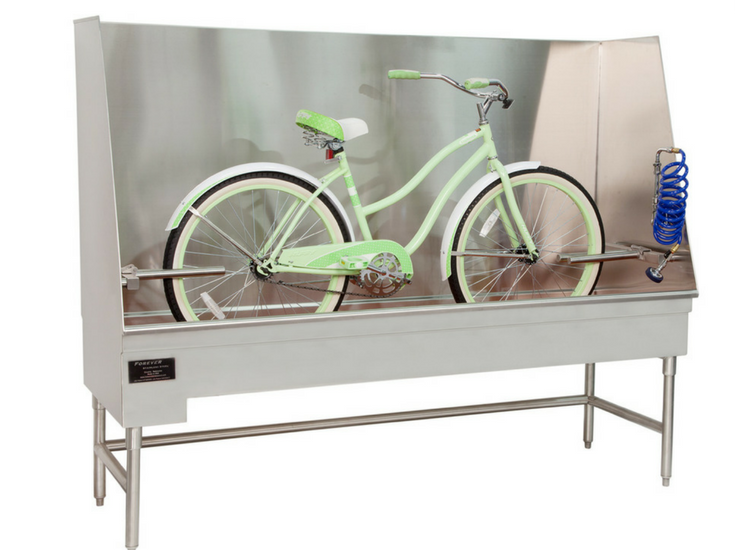 Idea #3 – Contemporary bathrooms (with cool glossy wall panels) work even in traditional homes
Fancy ornate furniture and opulent chandeliers in oversized McMansion bathrooms went out in the late 90's and early 2000's. Say hello to your little 'Fre (as Tony Montana would say in the movie Scarface) the contemporary bathroom. In the show this year I saw tons of wall hung cabinets, sleek LED mirrored lights and wall panels which scream sleek and contemporary. Contemporary style is blowing ornate stylings doors off today.
One fun product leveraging this trend is this line of high gloss acrylic wall panels. They come in 20 eye-popping colors and in a glossy or matte finish. If you want to make a big impact, a fun digital image can be printed on the back. Now that's a feature which won't be overlooked in a new home or upscale bathroom remodel.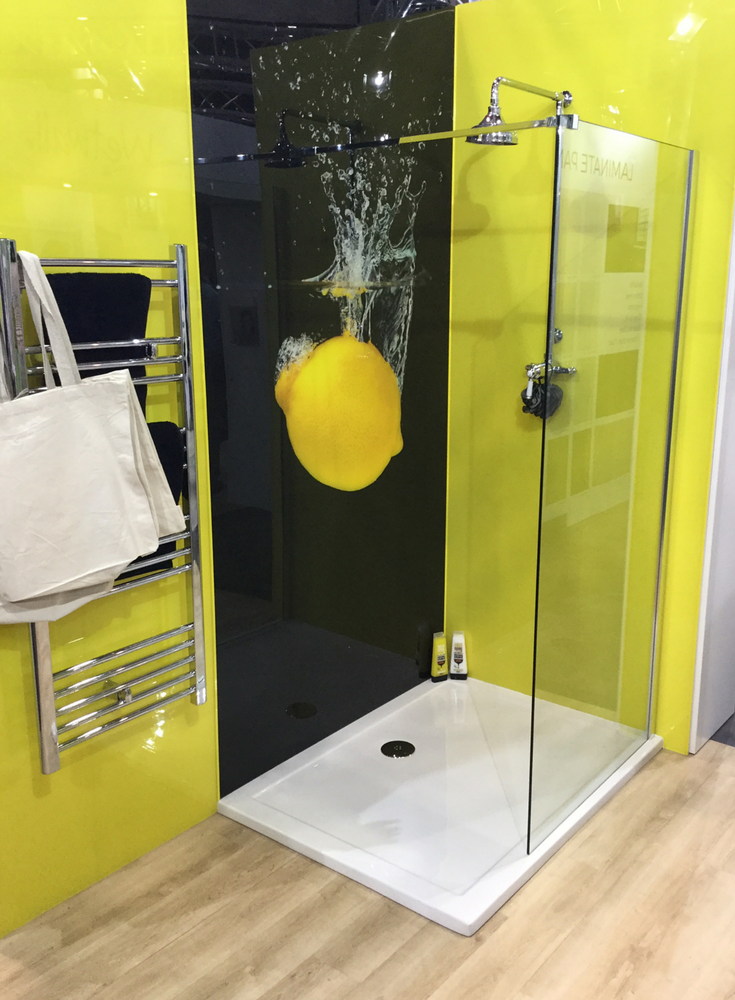 Top Home Trend – You want a simpler life
Raise your hand if your life is more hectic than you'd like. If you didn't raise your hand I need to learn from you NOW!
Whether you're desperately trying to keep up with your kids, grandkids or aging parents, one thing which I know is certain in my world, life is more complex (oh – what I wouldn't do for one more backyard whiffle ball game with my childhood buddies Tony Rizzo and Tommy Beranek – but I digress). Since our lives are more complex we need our homes to be more convenient, reduce stress and take less time to maintain. These next 2 ideas recognize this need for simplicity.
Idea #4 – Get rid of your scrub brush and say goodbye to tile grout joints in your shower and kitchen backsplash with laminate wall panels
You love tile. You hate grout. It's that simple.
Builders and remodelers are pushing you to use tile. It's simpler for them because they have tile contractors and suppliers they already work with for tile jobs. The problem for you – you have to clean these tile joints long after your contractor is gone. Why put up with this?

What if you had a product which felt like tile – but drop-kicked grout and your scrub brush into the trash?
Say hello to high pressure laminate waterproof wall panels. They not only install 5 times faster than tile (without dust, mess and crazy tools), they are 100% waterproof. These 3D panels are environmentally friendly and create the look of tile. Throw out your scrub brush – FOREVER!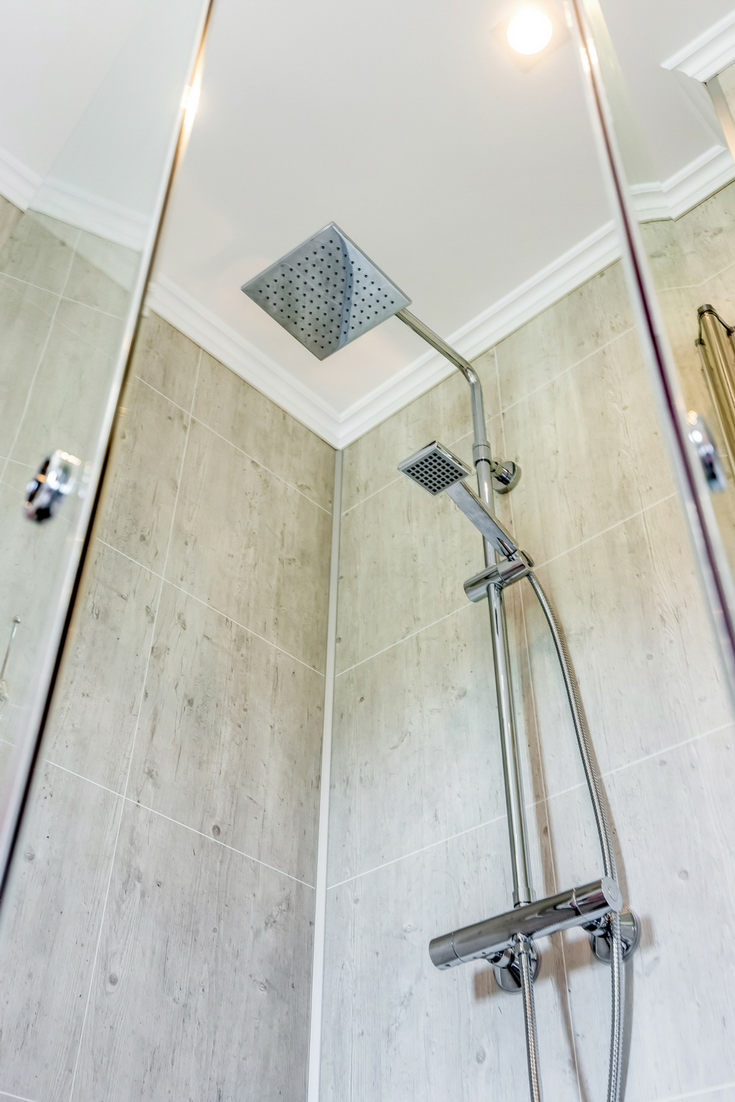 Idea #5 – Convenience designed in unexpected places. Turning on the garbage disposal or adjusting pantry shelves doesn't have to be a pain anymore.  
Do you feel like your home doesn't work the way you'd like? It's hard to adjust drawer shelves or you've got a garbage disposal which is a pain to turn on because the switch is in the wrong place?
These daily nuisances which you and I gripe about are where passionate inventors toil away in the middle of the night designing solutions. In the show I saw two cool examples of thoughtful design to make life simpler.
First, I saw this hardware supplier who designed a system where you can adjust pantry shelves to any height without a screwdriver. This allows you to use limited pantry space efficiently – so if you have large cereal boxes (like shown below) you can easily move your shelves up. For smaller items (like canned good) you can move your shelves down.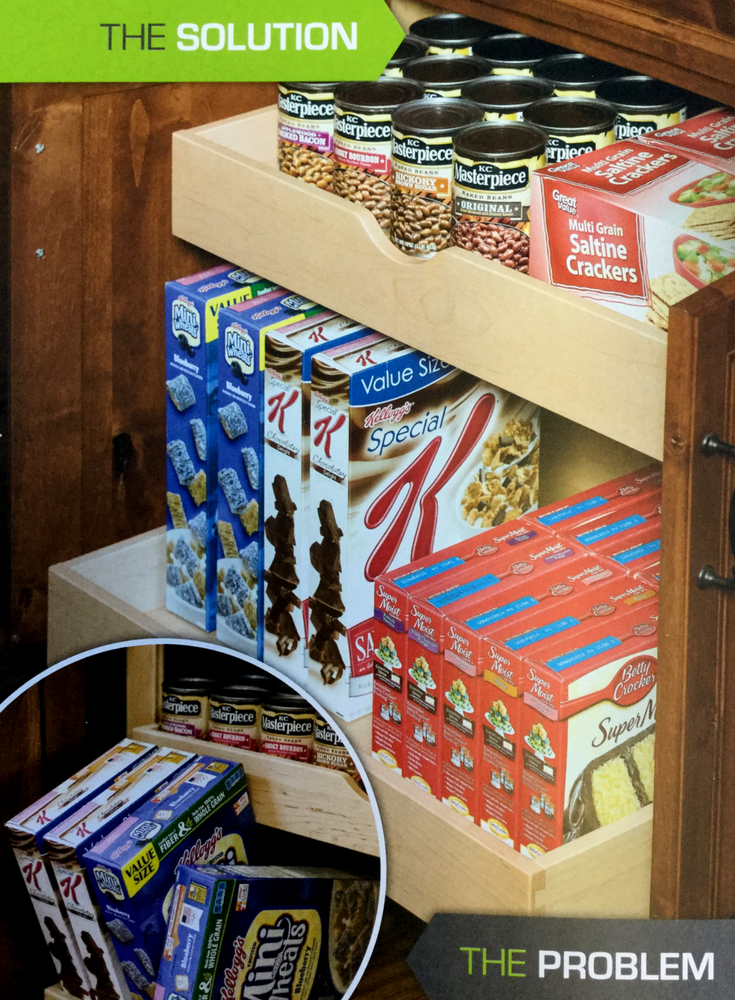 Then I met this passionate inventor and entrepreneur (Mark Muld) who hated leaning over the kitchen sink to get to the garbage disposal switch (like me he's the guy in his family who does the dishes). He invented the 'ToeKick switch.' You use your foot up on this gadget positioned under the kitchen sink cabinet to start the disposal. This is something I never would have thought of – but that's the cool thing about creativity. Here's Mark showing off his invention (which won an award for a hot new idea from the show – congrats Mark!).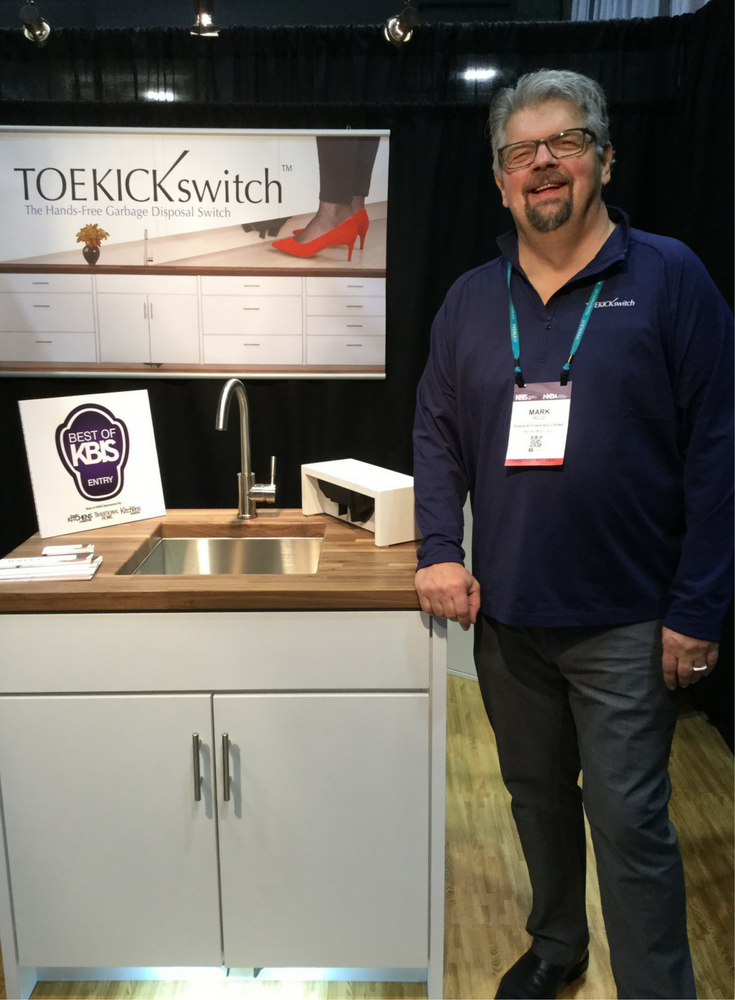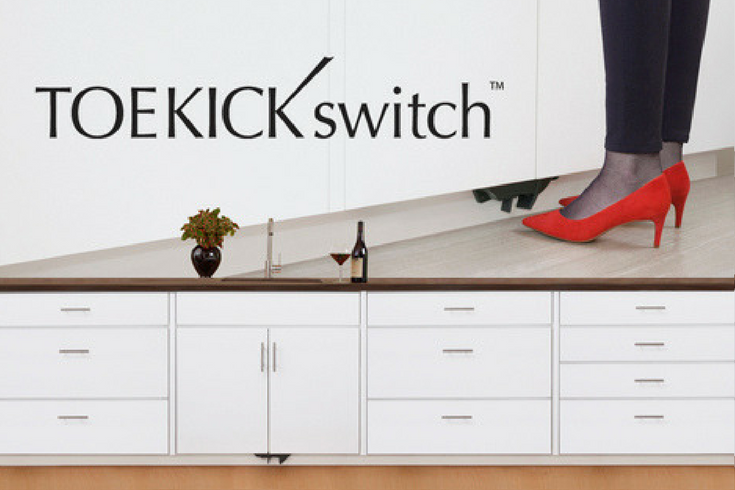 Top Home Trend – Keep your mess out of sight and your storage a delight
You drive into your garage, and what do you see? Clutter. You walk into the house and the kitchen countertops are littered with dishes, papers, you name it. You head into the bedroom and your master closet is a disaster. The Kitchen and Bath and Builders Show had tons of products, gadgets and ideas for owners to win (or at least try to win) the battle over clutter. Check out 2 smart storage ideas below.
Idea #6 – Using a door for hidden storage is fun and functional
Remember as a kid dreaming about walking through a secret trap door? It was an exciting idea. I can still think back to the mid-60's and Maxwell Smart, Agent 86 walking through all those secret doors (I hope this doesn't make me seem old – ha! Ha!).
Today as "big boy or girl" a "trap door" can go beyond being exciting, and become a smart storage approach. Enter the idea of the Murphy Door. These doors are storage on one side with a "hidden room" behind them. Give your closet extra storage space (because the door can add shelving for a shoe rack or hamper. Use the hidden room behind this door to store a safe, gun cabinet, or serve as a safe room for your kids and family. No intruder will know there's a room behind this door. This is truly functional cool-factor at it's finest!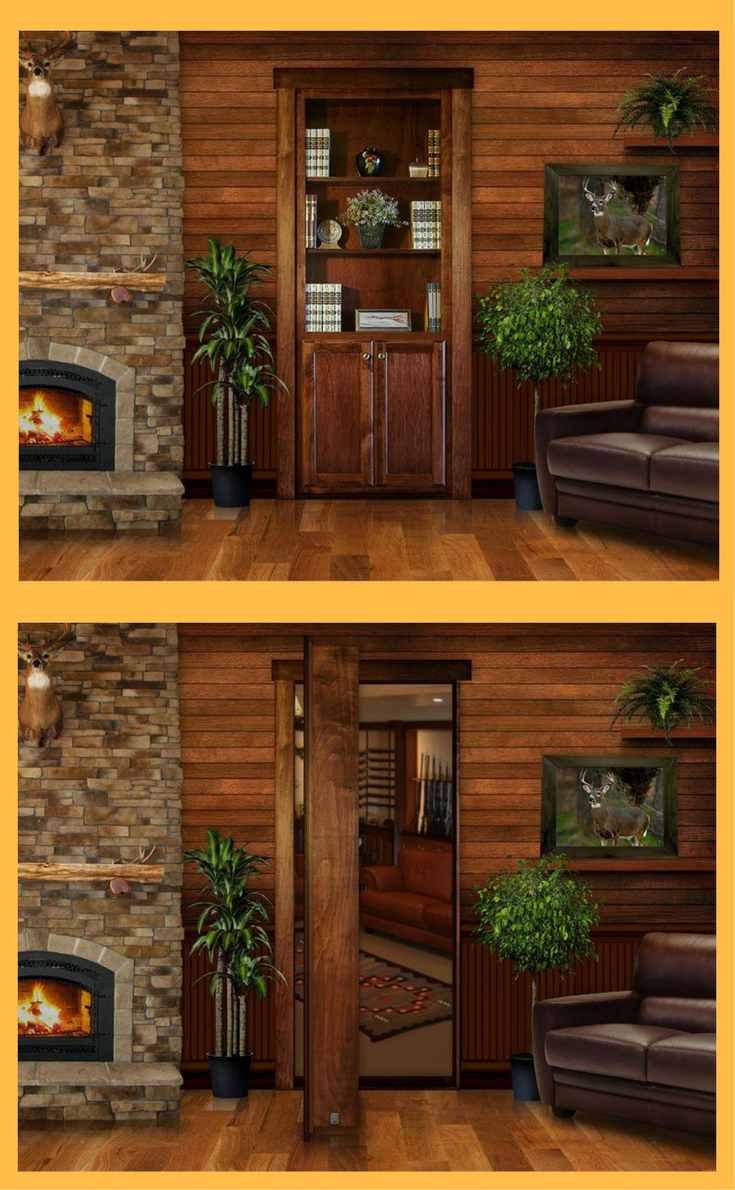 Idea #7 – A minimalist look requires maximalist storage in your drawers    
Visual clutter causes stress and eats up your time trying to find things. If anything was apparent at the show, drawer organization systems are more sophisticated. I loved this in-drawer knife organizer. It keeps knives close at hand – yet off the counter.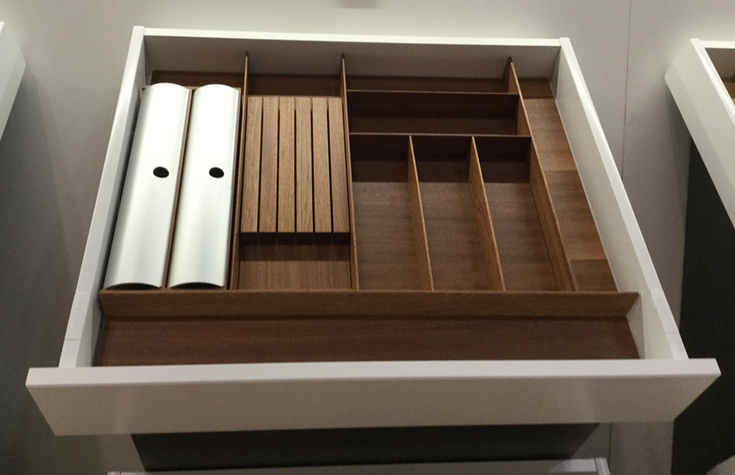 Another cool idea is upper cabinet shelving which pulls down to you. It makes it so simple to get things down from your cabinets which are high to reach. A wonderful idea for those "vertically-challenged" ('er that would be short for those of us playing at home).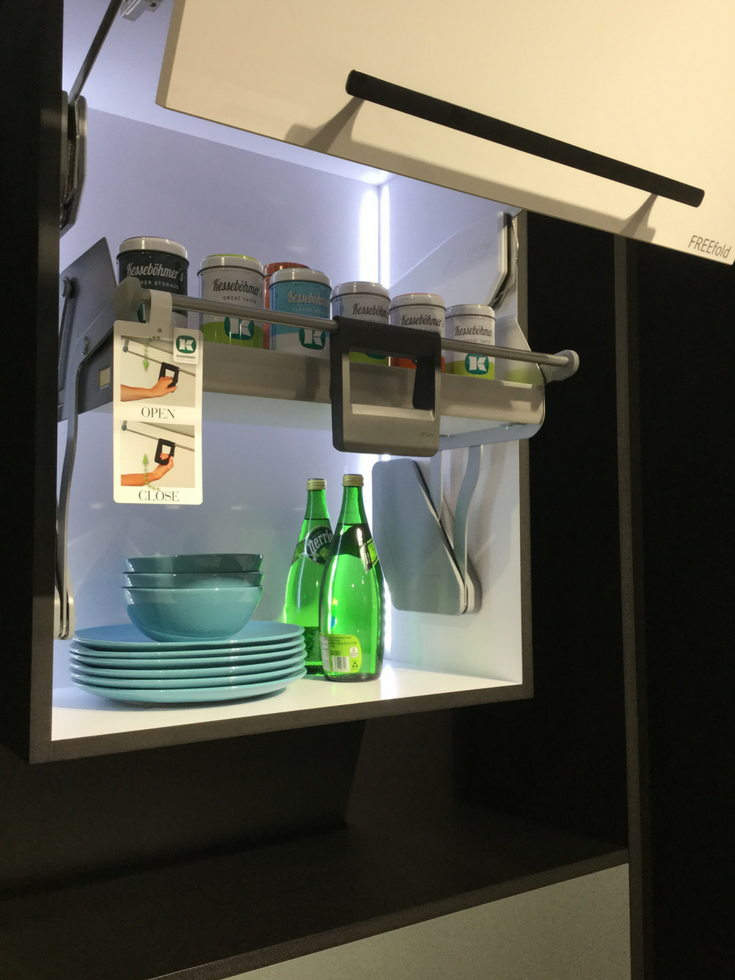 Conclusion
Which of these 7 ideas would you like best in your home? Please comment below or call for assistance with cutting-edge products for your bathroom, kitchen, pantry or closets.
###
How can I (or my team) help you?
For Nationwide supply of shower and tub wall panels, shower enclosures or feature wall panels call Innovate Building Solutions at 877-668-5888. For home storage products and systems contact Innovate Home Org in Columbus Ohio at 614-545-6888. For a remodeling project in Cleveland contact Cleveland Design and Remodeling at 216-658-1270.
If you're a remodeler or builder and want practical advice on remodeling products, industry trends, marketing and sales tips to grow your business (and cut day to day hassles), start reading my newest blog – Innovate Builders Blog. It's packed with ideas you can use now. Click here to Sign Up for the Innovate Builders Blog.
Follow me on Twitter @Mike_Foti or my companies @InnovateBuild or @InnovateHomeOrg.
---
Mike Foti
President of Innovate Building Solutions a nationwide supplier and regional (Cleveland and Columbus) remodeling contractors. Some of our product lines include glass counters, floors, backsplashes, glass blocks and grout free shower and tub wall panels
---