Does thickness matter in shower wall panels?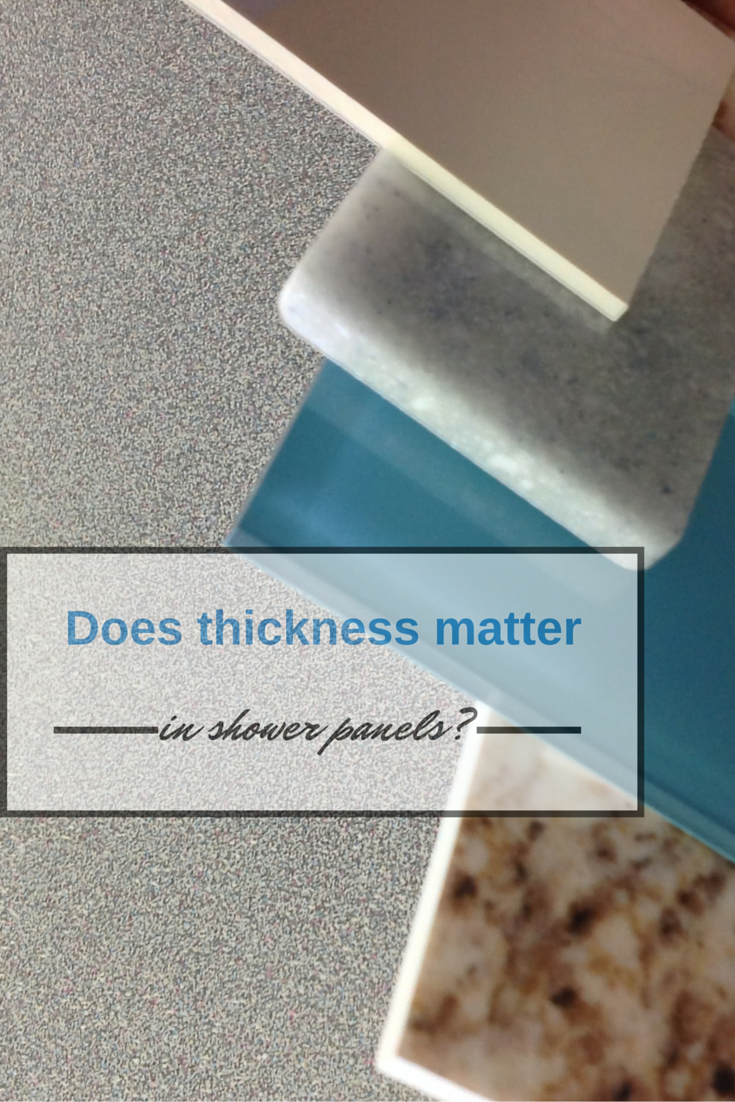 Updated September 15, 2019
If you're a do it yourselfer, or a homeowner or rental property owner looking eliminate the hassle of a tile shower you may be looking at grout free shower wall panels. Like many things these days the choices can be varied and complex. How do you figure out which is best for you? Here are some options which may be on your list:
Thin (usually 1/8″ or thinner) and inexpensive shower panels made of MDF (medium-density fiberboard) or fiberglass or acrylic wall panels.
Slightly thicker(1/4″ thick)  and moderately priced panels including PVC backed faux stone panels .
The question becomes do thicker and more expensive panels automatically make the best choice? In my opinion, the short answer is no. In the article below let's explore 5 factors – which along with material thickness – can help you make your best choice. While it's not bad to have thicker panels, there should be more 'features' you'll want to dig into to choose the best choice for you.
Factor #1 – Is color consistency throughout critical for shower wall panels?
Color consistency is an area where thickness can be a determining factor in the right choice of a shower panel. Some materials, like the 3/8" thick stone solid surface panels have consistent color throughout so worries about scratching are greatly reduced. The solid surface panels will be better than it's closely related 'cousin' – the cultured stone wall panels.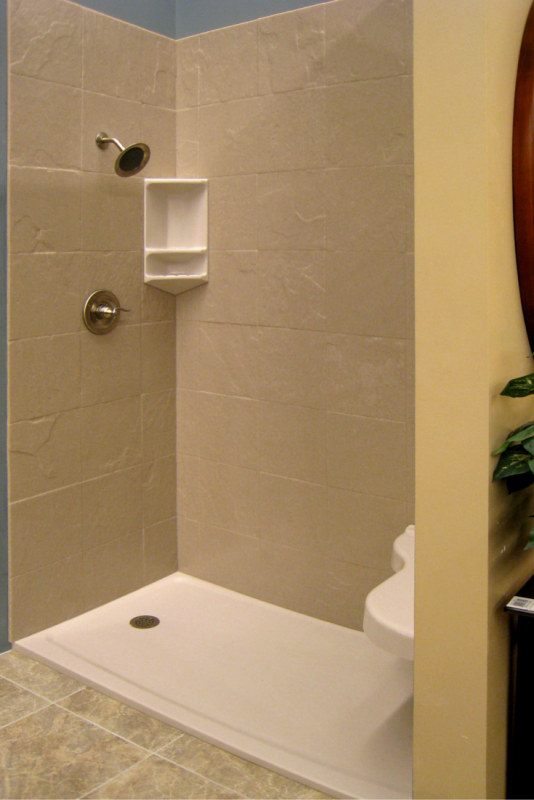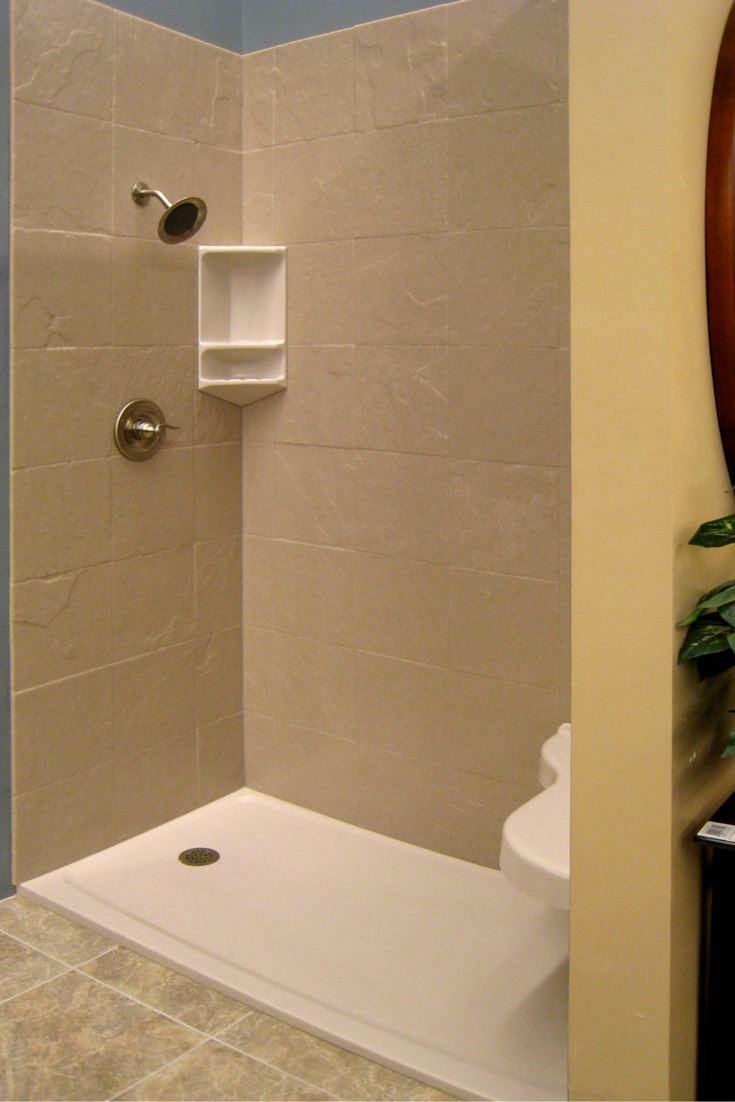 On the other hand options like the faux stone panels (which have a unique digitally embossed front face) could be problematic if a deep gouge was put into the panel since the color/pattern are only on the top surface (note – the principal place where this concern might be warranted would be in rental or student housing where the care for the shower might be at its lowest).  
Factor #2 – Is cutting, drilling and working with wall panels simpler if the panels are thinner – or better if they're thicker? 
You would think thinner materials are easier to cut and thicker materials are harder to cut and drill. The guys in my remodeling businesses who work with these materials daily would tell you otherwise.
It's all about how fragile and structurally stable the material is. It's about how easy they can crack or break which impacts the cutting or drilling processes. It's all about how much of a pain in the butt it can be to get them into the room (have you ever brought in a 60″ x 96″ cultured stone shower wall panels into a 5′ x 8′ bathroom on the second floor in a home? I can tell you it's not fun!).
From our experience the simplest products to work with are the 3/8" thick laminated shower wall panels and ¼" thick PVC backed composite faux wall panels . The laminated panels are made in 2′ x 8′ sections which click, lock and seal together (check out what they look like before and after installation below). The laminated panels are 26 lbs. and can be installed by one person (a major benefit over other systems). The PVC panels are light and can even be cut with a carpenters knife.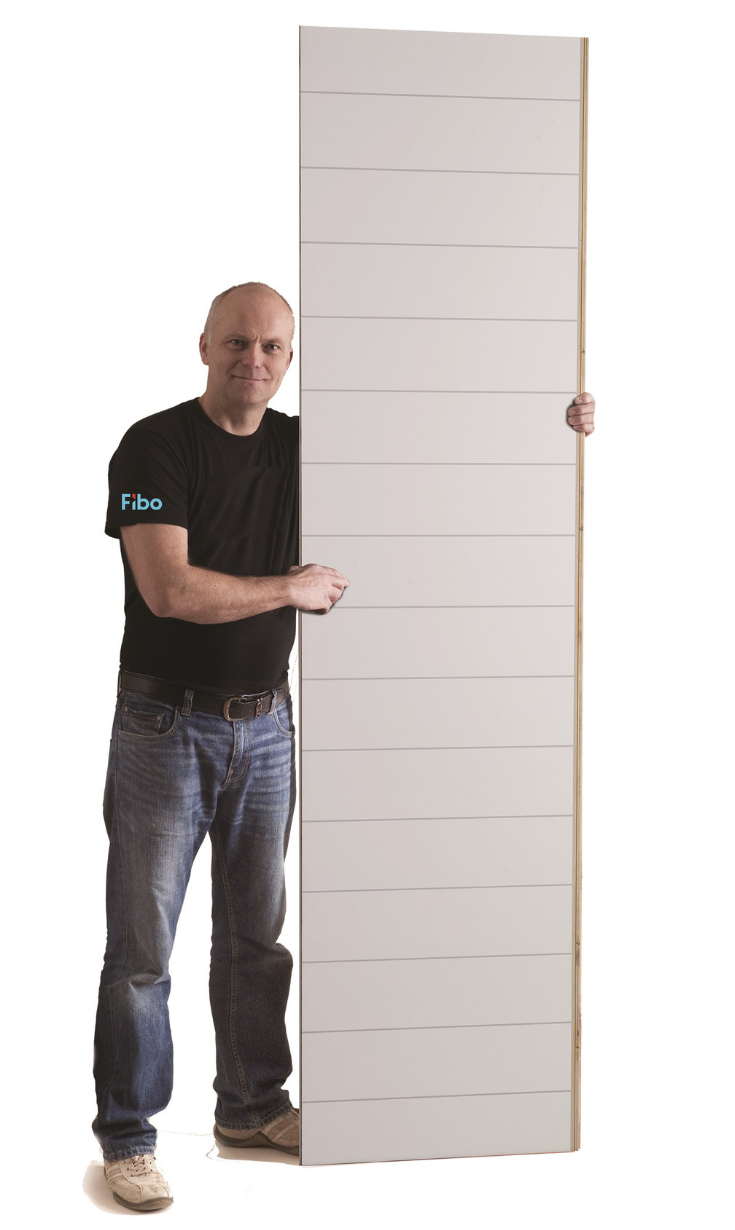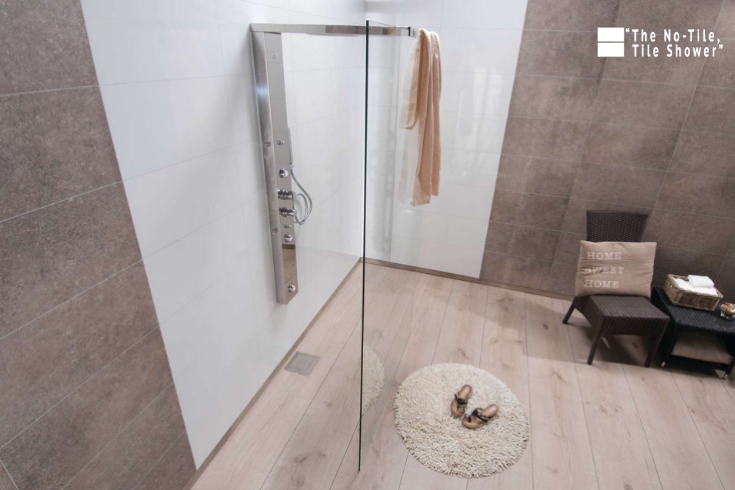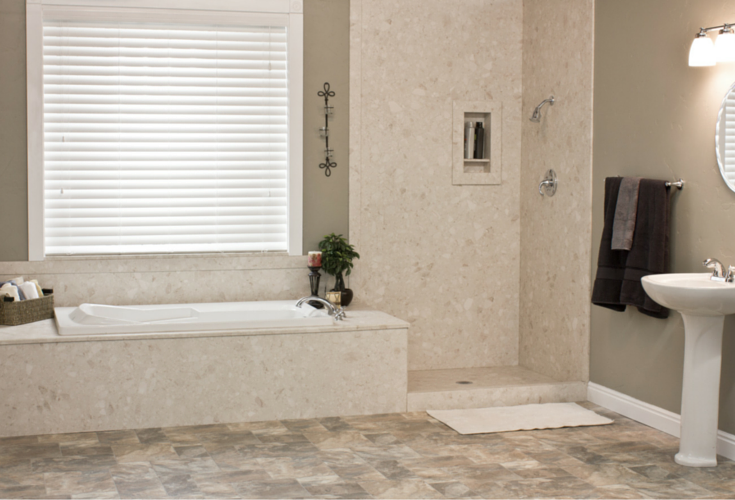 On the other hand more fragile materials like the ¼" thick optical grade high gloss acrylic panels and or less structurally stable materials (like the cheap MDF boards) can have the most problems with breakage during the installation process.
Factor #3 – Is wall panel thickness important if you need to make a curved wall? 
If you're creating curved walls "thin is in." While there are not a lot of curved shower walls (if I'm being real with you there are barely any good options available in the market) it can be a cool element to create a slightly curved wall in a bathroom. Thinner products like 1/8" acrylic wall panels or the ¼" PVC faux stone wall panels are both workable choices.  I'd recommend the PVC option – because it looks waaaaaay better than acrylic.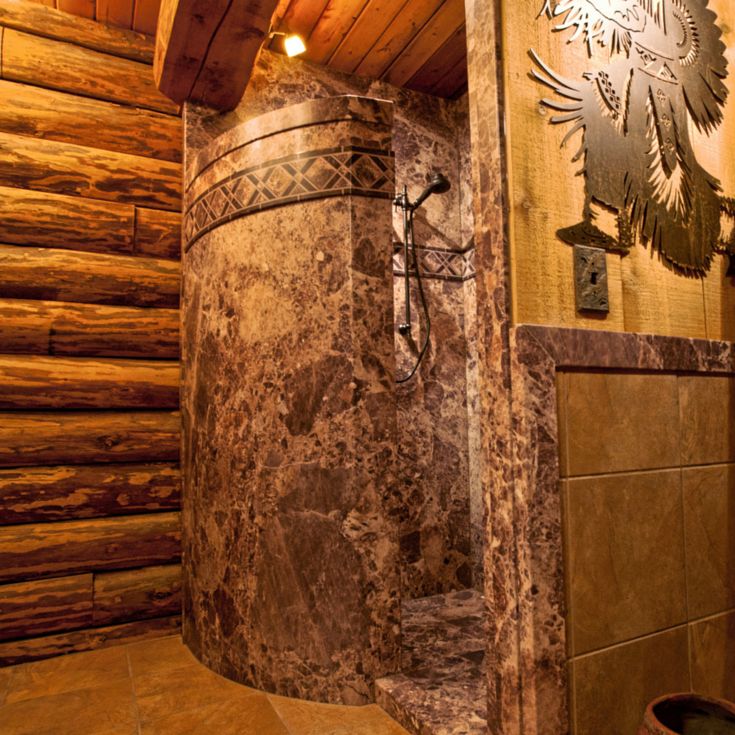 Factor #4 – Is thickness important to make sure you have a waterproof surface for your shower panels? 
In most cases the reason you choose grout free shower panels is to make sure you don't have shower walls or a shower base that leaks. That's why waterproof wall panels are essential. It's the composition of the material and how they are joined together – not the thickness – which will determine if it is waterproof or not. Fiberglass, acrylic, high gloss acrylic (shown below), stone solid surface, laminated wall panels and PVC composite panels are have tight waterproof seals you can count on.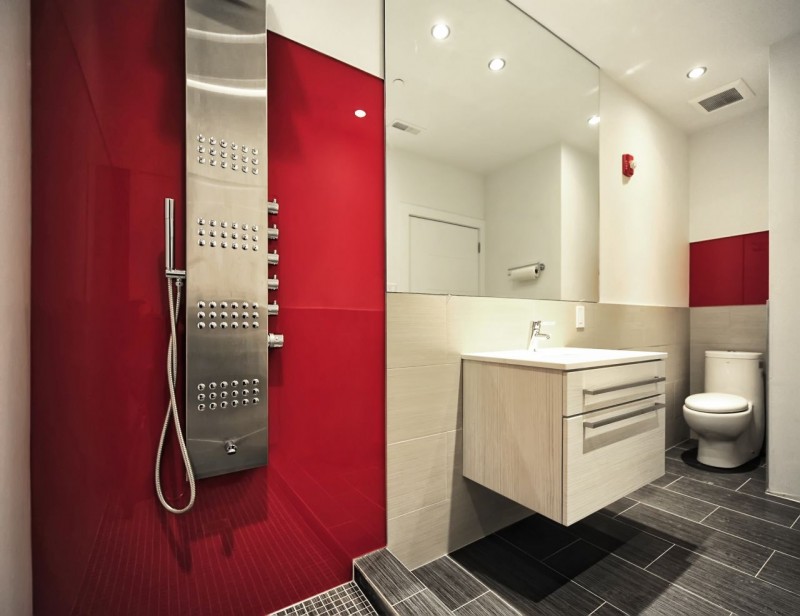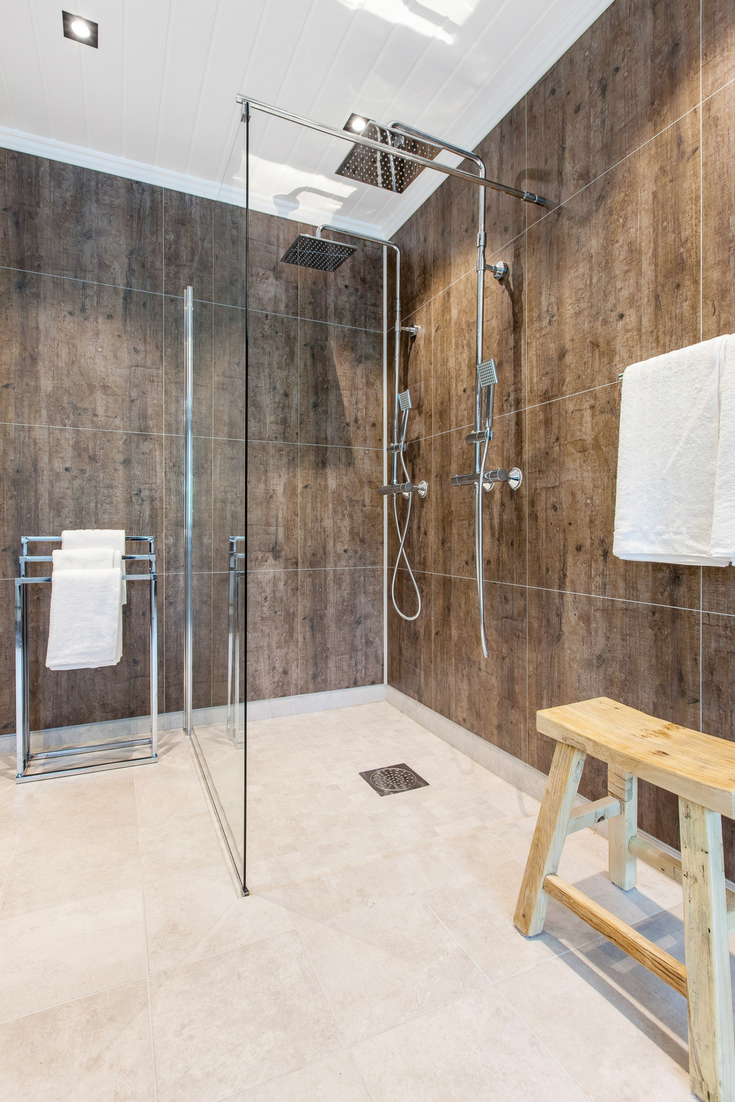 On the other hand MDF (medium-density fiberboard) materials is not waterproof and for this reason I'd stay away from it like the plague.
Factor #5 – Is thickness important if you want a tile, stone or textured look panel?
If you love the look of tile, stone or brick but don't want to mess with cleaning the joints you're not alone. Fortunately there are now materials where you can have texture, stone or a tile looking surface without grout. Two options include molded wall panels like the 1/8" thick acrylic panels and 3/8" thick solid surface walls. Another options (mentioned previously in this article are textured tile and stone wall panels with a laminated surface (which are 3/8″ thick).
From my perspective it's not the thickness of the material which is most important with the these textured panels (all 3 products are waterproofed). It's how realistic these products look. When I look at 3/8″ thick molded stone shower panels they just don't look very realistic to me (like this faux brick stone pattern below). However when I look at the equally thick laminate shower panels – they look like the real thing (see below). So to me – it's not the thickness which is the key factor – it's the realism which matters most. This can be especially important if you're looking to create a stylish vacation home rental bathroom or want cool-looking Airbnb shower panels which will make your home stand out from the rest.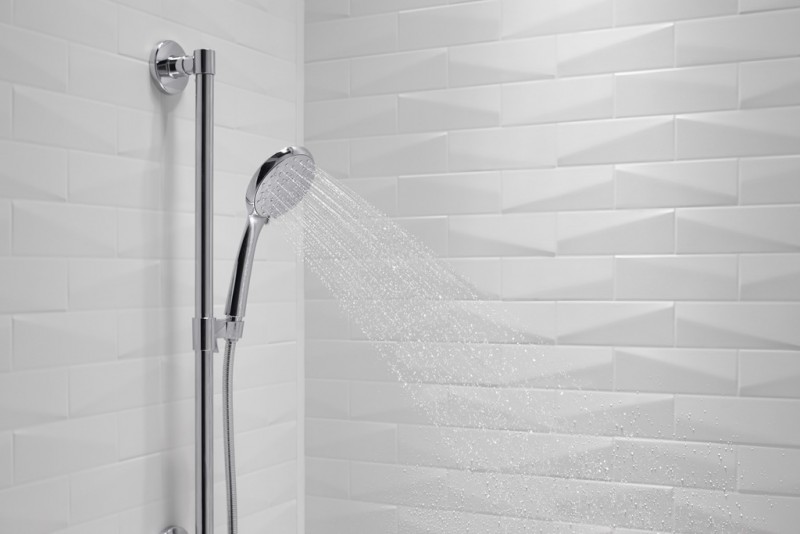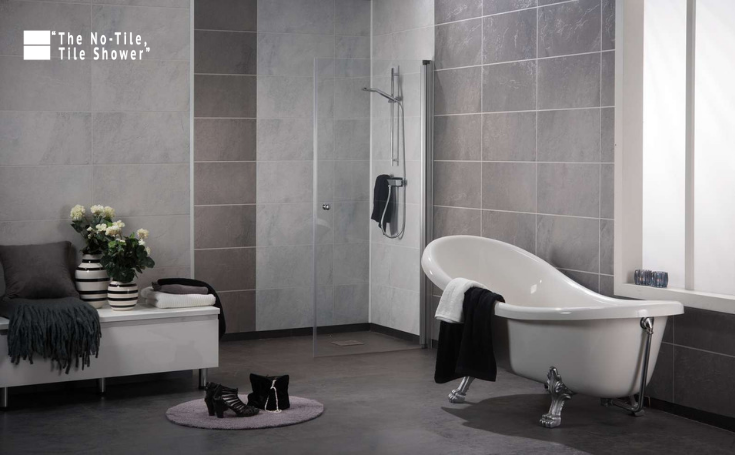 Conclusion
What's your opinion? How important is thickness in the choice of shower and tub wall panels? Is there one system from the above pictures and discussions which sounds intriguing to you?
If you want to get the 'straight-scoop' on different lines of shower wall panels – call us at the numbers below. We wholesale them direct across the country. We're building a group of dealers who can assist you with the installation and selection of shower or tub wall panels for your next bathroom remodeling project. In addition, we have shower panels for  single family homes or bathtub panels for your vacation rentals as well.
For regional remodeling with shower wall panels call Cleveland Design and Remodeling (216-658-1270, The Bath Doctor in Cleveland (216-531-6085), Columbus (614-252-7294) or for nationwide shower wall panel material supply Innovate Building Solutions (877-668-5888). If you're a remodeler or builder – click here is you'd like to become a shower wall panel dealer or call 888-467-7488 and ask for Mike.
If you're a remodeler or builder and want practical advice on remodeling products, industry trends, marketing and sales tips to grow your business (and cut day to day hassles), start reading my newest blog – Innovate Builders Blog. It's packed with ideas you can use now. Click here to Sign Up for the Innovate Builders Blog.
---
Mike Foti
President of Innovate Building Solutions a nationwide supplier and regional (Cleveland and Columbus) remodeling contractors. Some of our product lines include glass counters, floors, backsplashes, glass blocks and grout free shower and tub wall panels
---