Does thickness matter in shower wall panels?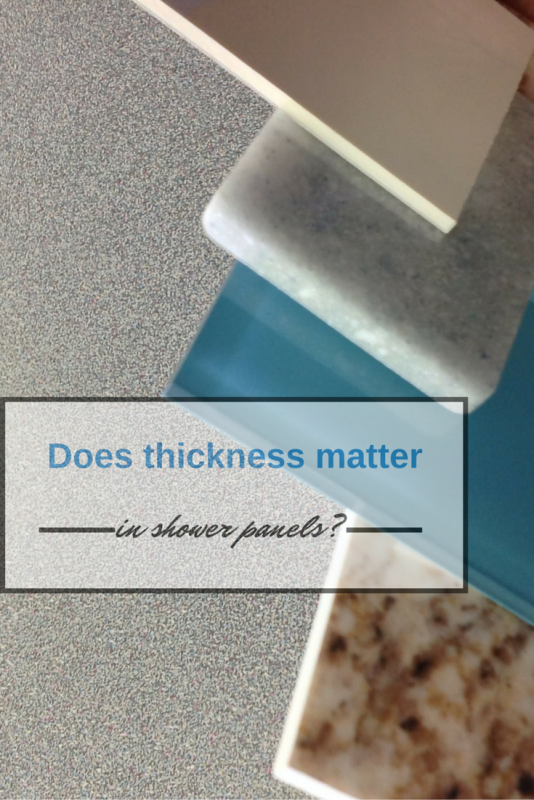 If you're a do it yourselfer or a homeowner looking eliminate the hassle of a tile shower you may be looking at grout free shower wall panels. Like many things these days the choices can be varied and complex. Here are some possible options:
Thin and inexpensive shower panels made of MDF (medium-density fiberboard) or fiberglass.
Slightly thicker and moderately priced panels including PVC backed faux stone panels or acrylic walls.
Thicker, and usually most expensive options, includes optical grade high gloss acrylic or stone solid surface panels.
The question becomes does thicker and more expensive panels automatically make the best choice? In my opinion, the short answer is no. In the article below let's explore 5 factors – which along with material thickness – can help you make your best choice.
Factor #1 – Color consistency – Color consistency is an area where thickness can be a determining factor in the right choice of a shower panel. Some materials, like the 3/8" thick stone solid surface panels have consistent color throughout so worries about scratching are greatly reduced.
On the other hand options like the faux stone panels (which have a unique digitally embossed front face) could be problematic if a deep gouge was put into the panel since the color/pattern are only on the top surface (note – the principal place where this concern might be warranted would be in rental or student housing where the care for the shower might be at its lowest).  
Factor #2 – Cutting and drilling – You would think thinner materials are easier to cut and thicker materials are harder to cut and drill. The guys in my remodeling businesses who work with these materials daily would tell you otherwise. It's all about how fragile and structurally stable the material is and how easy it cracks or breaks down during the cutting or drilling processes. From our experience the 3/8" thick solid surface and ¼" thick PVC backed composite faux wall panels are a breeze to work with. On the other hand more fragile materials like the ¼" thick optical grade high gloss acrylic panels and or less structurally stable materials (like the cheap MDF boards) can have the most problems with breakage during the installation process.
Factor #3 – Curvature – If you're creating curved walls "thin is in." While there are not a lot of curved shower walls it can be a cool element to create a slightly curved wall in a bathroom. Thinner products like 1/8" acrylic wall panels or the ¼" PVC faux stone wall panels are good choices.  
Factor #4 – A waterproof surface – In most cases the reason you choose grout free shower panels is to make sure you don't have shower walls or a shower base that leaks. This is why waterproof wall panels are essential. It's the composition of the material – not the thickness – which will determine if it is waterproof or not. Fiberglass, acrylic, high gloss acrylic (shown below), stone solid surface and PVC composite panels are all waterproof and safe for the shower. On the other hand MDF (medium-density fiberboard) materials are not waterproof and for this reason I would recommend staying away from them.
Factor #5 – Textured tile, stone or brick patterns – If you love the look of tile, stone or brick but don't want to mess with cleaning the joints you are not alone. Fortunately there are now materials where you can have texture, stone or a tile looking surface without grout. Two options include 1/8" thick acrylic panels and 3/8" thick solid surface walls in multiples patterns and colors. One of the nice features is textured surfaces also help to minimize the ability to see water spots or any slight scratchesl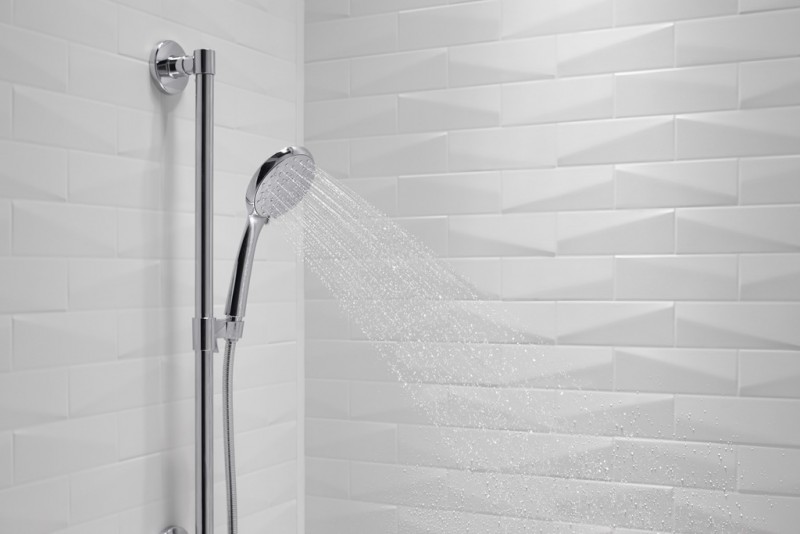 Do you have any questions or would like to provide input about your experience with shower panels? Please comment or call us at the numbers below.
For regional remodeling with shower wall panels call Cleveland Design and Remodeling (216-658-1270, The Bath Doctor in Cleveland (216-531-6085), Columbus (614-252-7294) or for nationwide shower wall panel material supply Innovate Building Solutions (877-668-5888).
Tags: DIY, diy panels, DIY wall, diy wall panels, euro bathroom, faux panels, faux shower panels, grout free panels, shower enclosure, shower panel, shower panels, shower stall, shower surround, shower wall, solid surface walls, tub panels, wall panels, waterproof shower walls
Trackback from your site.