How to regain your independence with an accessible bathroom remodel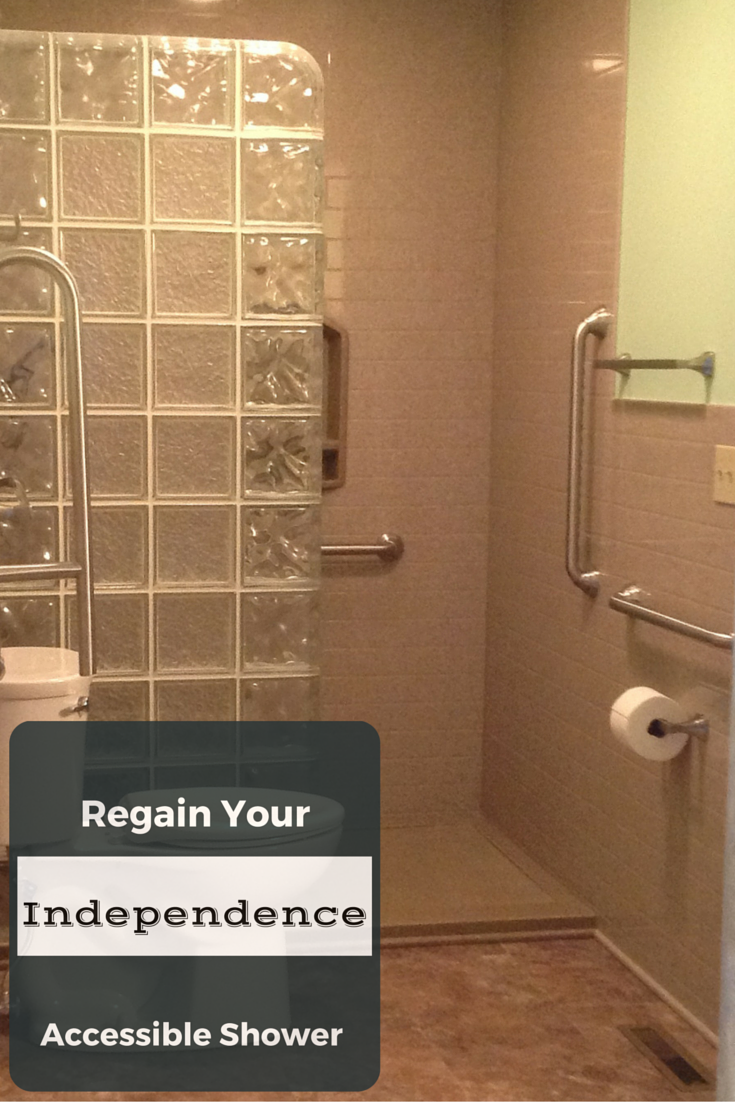 You might have heard the saying "when life throws you lemons, make lemonade." Sometimes a challenge can happen in our lives which not only affects us physically, but also emotionally. The key is to fight through life's "lemons" (challenges) and to make some "lemonade" (personal victories).
An excellent example of making some "lemonade" is the story of Karen Lee Gast who suffered a stroke in November 2014. Not only was her physical mobility reduced (she now uses the assistance of a wheelchair) but she endured the mental challenge of seeing her independence reduced as a result of the stroke. Simple daily tasks (like showering on her own) – were no longer simple….and required the assistance of her daughter Julie (Morgan) who is of constant support to Karen.
While Karen is grateful for her daughter's help (although Karen says she can be a wee-bit overprotective at times!) she wanted to regain more independence in her home and control over her life. This desire for independence led Karen to do an extensive bathroom remodeling in her home in Akron Ohio. Let's take a look at why this remodel was necessary.
The old bathroom
 After Karen's stroke the existing master bathroom just didn't work. Here were some of the problems with the old space:
The doorway was too small to comfortably roll the wheelchair in.
There were no grab bars to safely transfer from the chair into the shower.
The old stand up 3' x 3' fiberglass shower with a framed metal pivoting door was way too small and difficult to get into.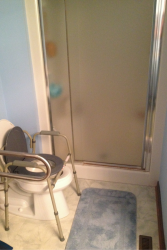 With these challenges Karen was not only not able to use the master bathroom (which is conveniently located right off her bedroom). She had to use a smaller bathroom in the home and could only shower on Mondays, Wednesdays and Fridays when her daughter Julie could come over to help her. This showering process in this old bathroom took one hour of each of their time. The bottom line was there was no way to make the convenient master bathroom an accessible space without extensive modifications and a full remodel.
In the article below learn 3 critical steps which transformed Karen's bathroom into an accessible, low maintenance, safe and stylish room she can use without being dependent on others. This now allows her and Julie to do other things (or just spend quality Mom and daughter time together).
Project Step #1 – Make it accessible by design  
Accessibility doesn't happen by magic – it takes a thoughtful redesign to make most existing homes work for a family member who uses a wheelchair. Here are 3 specific design recommendations Karen adopted from her project designer (Jeff Merrell of Cleveland Design and Remodeling).
(1) Increase the doorway to 32" wide – Yes – this change was a no-brainer. You can't independently enjoy your bathroom if you can't smoothly get through the door!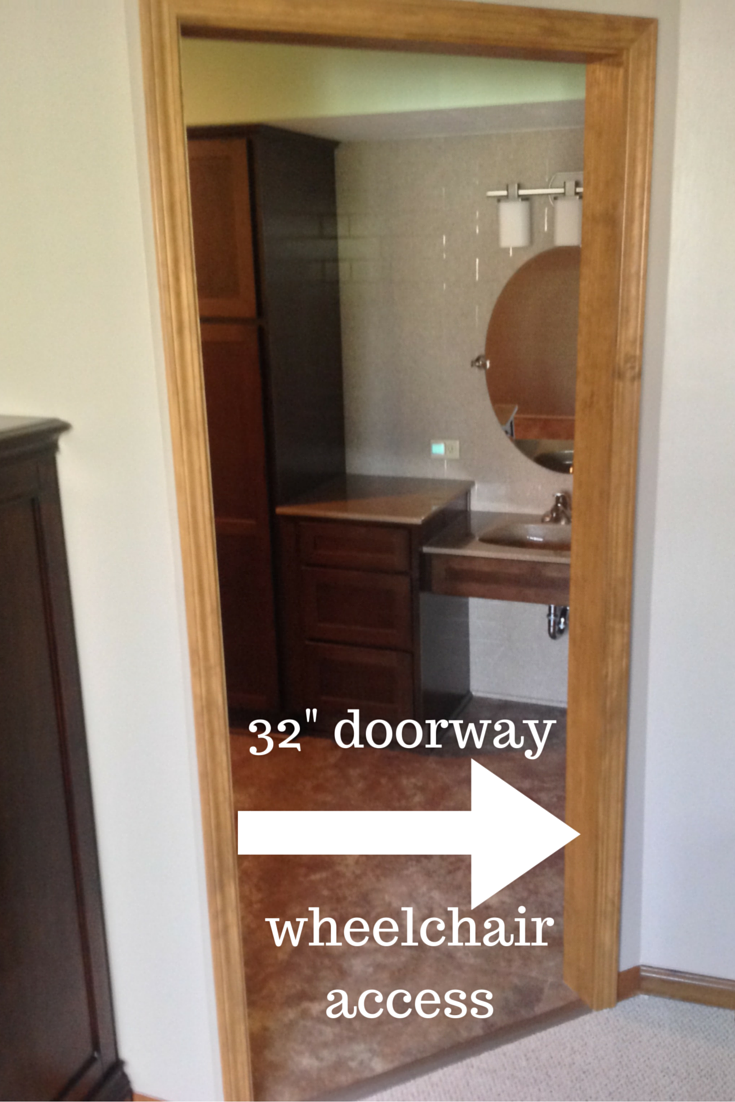 (2) Tradeoff storage space for open floor space – Life is about tradeoffs – especially when you're looking at a bathroom which is usually not the biggest room. The best accessible bathroom design provides a 5' turning radius for a wheelchair. Karen chose to eliminate an upright storage cabinet so she had the space to turn her chair around.
 (3) Ditch the shower door – The new walk in shower (along with strategically placed grab bars) makes it possible for Karen to transfer out of her chair and onto the extended solid surface bench seat in the shower without having to hassle with a shower door.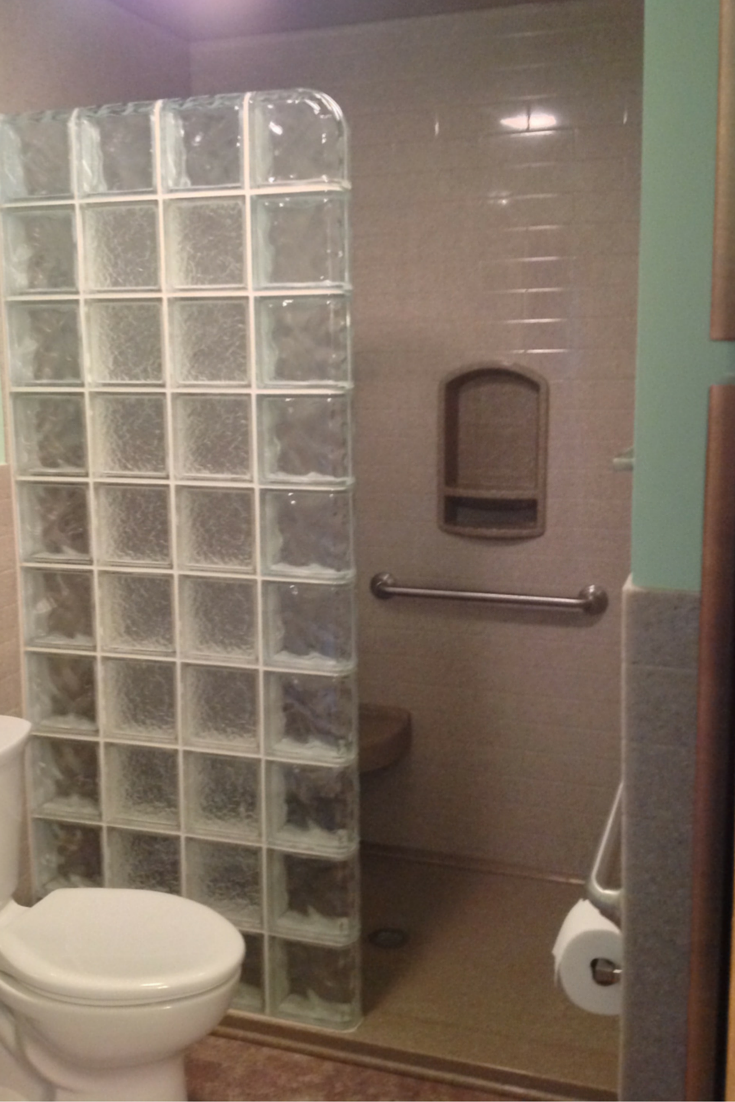 Project Step #2 – Combining comfort and safety  
Who doesn't want a bathroom which is comfortable to use? The reality is, however, our homes are not generally built with the comfort of someone in a wheelchair in mind. To combine Karen's desire for a comfortable space – which was also safe – here's some products she chose:
Roll under sink – With a wide and deep opening underneath the vanity top it is a breeze to get washed up while seated in the wheelchair now.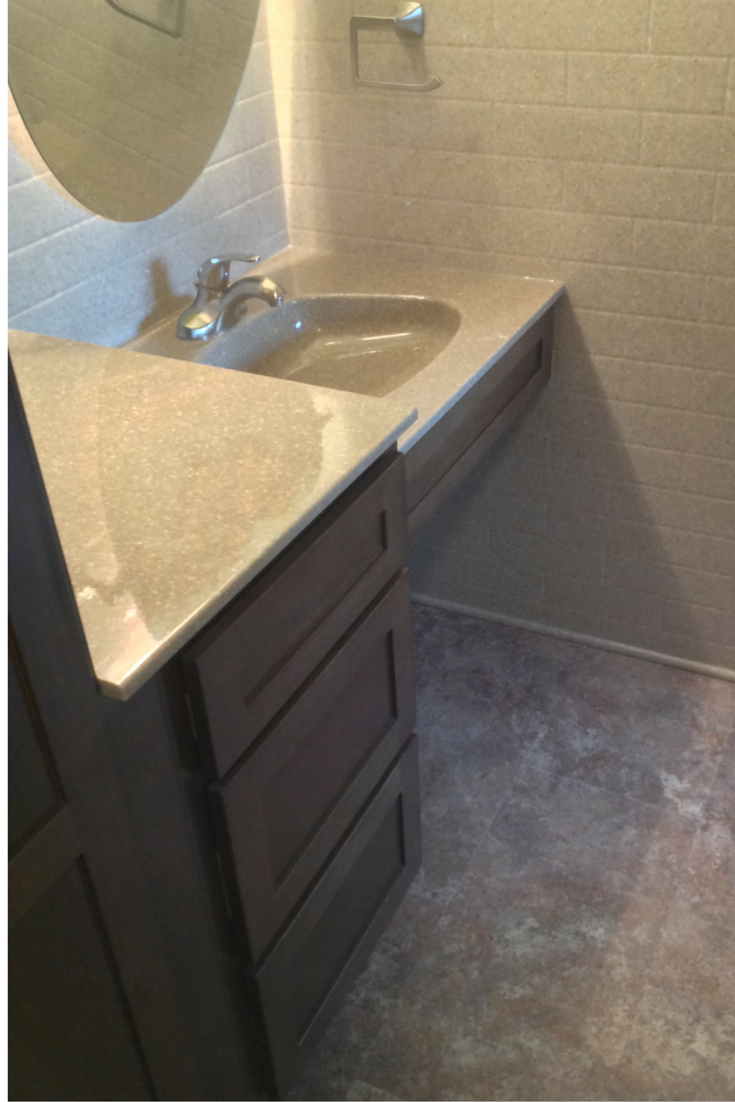 Extended 26" x 16" stone solid surface bench seat – The longer bench seat is easy to transfer into, and since it's built with a stone surface it is as solid and sturdy.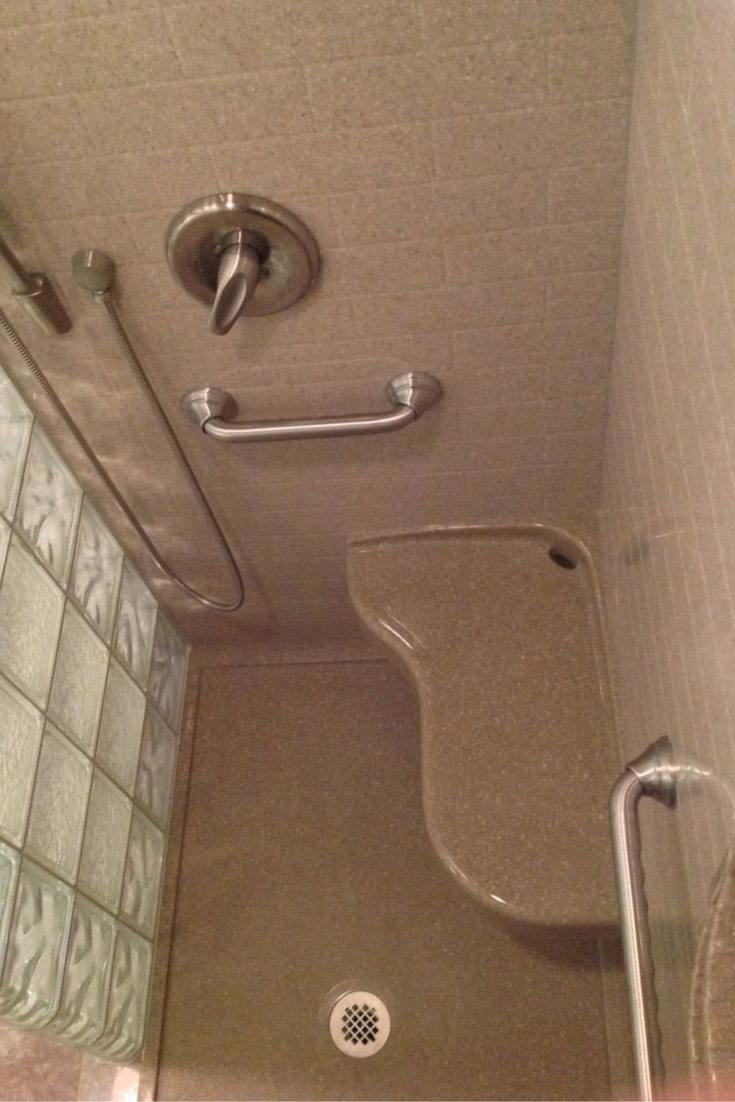 Hand held shower – This feature is essential to showering from a seated position and it also makes it easy to clean the shower floor vs. a wall mounted shower head.
Grab bars with built in grip – As Karen told me, "I really love the textured inside grips of these grab bars – they are much nicer and safer than the completely smooth ones I have in other areas of my home."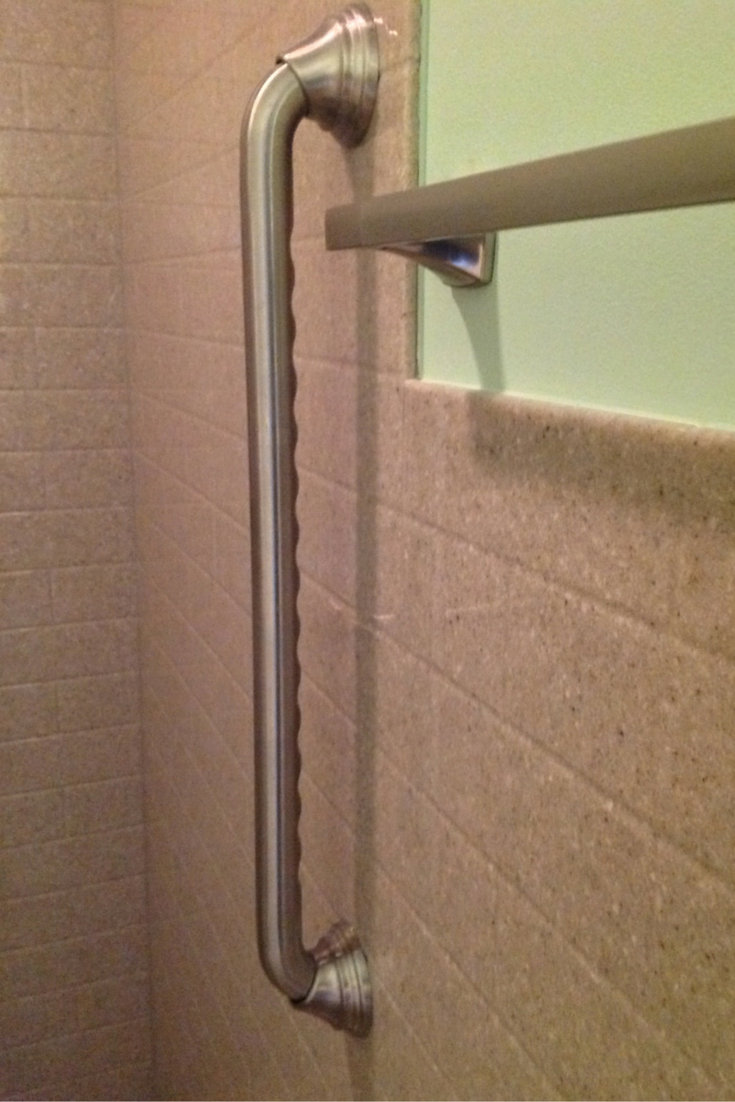 Project Step #3 – Getting a "two for one" – durable products with style
Flimsy glass shower doors and nasty grout are two of the biggest pet peeves people mention about their current bathrooms. In Karen's case eliminating grout and the shower door were two goals she had …but she didn't want do this without having stylish products which were built to last. Her daughter Julie was also going to make sure though these stylish products were also going to be safe for Mom. Let's look at two pivotal finishing material selections Karen chose to get durability and style.
Subway tile solid surface walls and smooth vanity tops – Karen loves the subway tile look of the solid surface (single piece wall panels) 3/8" thick non-porous pattern walls. It's nice to know she'll never have to clean nasty grout joints again! The smooth solid surface vanity tops are also simple to clean.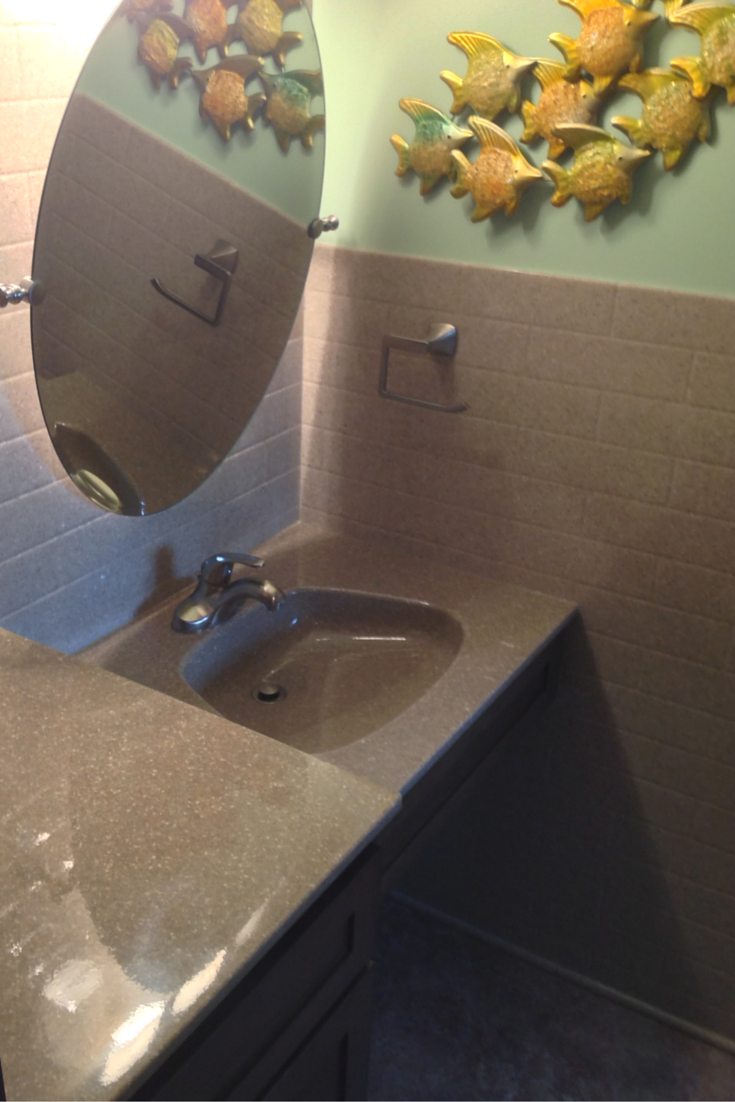 Glass block wall – Unlike thin 1/8" to 3/8" thick glass enclosures Julie knows Mom will be safe with the 4" thick glass block wall system. For added strength the team at Cleveland Design and Remodeling used the "Protect All" assembly and anchoring system which is far more rigid than a standard mortared glass block wall. The small grout joints (1/8") in the glass block shower are a nice benefit as well as the two patterns (Decora and Icescapes) which were used for additional style.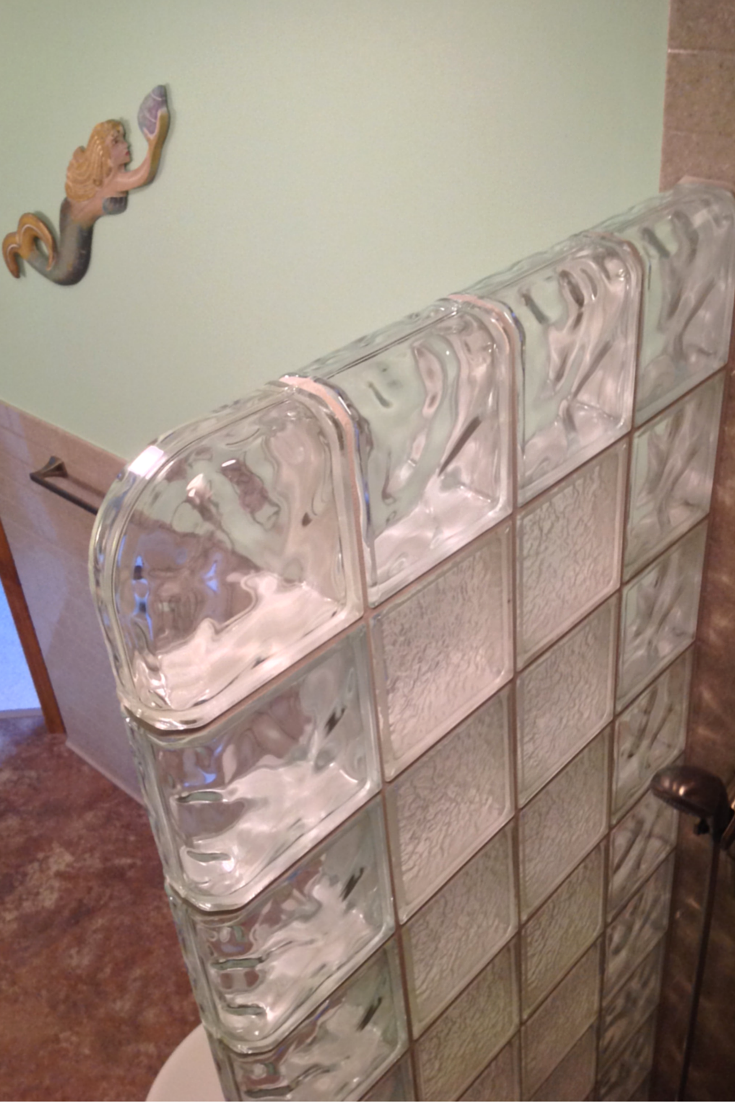 Conclusion
Transforming a bathroom for wheelchair accessibility can be an involved process, but with a thoughtful design and strategic product choices you can also get a bathroom with more comfort, style and luxury (as well as safety and accessibility) than your old space. As Julie said to me, "I'm so proud of my Mom for regaining her independence. This new bathroom has been a blessing (and time savings) for both of us."
What do you think about Karen's accessible Akron bathroom? Please comment or call one of the numbers below for additional input or a free design consultation.
If you're looking for more information or an estimate on remodeling a shower or nationwide material supply for the various wall panels and accessible shower bases mentioned above call Cleveland Design and Remodeling (216-658-1270), The Bath Doctor in Columbus (614-252-7294) or for nationwide supply Innovate Building Solutions (877-668-5888).
---
Mike Foti
President of Innovate Building Solutions a nationwide supplier and regional (Cleveland and Columbus) remodeling contractors. Some of our product lines include glass counters, floors, backsplashes, glass blocks and grout free shower and tub wall panels
---