10 Little Known Ideas to Take the UGLY (and institutional) Out of an Accessible Shower and Bathroom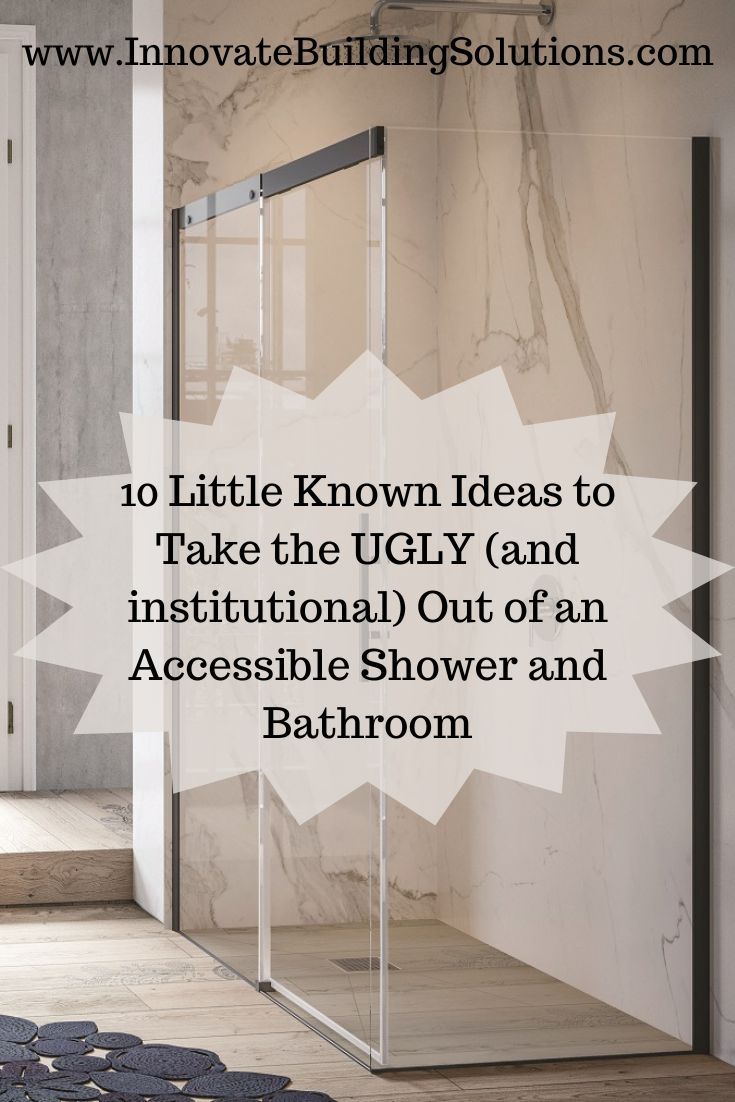 Nobody – and I mean nobody – wants to have their personal bathroom remind them of a hospital room!
But when people think about an accessible shower or an accessible (or age in place) bathroom they get visions, not of sugarplums, but of hospital grab bars, ramps and ugly plasticky white showers dancing in their heads…. YUCK!
If you're like ('er everybody) you want to avoid this look like another bout with COVID. And while you (or a family member) may need a safe, accessible bath or shower – what you don't want is an ugly bath or shower.
The question becomes how can you go beyond basic function, and (dare I say it) add fashion to an accessible bath or shower?
And if this is the question you've been wracking your brains about, you've come to the right place. Below I'll provide 10 ideas for an accessible shower or bathroom which is not only safe, but one you'll actually want to show off for its good looks. And if you read to the end I've even thrown in a 'bonus idea' for going through the entire article. Now, lets check out the ideas.
Shower Idea #1 – Get rid of the ugly, white plasticky shower pan
You may think the designers of accessible showers were brainwashed years ago and are ONLY allowed to design roll in shower pans which are white and plasticky. And while these (not very nice looking) pans are still the rule, not the exception, for easy-access, I'm happy to tell you there ARE 2 stylish options you need to know which are actually cool. They are:
1) The zero threshold wet room. This system creates a zero-barrier waterproof shower and bathroom floor and is finished with tile or a colored top surface. It's sleek. It's modern. And…. drum roll please….it's still safe for Mom, Dad or a family member who has mobility problems.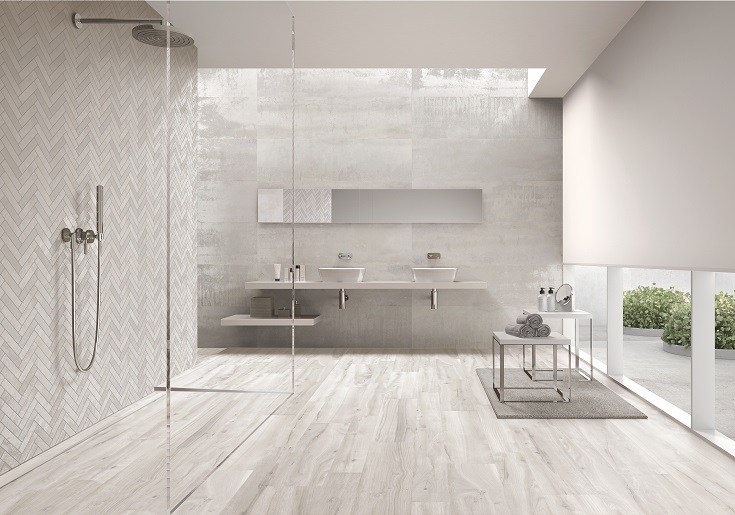 2) The (very) low profile shower pan (with a ramp). This modern low profile pan (with a curb height of 1 1/6") can be paired with a small (removable) ramp to not only create the luxury look of marble – but you can get it in designer (white, gray, black, black marble and driftwood) matte finish styles. And if you're worried about weight capacity – this pan is rated for 2 TONS of weight. Yes, you heard that right, it's stable with 4,000 lbs. on it!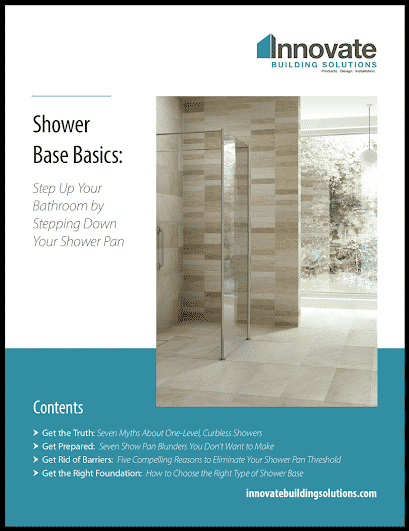 Get Our Ultimate Shower Base Guide!
Step Up Your Bathroom by Stepping Down Your Shower Pan!
Shower Idea #2 – Get rid of ugly, white shower walls
OK – I know white goes with everything – and white fiberglass or acrylic wall panels are ubiquitous (and yes, I threw in this 'fancy' word which means everywhere so you'd think I'm smart….is it working?). However, white is BOR-ING!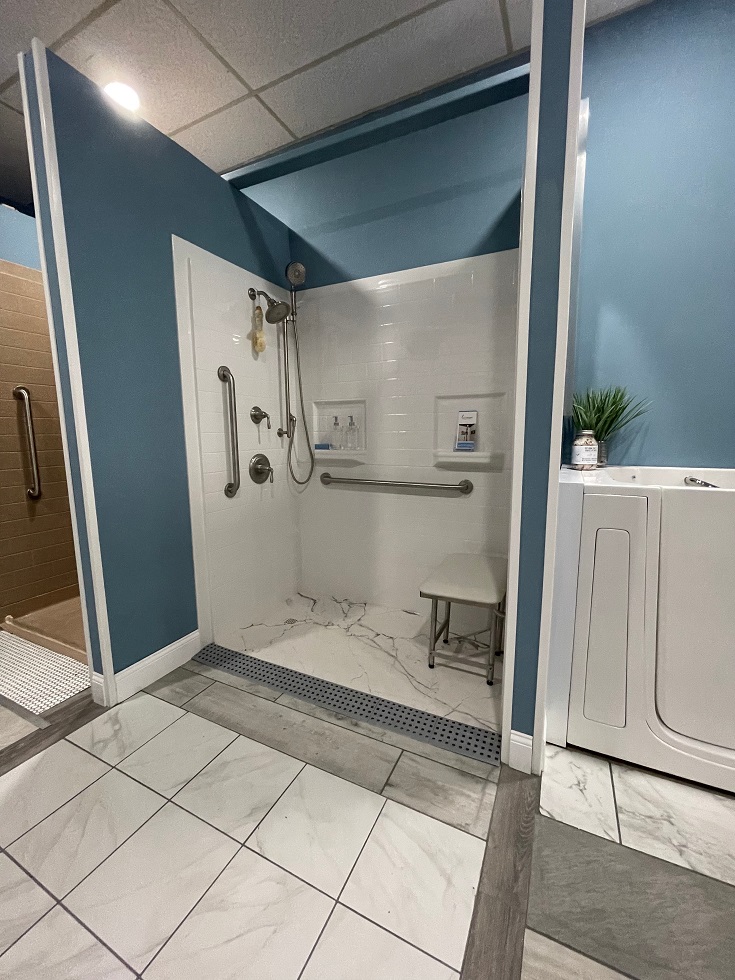 Image Source: On the Mend Medical
Just because you need an accessible bathroom or shower should not force you into a world without style.
I'm here to tell you, you can dress up your easy-to-maintain bathroom with intricate patterns and styles you never, ever, ever thought you could afford before. Look at bathrooms with click together laminate bath panels. With up-to-date styles like black hexagon and white 45 degree herringbone, your family and friends will think you had a 'hoity-toity' bathroom designer and remodeler helping you on your 'expensive' bathroom. But you can keep your secret knowing this is a system you can truly enjoy champagne looks on a 'quasi' beer-budget.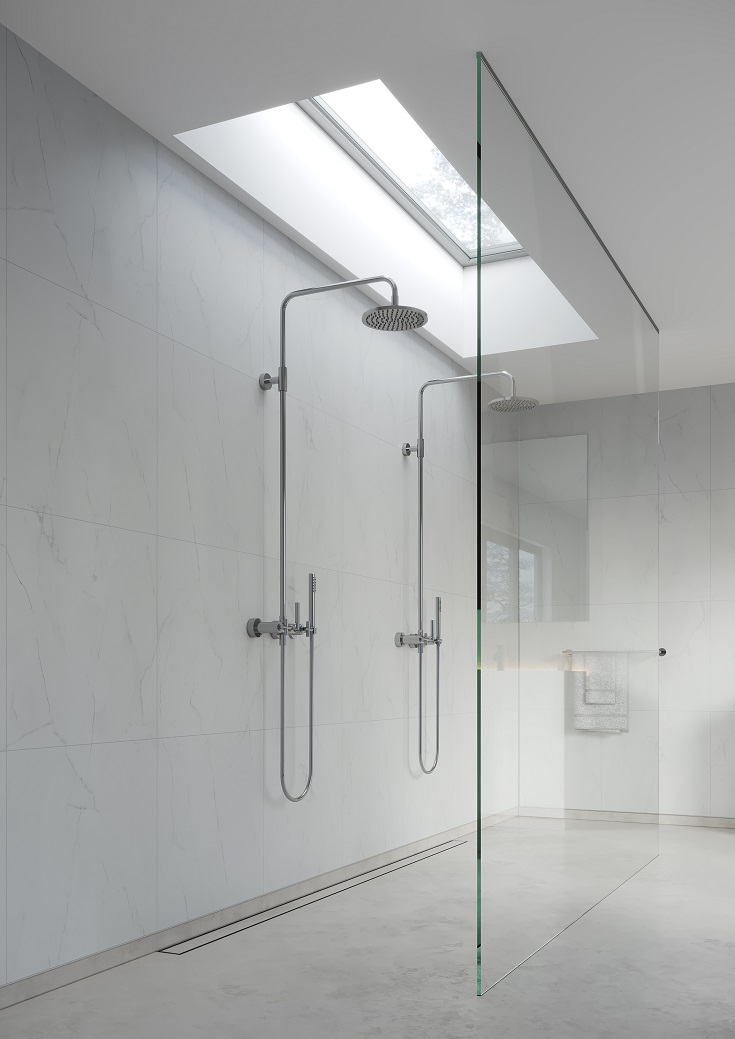 Get Free Samples!
Click here to request free samples of our Laminated Waterproof Shower Wall Panels.
Shower Idea #3 – Stop accepting ugly shower accessories which are hard to reach – and even harder to maintain
If you have a moldy recessed tile niche which stopped looking even half-way-decent years ago, you've likely vowed to never put yourself through the pain of cleaning a shower accessory like this ever again (and besides it may be too high on the wall for your spouse in a wheelchair to reach).
And what may even be better news to you is I can tell you; you don't have to 'settle' for unattractive acrylic or fiberglass corner caddies to realize this dream of a simple to maintain shower niche, which is also easy to reach.
No, a smarter way to get a TON of storage – and the ease of maintenance –is using an oversized vertical stainless steel niche. These niches come in 10 fashionable décor finishes, 7 sizes (which can be set horizontally or vertically inside the wall cavity, so they don't stick into your shower), and you won't need to worry about moldy joints inside your storage niche ever again.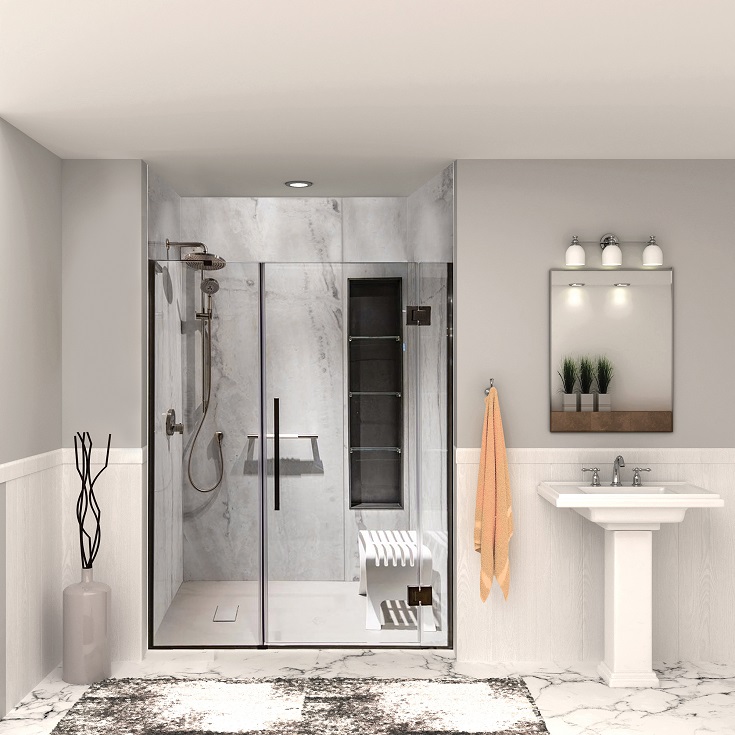 Shower Idea #4 – Eliminate flimsy framed glass shower doors with tracks at the bottom
When your builder slapped up your shower years ago, they didn't design it for someone who used a wheelchair or walker. No, the builder chose this wobbly, framed glass shower door so it would go in quickly and cost-effectively (OK – that's a secret builder code-word for what you and I call C-H-E-A-P!).
And now – as you've aged – you're living with a glass shower door which is not only poorly built, but it's hard to enter, and even harder to clean (because of the annoying U channel at the bottom).
And if you want a glass shower door which is simple to get in and doesn't feel like a remnant grabbed off the shelf of a building material discount outlet, here's 2 options to throw against your new and improved glass wall.
Option 1 – The glass shower screen – A shower screen has a fixed piece of glass (make sure it's 3/8" thick so it's sturdy) which ties into the shower head wall and a pivoting door on the end. With this system you'll get an opening which is 36" wide between a 60" wide shower alcove (when the pivot door is opened) yet will keep water in the shower.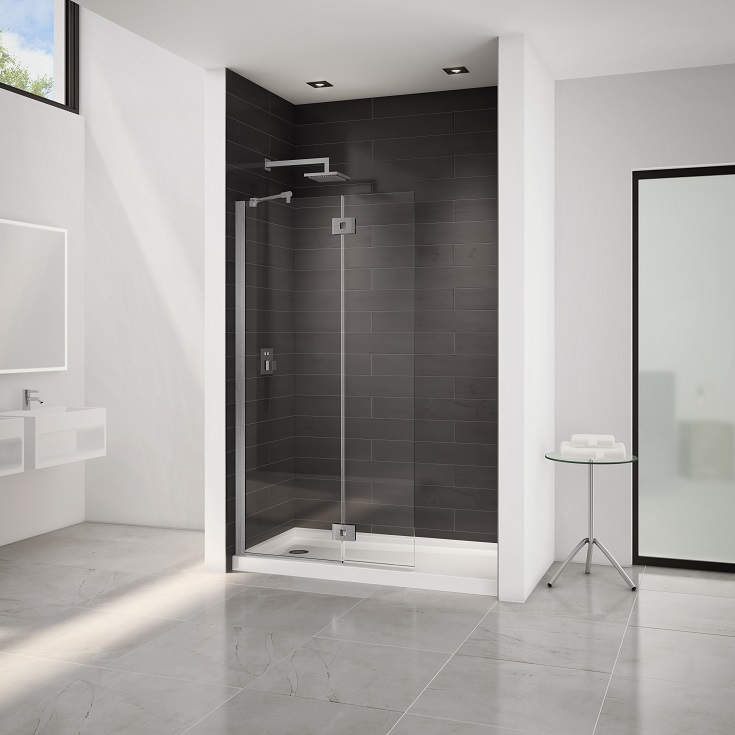 Option 2 – The larger pivoting glass shower door – Ok, I'll warn you option 2 is more expensive than option 1. However, it's smart to know you can get a custom pivoting door up to 36" wide which makes it possible to have a fully enclosed shower which is wide enough to roll into.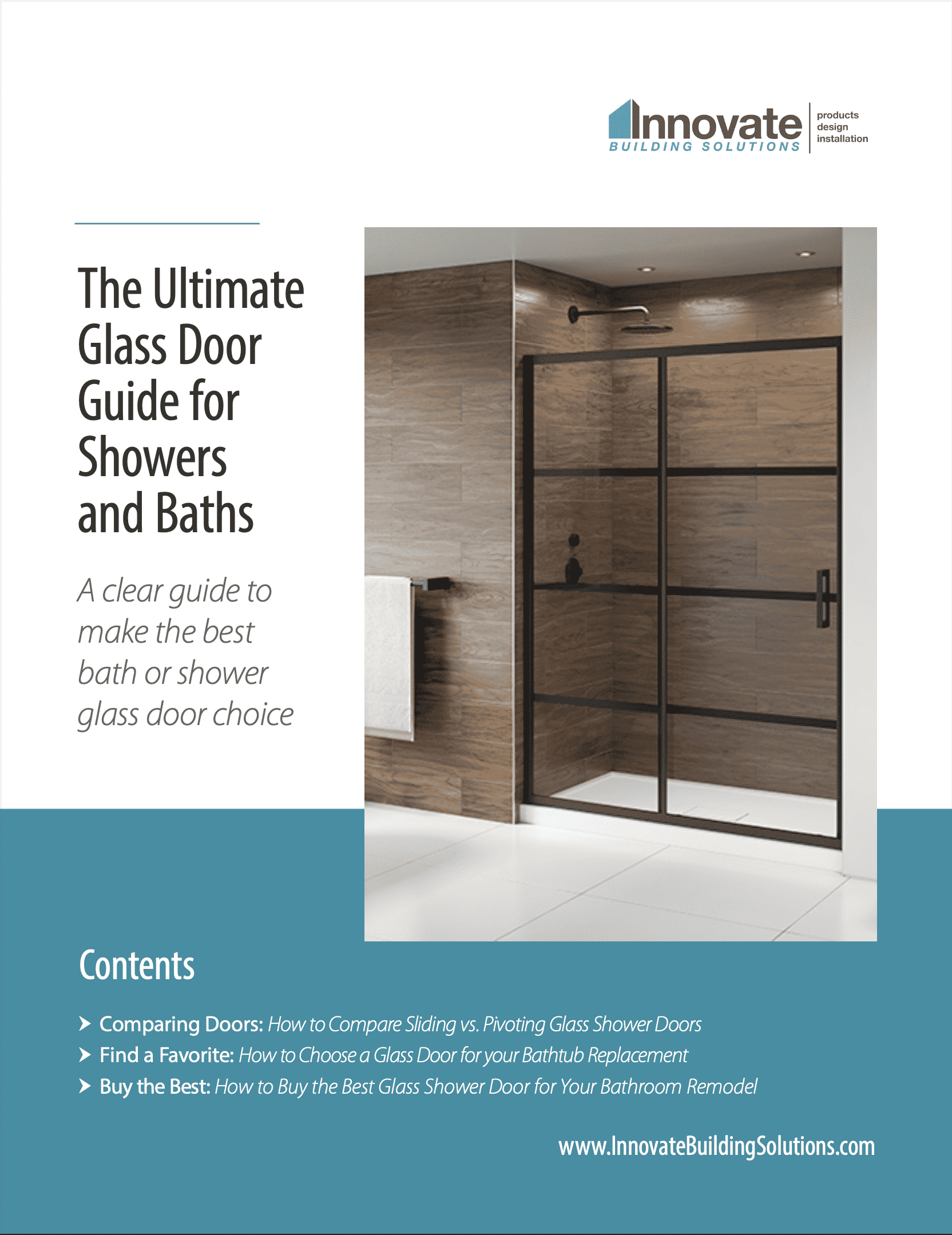 The Ultimate Glass Door Shower Guide
A clear guide to making the best bath or shower glass shower door choice
Shower Idea #5 – Don't buy a geriatric-looking shower seat which eats all your space, all the time.
I hope the people who love custom-built tile bench seats don't get mad at me now. However, built-in tile shower bench seats can be a pain in the rear (OK – forgive me for this bad pun, I couldn't resist). While you (or your loved one) may need a seat to transfer onto, a fixed bench seat is there ALL THE TIME eating up room (even for people who don't need it) in your much-too-small-to-begin with shower. So, what can you do about it?
Get a fold down bench seat. There are cool styles available which do not look like an 'old-guy-special' you picked them up in the durable medical equipment store. And the cool thing is, they can be folded down when needed, folded up when they're not in use – saving you space.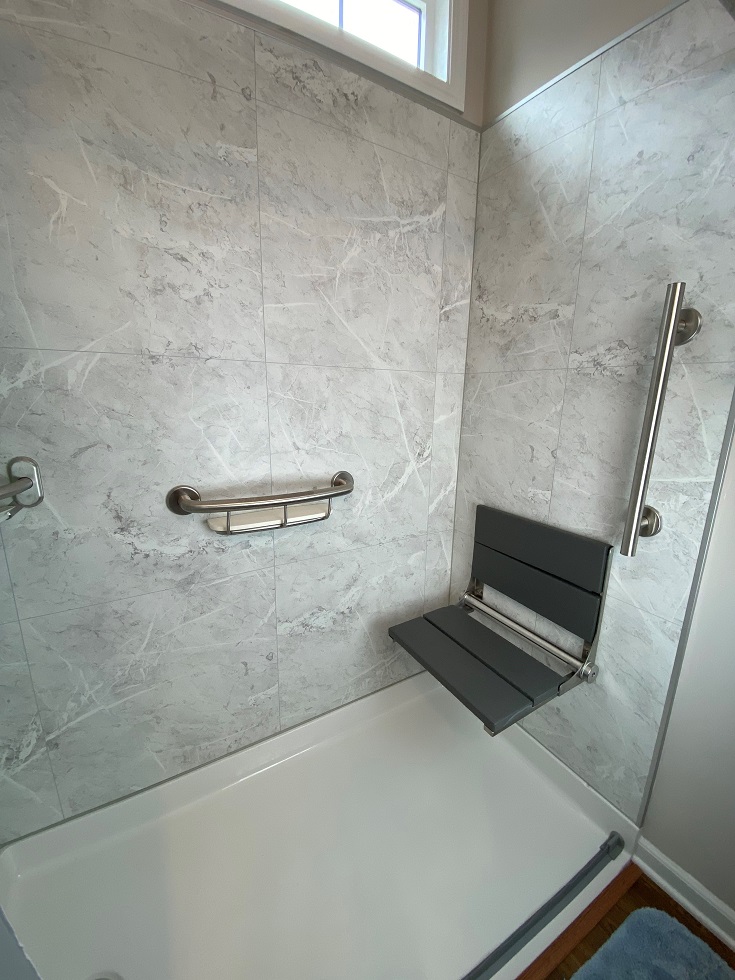 Image Source: JTEK Solutions
Shower Idea #6 – Pay attention to the location, function, and style of your shower head.
Generally fixed shower heads are mounted by the builder 84" above the shower floor on the plumbing wall. And while this has worked fine for years, those days are O-V-E-R when you have someone using a wheelchair or walker. Since they can't stand while showering, a standard shower head (and valve) which is hard to reach(and not in the best location) doesn't work.
You need a shower head which works for people seated and standing and is placed close to your shower seat. And that system is the hand shower on a slide bar. It can be moved (or down) depending on who is showering.
And for bonus points (which will keep you from cussing while cleaning this head) choose a higher fashion brushed nickel or brushed brass finish so you won't be cleaning spots off. Don't continue struggling with polished fixtures which spot like a Dalmatian.
And if you want to be really, really smart (and safe) insist on an anti-scald mixing valve to keep everyone safe from extremely hot water.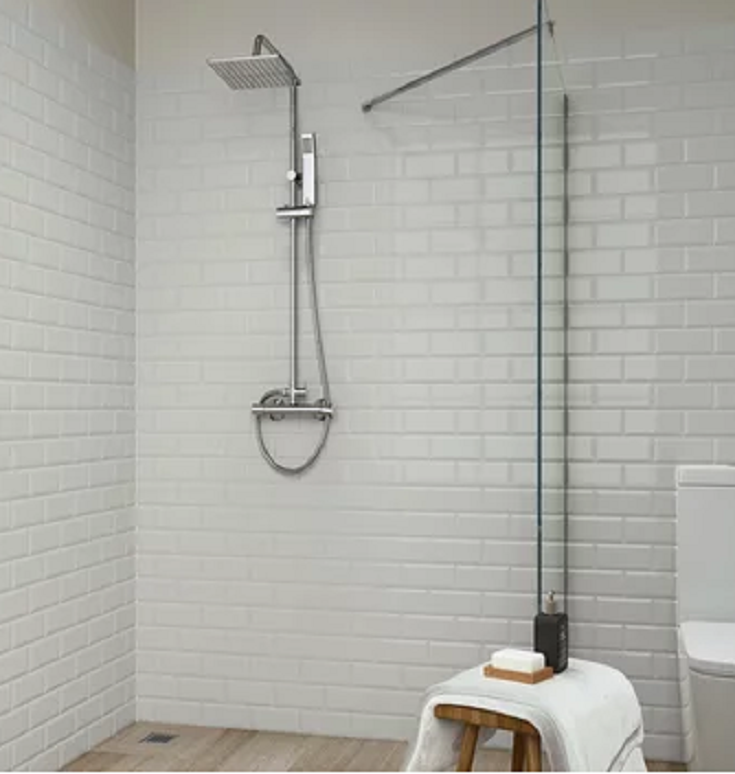 Bathroom (and shower) Idea #7 – Install cool grab bars
Possibly the ugliest thing in accessible bathrooms and showers are hideous, 'hospital-inspired' grab bars. Avoid these like the plague.
Today – you can get decorative grab bars which look like high-fashion towel bars, or 'grab shelves' with extra soap dishes and storage shelves as well. And here's a 'Ripley's Believe it Or Not' statement I'm going to make ….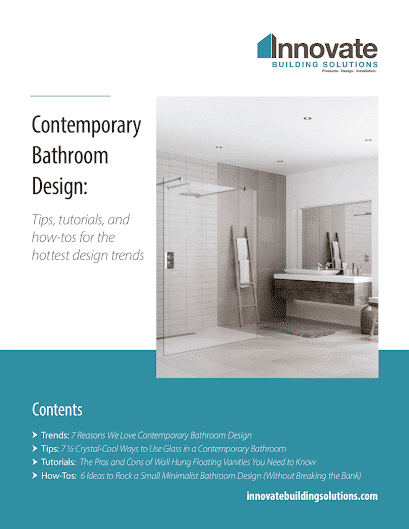 Get Our Contemporary Bathroom Guide!
Tips, tutorials, and how-tos for the hottest design trends
Grab bars can be cool. Ok, I'll say that again – grab bars can be cool (and no, I haven't been drinking).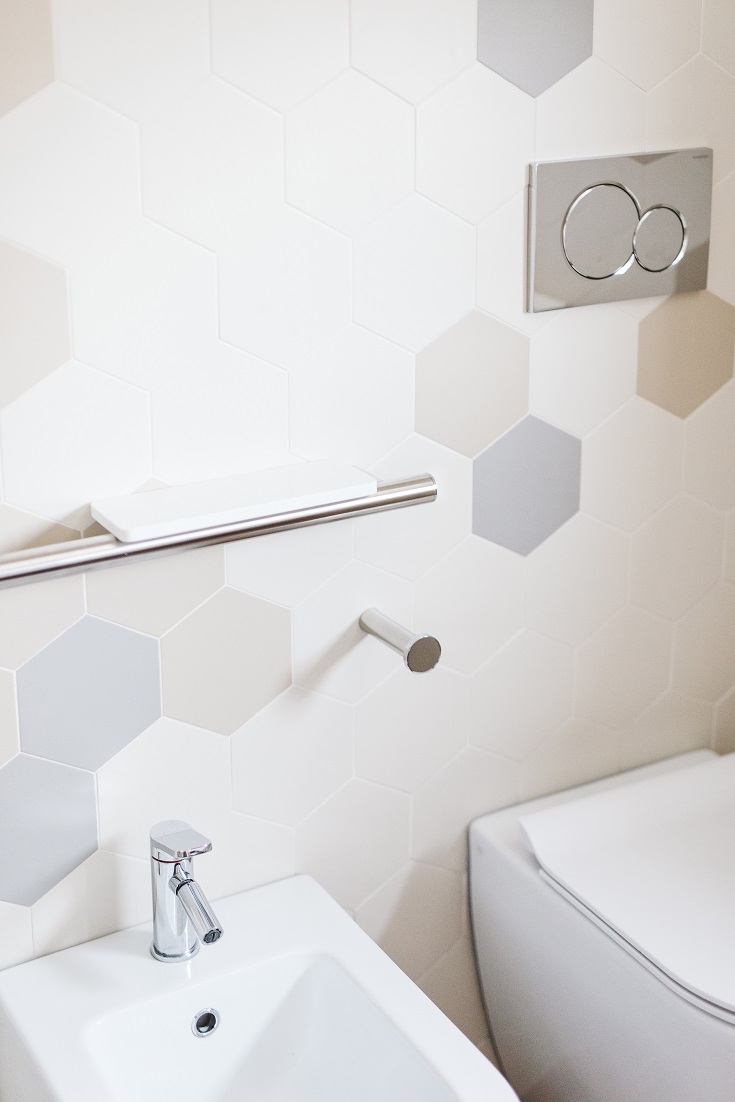 Bathroom Idea #8 – Make sure even the 'tired eyes' will enjoy (and can use) the bathroom safely
Falls in bathrooms are a B-I-G problem – unless you're an E.R. doctor looking to drum up business (and I'd argue most E.R. doctors are plenty busy already).
However, if I'm being serious– bathrooms and showers present a ton of risk for your elderly Mom, Dad, Aunt or Uncle whose eyesight ain't what it used to be. Let's face it, they're navigating in an (often) too dark and wet environment. So, how can you minimize fall risks, improve lighting, AND add style to boot? Here's 5 lighting improvement ideas to make your bathroom brighter and easier to use:
Add motion sensors. Motion sensors (which turn on automatically when someone comes in) lessen the worry of stumbling in the middle of the night.
Use rocker style light switches placed 36" from the floor (vs. the usual 44"). Make it simple for someone in a wheelchair – who doesn't have the best dexterity – to turn on lights without straining their back.
Use contrasting shower pan and bathroom floor colors. If you have a dark-colored shower pan, use a lighter bathroom floor (or vice versa). This helps minimize the chance of falls, especially if someone is stepping out of a low profile shower pan and onto the bathroom floor.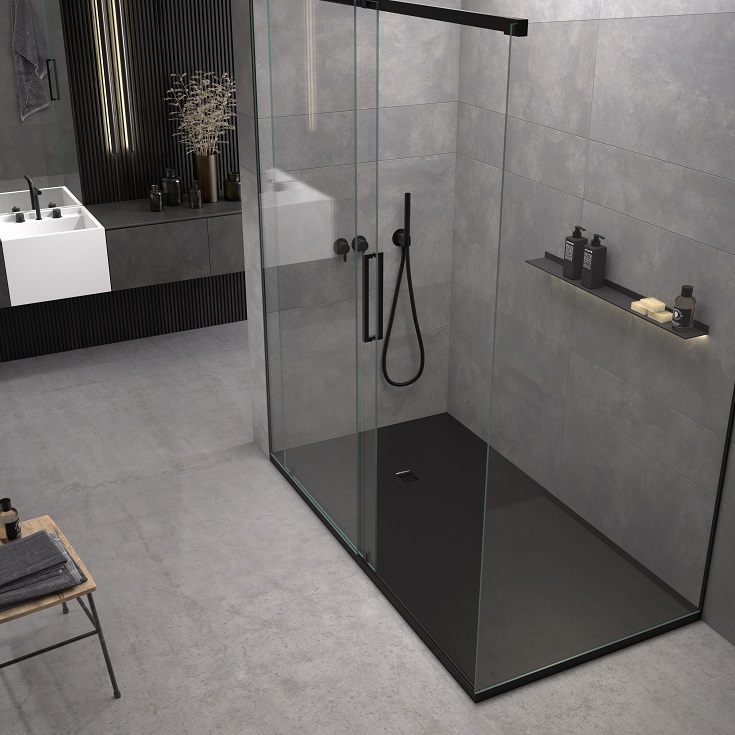 Add an LED medicine cabinet. They're sleek. They're bright. They'll add more storage (and who doesn't need more storage?).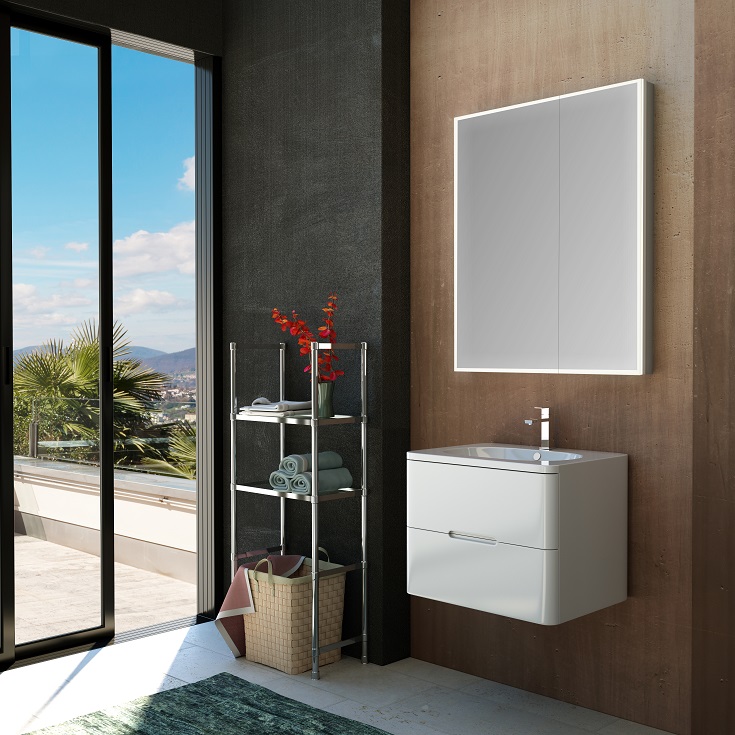 Keep natural light AT ALL COSTS – The best lighting is natural lighting. However, if you're converting a bathtub into a shower, you may not be a fan of the lack of privacy a see-through double hung window in your new shower will cause you. To keep your privacy AND keep your much needed light, consider a glass block bathroom window, an acrylic block window or obscure glass vinyl window.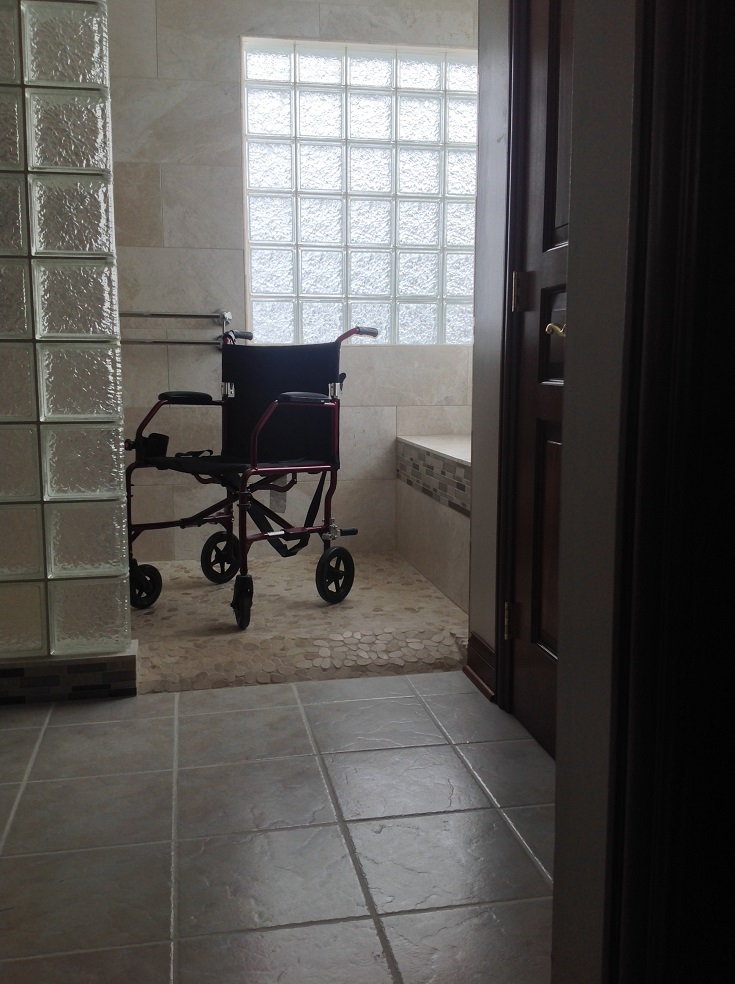 Bathroom Idea #9 – Stylish comfort height toilets
I know buying a toilet will NOT make you giddy with excitement, butt (pun intended) it's a key purchase for any accessible or age in place bathroom you'll ignore at your own risk. And here's why.
If you get a 'standard height' toilet it can difficult (and dangerous) to use if your mobility isn't what you wish it was.
And if you get a 'geriatric style' toilet from a 'run-of-the-mill' medical supply store, it'll be an eye sore you (unfortunately) can't ignore…for years and years.
So – what's the solution?
Look for stylish comfort height toilets (outfitted with decorative grab bars discussed in idea #7). These toilets are 17-19" high. They make transfers from wheelchairs and walkers easier, yet it's still possible to get them in fashionable designs.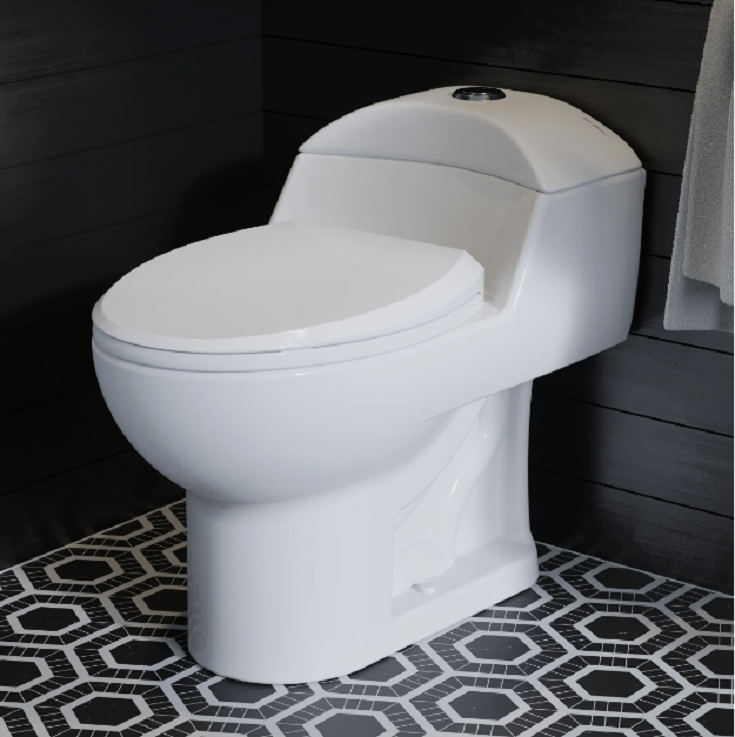 Image Source: Wayfair
Bathroom Idea #10 – Treat your bathroom vanity like it's the most important piece of furniture in the room (because it is the only piece of furniture in the room) 
Vanities can make your bathroom a 'wow' experience UNLESS they weren't designed to work with the physical capabilities of all your loved ones using the bathroom.
And if you, your spouse, mom, or dad now uses a wheelchair or walker and finds their 'standard vanity' is too high, hard to operate the faucet handles or impossible to access the storage in the 'mosh-pit' of stuff under the vanity sink, you're not alone. You'll experience why vanity design in an accessible bathroom is waaaay more important than you ever imagined.
The question is, how can you escape 'vanity usage hell' AND feel proud of the only piece of 'furniture' you've got in your bathroom? Well – you need a vanity which is not something you grabbed off the bargain-basement shelf at your local home center store. You need a vanity specifically designed for someone with mobility challenges (and with a touch of style). And what features should you look for? Here's 5 to consider:
Accessible vanity feature #1 – Make it 28" to 34" high – Since someone in a wheelchair isn't as 'tall' as when they were standing, the common 36" high vanity is a backbreaker in a seated position.
Accessible vanity feature #2 – Use a single hole faucet – It'll be easier to operate.
Accessible vanity feature #3 – Make sure it can be 'rolled-under' – instead of having a 'deep cabinet box' under the sink, leave 30" of width and adequate depth so someone can roll under to easily use the sink.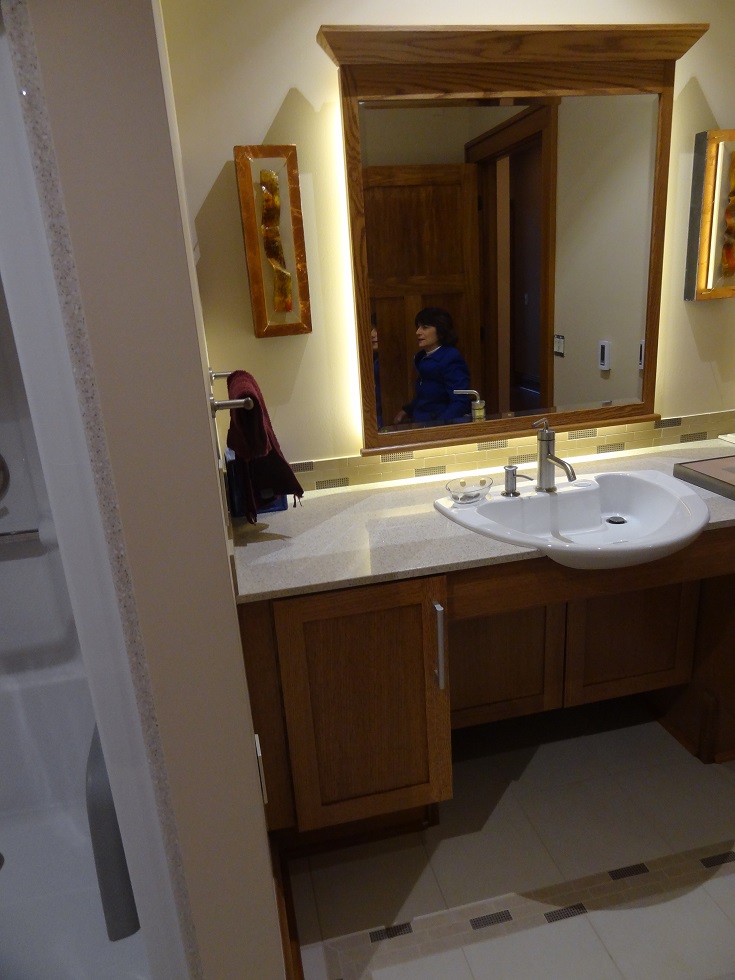 Image Source: Universal Design Living Laboratory
Accessible vanity feature #4 – Insist on pull out drawers – If mobility is a challenge, it's essential for your storage to come to you.
Accessible vanity feature #5 – Choose a top which is simple to clean and resists stains – Vanity tops are not only for 'vanity' purposes (to show off your good tastes). The right material chose is important to make sure your accessible bathroom isn't difficult to maintain. For style (and low maintenance) get a top which is simple to clean and non-absorptive. On the high-end of the price scale, quartz bathroom vanity tops reign supreme. If budget is tighter, cultured granite vanity tops are a smart choice.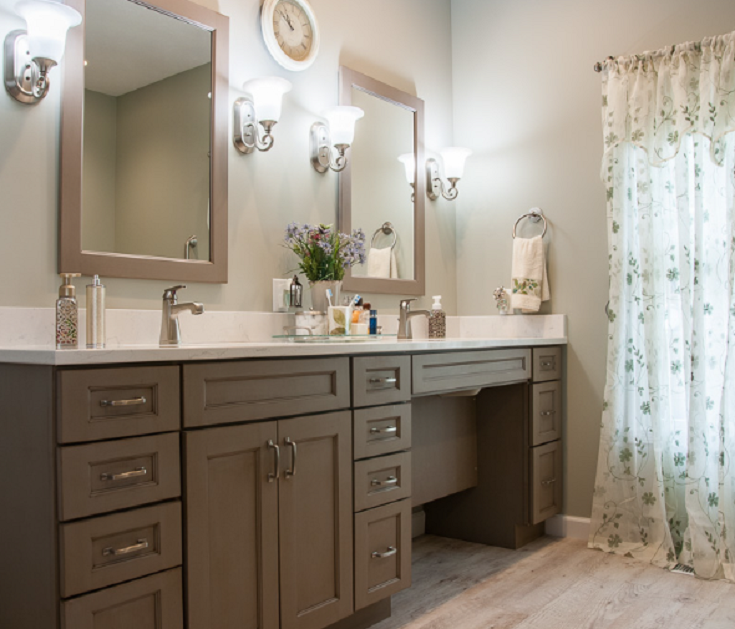 Image Source: DreamMaker Bath and Kitchen
Bonus Idea #11 – So, who you gonna call to help with your accessible bathroom or shower? Not Ghostbusters! Call these guys and gals.
If you're not an age in place bathroom specialist, a home access contractor or design bathrooms for a living raise your hand. And I'll be a 'dollar to donuts' (and if that isn't the weirdest saying, I don't know what is) there isn't one of you who raised their hands right now.
And while you could attempt to go this project alone, I'll recommend you avoid being too proud to get help. Experienced advice will save you time and money. Seek out competent people who know there stuff around accessible bathroom and shower remodeling (not 'normal' suppliers who know bathrooms in general). And you may be wondering where you can find these specialized contractors and suppliers who know accessible shower and bath products and installation systems? Well, here's two groups which'll get you on the right track.
VGM Live at Home Contractors – This group is filled with companies who focus on the (not often followed) intersection of your mobility/health care needs and functional and fun bathroom products.
Certified Aging in Place Contractors – This certification from the National Association of Home Builders – provides you the knowledge your contractor has studied (and been certified in) accessible/universal design. They'll be a 'step-up' from the average contractor who does 'normal' bathrooms (and don't hold it against my use of the word normal here).
So, are you ready to make sure you don't get an ugly (or institutional) accessible shower or bathroom? Do you need help?
As a certified bathroom geek (and no, I didn't grow up with visions I'd spend so much time thinking – and writing – about bathrooms, however the Cleveland Indians baseball career my boyhood friend Tony Rizzo and I imagined just hasn't worked out), I HATE, HATE, HATE the thought of you 'settling' for an ugly accessible bathroom which only functions well (and doesn't look cool).
Just because some one is 'differently-abled' DOES NOT mean they want to live with ugly. And it doesn't mean they should have to live with ugly. And I don't care how old they are, don't they deserve the best your budget can afford?
It is possible to enjoy a stylish bathroom and ensure safety. However, it'll take more thought than a 'standard shower' or bathroom.
So, follow the 10 (and 1 bonus) ideas in this article. And if you want help– me (and my team) would be honored to be there for you.
Call 877-668-5888. Click for a Free Design Consultation. Get assistance from a Bathroom Product Specialists. Get nationwide factory-direct supply of accessible shower products. Or if you need a referral to a home access contractor, I know a few who can help you along the way.
Thanks for reading and (most of all) putting up with me (and my wackiness along the way). As my family will tell you, it's just how I'm wired. Life's too short to be too serious (at least that's my philosophy).
Mike
###
If you want more advice follow me on LinkedIn @MikeFoti.
And if you're age in place contractor interested in being a dealer of  shower wall panels, shower pans, glass shower door systems and freestanding or alcove tubs, call 888-467-7488 and ask for Mike.
---
Mike Foti
President of Innovate Building Solutions a nationwide supplier and regional (Cleveland and Columbus) remodeling contractors. Some of our product lines include glass counters, floors, backsplashes, glass blocks and grout free shower and tub wall panels
---