The 2023 Kitchen & Bath Industry Show (KBIS) Recap- What's Hot & What's Not in Bathroom Products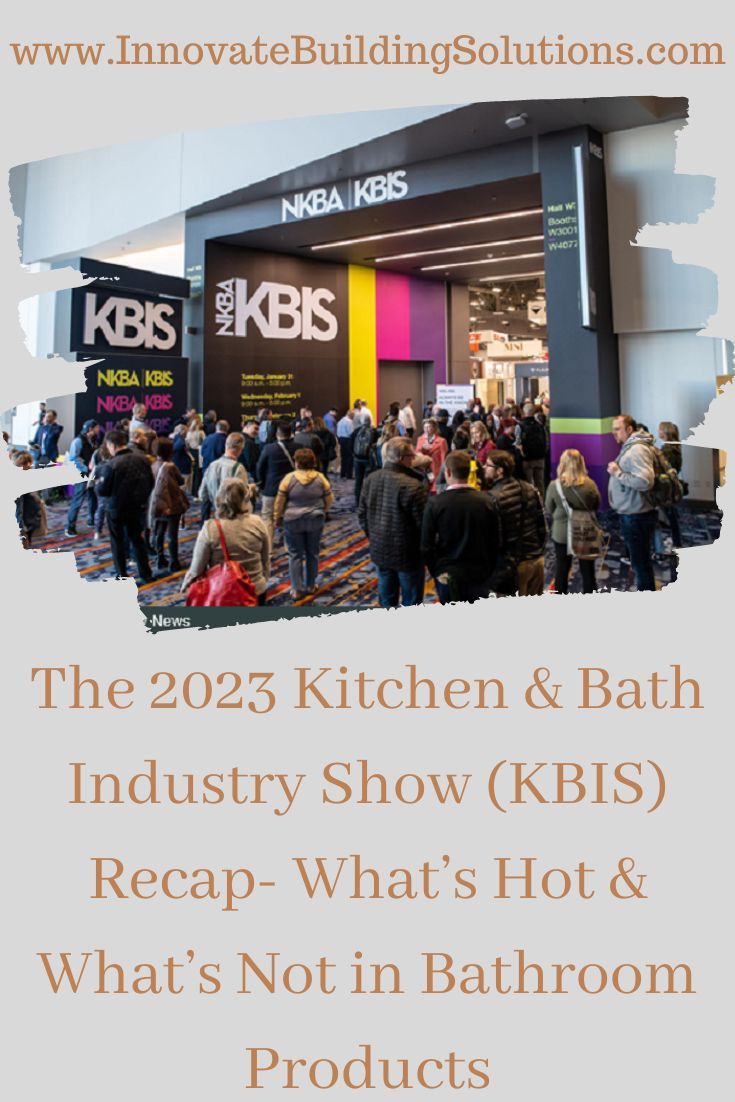 I'm on plane (delayed again – the airline industry is a DI-SAS-TER these days!) trying to come back from my trip to KBIS (the Kitchen & Bath Industry Show) in Las Vegas.
And in the middle of this crazy airport, I'm reflecting on what I learned and saw at this 3 day event attended by over 200,000 people. And yes, it was nuts. This is THE event where bathroom geeks (like me) go to network. And we do go to see, touch, and feel the newest products and get current with the latest trends. It's where you see the good, the bad and the ugly.
And while it'd be fun reporting on Las Vegas shows I attended (ZERO) or the big money I won at the tables (which is also ZERO because I'm not a gambler), I've got nothing to share with you there. However, I can report about cool bathroom products and trends I noticed. And yes, some guys (like me) just lead a wild and crazy life!
And if you want to learn more about bathrooms – and 'geek out' about what's hot and what's not you've come to the right place. If you've come to get foolproof tips to win at the tables, you'll want to hightail it outta here right now.
Below – I'll outline the good, the bad and the ugly of what I saw in Las Vegas…in bathroom products (I've gotta keep it clean, this is a family friendly blog!). And quite frankly, I'll spend most of the time on 'the good,' because that's what I was looking for. At the end of this article, I'd love to know which items caught your attention and you'd like to learn more about.
The good
Dual finish (matte and gloss) acrylic freestanding soaking tubs.
Freestanding tubs can be THE focal point in a bathroom. And, as such, they need to fit design trends which are hot today.
And while most acrylic freestanding tubs have gloss finishes, what's hot in the market today are matte finishes. And if you don't believe me, look at your brushed nickel and matte black hardware, matte finished quartz bathroom vanity tops and matte black shower doors popular today.
Well one cool new product I saw was a freestanding tub design by Fleurco which has a matte finish on the exterior (to keep with today's fashion forward look) and a gloss finish on the inside (which is super easy for cleaning and smoother on your body).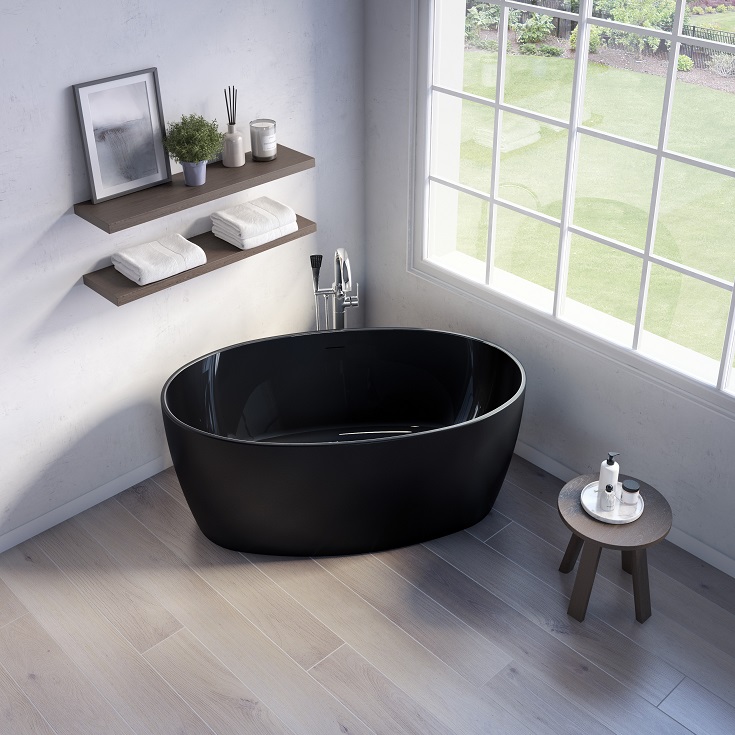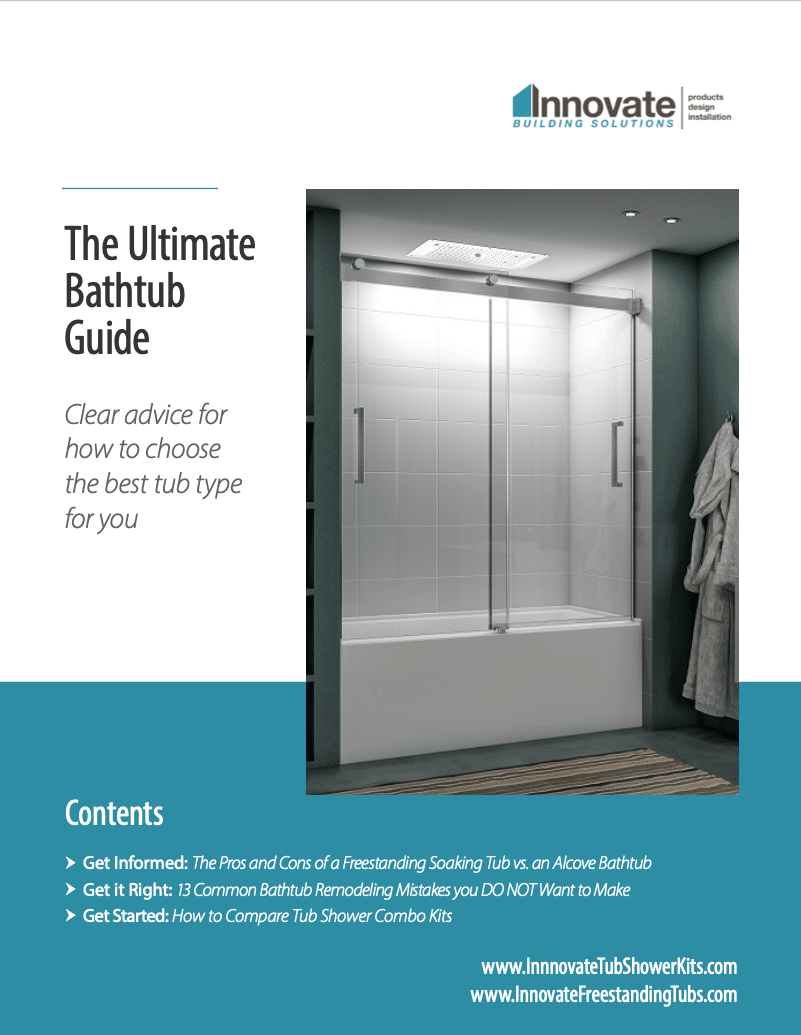 Get Our Ultimate Bathtub Guide!
Clear Advice for How to Choose the Best Tub Type for You!
Fashionable tile (and faux tile) designs.
Perhaps no material creates a sense of drama and fashion in a bathroom remodel quite like your wall coverings or floor coverings. And one wall and floor covering product which is always setting the fashion trend are tiles (or grout free wall panels which look like tile).
And there are 5 trending tile (or faux tile) designs which were hot at IBS/KBIS 2023. They are:
Design #1 – Geometric – These designs are bold. These designs are beautiful. And better yet, you'll love them because you don't even have to be a whiz at Geometry to enjoy them!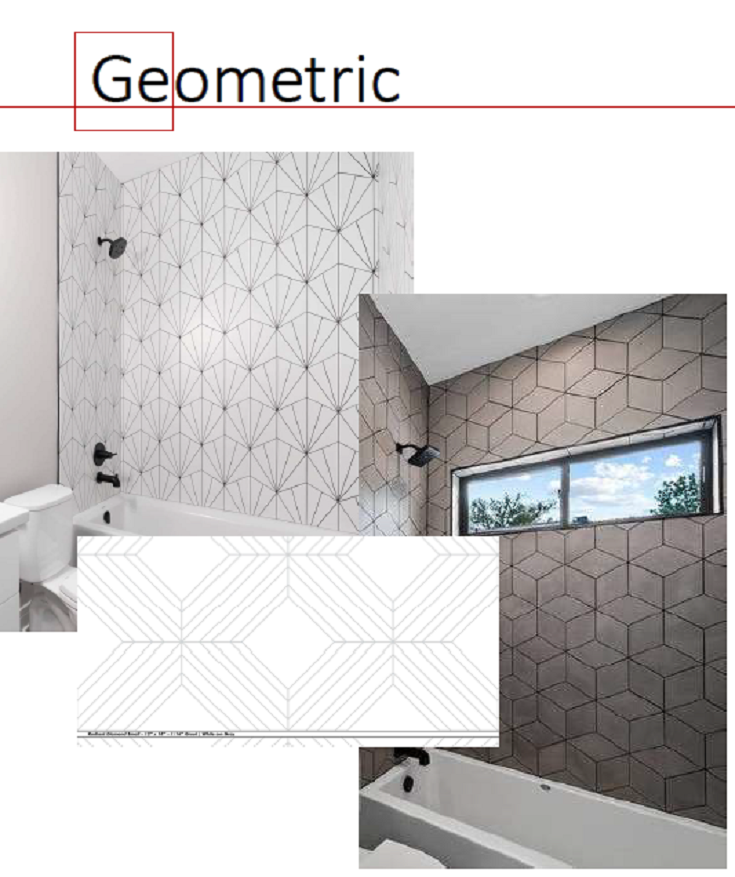 Design #2 – Large format marble – These designs are classic, yet still popular. Their larger size helps make a small bathroom look bigger. Their classic style makes you feel like you're showering at the Ritz-Carlton. And what's cool about this design below is that these 'tiles' are actually laminate wall panels made by Fibo (of Norway). They'll save you money and cleaning is a breeze because there's ZERO grout joints!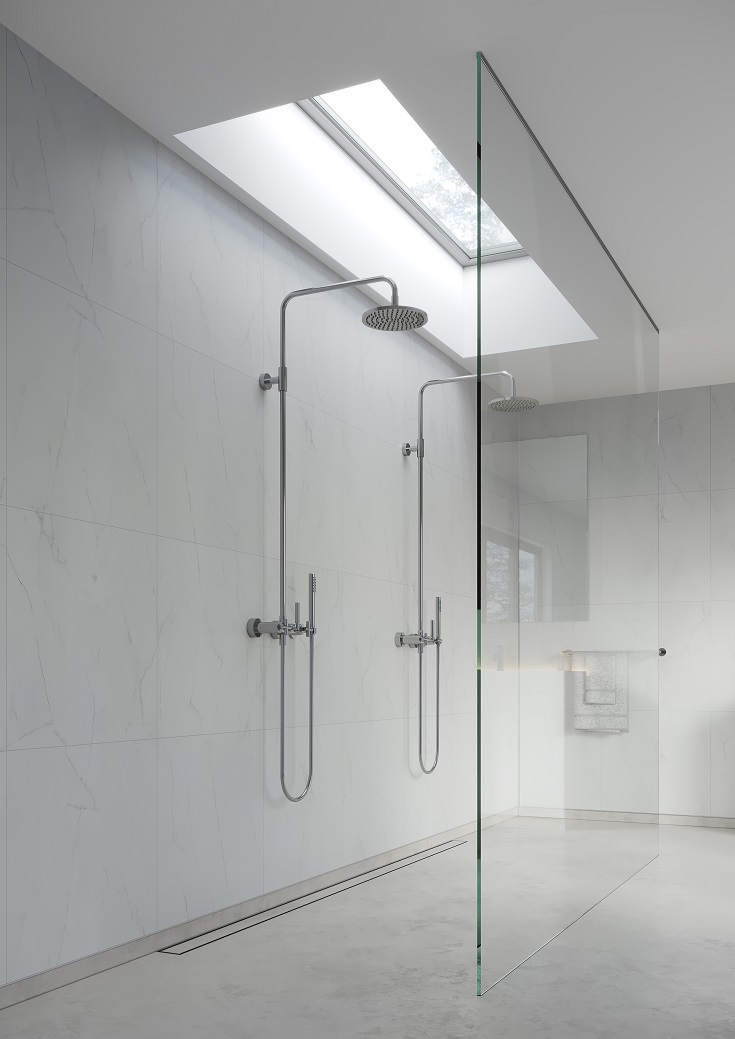 Get Free Samples!
Click here to request free samples of our Laminated Waterproof Shower Wall Panels.
Design #3 – Moroccan – This Moroccan wall panel design is fun and bold at the same time. It demands attention. And because it's grout free you won't be battling dirty grout joints.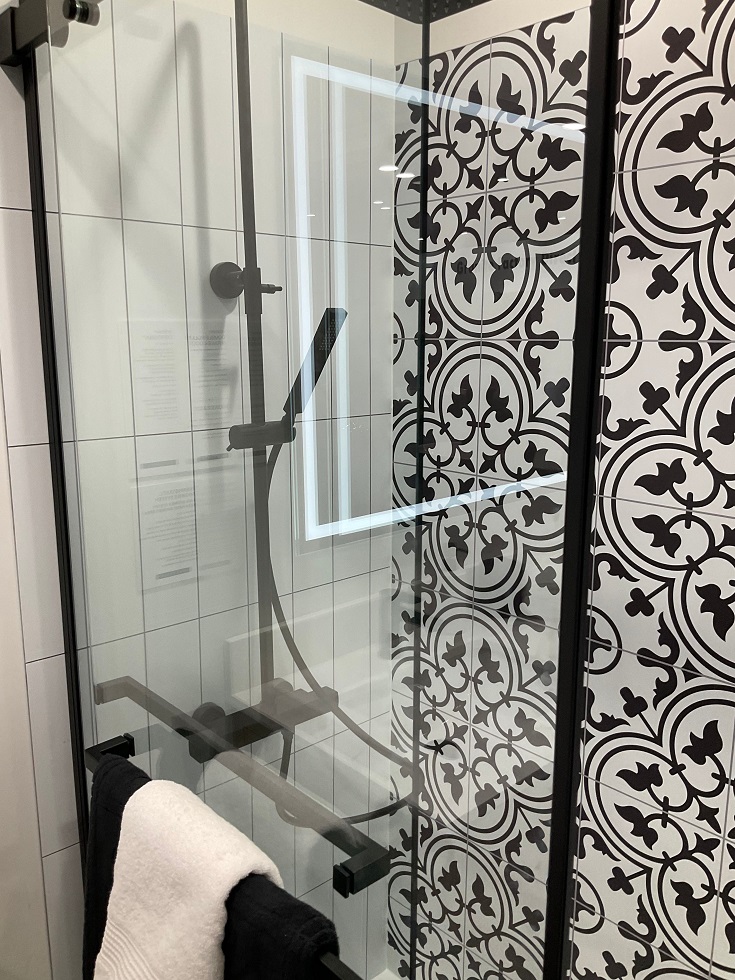 Design #4 – Picket fence – This vertical pattern builds on the classic hexagon look yet adds more visual movement. It'll help a short bathroom feel taller.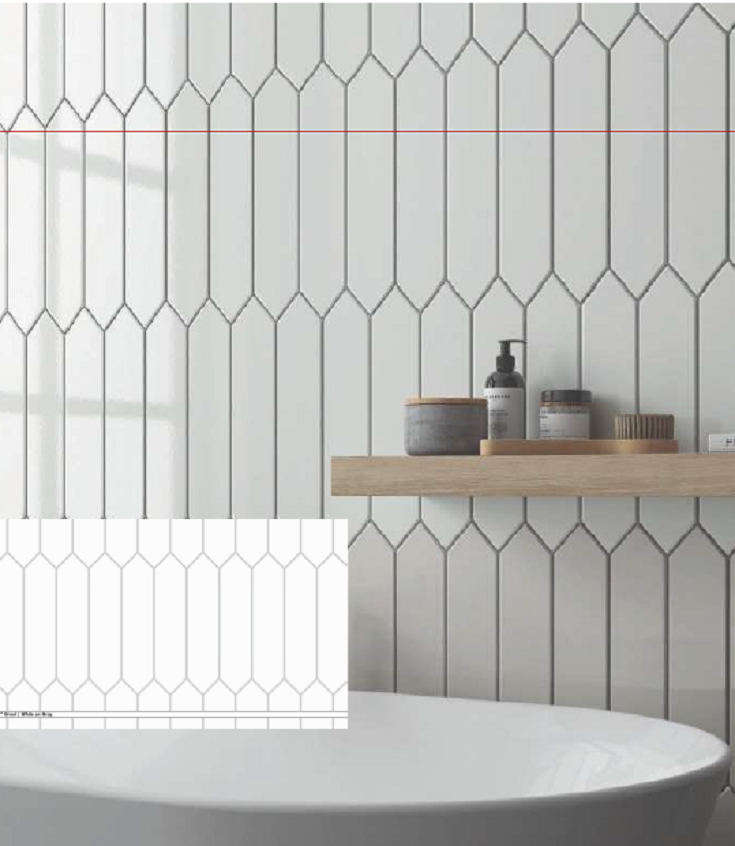 Design #5 – Hexagon – Hexagon tile and shower wall panels were ubiquitous (that's a fancy word for everywhere I threw in to make you think I was smart – OK, my wife WOULD NOT be fooled by that trick though!) at the show. Anyways, you can't go wrong with hexagons right now. I like these moody black hexagon wall panels as a feature wall in a bathroom.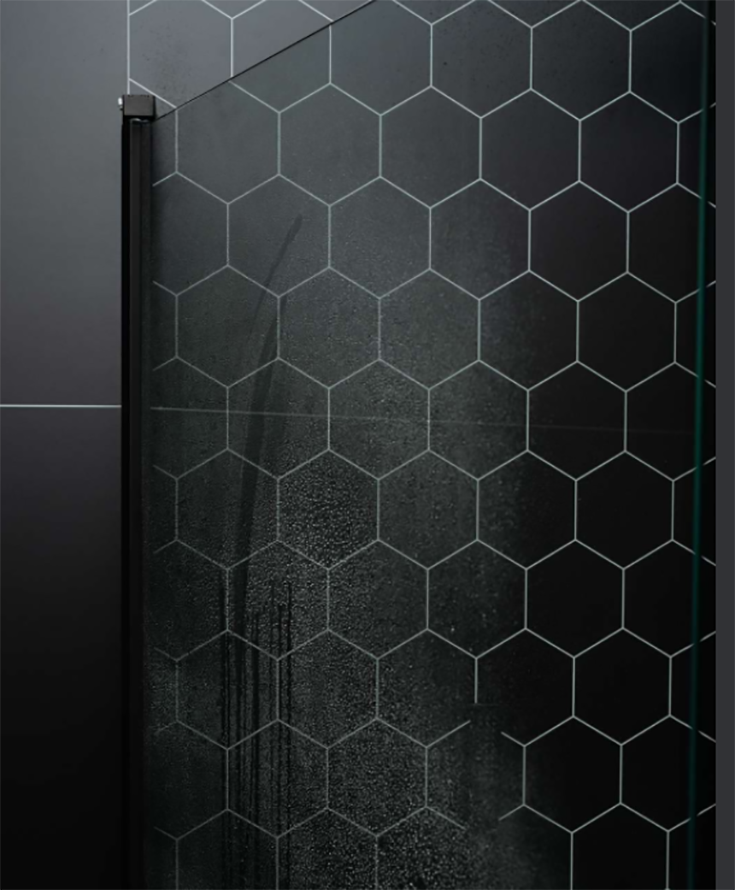 Safety products which show cool AND safe ARE NOT mutually exclusive.
So, if Mom and Dad's mobility are NOT getting any better you may be in the market for a 'safe' low profile shower pan. And if so – I'll bet a dollar to donuts (and isn't that the weirdest phrase ever?) you've been looking at fiberglass and acrylic shower pans which looked white, plasticky and BOR-ING!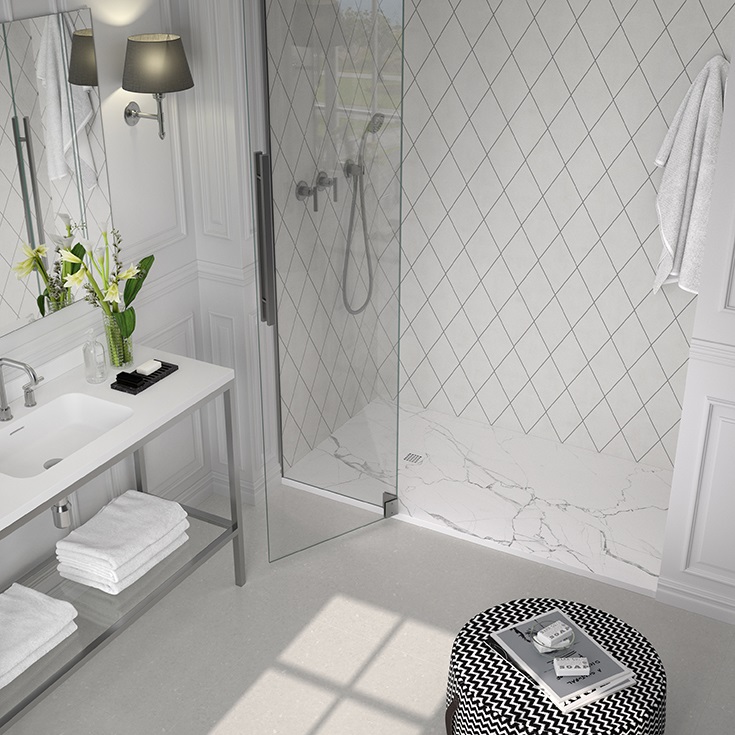 And while safety is critical, why should Mom and Dad settle for ugly (yet safe) products in their home?
Well, if there's one thing KBIS/IBS 2023 showed me it's that low profile shower pans can be safe AND exciting! In fact, check out the stone low profile shower pans from Duplach. If these aren't cool (and you might say works of art), I don't know what is!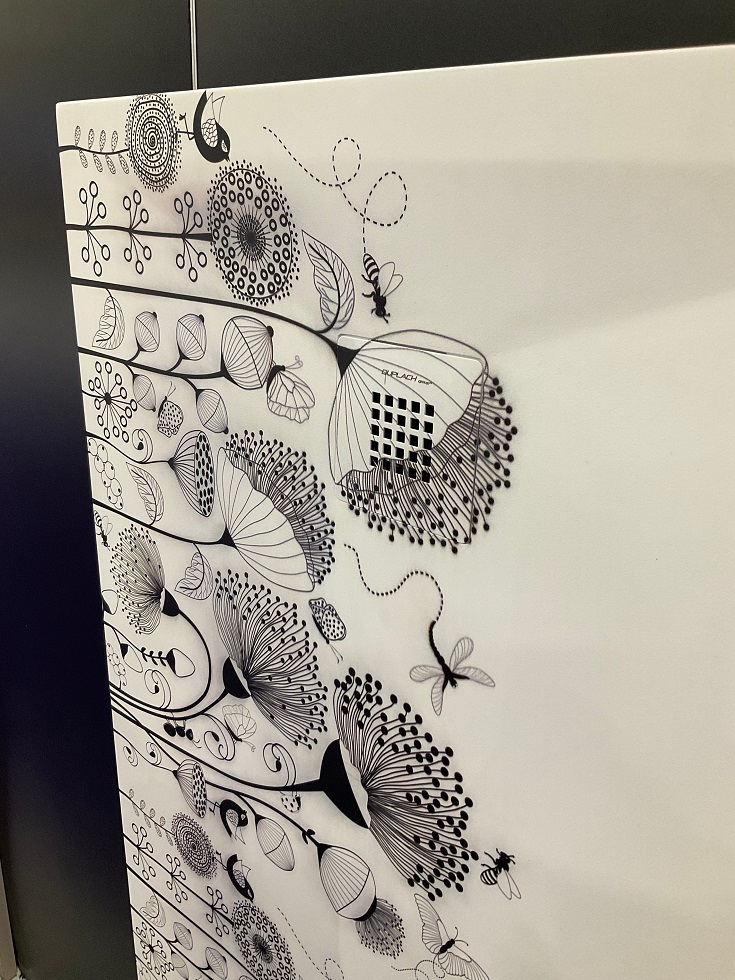 Seeing is believing….and NOT screwing up!
Perhaps one of the hardest things about shopping for bathroom products is looking at 'teeny-tiny' samples and your supplier or remodeler is expecting you can envision them in 'real life.' Then after you buy your tile floor, or wall panels, or vanity or shower you're 'a hopin' and a wishin' they actually look good together!
Well if you're sweating bullets over your product selections, this problem can be eliminated with new technology. Smart manufacturers (like Daltile) and distributors alike are developing computer visualizer tools so you can see their samples in room scenes (and/or take pictures of your own space and put their materials on your floors and walls) to simulate what they'll look like.
This visualizer technology is taking the guesswork out of selections. It can prevent expensive mistakes. It can prevent purchasing products you may not be able to return (or if you can return them you'll get stuck with expensive restock fees).

Grout free wall panels are getting more realistic – even down the 'nitty (not-actually-gritty) faux grout joint.
For years tile had been the 'king of the bathroom flooring and shower surround castle.' It was THE material to use. It's stylish. It's luxurious. You can create one of kind designs with tile.
However, the luster (no pun intended) is coming off tile because it's also a pain to clean the grout joints, it's hard to find a tile setter, and it's getting uber-expensive to put in. And these 'pain points' have spurred wall panel manufacturers to get better and better at replicating the look of tile without the grout joint.
Another example of this I saw in the booth of a multi-unit wall shower panel manufacturer. You see this company has created the 'grittiness' of an actual grout joint – in a completely grout free panel.
All I know is with these advancements tile manufacturers and tile setters better look out. Shower wall surround panels are taking the market away from tile as fast as bathroom floors converted to luxury vinyl planks!
Solid surface freestanding tubs with removable shelves.
A drawback of freestanding tubs has been there's not a lot of room around the edge of the tub for your soap, shampoos and personal care products. Well one manufacturer (Fleurco) created an inventive product to solve this problem.
You see Fleurco developed a removable shelf with different finishes so you can have your storage AND enjoy your solid surface freestanding tub as well. And even if you change finishes a few years down the road, you can get a new shelf extension to match you new finish. How cool is that?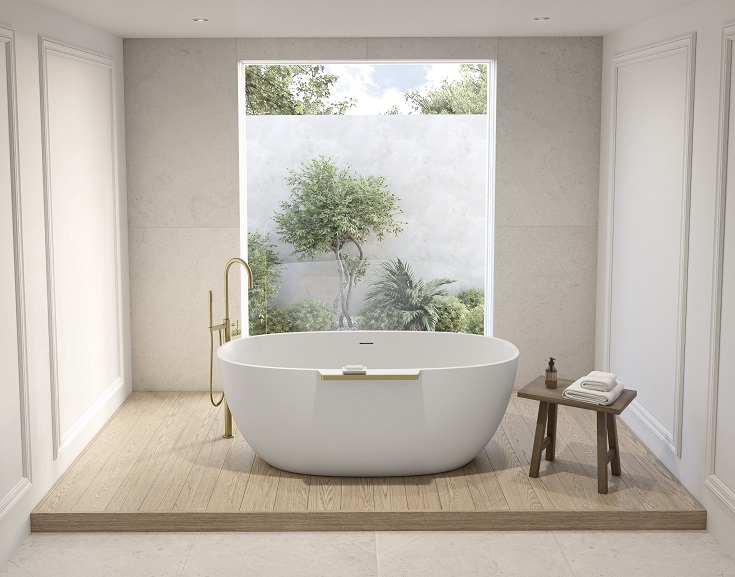 Trim pieces for 'uninterrupted' looks.
While trim pieces can create a fun accent around tile or tub surround wall panels – they also can stand out in a way you may (or may not) want them to.
It was nice to see manufacturers like Schluter with transitions strips in almost every color of the rainbow which can blend in when you want your tile (and not your finishing strips) to stand out.
In addition, I saw wall panel manufacturers like Fibo with multi-colored transitions strips for their wall panels. And manufacturers like Wet Walls bend the corners of their panels to have no finishing strip at all.
It's sometimes the devil (and the beauty) which are in the details. Pay attention to your trim pieces to create the right look for you.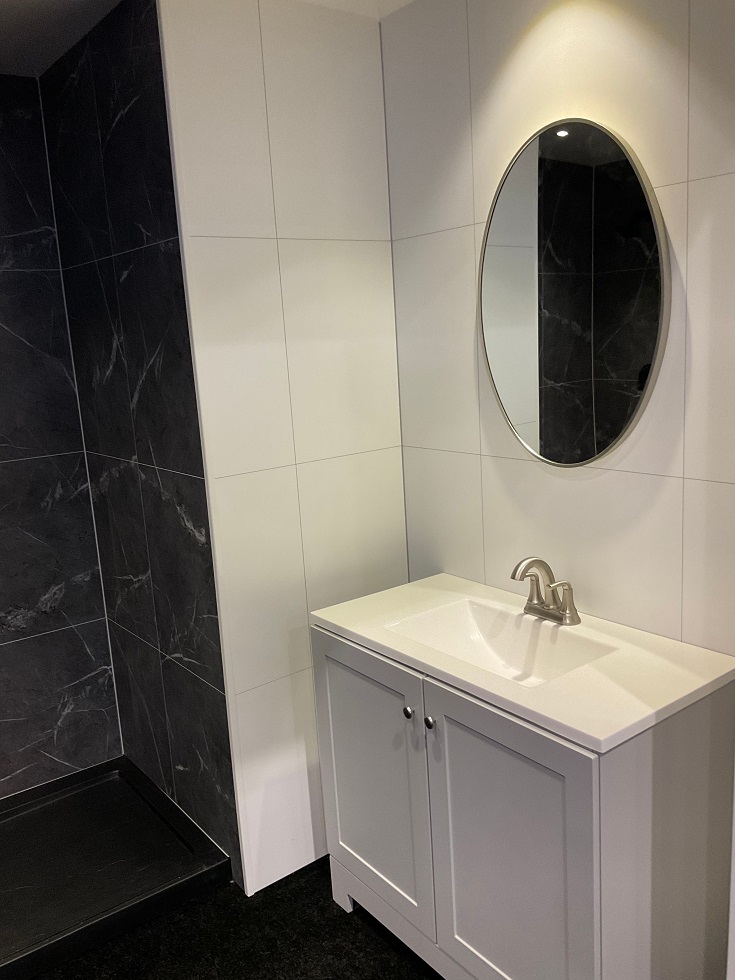 Get Free Samples!
Click here to request free samples of our Laminated Waterproof Shower Wall Panels.
The Bad
Unfinished edges. Good looks can be deceiving. Pay attention to the details.
My Mom has always been a stickler for the details. In fact, she was always so focused on the details of doing a job well – she wouldn't even talk to me when I was helping her weed the garden as a kid (OK – maybe Mom didn't think I had anything interesting to say back then, but sorry to digress).
Anyway, the devil (and the quality as many would say) is in the details. And that's why when I saw this low-priced shower wall panel system from a distance I thought, "Hey, this doesn't look too bad." However, when I got up close and saw its edges aren't even finished (and the thinness of the material wasn't impressive either) I knew it wouldn't be right for a quality-conscious customer.
Don't be fooled by 'casual glances' or pretty pictures on the Internet. Dig into the details. Get product samples. Don't find out the little details which will give you a substandard finished project.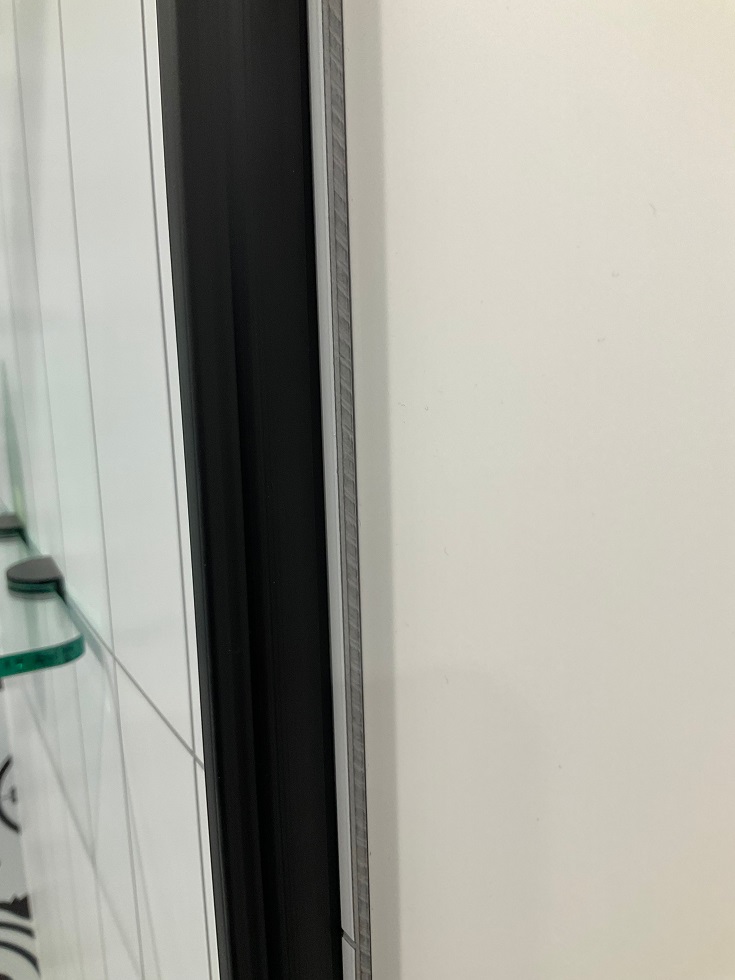 The Ugly
The truth will set you free (or prevent you from getting caught in lies).
Beauty is in the 'eye of the beholder.' And while there were certainly many products which didn't catch my eye and I walked right past their booth – there were some booths I was going to check out (no matter what) because their products are well-known in the grout free wall panel business which is a big part of what my nationwide bathroom products wholesale business supplies.
And so, when I went to the Bath __itter (the name has redacted, just like in political investigations) booth I was curious to what was new with this nationally known brand.
Well, the representative in this company's booth – while he was friendly – was quite frankly telling a few fibs (and isn't that a funny word you haven't used since you were a kid?).
When I asked him if I could get acrylic wall panels with colored faux grout color looks – he said no. Of course, I know this is false because his biggest competitor – a company called BCI Acrylic has been making them for years.
And when I asked about his color selection (which was very limited) and he said, "If it ain't broke, don't fix it," I had to wonder how long this company is going to exist with their limited, behind-the-times colors and patterns.
To me – it wasn't that the product was that ugly, it was the mistruths and lack of innovation  (and willingness to let their styles become behind-the-times) which made this an ugly situation to me.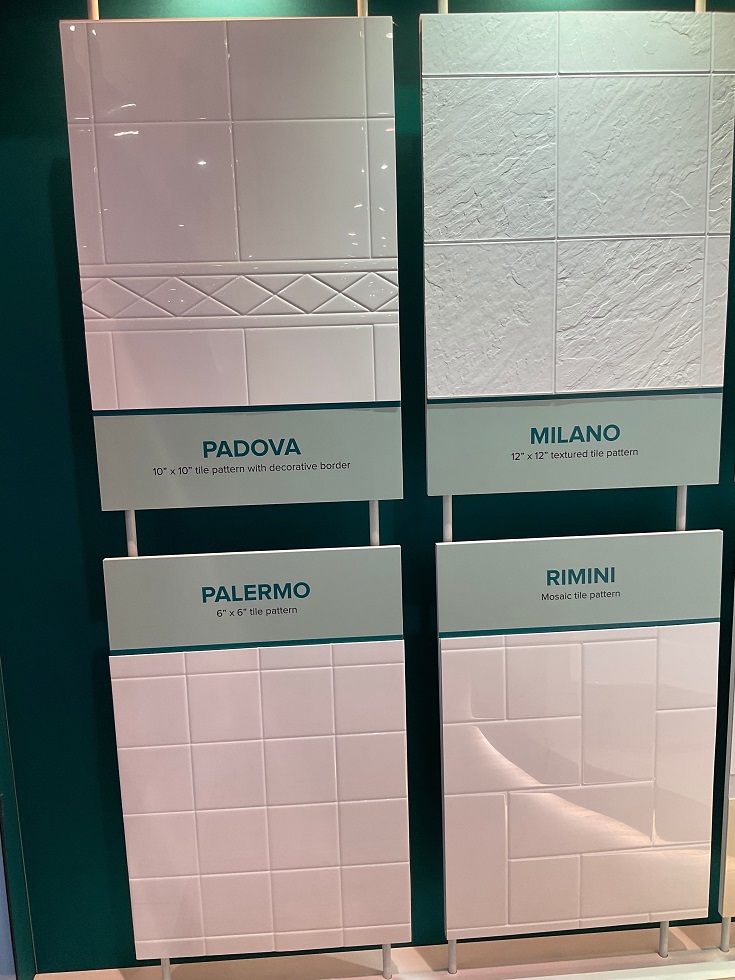 So, what do you think is the good, the bad and the ugly of the products discussed above?
So – which of the product outlined above caught your attention? What questions do you have about them? Feel free to post your questions below, call 877-668-5888 or click for a Free estimate for more information.
Thanks for reading and seeing what's new and exciting in the bathroom industry. I'm sorry I wasn't able to give you any tips though on how to win at the tables, but hopefully I've provided you with tips on how to 'win' (and not make costly mistakes) on your next bathroom remodel.
Mike
***
If you want more advice follow me on LinkedIn @MikeFoti.
And if you're bathroom remodeling contractor interested in being a dealer of  shower wall panels, shower pans, glass shower door systems and freestanding or alcove tubs, call 888-467-7488 and ask for Mike.
---
Mike Foti
President of Innovate Building Solutions a nationwide supplier and regional (Cleveland and Columbus) remodeling contractors. Some of our product lines include glass counters, floors, backsplashes, glass blocks and grout free shower and tub wall panels
---