5 secret facts about high gloss acrylic shower and tub wall panels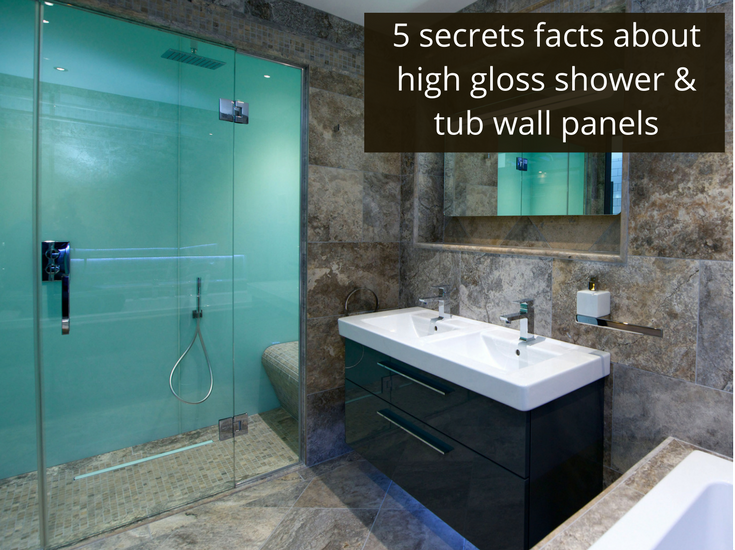 Glacier high gloss panels in a one level wet room
Updated February 3, 2019
Are you sick of ceramic tile shower and tub walls? They are the traditional "go-to" product of every custom builder and remodeler who does business in the United States. For today's owners traditional ceramic tile projects and the not-so-glorious grout joints everywhere are losing their luster. Why – you might ask? Simple – if you're like my wife Rose and I you want to be enjoying friends, family and living cool experiences (bicycling, hiking, running or experiencing nature). You don't want to be sweating like a pig inside some cramped shower cleaning grout joints. Also, something tells me these builders and remodelers who were eager to "push" a tile shower are nowhere to be found when you're stuck cleaning your yucky enclosure!
What do you want in a new shower or tub design? What's making shower and tub wall panels hot today vs. a tile shower? Here's the big trend I'm seeing in bathroom product selections. From Millenials moving into their first home to empty nesters who have finally gotten the kids "off the payroll" want sleek, clean, contemporary and low maintenance showers. High maintenance is out!
One luxury product growing rapidly is high gloss wall panels. They are sleek, easy to clean and ultra-contemporary (if you want boring traditional tile shower and tub walls stop reading NOW!).
I'm excited to share with you 5 secrets facts about high gloss wall panels (and one new secret fact you won't want to miss at the end IF you're on a tight budget). Why am I excited? It's because I love contemporary and thought this was the hottest product "ever" (gotta say it in a "Valley girl voice) when I saw them at the International Builders Show 5 years ago. The only reason these are "secrets facts" about this product is because we live in the United States. If you lived in Europe or Asia these products would be as common to you as sliced American bread (or loaves of French bread I should say). Let's check out these 5 secrets facts.
Secret fact #1 – The good news and the bad news about high gloss acrylic wall panels prices     
High gloss shower panels have the exact same eye-popping look as back painted glass – and you don't have to worry about actual glass wall breaking inside your shower. Let's call it like it is though. Back painted glass is a luxury product – owned by people with a few bucks to spend. High gloss wall panels are ½ of the price of back painted glass (that's the good news). The bad news is they are 2x the price of low maintenance cultured marble wall panels and high maintenance tile showers (note: tile shower prices can vary greatly depending on the type of tile you use and the pattern you lay them in). The look of this product is way-cool though, but the price point, unfortunately, is not cheap! If you're worried about price right now – then skip to the new 'bonus secret fact' at the end of this article (we can make a cool high gloss option possible to you – even if you budget is limited – but don't tell anyone about the last secret).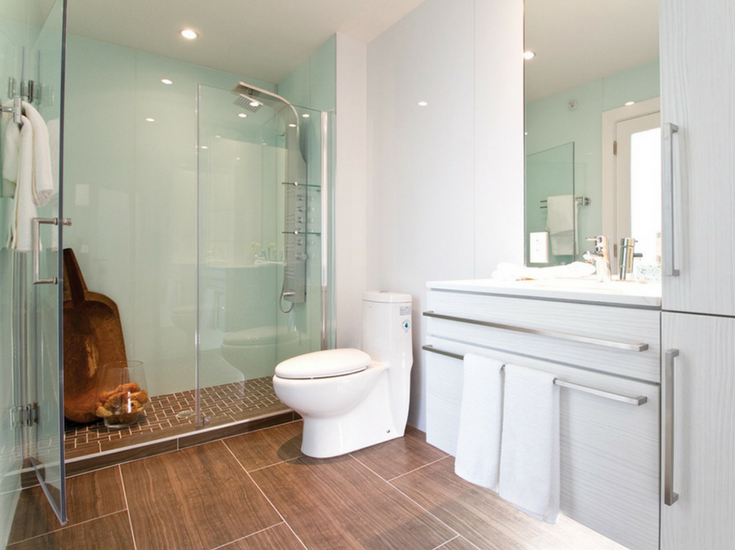 Secret fact #2 – You don't have to put up with "Elden the tile guy"  
OK – empty nesters you probably remember Eldon the painter on old episodes of Murphy Brown. He was the painter who ALWAYS was doing projects in Murphy Brown's house that he practically became a permanent fixture. I don't know about you – but Rose and I HATE having contractors in our house (even nice ones!). It would be great if you could get a remodeling project done without having contractors in your home.
Well – with high gloss wall panels if you're industrious enough you can. Since you don't need a specialized installer (just common woodworking tools like jig saws, circular saws and drills) you can save the hassle and money of having a professional contractor by DIY'ing the high gloss shower or tub wall installation project. Here is a picture with some of the basic installation steps and tooling needed to install these panels.

Secret fact #3 – High gloss acrylic panels are not the same as cheap acrylic shower panels pitched by the pushy in-home franchise salesperson  

Maybe you've heard the TV commercials about "one day" acrylic shower wall liners or had one of these slick "tin-men like" franchise salespeople into your home (if you've had this "experience" you probably know getting them out of your home is the real trick). While both products are made from a form of "acrylic" it's the same as saying the grilled "steak" $2.49 taco from Taco Bell is the same as the $59 Porterhouse Steak from St. Elmo's in Indianapolis (note: this is the best steak house I've ever eaten at to do date – a must try if you get to Indy!).
The standard acrylic liner panels are thin, made in traditional colors like white, beige and gray and you will be hard pressed to find a place which will sell them to you if you want to do it yourself. This product originally was develop to go over tile walls in budget motels.
High gloss wall panels have a contemporary glass and mirror like appearance available in vibrant colors like blue attol, red rouge, mocha and glacier (as well as arctic white, a silvery metallic titan color and carbon black).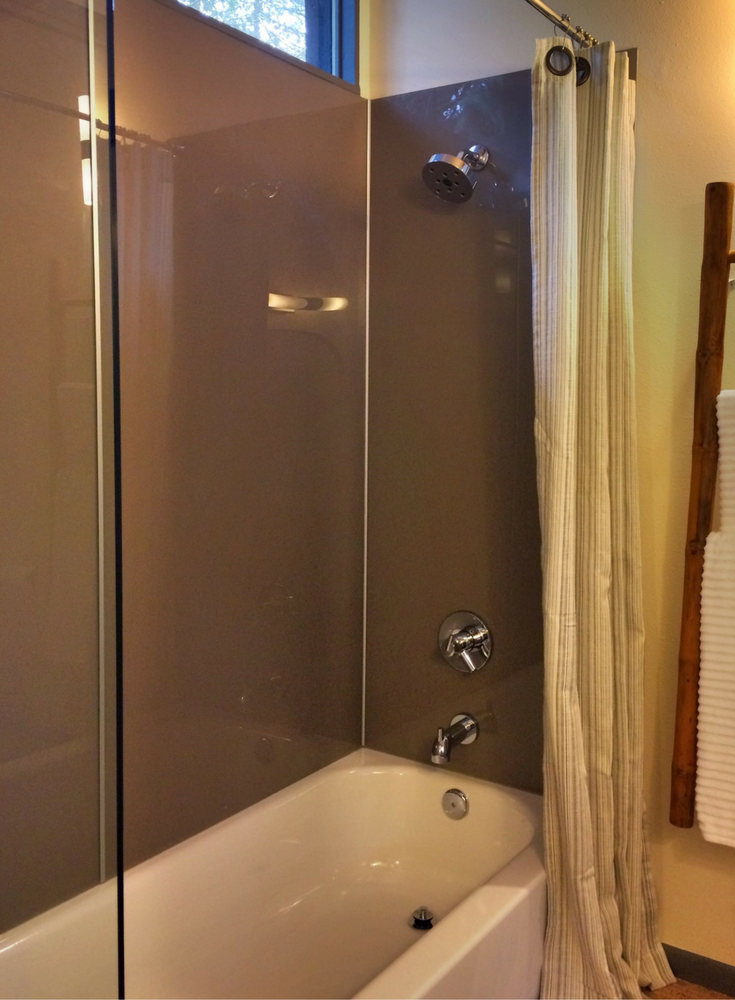 These panels are 5/32" thick with an optical grade hard coat on the outside which not only protects them from scratching – but creates the reflective shine to brighten up even a darker bathroom. You can also see this product in hotels –primarily in hip, upscale, urban properties.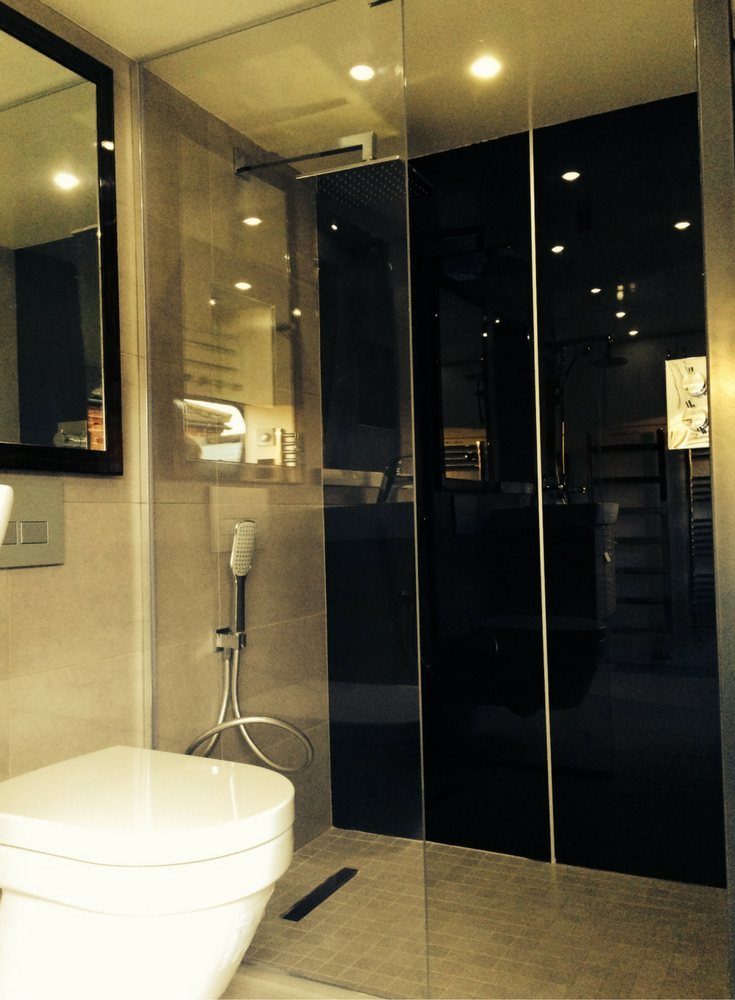 Secret fact #4 – High gloss shower panels can be used in any custom sized shower even with standard sized panels  
Maybe you've come back from your local home center to be disappointed when you found out your shower isn't a standard size and the cheap (standard sized) fiberglass wall panel systems aren't an option for you. This is where the traditional grouted tile shower usually comes in because you can cut and fit tiles to any space. However, if you'd rather spend your time doing anything rather than cleaning tile grout joints (even visiting your Uncle who doesn't bathe enough) then you need to look at shower wall panel systems which will fit your custom space.
The top 4 options I'm working with now are (1) the high gloss panels we're talking about here, (2) solid surface wall panels (3) PVC composite panels and the new 'secret' panel (which is a cool cost-effective option to high gloss) laminated shower panels. The reason the high gloss panels work for custom spaces (even though they are available in standard sizes including 60 x 96 and 39 x 96) is because there are "joiner" pieces to create a moisture free seem between panels.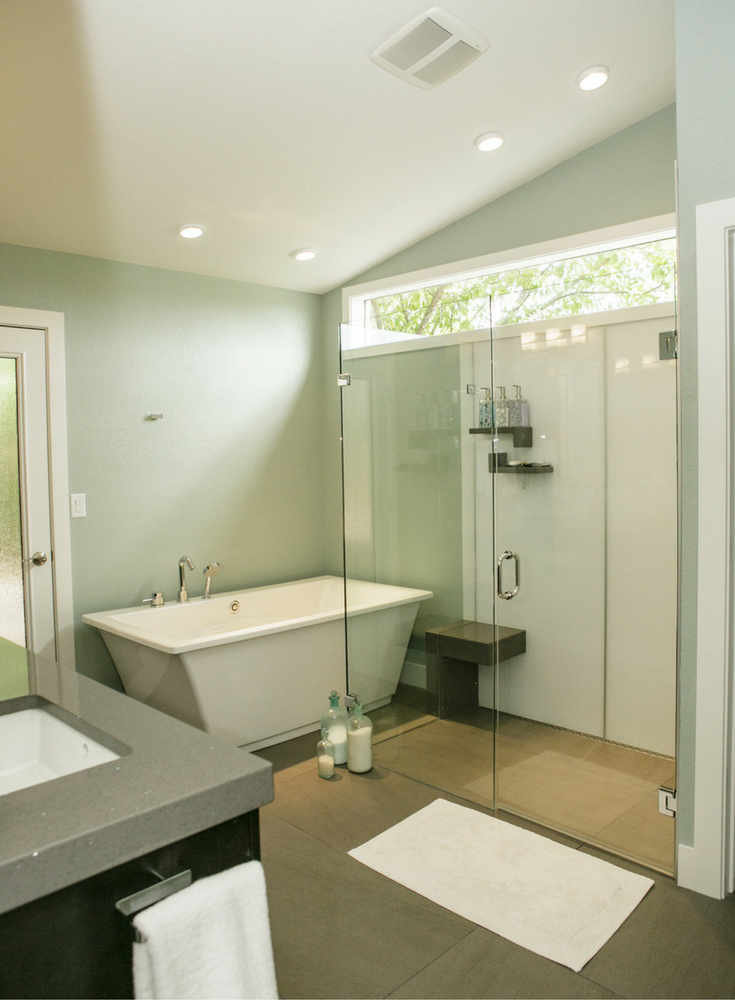 There are inside and outside corners, straight joiners and edge joiners. What's cool is you can get them in a color-matched version (if you want the seams to visually disappear) or in a contemporary anodized aluminum finish.
Secret fact #5 – The color can't wear off or fade
If you've ever experienced faded furniture you know what a bummer that can be. You obviously don't want to invest in a cool contemporary wall system only to find in a few years the shower panels no longer match your bathroom décor. With contemporary high gloss panels you don't need to sweat this because the color is on the back side of the panel (beneath the hard coat layer). Even this cool and modern red color below won't fade!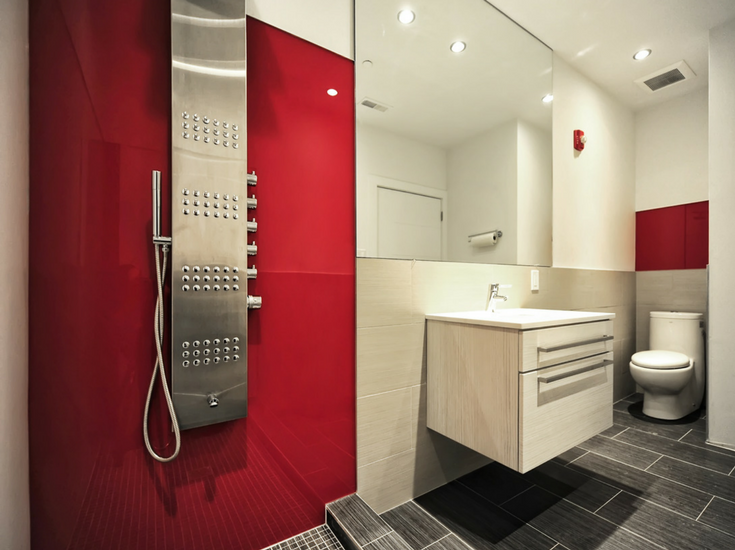 Secret (price saving) high gloss wall panel bonus tip…but you've to promise not to tell ANYONE!
I love high gloss as much as the next person – but I'm a Midwesterner and I also like to watch my wallet when possible. If you're on a tight budget then as I mentioned in secret #1, the optical grade high gloss panels probably won't be for you. But, don't fear, there still is a way to get this look and keep tabs on your wall. The way to do this is to use high gloss laminate wall panels. These panels (which come in simple to install 2′ x 8′ sections which click, lock and seal together) are less than 1/2 the cost of the optical grade high gloss – yet still give you the glossy modernist, contemporary look. Check out one example below.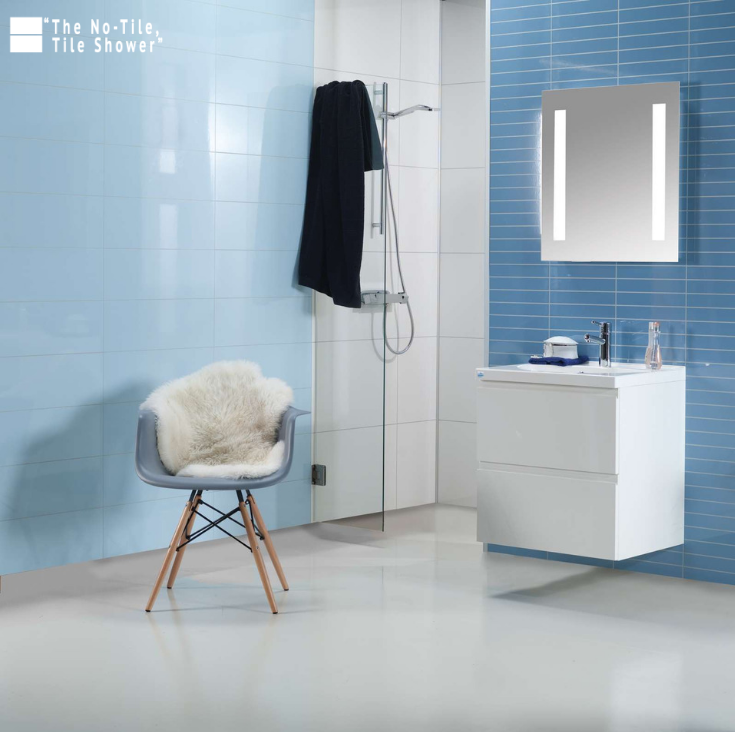 Conclusion
Whether you're moving into a new hip upscale urban condo in the heart of the city now that the kids are gone, or are fixing up a cramped high character – smaller bathroom in an older eclectic neighborhood, you don't have to be tied to the traditional grouted tile choice your builder or remodeler is trying to force you to accept. Style (and lifestyles) have changed and the selections which will work for you are not the same as your parents' era.
Check out cool high gloss wall panels as an exciting new option (or if these panels end up out of your budget the next best thing I would recommend is gloss solid surface). While I know I've talked here about 5 secret facts (and the one bonus one I told you to keep under wraps) you may have more questions and I would love to help you with them! Please call the numbers below (or put your comments on this post) so we can help you break out of the tile rut and and have the time to enjoy your shower (and more importantly your life)!
For nationwide supply of high gloss wall panels contact Innovate Building Solutions at 877-668-5888. For a complete bathroom remodeling project in Cleveland contact Cleveland Design and Remodeling (216-658-1270) or The Bath Doctor in Columbus (614-252-7294).
---
Mike Foti
President of Innovate Building Solutions a nationwide supplier and regional (Cleveland and Columbus) remodeling contractors. Some of our product lines include glass counters, floors, backsplashes, glass blocks and grout free shower and tub wall panels
---