A Zen Minimalist Bathroom is Worth the Wait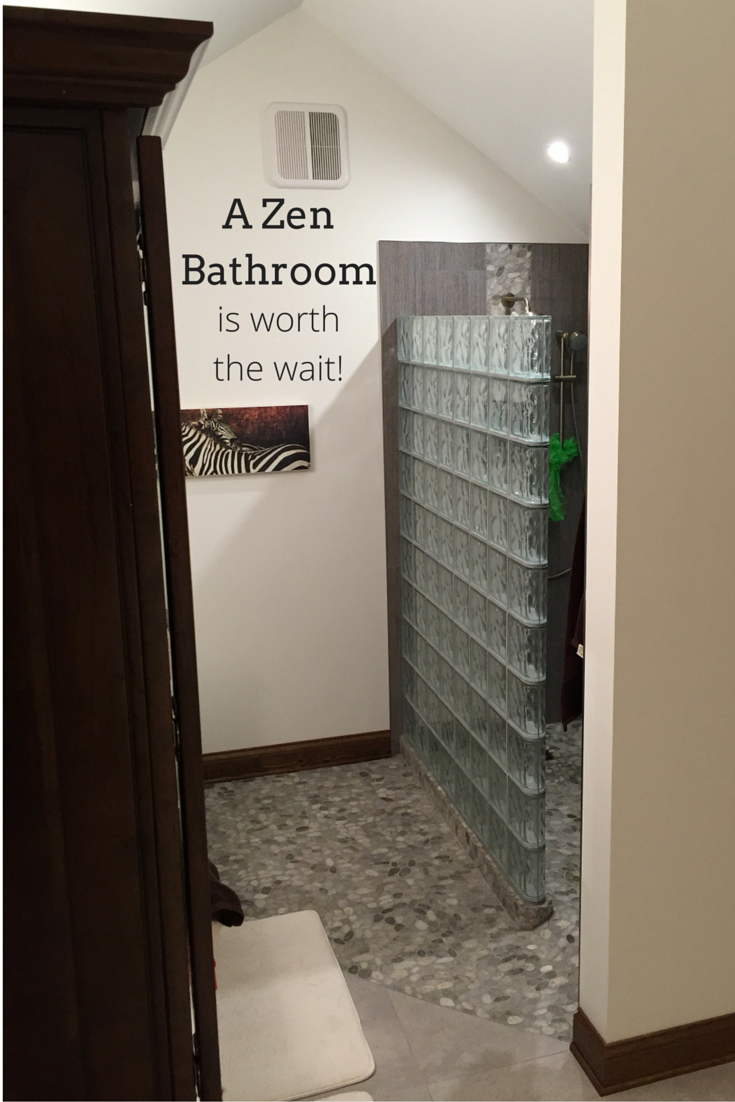 "I'm the cheapest guy on the planet," said Jim Van Huis when I called to talk to him about the completion of his Zen minimalist bathroom in a suburban Chicago home. I would respectfully disagree with Jim about this statement given the high quality materials and finished look of his master bathroom.
What Jim was talking about with his "cheap" comment is he and his wife don't take on a remodeling project until they know they have the cash on hand to pay for it (I guess you can call him a debt minimalist!). So Jim and his wife Mary Kaye had to wait to do the renovation until the kids where grown and the finances allowed – but the wait was worth it!
The goal with this bathroom was to create a peaceful place which embodied Jim and Mary Kaye's sense of style, desire for simplicity and effective use of space. The old bathroom – while expansive in size – was a "generic spec builder special." It had a standard (and cramped) 60" x 32" shower with a cheap gold gaudy framed shower door. In addition Formica countertops and run of the mill beige tile were the "stylish gifts' of the production builder who cranked out their home 12 years ago.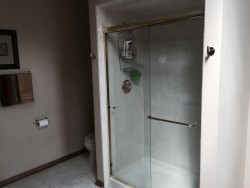 The question was what could be done to transform this non-distinct master bathroom into a tranquil, simplistic and attractive environment which could be as enjoyable as it was functional.
Let's explore below 5 Zen design concepts Jim and Mary Kaye used in the evolution of their new bathroom design.
Zen design concept #1 – A feeling of openness
When you have a large bathroom why accept a confining 60" x 32" shower enclosure? Jim who is the yin (i.e. functional guy) to Mary Kaye's yang (i.e. the design and style coordinator) concluded the room could be reconfigured to create an open, doorless light-filled shower. The toilet was moved and the drop ceiling was taken down to create 70% more shower space and increased volume. A clean straight-lined glass block shower was selected for its timeless simplicity.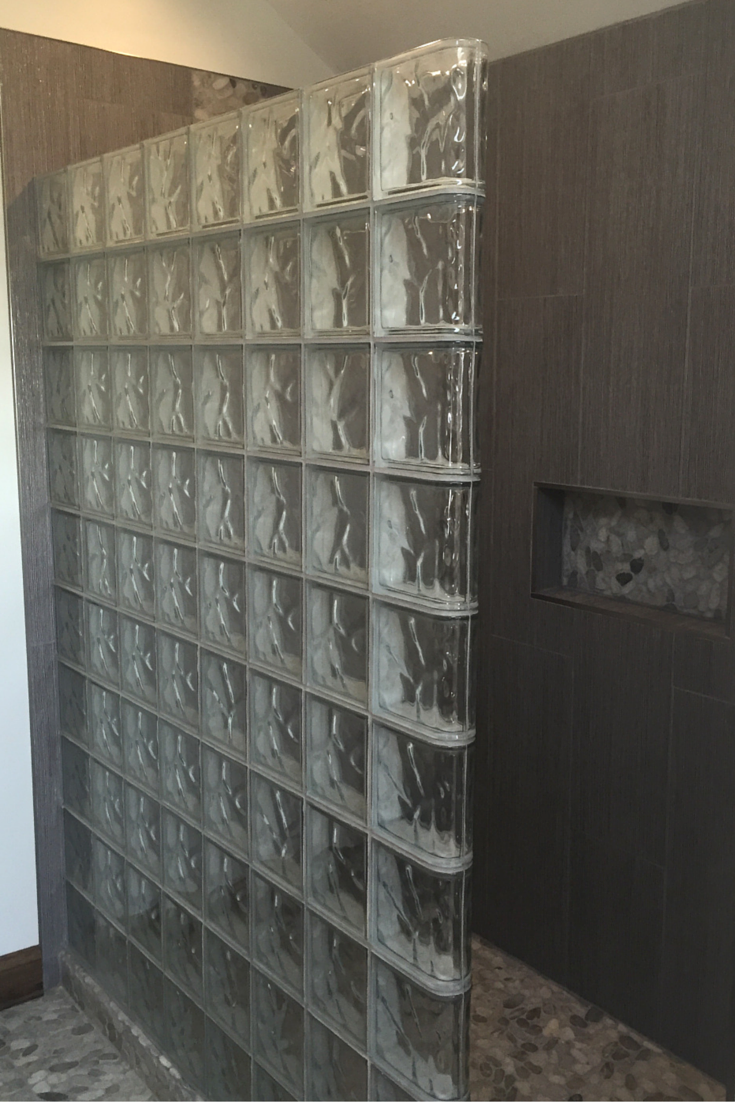 Jim's contractor (Dan Boyce of Coppertree Construction) was excited – yet initially a bit terrified – of the prefabricated glass block shower and pan system Jim selected. Dan found the pre-made glass block walls where easy to stack up and install. The barrier free tile-ready shower pan made it possible to blend the pebble tile floor into the bathroom to create a seamless space with a feeling of continuity. The walk in shower is now an open and bright space vs. the old cramped enclosure.
Zen design concept #2 – Minimal clutter for maximum enjoyment
 When Jim mentioned Mary Kaye loves a minimalist home and a sense of order to feel peaceful and relaxed I totally got it. My wife Rose is exactly the same way! In order to maintain a sense of order Mary Kaye chose dark maple furniture grade cabinetry. Pull out drawers provide the storage space to keep the bone white countertops clean and uncluttered. There are easily accessible spaces for towels, garbage, dirty laundry and a metal "utensil" tray where Mary Kaye can put away the curling iron and hairdryer when they are still hot.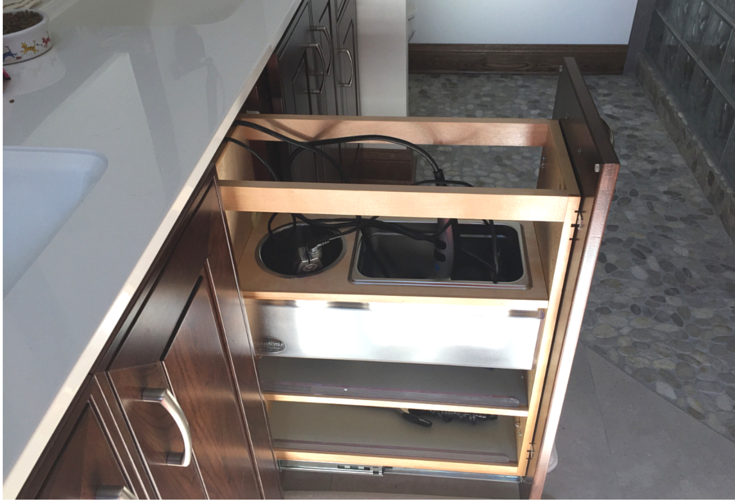 Zen design concept #3 – Texture and colors to relax the soul
Texture creates interest. Color can evoke a mood. A "Zen pebbles" pattern from Portland Acero in an earth tone color was used on the shower head wall and in the recessed shampoo niche. You can feel a connection to the outside through the color and texture of this material. The wall tiles (in a pattern called "Japanese marine" from Porcelanosa) are a calming glittery gray color and the large 12" x 35" unit sizes and thin grout joints lessen the need for cleaning.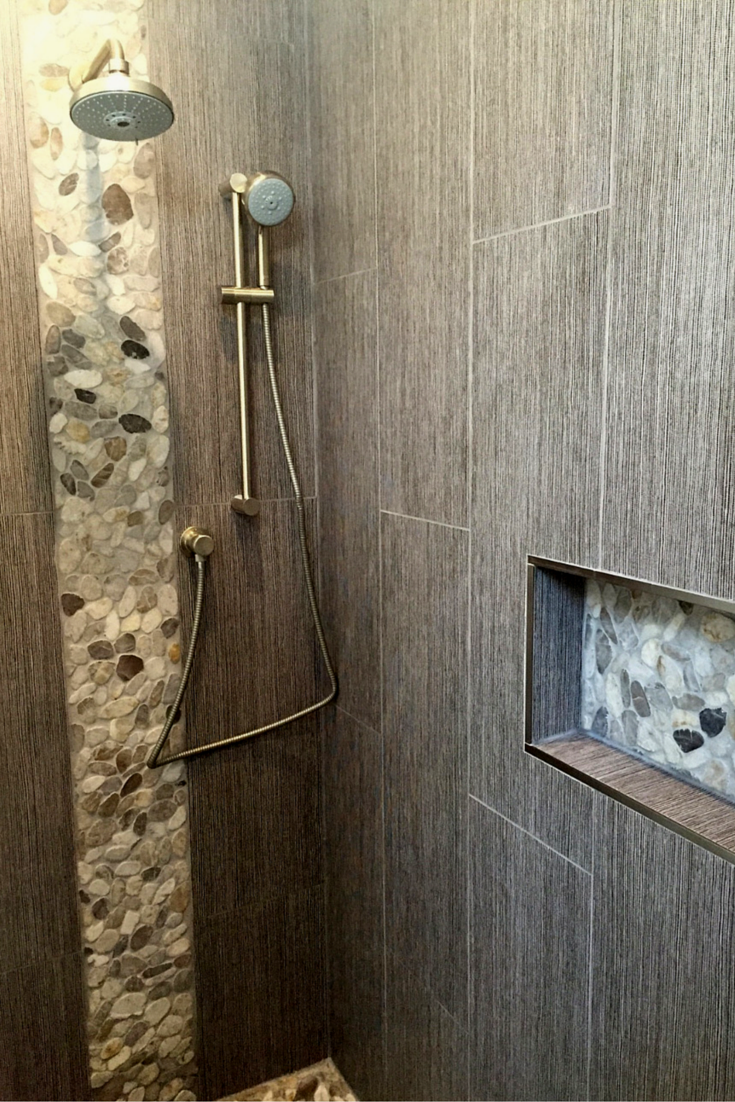 Zen design concept #4 – Creating a sense of flow
I remember reading the book Flow by Mihaly Csikszentmihalyi where the author talks about how we can lose all sense of time when we become one with the work we are performing. When I think about a spa bathroom design for a contemporary home it's also about creating a sense of flow…..of losing connection with time and the challenge of the daily grind. One way to create a visual sense of flow is to eliminate physical barriers (like the separation a shower enclosure creates) between spaces. In this bathroom the Zen pebble tile floor has a visual and physical connection between the shower and the surrounding bathroom.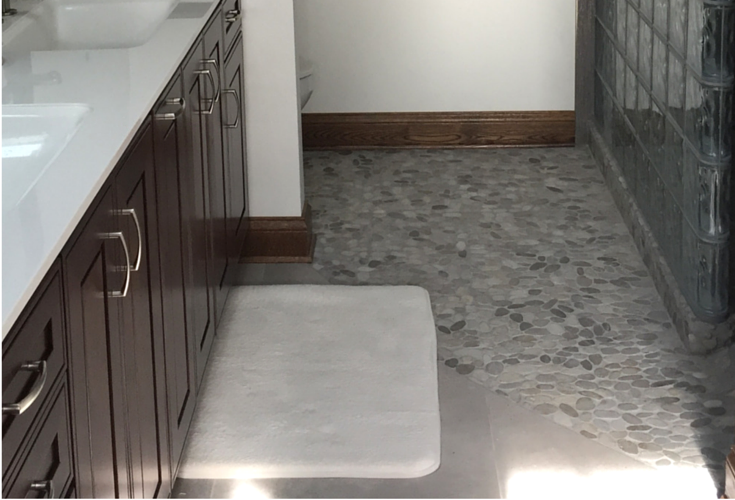 The pebbled surface is relaxing to walk on and the shower is safer since there is no concern about tripping over the standard 4" high shower curb common with most shower enclosures.
Zen design concept #5 – Earthy touches –
Isn't it relaxing when bathroom design provides a connection between the outside and inside of a home? I love the whimsical look of this rustic cast iron branch wall hook by Kalalou. It's a bit earthy, it's a bit fun….and it's a functional robe or towel hook all at the same time.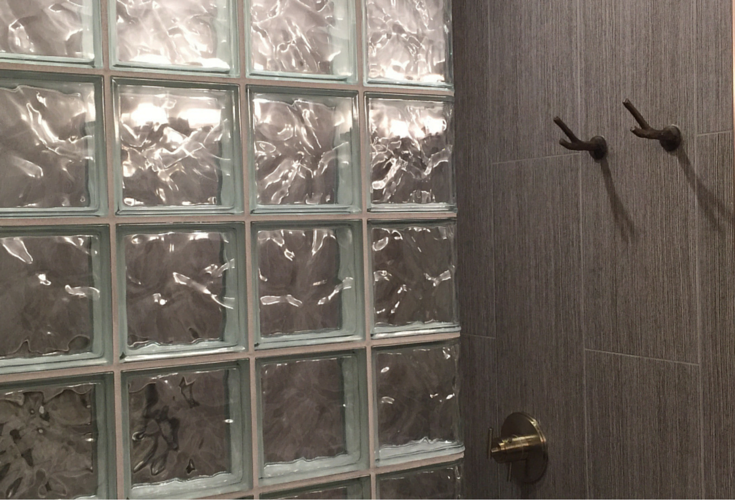 Conclusion
What is your favorite element of Jim and Mary Kaye's Zen minimalist bathroom? If you want design tips and insights to transform your bathroom into a minimalist and calming environment comment or call the numbers below.
###
If you want more information on the prefabricated glass block shower wall and pan system contact Innovate Building Solutions at 877-668-5888. For a remodeling project in Orland Park Illinois contact Dan Boyce at Coppertree Construction at 708-768-1026 and for a Cleveland bathroom remodeling project call Cleveland Design and Remodeling at 216-658-1270.
---
Mike Foti
President of Innovate Building Solutions a nationwide supplier and regional (Cleveland and Columbus) remodeling contractors. Some of our product lines include glass counters, floors, backsplashes, glass blocks and grout free shower and tub wall panels
---